📕 Guides
The Best Weight Loss Meal Deliveries In Australia
POSTED ON Apr 14, 2022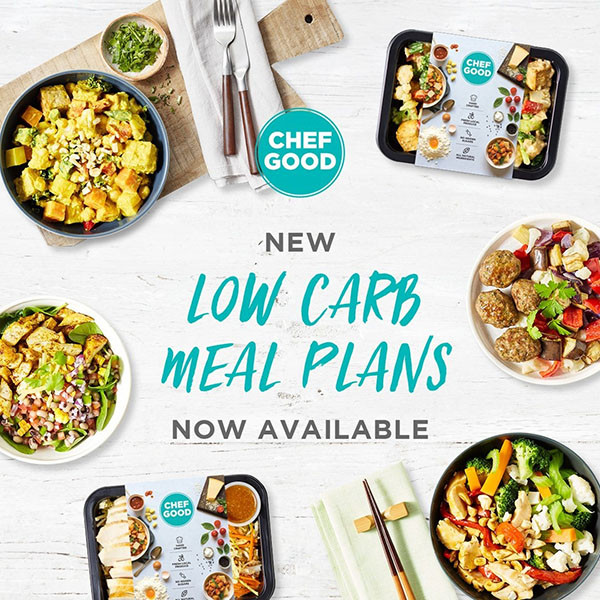 Highly rated
Chefgood
Highly rated by us and users
Weight-loss focus meal plans
Rotating menu with guest chefs
chefgood.com.au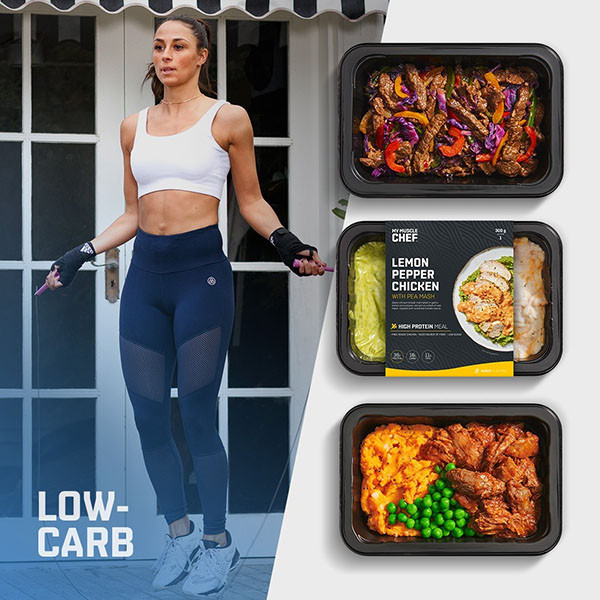 Popular
My Muscle Chef
High protein contents
Two dedicated weight loss plans
Delivers Australia wide
mymusclechef.com.au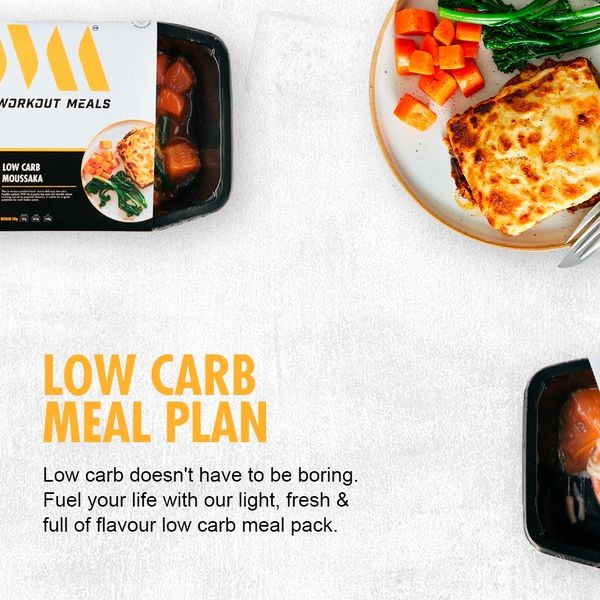 Great for gymgoers
Workout Meals
Has their own farm
Next day delivery in Sydney
All meats are halal certified
workoutmeals.com.au
Welcome to Meal Prep's guide to the best weight loss meal deliveries in Australia!
Losing weight doesn't have to be hard, not when you have the right tools and a little helping hand. That's not to say losing weight is a breeze – it certainly takes hard work, dedication and help from science.
It's true the world of calorie counting, macros, and being in a calorie deficit can be confusing for first-timers (or second and third-timers, to be honest!) And, as it's commonly known, weight loss really does start in the kitchen.
But if the idea of weighing your food, counting out the calories and all the planning that goes into creating meals that will help you lose weight gives you a headache, well, what you need is a weight loss meal delivery service.
But which one is best?
Most weight loss meal delivery providers out there seem to have some kind of weight loss plan, but which one is right for you? We've done the research and below are our top picks for the best weight loss meal deliveries in Australia.
How We Made This List
We based our list on the following criteria:
🍽 Weight loss options: how many weight loss options does the provider offer?
📍 Delivery locations: where in Australia do they deliver?
💰 Average cost per meal: what's the average cost per keto meal?
📅 Subscription required: does the provider ask you to subscribe in order to purchase meals?
⚖️ Macro split: what's the average macro split of the meals?
The Top Weight Loss Meal Plans & Providers
Chefgood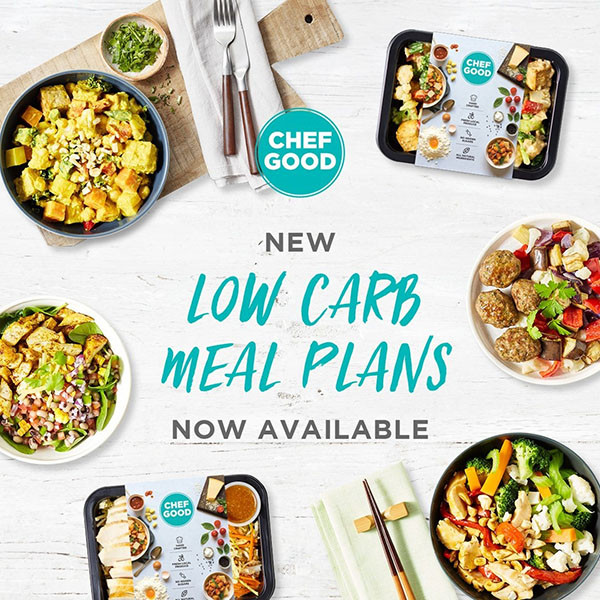 Delivery locations: VIC, NSW, QLD, ACT, SA, TAS
Average cost per meal: $10.80
Subscription required: No
Average macro split: 27g protein, 22g carbs, 17g fat
Chefgood comes in at one of the best weight loss meal providers in Australia. It doesn't personalise the plan as much as say Workout Meals and Lite n' Easy because it doesn't ask for your age or activity level when choosing a meal plan. However, Chefgood does have a dedicated 'Slim & Trim' weight loss plan, with all meals under 350 calories each. You can choose between 5, 7, 10 or 14 meals per week.
Chefgood creates healthy meals with fresh seasonal produce, working with local farmers and growers in sourcing fresh ingredients. They have a new menu weekly, so you won't get bored of the same meals over and over.
In terms of customisation, there's not much you can add or change, but they are pretty good when it comes to dietary requirements, with all meals labeled with whether they are gluten free, vegan, dairy free and so on. They deliver nationally to Melbourne, Sydney, Brisbane, Adelaide and Canberra (including regional areas).
Lite n' Easy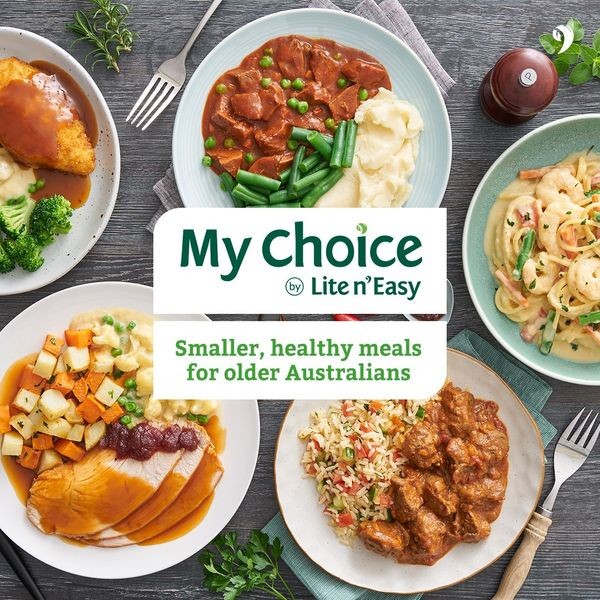 Weight-loss options: 100+
Delivery locations: NSW, VIC, ACT, QLD, SA, WA
Average cost per meal: $8.99
Subscription required: No
Average macro split: 30g protein, 30g carbs, 6g fat
Lite n' Easy is probably the most commonly known weight loss meal delivery service in Australia, and for a good reason. Lite n' Easy delivers healthy, delicious meals across the country in a bid to make losing weight simpler. And, with over 100 ready-made meals to choose from, it's no wonder it's a weight loss meal delivery service used by countless Australians.
When ordering a weight loss meal plan, they ask you a range of questions like your height, weight, how active you are, how many times a week you exercise and so on to give you a personalised meal plan.
For example, I input my data and it recommended me a 1800 Calorie, 7 Day Plan. There's the option to choose from a 3, 4, 5 or 7 day plan. Lite n' Easy is rated as Australia's number one in Canstar Blue's Healthy Meal Delivery services review and is also a trusted NDIS meal provider.
Workout Meals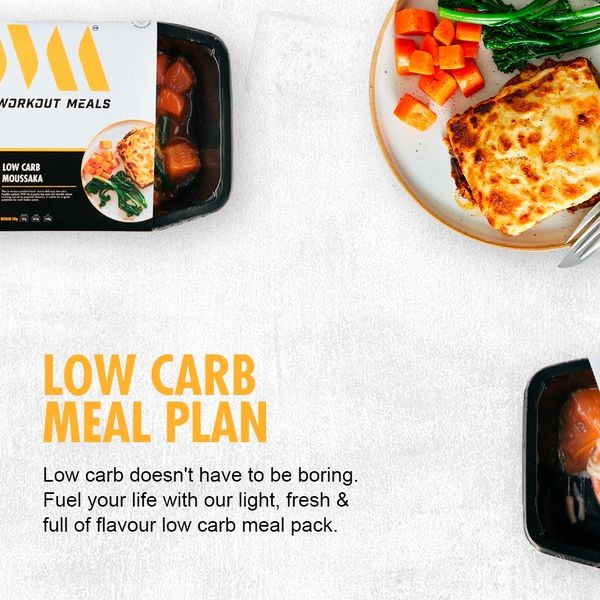 Delivery locations: NSW, VIC, QLD, ACT, SA
Average cost per meal: $9.70
Subscription required: No
Average macro split: 40g protein, 10g carb, 5g fat
Workout Meals offers a range of "meal packs" with weight loss being one of them. Every aspect of Workout Meals is designed with the time-poor, health and fitness focused customers in mind.
When selecting the weight loss meal pack, Workout Meals asks for some basic data like your age and activity level, and recommends a meal plan based on your answers.
They use high quality ingredients from Australia and New Zealand, which includes their very own farm in Kulnura NSW, their real restaurant chefs and qualified nutritionist have designed the best tailored meals to go alongside their customers fitness journey no matter what the workout is. They deliver to over 3,000 locations across Australia.
My Muscle Chef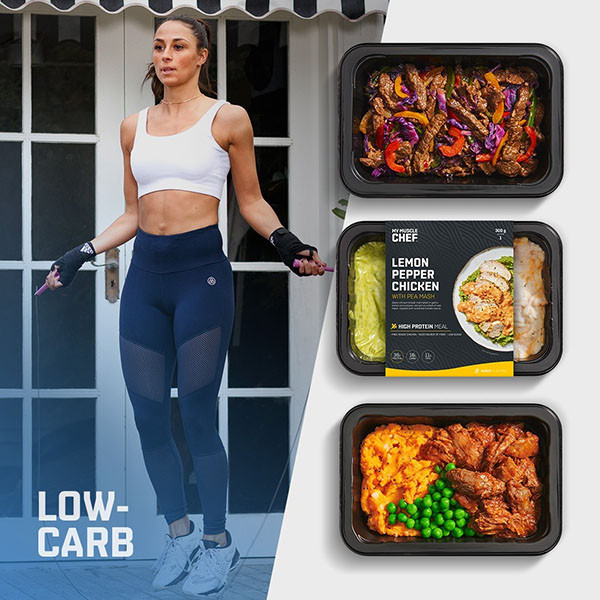 Delivery locations: NSW, VIC, ACT, QLD, SA, WA
Average cost per meal: $9.95
Subscription required: No
Average macro split: 48g protein, 14g carbs, 14g fat
If you're looking to shed unwanted kilos, My Muscle Chef weight loss prepared meals are just the ticket. MMC is one of the top-rated meal delivery services in Australia. You can choose from its goal-based plans or its weight loss-targeted fixed sets.
The goal based plan is particularly good as it is a strategically designed, low calorie meal plan aimed at supporting weight loss based on your personal details.
All meals are low carb, low fat, low sugar meals, with additional healthy snacks and drinks optional. MMC's team of chefs work closely with their Head Nutritionist to develop a wide variety of meals that help with weight loss.
Macros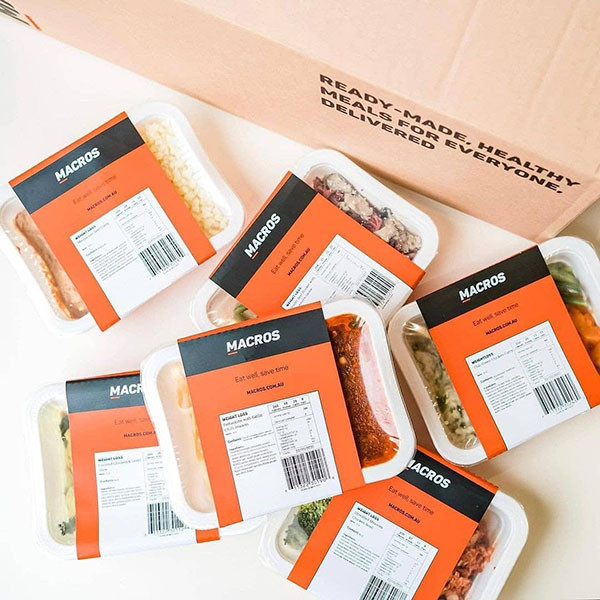 Delivery locations: NSW, VIC, ACT, QLD, SA
Average cost per meal: $13.00
Subscription required: Yes
Average macro split: 23g protein, 25g carbs, 14g fat
Macros provides nutritionally-optimised plans for your performance goals, including weight loss. The weight loss plan delivers 300g meals under 350 calories to support your weight loss journey. It doesn't, however, take into consideration your age and activity level like other meal delivery services.
If you have dietary requirements, Macros' filter tool (on the Menu page and at checkout) enables you to select the meals that suit your personal needs, which is certainly a bonus.
All meals are also free from preservatives and other artificial ingredients. And, because Macros is in MyFitnessPal, you can easily keep track of your calorie intake and diet through the app.
Thr1ve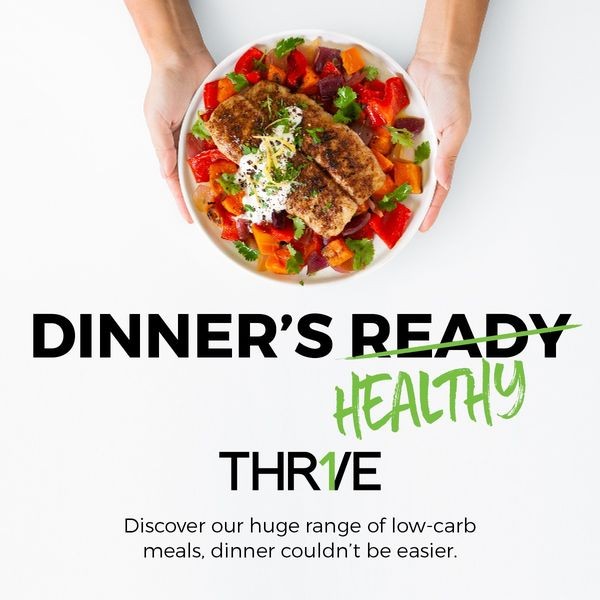 Delivery locations: NSW, VIC, QLD, ACT
Average cost per meal: $12.95
Subscription required: No
Average macro split: 25g protein, 13g carb, 20g fat
Thr1ve has a bunch of dedicated weight loss meal plans, such as the Accelerated Weight Loss meal plan, the Fat Burn meal plan, and a keto and intermittent fasting plan. The Fat Burn meal plan is low in calories and carbs to help you achieve your goals.
With meals like Portuguese Chicken with Sweet Potato Fries on the menu, the plan has around 1200 calories a day. THR1VE takes weight loss seriously, having invested in Australian-first research to ensure their diet meal delivery works. Using fresh, seasonal produce from Aussie farmers, Thr1ve have an extensive range of low carb, low calorie and low sugar meals.
They deliver to NSW, VIC, QLD & ACT Metro areas, with meals also available at IGA.
Be Fit Food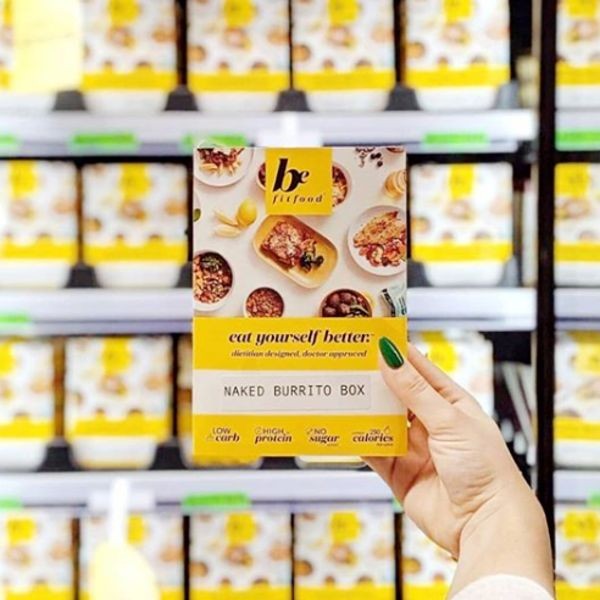 Delivery locations: NSW, VIC, ACT, QLD, SA, WA
Average cost per meal: $8.95
Subscription required: No
Average macro split: 30g protein, 15g carb, 5g fat
Be Fit Food is one of the best weight loss meal delivery services because it creates science-back meals and programs to help individuals lose weight. The dietitian-approved meals are based on the ketogenic diet and are low carb, calorie-controlled and nutrient dense.
They have Rapid Weight Loss programs, Gradual Weight Loss programs and Maintenance programs.
The Be Rapid 7 Day program is probably one of the most popular and has been scientifically formulated by a doctor & team of accredited dietitians to bring you a low carb, high protein & nutritionally balanced meal program to help you lose weight quickly.
The Be Rapid program is a Very Low Calorie Diet (VLCD) designed to induce mild nutritional ketosis by providing approximately 800-900 calories per day and around 40-70g of carbohydrates. This program allows the body to burn stored fat rather than carbohydrates as fuel, resulting in rapid weight loss.
FAQs
How Do You Lose Weight?
If you listen to science, losing weight is as simple as calories in versus calories out. However, it's certainly more nuanced than that depending on your individual health and goals. For the sake of a quick answer, however, I'm going to talk about losing weight based on the golden rule of calories consumed versus calories burned.
When it comes to weight loss, diet is one of the most important factors. Losing weight through dieting is based on the science that anyone eating fewer calories than they are burning off during the day is going to shed some kilograms. However, it's not just calories in versus calories burned off. 
You can speed up the weight loss process by eating a low carb, high protein diet. A low carb diet is a way to minimise the amount of fat your body stores, while protein is harder to break down, so your body uses more energy to convert the protein into a form your body can use for energy. A low carb meal might look like two poached eggs with lean greens, a chicken salad (hold the croutons!), or fish and steamed vegetables.
Will I Lose Weight By Lowering My Daily Calories?
The weight loss meals from the above providers are all based on consuming a lower amount of calories throughout the day. However, how many calories you need to consume in a day to lose weight depends on your height, weight and activity level. 
Each person needs a different number of calories per day to either stay at the same weight, lose weight, or gain weight. To lose weight, you need to eat fewer calories than your body is expanding through exercise and daily movement.
What's the Difference Between Keto, Low-Carb & Low-Calorie?
When shopping for a weight loss delivery service, there is something to take note of and that's the fact that keto, low-carb and low-calorie aren't necessarily the same thing.
Calorie counting involves applying the principle of "calories in, calories out", as we just discussed. Carbohydrate counting is an eating method that involves counting the number of carbohydrates you eat each day. Carbohydrates (think bread, pasta, potato – basically every food has carbs – but some have more than others). By eating low-carb, you'll ideally be eating in a way that promotes weight loss. The standard definition of low carb is less than 20g of carbs per meal, but it will differ from person to person depending on age, weight, goals and so on.
Now, the biggest difference between keto and low-carb is that a keto diet is much higher in fat and lower in carbs than the average low-carb diet. The Harvard School of Health suggests the macronutrient ratio on a keto diet is:
70-80% fat

5-10% carbohydrate

10-20% protein
A low carb diet is less restrictive than a keto diet, with carbohydrates making up approximately 20% of the diet.
By following a low-carb, low-cal or keto diet you're bound to lose weight, but it's a very individual process and one diet might work better for you. It might be a case of trial and error to find the right fit.
How to Choose the Right Weight Loss Plan?
With countless meal delivery providers out there, how do you decide the right one for you? There are a few things to look at, such as calories, macro split, how many meals per subscription and the volume of the meals.
Most meal providers with weight loss plans have a similar number of calories per meal – around 350. However, the macro breakdown might be different – some might have more fat and less carbs, more protein than fat and so on. It's a good idea to look at the macro breakdown and see what suits you best.
Meals per subscription is another factor to consider. Most weight loss plans will come with lunch and dinner, but some are just dinner. Price will also typically vary based on how many meals you order. You should consider the value versus convenience. The volume of meals is another important factor. Some meals are 250g while others can be up to 400g. However, just because a meal is 400g doesn't mean it's going to be higher in calories. It might just have more veggies and protein and fill you up more than a 250g meal that costs the same.
Will Weight Loss Meals Delivered Help Me Lose Weight?
If you want to lose weight, a meal delivery service weight loss plan can be an excellent way to help you lose weight and keep it off. Meal provider plans work for a number of reasons, largely because it's designed by a team of nutritionists who understand the science behind losing weight and how to construct low-calorie meals.
And, when using a meal delivery service, you're more likely to stick with the diet because the meals are there and waiting for you in your fridge. There's no planning, shopping or cooking needed to be done – making it a very sustainable and simple way to lose weight.
How Long Do You Need to Eat Low Calorie to Lose Weight?
Looking at the plans most meal providers put you on, anywhere from 4-6 weeks and you'll start noticing changes.
Can You Eat Your Own Meals When Using a Meal Provider?
Depending on the meal provider you choose, you can certainly eat your own home-cooked foods and snacks while using a meal delivery service. Typically, you can choose how many meals you want to buy per week, and many people will buy lunches and dinners ready-made but cook their own breakfast for example.
Are Weight Loss Meals Smaller Portions?
Not necessarily! While the energy density (i.e. the calories) of the meal is smaller, the volume of food doesn't always decrease to meet calorie requirements. Foods like vegetables and proteins are naturally lower in calories meaning you can eat a lot of them and still be eating in a calorie deficit to lose weight.
Does HelloFresh Have a Weight Loss Plan?
HelloFresh is a highly popular meal delivery kit service in Australia and while they don't offer a "weight loss" meal kit per se, they do have a Calorie Smart menu you can choose your meals from. All meals have a max of 30g carbs and no more than 650 calories (which when comparing it to other weight loss meals from other providers is almost double the calories).
How Long Does it Take to Receive Weight Loss Meals Delivered to Your Door?
Again, it depends on the provider you choose. Some offer delivery as fast as the next day, while others run on weekly schedules. It can be tricky if you miss the cut-off by a day, and then you have to wait a week to get your first delivery. It's important to figure out the delivery schedule and if it suits your needs before you place an order.
Things to Consider Before Starting A Weight-Loss/Low-Calorie Diet
Losing weight is a personal thing. How much you have to lose and how quickly you can safely lose it is based on your individual needs. And, eating in a new way may cause some initial side effects while your body adapts. Typically when start eating a low-calorie diet, you might experience the following:
💩 Diarrhoea
🥵 Constipation
🧠 Poor energy and mental function
😋 Increased or decreased hunger
😴 Sleep issues
🤢 Nausea
💪 Decreased exercise performance
There are some people who shouldn't eat a low-calorie diet full stop, such. As with any new diet, it's important to talk to your doctor before starting.
What's the Best Weight-Loss Meal Delivery Service in Australia?
At the end of the day, it comes down to personal preference, budget, and other dietary requirements. Any meal delivery service with lots of good reviews will give you great peace of mind, but it's also worth trying and testing a range of providers to find the best one for you. 
However, we think My Muscle Chef is one of the best weight loss meal providers because they offer a range of meals at an excellent price point, and delivery is fast and wide across Australia.