📕 Guides
How To Choose A Meal Replacement That Works in 2022 (Including Top Brands)
How do the top Australian brands compare? Which are good for weight loss, bulking, or perhaps a keto diet? We'll also explore the safety concerns you may have about meal replacement shakes and how to find one that actually works.
POSTED ON Mar 02, 2022
#

NAME
Calories per serve
Protein per serve (g)
Cost per serve
206
34.8
$4.40
274
25.1
$5.00
141
13.2
$3.50
221
32
$3.60
136
14.2
$1.67
133
7.6
2.14
209
30
$3.00
204
28
$3.00
124
6.3
$0.95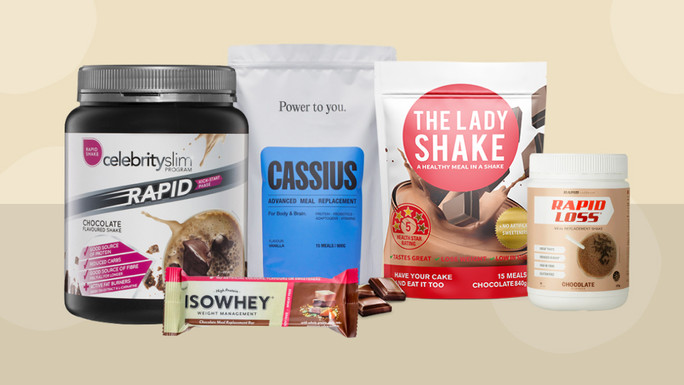 Meal replacement shakes are calorie-controlled products designed to replace your breakfast, lunch, or dinner. These are often formulated to provide a good amount of protein, carbs, fibre, nutrients, vitamins, and minerals. Essentially, they are said to give you the energy and nutrients you need in lower-calorie portions.
Some meal replacement products come as a powder that you can mix with water to form a drink, while others come as ready-to-serve drinks in pre-packaged bottles. You can also find meal replacement bars in Australia.
In this article, we'll explore how you can pick and choose a meal replacement shake that lines up with your fitness goal and compare some of the best meal replacement shakes in Australia.
Keep in mind that meal replacements are not suitable for everyone and aren't a no-effort shortcut to achieving your fitness goals.
Important:
The information we provide should never substitute the advice given by your healthcare professional. If you intend to change a significant part of your diet, seeking professional advice from a healthcare provider would be the safest and best route to take.
Why the emerging hype about meal replacements?
Many people regard these as powerful tools for achieving certain fitness goals or facilitating better weight management.
It's understandable⁠—planning three healthy meals every single day takes a massive amount of commitment, time, effort, and patience. And due to a hectic schedule, many people tend to make haste and poor food choices.
Rather than stopping by a fast food restaurant or having instant noodles daily, meal replacements are the healthier option packed with essential nutrients and less saturated fats. Some can keep you fuller longer (maintaining satiety), even though you consume fewer calories.
Plus, if you're on a restrictive diet, you may not be getting everything you need in optimal amounts. To bridge that gap, high-quality shakes are fortified with essential nutrients and minerals, such as calcium, vitamin D, and iron.
While these benefits are great, keep in mind that meal replacement shakes aren't designed to completely replace a holistic, balanced diet.
How to Choose the Best Meal Replacements
While we've narrowed down hundreds of options available on the market to a list of less than 20, it's still hard to pick something off this list—and we completely understand! Here are some factors you can consider to shortlist your options and find what's best suited for you.
Note:
You can consider skipping any pharmacy or supermarket-bought meal replacement shakes if you're looking for a thoroughly well-formulated one. Instead, speak directly to your healthcare provider. Practitioners have access to practitioner-only nutritional shakes that are ideal for those wanting to lose weight and can meet their daily nutritional needs.
Does it contain the right amount of calories?
A calorie-loaded shake will make those extra pounds much harder to shed, and you may instead end up gaining weight.
However, if your meal replacement does not contain enough calories, you may be left feeling hungry, unsatisfied, tired, and exhausted. Plus, you won't be getting enough fuel for your workout sessions.
Say you usually consume 400-600 calories per meal for lunch and dinner. If you choose to underload with a 90-calorie shake, you may lose weight quickly, but this isn't going to cut it if you're looking for something sustainable in the long run.
If you're using the meal replacement to replace lunch or dinner, you'd have to find something that is at least 200-300 calories, and those with around 100 calories or so are more suitable as a snack.
How much protein is in each serve?
Protein is a crucial component of any meal, and the same concept applies to meal replacement shakes. Whether you're looking to scale up or down in weight, bulk, build lean muscles, or keep fit, ensure that your meal replacement contains a decent amount of protein. Protein can keep you feeling full for longer and help with the repair and recovery of muscles.
In this case, brands like FatBlaster and Rapid Wellness don't land high in our books. On the other hand, brands like Cassius and Optislim are packed with protein. So these steal the spotlight in this aspect.
However, protein isn't the only thing to consider when choosing a meal replacement. It should also contain a balanced ratio of other macronutrients, including fibre.
How much fat and sugar is in each serve?
If possible, it's always best to find a product with a low amount of saturated fats. Some brands on our list have less than 1g of saturated fats per serve. Not all fats are bad, though. Unsaturated fats are healthy, so try to find products with a higher ratio of this type of fat [1].
Sugar in excessive amounts is unhealthy and can lead to weight gain. Meal replacements with around 2-4g of sugar per serve will be very useful for those looking to limit their intake. The MET-Rx Bars ranks last of the lot with a whopping 22-30g of sugar per serve!
Do take note that sugar can take on many different names on food labels. Sugar may also be disguised under names such as high-fructose corn syrup, glucose syrup, maltodextrin, fructose, and rice malt syrup.
Is it satiating?
Meal replacements should help curb hunger and satisfy your appetite for a decent amount of time. Try to go for bars with a balanced amount of proteins, fibres, and calories to keep you fuelled and full for at least a couple of hours [2]. Most meal replacements contain low amounts of fibres, but these do not get digested and can help increase the time taken for foods to pass through your stomach, which keeps you fuller for longer.
It may take some experimentation to find a bar that fits your lifestyle and fitness goals. In this case, taking a bar or shake that has too little proteins, fibres, and calories may cause you to snack on unhealthy foods or overeat for your other meals.
On a side note, many meal replacements require you to drink plenty of water while you're on them, so this may contribute to feelings of satiety, too. Hence, it may be a little tricky to determine if the shake is keeping you really full—or if you're just extra hydrated.
Does it contain a decent amount of vitamins and minerals?
There are 13 essential vitamins that the body needs to support its normal growth and development. Other than the 8 different B vitamins, you'll also need to attain vitamins A, C, D, E, and K [3].
Your body also requires an adequate intake of various minerals, such as iron, zinc, iodine, calcium, and magnesium, all of which play different roles in supporting the normal functioning of your body.
Hence, if you're using meal replacements as complete meals instead of a snack, try to go for products with a decent amount of minerals and vitamins included in the mix. One micronutrient-dense product is The Healthy Man, which can help you meet 40-50% of your required daily intake of different vitamins and minerals with just one serving.
Concerns surrounding Meal Replacement Shakes
Meal replacements should never be used to replace every single meal. No matter how well-formulated they are, meal replacement shakes and bars can never fully substitute a healthy, balanced diet.
Whichever fitness goal you pursue, they should only be a supplementary tool. For optimal results, meal replacements go hand-in-hand with a balanced diet and sufficient exercise. In any case, achieving your fitness goals still requires effort and work.
Additionally, there are some nutrients from your meals, such as beneficial enzymes, antioxidants, and plant compounds, that you can't bottle up in a shake.
On top of that, many meal replacement shakes contain thickeners, stabilisers, and chemical preservatives that may contribute to inflammation or affect your digestive system. This is another reason why meal replacement shakes may not be the best option for long-term use.
Nonetheless, research has shown that meal replacements shakes are a safe and practical tool to help weight loss and other fitness goals. Most shakes are well-tolerated by healthy adults who have no medical conditions or specific allergies. Side effects, if any, are minor, including bloating or an upset stomach.
So, to address the elephant in the room—yes, meal replacement shakes are safe and well-tolerated in general. However, they should not be used to replace all your meals and are preferably used short-term. Go for high-quality ones from brands you trust, do your research beforehand, and seek health advice if you need to, and they will likely be safe for you.
It may also be worthwhile getting a blood test done before opting for a meal replacement shake. If your diet is poorly balanced, the blood test may pick up nutrient deficiencies or liver inflammation. And if so, you should discuss this with your healthcare provider before starting on any meal replacement shake.
Note:
It's best to consult your healthcare professional or nutritionist if you have any form of allergies or any medical conditions before starting on a meal replacement shake.
Can you use meal replacements long-term?
Well, there isn't a definitive cut-off period, so to speak. But meal replacements are best for shorter-term use.
They're optimally used to help you kickstart your fitness journey. It is still vital to nurture other more-sustainable, healthy habits while you're on them as well, for instance, practising a nutritious, balanced diet and getting into the rhythm of exercise. In other words, meal replacements aren't going to offset unhealthy lifestyle habits and dietary routines.
Research has also suggested that long-term meal replacement is not beneficial for preventing weight regain after weight loss. In a study, many participants regained a large proportion of the weight they lost after just one year of meal replacement use [4].
Meal replacements shouldn't be your forever ride-or-die, but they can help you kickstart a healthier lifestyle.
Top Meal Replacement & Weight Loss Shakes in Australia
So now that you know what meal replacement shakes are all about, we'll compare some of the top brands you can find in Australia.
Protein-Rich
Cassius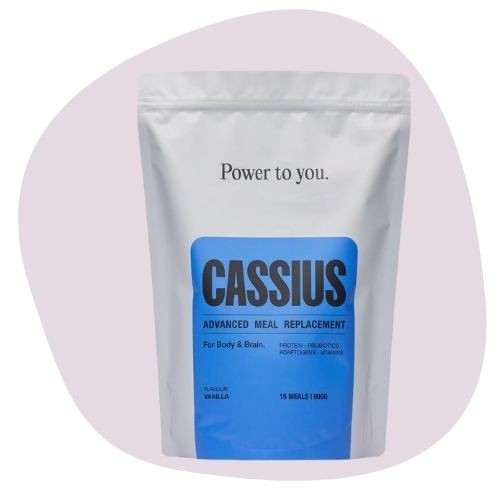 Protein per serve (g) : 34.8
Carbs per serve (g): 13.5
What's good?
High protein
Contains probiotics and adaptogens
Contains 27 different vitamins and minerals
What's not so good?
Natural flavours included
Only 2 different flavours
Cassius is designed with complete nutrition in mind. Containing over 25 different essential minerals and nutrients, Cassius also brings a good balance of macronutrients into the picture. It contains a relatively low amount of fats but is high-protein and high-fibre to help maintain satiety (keeping you full longer).
There are probiotics added to the mix to support gut health, along with a unique blend of adaptogens and nootropics that may improve memory and focus while combatting stress. You can also expect to receive 27 different minerals and vitamins in the mix, including iron, magnesium, iodine, calcium, potassium, and vitamin B12.
Cassius may also help foster healthy weight loss, though it is a holistic blend that supports a range of fitness goals rather than scoping solely into weight loss. However, while the product is branded as 'naturally-flavoured,' take note that natural flavours aren't necessarily better than artificial flavours, sometimes containing even more chemicals than artificial flavours themselves.
True Protein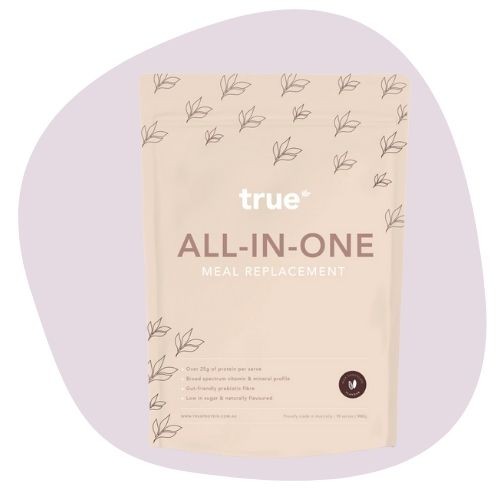 Protein per serve (g) : 25.1
Carbs per serve (g): 20.8
What's good?
Great source of energy for athletes
Good balance of macro and micronutrients
Prebiotic fibre added
Similar to the Cassius shake, the True All-in-one aims to provide—well, you guessed it—an all-in-one blend that helps you meet your dietary macronutrient and micronutrient requirements in a convenient manner. It doesn't zero into weight loss, either. Instead, it can support various types of weight-related goals, including weight loss, gain, or maintenance.
It has the highest calorie count per serving on our list, so it may be better suited for athletes looking for a convenient source of extra calories that isn't rich in saturated fats. It has, in fact, a higher ratio of heart-healthy unsaturated fats.
Furthermore, one serving of this holistic blend contains 40-50% of your required daily intake (RDI) of magnesium, calcium, iron, and vitamin B1, and a decent balance of other minerals and vitamins.
The brand notes that it doesn't contain artificial colouring or bulking agents. On top of that, this product has added prebiotics, which help support your digestive wellbeing.
According to the brand, you can replace up to three meals with this shake per day, but we don't recommend living completely off any meal replacement shake, even if it's top-tier quality.
Vitamin-Rich
The Healthy Man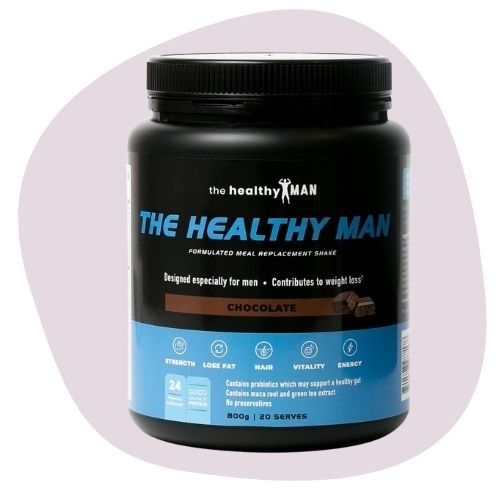 Protein per serve (g) : 13.2
Carbs per serve (g): 11.9
What's good?
Packed with vitamins and minerals
Low in saturated fats
Probiotics added
What's not so good?
Low protein content
Contains natural flavours
The Healthy Man has garnered highly-positive reviews about their meal replacement shakes. It seems to be a very all-rounded shake, with a balanced distribution of brownie points for its taste, texture, and nutritional value.
As per user reviews, the shake seems to maintain satiety pretty well, and users have praised its pleasant taste and creamy, non-gritty texture.
Similar to many other shakes on this list, The Healthy Man contains 24 different minerals and vitamins, and its health benefits are further elevated with the addition of some probiotics. The Healthy Man is also relatively low in calories and saturated fats, so it's a better option for those looking to lose weight.
The Healthy Man still tops the scoreboard as a nutritionally dense and mineral-rich blend—so much so that it helps you meet 40-50% of your RDI of magnesium, iron, zinc, iodine, vitamin Bs (thiamin, niacin, riboflavin), vitamins A, C, D, E, and K, and folate with just one serve!
However, the Healthy Man contains natural flavours, which isn't the best.
Optislim Optibiome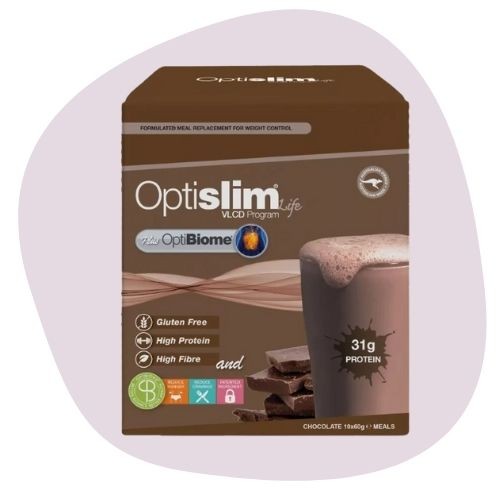 Protein per serve (g) : 32
Carbs per serve (g): 11.4
What's good?
Gluten-free
High-fibre and high-protein
Rich in vitamins and minerals
What's not so good?
Little information about their 'patented' ingredient
Meal replacement shakes are also widely known as a tool to help people meet their weight loss goals. Optislim is one of the most popular brands that cater to that specific goal. You'll notice three different ranges of products for their shakes, namely the VLCD Shake, the VLCD Platinum Shake, and the Optibiome Shake.
| Optibiome shake | VLCD shake | VLCD Platinum shake |
| --- | --- | --- |
| Contains Optibiome (patented weight loss formula) | Not formulated with Optibiome | Not formulated with Optibiome |
| Gluten-free | Not gluten-free | Gluten-free |
| High protein (32g/serve) | Lower in protein (17.7g/serve) | Lowest in protein (10g/serve) |
| High in fibre (8.4g/serve) | Contains very little fibre (0.8g/serve) | Contains lesser fibre per serve (1.2g/serve) |
The OptiSlim Optibiome range seems to be the most well-rounded overall since it has a decent amount of fibre and proteins to maintain satiety better. Users note that the VLCD ranges have not been very effective in keeping them full.
The taste of the shakes have also garnered a mixed bag of reviews, but the good news is that there are a lot more flavours to try. For instance, the Optibiome shakes come in vanilla, chocolate, strawberry, and espresso flavours.
Celebrity Slim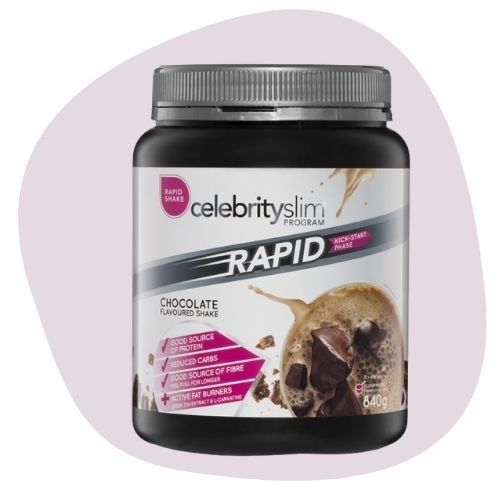 Protein per serve (g) : 14.2
Carbs per serve (g): 13.7
What's good?
Budget-friendly
Very low in saturated fats
The Celebrity Slim Rapid shakes, as per its name, are designed to help you drop those pounds quicker. Strictly speaking, it isn't a meal replacement per se, but it is designed to reduce the sensation of hunger and support weight loss.
A decent amount of fibre is added to the mix to help with that. And similar to many other products on this list (such as Cassius), whey protein is included, which is an excellent source of high-quality protein.
However, the product contains one of the highest amounts of sugars per serve on our list (13.6g per 40g serving). Meanwhile, the Cassius only contains 4.1g of sugar per 60g serving. Hence, the Celebrity Slim isn't suitable for those with diabetes or folks trying to restrict their sugar intake. The product also contains a relatively high amount of fructose and glucose syrup (which have no health benefits and aren't good for your health).
Rapid Wellness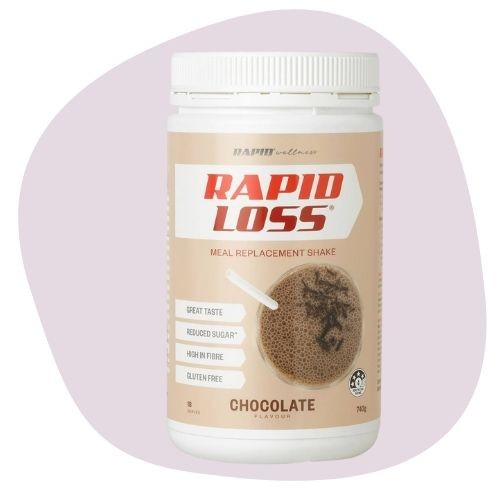 Protein per serve (g) : 7.6
Carbs per serve (g): 15.5
What's good?
Low in saturated fats
Very high in fibre
The Rapid Loss Meal Replacement Shake is a gluten-free, weight loss or maintenance formula fortified with various vitamins and minerals, such as magnesium, iron, and vitamins A, B, C, and D.
The Rapid Loss is designed specifically to help with weight loss but contains an incredibly low amount of protein in each shake. Its fibre content is pretty impressive, though, so this may help promote satiety.
In combination with its decently low-calorie content, Rapid Shakes may help you stay on track with your weight loss journey. But it isn't a complete replacement for your everyday meals, so you'd still have to practice a healthy diet.
The Man Shake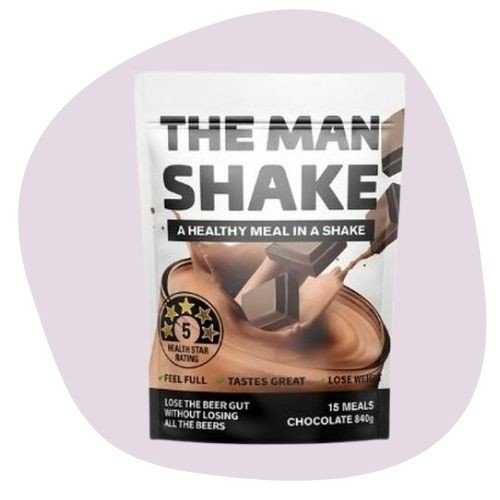 Protein per serve (g) : 30
Carbs per serve (g): 11.2
What's good?
Contains probiotics
Very low in sugar and saturated fats
Gluten-free
What's not so good?
Mixed reviews about the taste
Like other diet shakes on the list, the Man Shake doesn't contain any "magical" weight-burning ingredient that'll quickly eliminate body fats. However, it can be a helpful tool for decreasing your daily caloric intake and facilitating weight loss.
If you're looking for a shake packed with a high-quality protein blend, the Man Shake is one to consider. On top of its impressively high protein content per serve, it is also low-sugar, which makes it one of the healthier options on our list.
The man shake also contains a solid blend of vitamins and minerals, such as vitamins A, B, C, D, and E, as well as calcium, folate, iodine, iron, and magnesium. All in all, it is well-designed to help you meet your daily dietary requirements without having to go overboard with the calories.
And here's a heads up—both the Man Shake and Lady Shake come in 8 different flavours, just in case you'd like a variety of flavours to spice things up. However, a handful of users have mentioned that while the Man Shake walks the talk, it leaves an unpleasant aftertaste and tastes bland.
The Lady Shake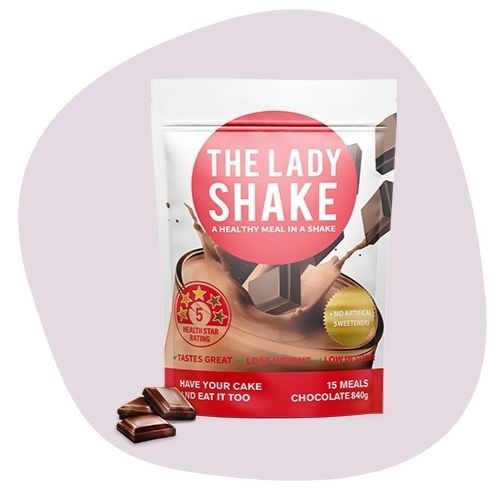 Protein per serve (g) : 28
Carbs per serve (g): 16.1
What's good?
Excellent macronutrient profile
Gluten-free with added probiotics
Low in sugar and saturated fats
What's not so good?
"Fat-burning" claim can be misleading
Similar to the Man Shake, the Lady Shake isn't meant to be your sole weight loss tool, but it can lend you a helping hand on your fitness journey.
Another resemblance shared by the Man and lady Shake is the extremely low sugar content per serve (around 2.3g), which makes it suitable for those looking to limit their sugar intake. Because it's low-sugar, the brand states that diabetics may try out the Lady Shake, but it may be best to consult your doctor or healthcare professional beforehand.
The Lady Shake contains a decent amount of fibre and a high quantity of protein (yes, ladies need protein, too!). So it isn't shocking that many users have remarked that it helps keep them feeling full for longer.
Many are big fans of the taste of their various flavours, but not so much of the gritty texture. Some users have also recommended mixing the Lady Shake with skimmed milk instead of water to elevate its flavour further.
Most Budget-Friendly
Fat Blaster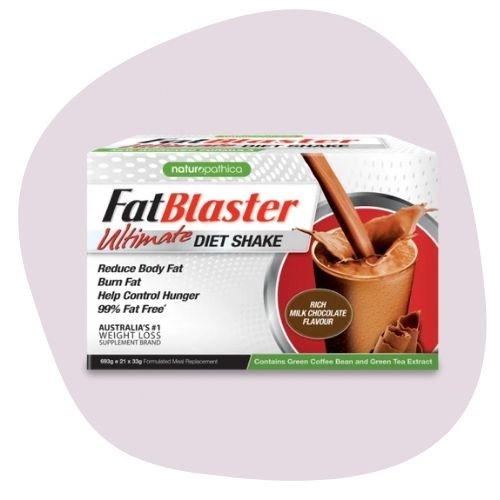 Protein per serve (g) : 6.3
Carbs per serve (g): 19.3
What's good?
Gluten-free
Budget-friendly
Decent mix of vitamins and minerals
What's not so good?
Calorie content not enough for a meal
Very low in proteins
Contains hydrogenated vegetable oil
Exclusively sold at Chemist Warehouse, the FatBlaster Ultimate Diet Shake claims the spotlight as the lowest calorie per serve shake. In conjunction with a calorie-controlled diet and sufficient exercise, this FatBlaster shake may help with weight loss.
It is extremely low in fat and gluten-free, with its formula further enhanced by 24 different vitamins and minerals, including calcium, phosphorus, iodine, and iron.
If you have adventurous tastebuds, the four different flavours—vanilla, chocolate, cappuccino, and raspberry—may keep them entertained for a bit. And the good news is that most users are delighted by these pleasant-tasting flavours.
The Fat Blaster has an extremely low protein content and ~120 calories/serve, making it less suitable for meal replacement. That amount of calories is just too low to replace your lunch or dinner.
Your Other Option: Meal Replacement Bars
Meal replacement bars are the more convenient option if you're looking for something easy to take on the go. There are pre-packaged shakes as well, but most well-known brands are manufactured as a powder that you'd have to blend and mix with milk or water before consumption.
Not to mention that bars are extra light and easy to store.
In terms of nutritional content, it really depends on the quality of the product. After all, a good-quality bar trumps a bad-quality shake any day, and vice versa.
In the long run, bars are likelier to be the more expensive option, but that's the trade-off for boosted convenience.
Here are some of the most popular meal replacement bars in the Australian market.
MET-Rx Bars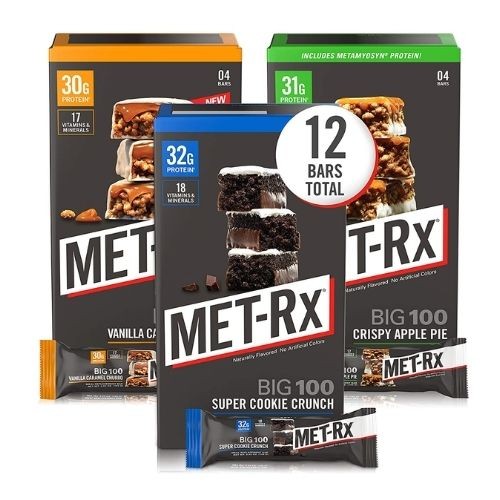 Calories per serve: 380
Protein per serve (g): 30
Carbs per serve (g): 47
Cost per bar: $4.40
The MET-Rx Meal Replacement Bar tops the scoreboard in protein content. With 30g of protein per bar, you can expect to attain a solid blend of quality proteins to help maintain satiety, support bulking, and maintain energy levels. Hence, this bar is popular among athletes, bodybuilders, and weightlifters looking to boost their protein intake.
With the extremely high amount of sugar (22-30g/serve depending on flavour) and calories in each bar, this is definitely not the best option. But it could be a useful pre-workout snack to keep you fuelled throughout intense cardio sets (don't take them too often, though). There's corn syrup, maltitol syrup, and natural flavours included, all of which aren't good.
Slim-Fast Keto Bars (Best Keto)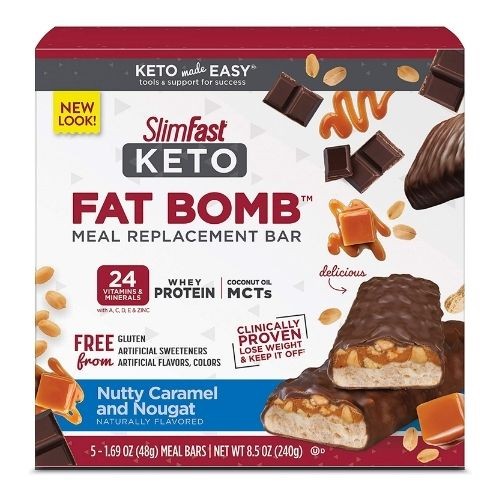 Calories per serve: 180
Protein per serve (g): 9
Carbs per serve (g): 21
Cost per bar: $4.00
Free from gluten, artificial sweeteners, and artificial colours, the Slim-Fast Keto Meal Replacement Bar seems to check many boxes. As per its name, these bars are a fantastic low-carb choice for those on a keto diet since it only contains 3g of net carbs per serve.
Additionally, it contains only 2g of sugar per serving, which is a stark difference from the MET-Rx Meal Replacement ones. This can be very helpful for people who want to cut down on their sugar intake.
The bar contains 13g of dietary fibre per serve, one of the highest on our list! On top of that, the Slim-Fast bar is also nutritionally fortified with 24 different minerals and vitamins, such as vitamins A, C, D, E, and zinc.
You can choose from 5 flavours, which most users have described as delicious without being overly sweet. Meanwhile, users have also remarked that the texture is soft, chewy, and creamy—another brownie point for this bar.
Atkins Bars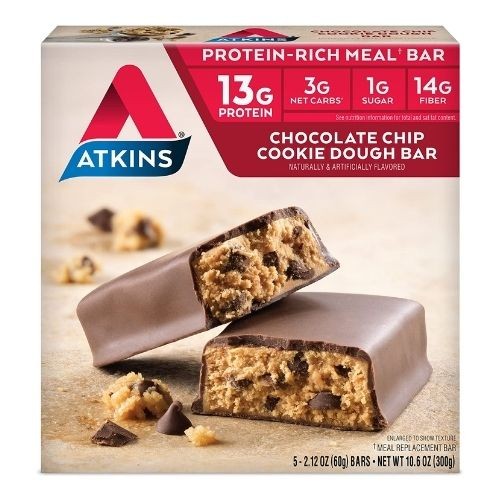 Calories per serve: 200
Protein per serve (g): 14
Carbs per serve (g): 22
Cost per bar: $4.40
Atkins is another meal replacement bar that checks the keto box. It contains merely 4g of net carbs/serve in addition to the pretty high protein and fat content. If you're looking for something low in sugar, you've got another winner with this one! You're looking at just 2g of sugar per serve, which is, once again, a massive difference from the MET-Rx bar.
The decent protein content, in addition to the 9g of dietary fibre per serving, helps keep hunger at bay. And if you're a picky eater, this bar may be worth a shot. Many users are well-pleased with the delicious flavours and the soft, creamy texture.
It seems the Atkins bar would rank pretty high up on our list. And its standing is further boosted by its balanced mineral-vitamin mix containing over 20 different nutrients, including iron, calcium, zinc, and vitamins A, B, C, E, and K.
Redcon1 MRE Bars (Best for Fuel)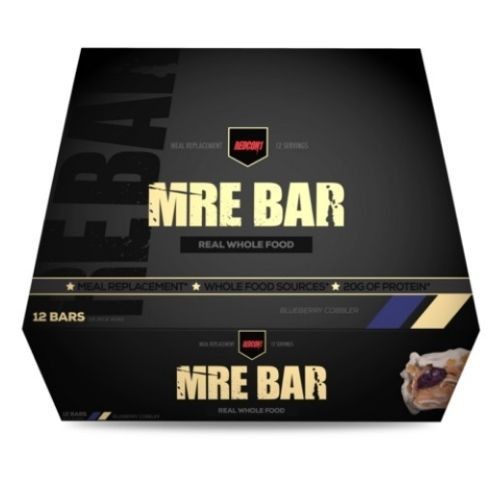 Calories per serve: 260
Protein per serve (g): 20
Carbs per serve (g): 29
Cost per bar: $5.50
These bars provide a healthier way to satisfy any snack cravings. And if you're looking for a convenient bar that would keep your fueled and energized for the day, this one's it. These bars provide 29g of carbs and 20g of protein per serve, making it a protein-rich, nutritious snack that's perfect as a meal on the go. It can also make as a wholesome pre-workout snack before intense gym sessions.
However, based on the micronutrient profile, the other bars on the list may be a better meal replacement option. You can expect to get a decent amount of calcium and a minimal amount of iron and potassium. As for the rest of the minerals and vitamins, the bar does not provide a significant amount of them.
The proteins, carbs, and fats are from whole food sources, and you won't be getting any whey protein in the mix. Whey proteins are a high-quality source of proteins for athletes but can cause digestive symptoms in those who are lactose intolerant and are not suitable for those allergic to whey.
IsoWhey Bar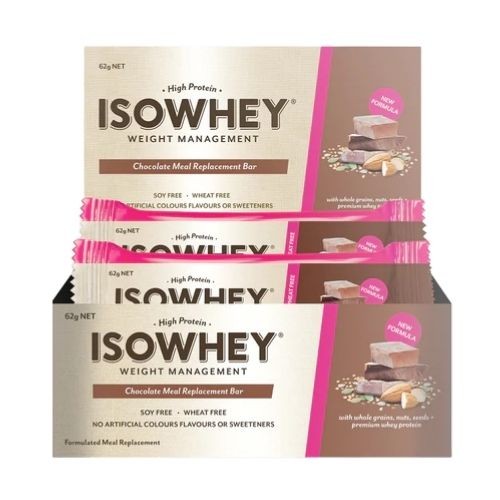 Calories per serve: 244
Protein per serve (g): 12.1
Carbs per serve (g): 23.8
Cost per bar: $4.40
The IsoWhey Bar is packed with whole grains, pumpkin seeds, sunflower seeds, and almonds, making it a nutritious blend with over 20 different minerals and vitamins (including iron, phosphorus, magnesium, and vitamins A, B, C, D, and E). Hence, this bar serves as a decent meal replacement, seeing that its micronutrient and macronutrient profiles are pretty balanced.
On top of that, the IsoWhey Bar does not contain any artificial sweeteners, flavours, or colours (but do note that it is naturally sweetened with stevia, which is a safe sugar substitute in moderation).
This bar may help with weight loss and management but cannot be used as a complete replacement for your daily meals. There are some mixed reviews about the taste and flavours of the bar, so you may want to try out a few bars or so before committing to larger bulks.
Are there other alternatives?
If you don't like the thought of drinking your meals, you could consider weight loss meal service providers.
Admittedly, eating healthy can take a lot of time and effort. From counting calories and tracking macros to meal prepping and going for weekly grocery runs—sometimes, it just makes a lot more sense to order from a meal service provider that caters to your fitness goals. You'll skip the hassle without compromising on your health and nutrition.
How About Weight Loss Teas?
Weight loss teas, or slimming teas, are often marketed to detox and lose weight. Brands will claim that these tea have fat-burning, appetite-suppressing, or metabolism-boosting properties. But what makes these teas any different from, let's say, a regular cup of green tea or oolong tea?
In general, slimming teas consist of a blend of different teas and other ingredients added, such as diuretics or laxatives. Hence, many detox or slimming teas don't offer a sustainable or healthy way to lose weight.
Consuming 'slimming' teas laced with diuretics or laxatives daily can lead to dangerous side effects. Long-term laxative use can mess with your digestive system and prevent your body from absorbing the nutrients it needs.
The important thing is to be your own detective when reading product labels and ingredient lists. Look out for potentially harmful ingredients, such as senna (laxative) and consult a nutritionist or healthcare professional if you're unsure.
They're much healthier ways to cut back on some pounds, so it's best to steer clear from detox teas claiming to be a fast and easy way to lose weight.
FAQ
What's the difference between meal replacement shakes and protein shakes?
The main difference between meal replacement shakes and protein shakes is what they're designed for. The main focus of protein shakes is to help supplement your protein intake in a healthy way, and they're not usually used to replace a meal. On the other hand, meal replacement shakes are designed to replace meals, most often to help with weight maintenance and control.
The nutritional profile will differ because of this. Protein shakes usually have extremely high protein but are not fortified with minerals or vitamins. Meanwhile, meal replacements are generally higher in carbs and calories and consist of a holistic nutritional blend that includes various vitamins and minerals.
Can I take meal replacement shakes for all my meals?
Some brands provide a decent balance of macro and micronutrients. But it's best not to use meal replacement for all your meals daily. Some beneficial enzymes, plant compounds, antioxidants, vitamins, and minerals cannot be packaged in a shake. Hence, it's best to have certain meals that consist of real, whole foods instead of having your entire diet dependent on these shakes.
Why am I gaining weight on my meal replacement shake?
There are many reasons why you may be gaining weight on meal replacements. You could evaluate your diet and lifestyle habits. You may have been compensating with unhealthy snacks or overeating for your other meals. Perhaps, you're gaining muscle mass since you've started training hard and eating healthy. Other than that, some brands of meal replacements are specifically designed to facilitate weight gain, so check the calorie and macronutrient content of the product to ensure it lines up with your goal.
Do weight loss shakes really work?
High-quality, well-balanced meal replacement shakes can be a handy tool to help you achieve your fitness goals. Research findings are very promising. Compared to other types of diets, interventions involving meal replacements are more effective due to greater weight loss, enhanced compliance, and increased likelihood of getting the nutrients and minerals you need daily [5, 6].
So, meal replacements can be beneficial if used correctly. Thankfully, they're not just empty promises or expensive gimmicks. That said, it is crucial to consider your lifestyle, preferences, and goals and purchase high-quality brands to ensure they work well for you.
Meal replacement shakes can be an effective, shorter-term weight control tool. They are most effective when combined with a healthy diet and sufficient exercise.
Most brands are nutritionally fortified with minerals and vitamins you'll usually get from your typical meals. However, meal replacement shakes should not replace your diet completely.