📕 Guides
Best Family Meal Delivery Provider in Australia
Welcome to Mealprep's guide to the best family meal delivery providers in Australia. Whether you're a big or small family, cooking for multiple people can certainly be tiring. Not only do you have to make sure you have enough food for everyone (while not wasting food!), you also need to cater to everyone's tastes and dietary preferences.
UPDATED ON Jul 06, 2022
#

NAME
AVG MEAL COST
DELIVERY AREA
From $4.85
NSW, VIC, QLD, SA, NT, TAS, ACT
From $8.00
NSW, VIC, QLD, SA, NT, ACT, WA
From $8.49
NSW, VIC, QLD, SA, TAS, ACT, WA
From $3.99
NSW, VIC, QLD, ACT, WA
From $9.95
NSW, VIC, QLD, SA, TAS, ACT, WA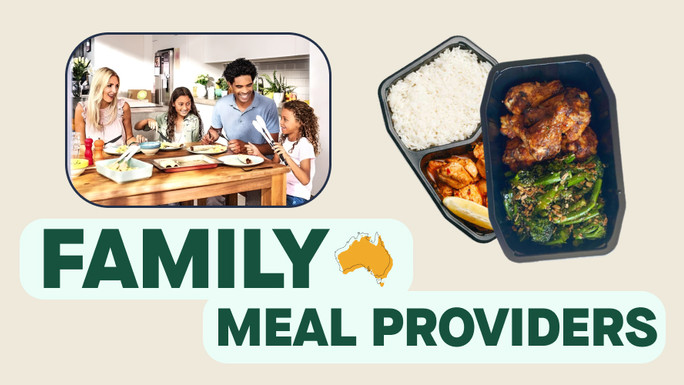 You also want food that will nourish your whole family, is cost-effective, and just simply tastes good with plenty of tasty flavours. Shopping for all of that? Yeah, no thanks!
That's why we love utilising meal delivery services that will save you time, money and headaches – it makes dinner time easy without being time-consuming.
But which is THE BEST family meal delivery provider?
We get it, you just want to get to the good bits!
OK, so our top recommendation, the best of the best family meal delivery provider in Sydney, Melbourne and the rest of the Australia…
We recommend you checkout Dinnerly.
Dinnerly is cost-effective, it caters to a range of dietary requirements AND it ships family-sized meals all across Australia (with delicious meals to boot).
But Dinnerly isn't the only family meal delivery provider we recommend. Want to know which other providers are actually worth it?
Read on!

The List of the Best Family Meal Delivery Providers
Whatever size your family, Mealprep has put together a list of the top 5 Australian family meal providers to help you choose the right one for you and your needs.
How'd we make this list?
We based our list on the following criteria:
Delivery locations: where in Australia do they deliver?
Average cost per meal: what's the average cost per meal?
Min-Max people they can cater for: families of 3? 4? 5+?
Dietary options: can you customise to suit different family dietaries?
We've also put together some handy FAQs about family meal delivery providers in Australia, in case you wanted more info.
1. Dinnerly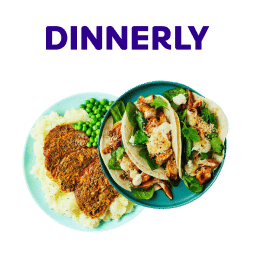 MIN-MAX NUMBER OF PEOPLE THEY CAN CATER FOR: 2-4
AVG MEAL COST: From $4.85
DIETARY OPTIONS: Vegetarian, no added gluten, dairy free, reduced carb + more
DELIVERY AREA: NSW, VIC, QLD, SA, NT, TAS, ACT
Why choose Dinnerly: lots of recipes, quick & easy, good on a budget + handy online recipe cards
Promoted as the most affordable meal kit service in Australia with family meals as low as $4.85 per serving, Dinnerly features simple, family-friendly, traditional meals. Their costs are cheaper compared to other meal kits because there are few ingredients per dish, packaging is simple yet eco-friendly, and digital recipe cards are given rather than printed cardboard cards.
It's good for families of 2-4 people, and also caters to dairy-free, gluten-free, low-carb diets and more. Dinnerly offers 6-ingredient recipes, ready in 30 minutes or less. Perfect for the time-poor family.
2. Hello Fresh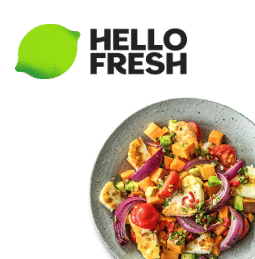 MIN-MAX NUMBER OF PEOPLE THEY CAN CATER FOR: 2-4
AVG MEAL COST: From $8.00
DIETARY OPTIONS: Meat & Veggies, Vegetarian, Flexitarian, Protein-rich, naturally gluten-free
DELIVERY AREA: NSW, VIC, QLD, SA, NT, ACT, WA
Why choose Hello Fresh: largest variety, physical recipe cards & it's great for learning how to cook
Partnering with Australian farmers, Hello Fresh is one of the most popular meal delivery services in Australia, tailoring families, couples and singles with fresh, seasonal ingredients pre-measured in color-coded meal kits to help you prepare wholesome dinner in just 15 minutes. They're one of the major players that offer a family plan, and also offer a veggie, meat & veggie, calorie smart, low-carb and a more meal plans for families.
The one thing to note about Hello Fresh is they are unable to cater for special allergies or intolerances. However, since HelloFresh boxes only contain unprocessed ingredients, it is possible to omit, or replace, any ingredient that could cause an allergic reaction.
3. Marley Spoon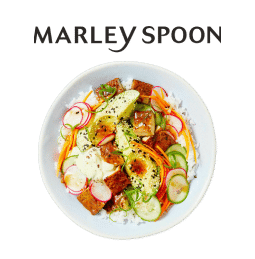 MIN-MAX NUMBER OF PEOPLE THEY CAN CATER FOR: 2-5
AVG MEAL COST: From $8.49
DIETARY OPTIONS: vegetarian, vegan, family-friendly, gluten-free, dairy-free, and low carb
DELIVERY AREA: NSW, VIC, QLD, SA, TAS, ACT, WA
Why choose Marley Spoon: if you want to be a bit fancier and make more complex dishes.
Marley Spoon is another major meal kit player that offers a 2-5 people family box. It's one of the only providers to do a 5 person plan, which is handy for bigger families. You can choose from 27 weekly recipes that are updated every week, delivered with preportioned ingredients in meal kits straight to your door. Their selections of meal recipes include vegetarian, vegan, family-friendly, gluten-free, dairy-free, and low carb options. Their 6-step recipe cards are chef-inspired and easy to follow. Marley Spoon also offers a family fruit box for $24.90 a week, with fruit box contains up to 8 varieties of fresh fruit.
4. EveryPlate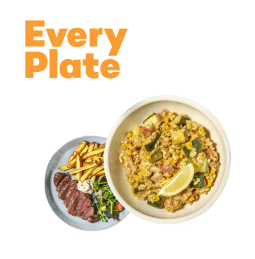 MIN-MAX NUMBER OF PEOPLE THEY CAN CATER FOR: 2-6
AVG MEAL COST: From $3.99
DIETARY OPTIONS: Vegetarian
DELIVERY AREA: NSW, VIC, QLD, ACT, WA
Why choose EveryPlate: cheapest of all meal kits
EveryPlate is a super flexible meal kit service to help you cook filling and tasty dinners easier. Their meals begin at a very low $3.99 per plate and are easy to follow. EveryPlate delivers a lower price per plate by cutting out the frills. Everything you need and nothing you don't. Just quality ingredients and a selection of fuss-free recipes with 4 simple steps, for a guaranteed tasty feed.
It's one of the better meal kit services for families as it offers plans for up to 6 people, which no other plan does. You can also choose meals that are rated as vegetarian, premium, quick & easy, kid approved and customer top-rated. Where EveryPlate could improve is by offering more choice for dietary requirements. The only dietary option you can choose is vegetarian.
5. Youfoodz
MIN-MAX NUMBER OF PEOPLE THEY CAN CATER FOR: 1+
AVG MEAL COST: From $9.95
DIETARY OPTIONS: Vegetarian, No gluten added, No nuts added, No eggs added, No dairy added
DELIVERY AREA: NSW, VIC, QLD, SA, TAS, ACT, WA
Why choose Youfoodz: cheapest ready-made meal, available everywhere
Youfoodz isn't your typical family meal delivery provider in Australia as it's a ready-made meal provider, rather than a meal kit where you cook your own meals with the ingredients sent by the provider. However, if you're a family of 2+ with kids who are a bit older, or even just a couple, and you don't want to cook, Youfoodz is the ideal choice.
It's the cheapest ready-made meal provider and it's available across Australia – both for delivery and buying in-store. Youfoodz has a handy app, caters to a range of diets and has next day delivery in most metro areas.
Family Meal Delivery Provider FAQ
Which family meal delivery provider offers free delivery?
None of the providers offer free delivery at this time.
Are meal delivery services suitable for kids?
Meal delivery services are a great wya to feed a family with yummy and nutritious meals, including meals for young kids. However, it's worth noting that not all meal provider meals are guaranteed to be suitable for everyone (especially a fussy toddler!) So it might just take a bit of trial and error.
Do family meal delivery providers offer healthy meals?
All of the meal delivery providers listed offer healthy meals in the fact they've all got a good balance of protein, carbs, fats and veggies. Although what's healthy for one family, might not be as healthy for another. For example, if you have a partner or child in the family who is diabetic, a heavy-carb meal won't necessarily be healthy for them. So it's all about choosing meals that meet the needs and health goals of your whole family.
Are family meal deliveries fresh meals or frozen meals?
The family meal delivery providers listed above are all fresh meals – with 4 being meal kits with fresh ingredients you prepare and cook yourselves, and 1 being a meal provider (Youfoodz) with the meals already made (but not frozen).
Is it time-consming making meals from family meal kits?
Most of the providers listed offer recipes that are quick and easy to prepare and cook – anywhere between 15-30 minutes. And, some even offer you the ability to choose recipes marked as "quick and easy" – if that's a selling point for you!