📕 Guides
A Buying Guide To Meal Prep Containers
Glass or plastic? Single, multi-compartment or bento style? Here's how to find the right meal prep container for your meal prep style 🍽️
UPDATED ON Oct 13, 2023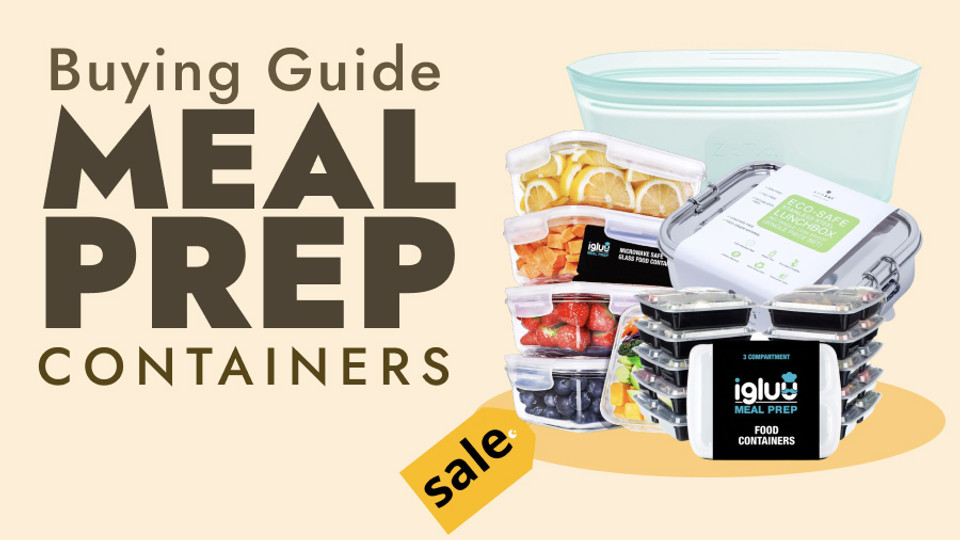 No container is perfect, but with our guide, you're bound to find one that feels just right for your needs.
Note:
Look for: Leak proof, stain-resitant, microwave/oven safe, lightweight & portable, easy to clean, BPA-free, cost-effective.
Price: Meal prep containers can range from less than $1.00 to $50.00+ per container. Consider durability and longevity when choosing a container.
Purpose: Consider what matters most to you in a meal prep container. Do you like to heat your food in the container? Do you want something light to take to work? Do you freeze your meals?
Key Meal Prep Container Features To Look For
✅ Leakproof & Airtight Meal Prep Container
Nobody wants a mess, especially not in their bag. A good airtight container will not only prevent accidental spills but also keep your meals fresh by preventing air from entering or escaping.
Best Type: Plastic containers with snap-lock lids. These containers are designed with secure seals that snap in place, ensuring that the contents stay put, even during commutes or if they end up sideways.
✅ Oven & Microwave-Friendly Container
The convenience of transferring your meal straight from the fridge to the oven or microwave is invaluable. It saves time and makes the reheating process smoother.
Best Type: Glass containers. These champions can handle the oven's heat, and they're microwave-safe. Plus, they don't absorb microwave smells or change food taste.
✅ Dishwasher-Safe Food Storage Container
After a long day, the last thing you need is to hand-wash your containers.
Best Type: Hard plastic and glass containers. These types can endure the rigours of a dishwasher, coming out clean without wear or residue.
✅ Lightweight Food Storage Container
If you're on the move, be it for work, school, or picnics, a lightweight container is crucial.
Best Type: Plastic containers. They offer portability without the weight, making them ideal for daily commuting or travel.
✅ See-Through Meal Prep Container
Being able to quickly identify what's inside can be a real timesaver, especially during busy mornings.
Best Type: Clear plastic or glass containers. See what's inside without having to open up the lid.
✅ Freezer-Safe Container
For those who love batch-cooking or storing leftovers, a freezer-safe container is a must-have to avoid container cracks or meal-freezer burns.
Best Type: Plastic containers designed for freezing. They're built to handle extreme cold. Glass containers can also be suitable, provided they're labelled as freezer-safe.
✅ Stain Resistant Food Prep Container
Frequent meal preppers know the struggle of tomato or turmeric stains all too well.
Best Type: Glass containers. They stand up to staining foods, ensuring that your container remains clear and stain-free after countless uses.
✅ BPA-Free Food Storage Container
Considering health implications, it's crucial to have containers that don't leach harmful chemicals into your food.
Best Type: BPA-free plastic. It provides the convenience of plastic without health concerns. Glass containers are naturally BPA-free and don't have the risk of leaching.
Nice-to-Have Meal Prep Container Features (But Not Essential)
🌱 Eco-friendly: Kind to Mother Earth, but not a must-have.
💰 Budget-Friendly: Light on the pocket is always nice!
🍱 Compartments: Keep food separate and organised.
🗑️ Disposable: Super convenient, though not always eco-smart.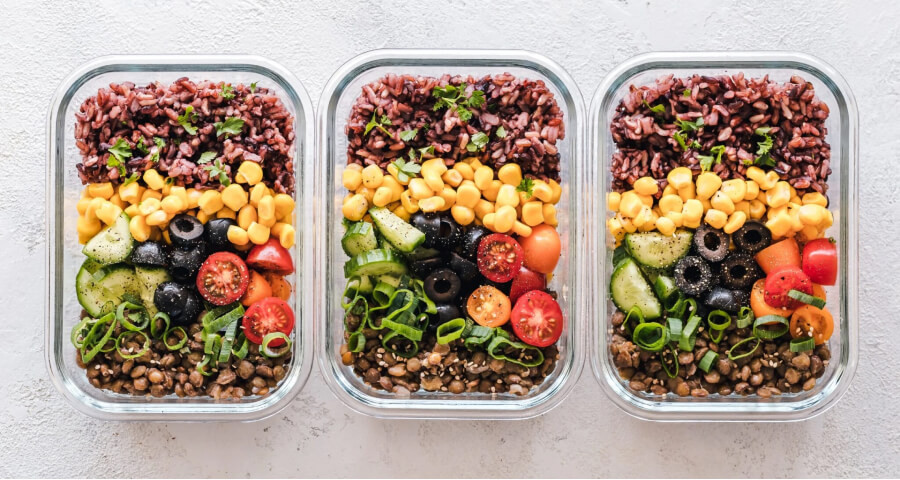 Where to Buy Meal Prep Containers in Australia
Biggest Selection: Online (Amazon, independent providers)
Cheapest: Kmart
Most Convenient: Coles/Woolworths
Mid-Tier Containers: Big W/Target
Most Expensive: Independent retailers
What's the Best Meal Prep Container?
We love the Igluu Glass Containers with a transparent lid.
Why?
Easy to clean (no red stains!)
Doesn't hold smell (at least not as much as plastic)
Eco-friendly
Oven and microwave-safe (with no burnt plastic smell)
FDA approved and BPA free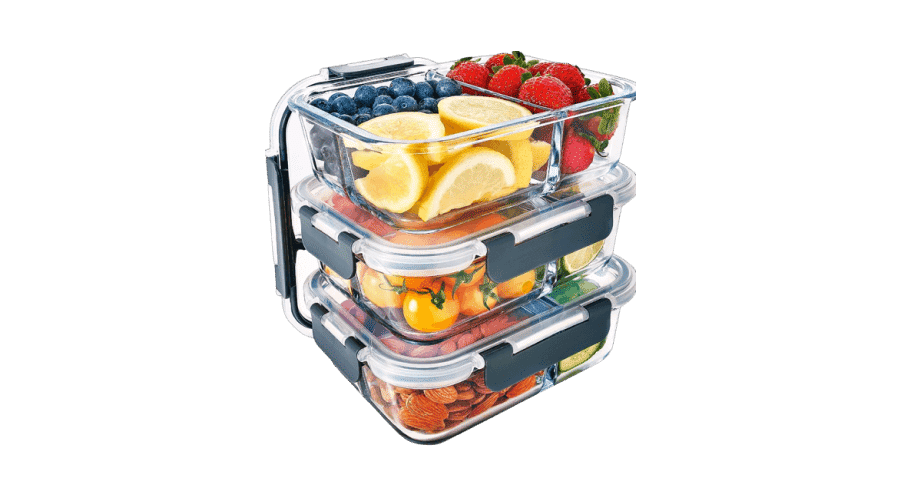 The only downside in our books is they're quite heavy – so not really ideal for transporting to work!
But if you're after a meal prep container that's odourless and fresh and can be multifunctional too (you could even use it as a baking tray in the oven if you need it) – the Igluu glass food storage containers are your best bet.
Pros & Cons of Popular Meal Prep Container Materials
Material

✅ Pros

❌ Cons
Plastic
Lightweight
Affordable
Diverse sizes/shapes
Often has multi-compartment features
Can stain
Might warp with heat
Potential chemical leaching if not BPA-free
Less eco-friendly
Glass
Resists staining
Microwave/oven/dishwasher safe
BPA-free
Eco-friendly
Heavier than plastic
Breakable
More expensive
Might need protective sleeves for transport
Stainless Steel
Durable
BPA-free
Resistant to stains and odours
Eco-friendly
Not microwave safe
Heavier than plastic
Typically more expensive
Silicone
Lightweight and flexible
Microwave, oven, and dishwasher safe
BPA-free
Eco-friendly compared to disposable plastic
Less rigid
Might retain odours
Can be more expensive than regular plastic Some might notice a taste or smell initially
Our List of Recommended Meal Prep Containers
Budget Plastic Meal Prep Containers
The Igluu series of meal prep containers sell like hotcakes for a reason! They're tailor-made for meal preppers with single, dual, or bento-style container options.
According to the brand, these are reusable (not one-time-use), though they aren't as durable as higher-priced counterparts made from thicker plastic. In addition to that, they're microwave, freezer, and dishwasher-safe.
They're also sold in packs of 10 so you'll have plenty of containers to last you through the week.
Kmart's meal prep containers are both practical and durable. Made of strong polypropylene, they come with a clear lid and black base.
The standout feature is the three compartments, which make separating foods easy. Plus, they're safe for the microwave, freezer, and dishwasher.
And don't worry; they're BPA-free. Just remember to check Kmart's care tips for longevity.
Traditional Plastic Meal Prep Containers
Sistema plastic containers can be found in most major supermarkets like Coles, and Woolworths, as well as online through Amazon.
Their range consists of microwave-friendly, freezer-safe, and dishwasher-safe containers, which are identified via specific engraved symbols.
Try to go for the leak-proof and airtight options to preserve freshness and flavours and eliminate the risk of spillage if you'll be lugging your lunchboxes around.
A variety of sizes are available, and Sistema containers are stackable, a space-saving feature that helps free up room in your pantry, fridge, and freezer!
Glass Meal Prep Containers
Igluu glass meal prep containers are conveniently available for purchase online, mostly in packs of 2's and 3's for $35-50 per pack.
These glass containers steal the spotlight in terms of versatility, mainly because they are microwave-friendly, freezer-friendly, and oven-friendly with their top lid off.
Other than that, they check all the right boxes. The snap-and-lock lid and inner silicone ring create an airtight environment, not to mention that both bases and lids are dishwasher-safe for added convenience.
You can even get them with multiple compartments.
Stainless Steel Meal Prep Containers
The Ecozoi Leak Proof Stainless Steel container has a modular design that allows for you to separate your food with an optional smaller container that can be tucked away inside the container, or used as a completely separate container.
In terms of durability, it's made from the highest-quality stainless steel with a practically indestructible nature! These stainless steel meal prep containers are ideal for sandwiches and wraps, or as kid's lunchboxes.
Thankfully, these are dishwasher-safe. While it does cost quite a bit, it's designed to withstand the test of time and outlive its plastic counterparts!
Silicone/Rubber Meal Prep Containers & Food Bags
The Zip Top Silicone containers come in lots of different shapes, sizes, and colours. They're made from 100% food-grade silicone and are free from chemicals and fillers that may leech into your foods.
For boosted convenience, these are also freezer, fridge, dishwasher, and microwave-safe. They're also endlessly reusable and perfect for to-go snacks, sandwiches, and fruits.
Kmart has a four-piece food storage set for those wanting a stylish touch to meal prep.
Made of polypropylene and thermoplastic rubber, the set includes green containers in sizes from 640ml to 4.3 litres.
Each has a lid, steam-releasing vents, and is BPA-free. They're safe for the dishwasher, microwave, and freezer.
Honourable Mention Food Storage Containers
Jugglebox Meal Prep Food Containers
Jugglebox is an Australian brand famous for its eco-friendly and stylish meal prep containers. On their online site, you can purchase large bulks of reusable food storage containers in sets of 10-50. You will find compartmentalised containers on their site and even thermal lunch bags for purchase.
Mealami Meal Prep Containers
Mealami combines style and fashion into their meal prep bags, water bottles, and meal prep accessories. The Mealami Meal Prep Container is BPA-free and freezer, dishwasher, and microwave-safe.
Mealami containers aren't expensive either, and their store contains other handy meal prep accessories, such as utensils and stylish bags to keep your food fresh.
FAQ
What is the best size for meal prep containers?
For a single-portion meal, a container with a capacity of 3-4 cups (or around 700-800+mL) is suitable. A container of this size is large enough to hold a meal for one person and is compact enough to take on the go.
Are glass containers better for meal prep compared to plastic containers?
Most people prefer meal prepping with plastic containers as they are usually environmentally friendly, durable, dishwasher-safe and safe for freezing and reheating in the microwave or oven. But a plastic container may be better suited if you're looking for something light, cheap, and convenient to take around.
Is microwaving food in BPA-free plastic meal containers safe?
While it's generally considered safe, it's better to heat your food especially from frozen using a ceramic or glass bowl rather than plastic, even if it is BPA-free plastic. 
Is Sistema from Woolworths good for meal prepping?
Sistema has a great range of meal prep containers that are readily available at local supermarkets like Woolworths and Coles. They're lightweight, which makes them ideal for meals on-the-go.  However, the plastic can be difficult to wash and will stain over-time after consistent use. 
Your food storage containers can make or break the experience. You won't want the freshness and flavours of your meals to dwindle each night. Plus, a high-quality meal prep container helps maintain the nutrients present in your food.
Don't be afraid to invest in some meal prep containers that are safe and can withstand the test of time. Good-quality ones will elevate your meal prepping experience, we promise that!