A quality meal prep container goes beyond a storage solution by keeping your food fresher for longer. They can help reduce the loss of important nutrients in the freezing and reheating process and make the meal prepping experience a whole lot more enjoyable. But which style of container is right for you?
Single vs multi-compartment containers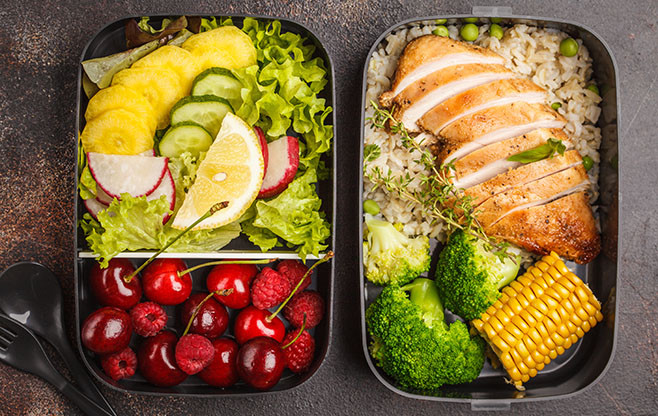 For most meal preppers, single compartment containers are the go-to if the name of the game is convenience. Everything is placed into the single container for one serving which makes it easy to reheat and eat.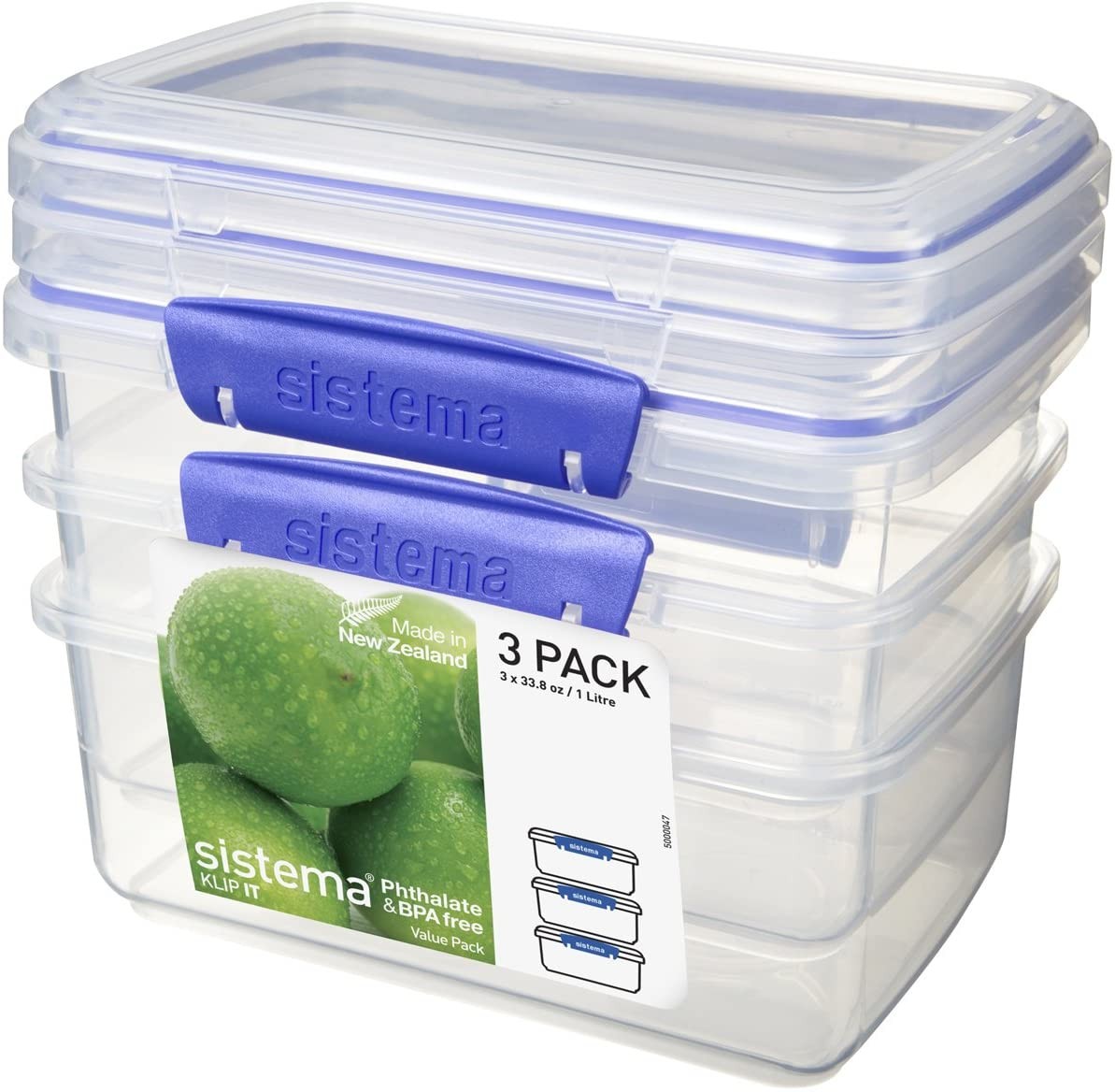 Sistema Klip It Clear Food Storage Containers
A leak-proof container you can find at local supermarkets like Coles and Woolworths. Made from BPA free material that ensures containers to be safe and eco-friendly. Can be used in the microwave, freezer and dishwasher.
The drawback, though, is if you wanted to include some variety and don't want the two foods touching (like adding in fruits or salads with your meal), you will either need to pack it in a separate container or get a multi-compartment container.
Multi-compartment containers come in a few different varieties:
Split 50/50
Split 30/70
Removable divider
Bento style (3 or more compartments)
Generally those with removable dividers seem a bit gimmicky – you may as well be mixing the food because there will always be some spillage from one side to the other.
Stock up on some single compartment containers but keep some multi-compartment ones handy. 
Plastic Meal Prep Containers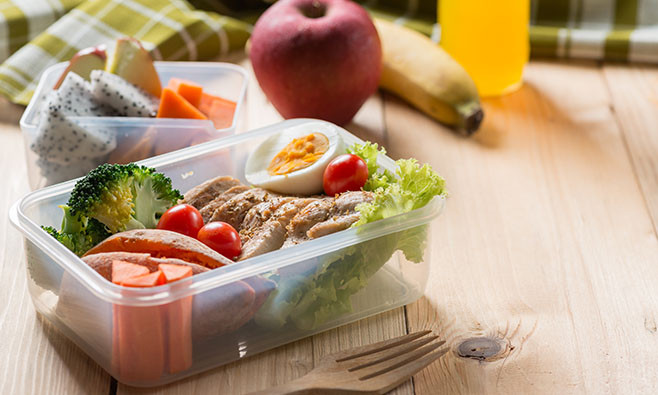 There are many reasons you might want to work with plastic meal prep containers. Top advantages include convenience, easy portability, widespread availability and relatively low cost. Plastic is unlikely to break if you drop it, which makes it one of the most popular materials available for storing and transporting lunches to school and work.
Like most things, plastic food storage containers do have their disadvantages. For starters, if you were hoping to throw the entire container in the oven to heat up your dinner… don't, they are NOT oven safe. This means you may have to allow yourself a little bit of extra time to transfer your meal from your container to an oven proof dish.
Secondly, plastic containers are prone to warping. When this happens, sometimes the container lid will no longer be leakproof, which is a nightmare if you're transporting your lunch in a bag full of clean clothes or other belongings. Thirdly, they are also vulnerable to accumulating stains, scratches and odours. If you've ever tried storing a red curry or saucy pasta in one of your plastic containers, you would have noticed the colour from the sauce tends to stick to the plastic, making it exceptionally difficult to clean later on. Some other disadvantages of plastic food storage containers include environmental issues and possible adverse health effects.
There's one especially important caveat you need to be aware of before you use plastic meal prep containers or plastic wrap; it is possible for chemicals to migrate out of the plastic and into your food. You are particularly vulnerable to having this happen if you place your plastic container along with your food in the microwave to be heated. According to scientists, heating plastic can dramatically hasten the speed of chemical leaching.
All this raises the question of how dangerous, exactly, the chemical leaching from BPA and other chemicals truly is?
Unfortunately, we don't have clear cut answers to this question. On the one hand, officials in the Australian government reassure us that the average Australian isn't exposed to significant enough quantities of BPA for it to be a problem but on the other hand, we have countless doctors, scientists, fitness gurus and other experts warning us that chemical leaching is a significant issue we should be worried about.
The oncologists and medical reviewers at BreastCancer.org warn people not to cook food in plastic containers because of the possibility of hormone-disrupting plastic residues leaching into food.
One of the worst chemical culprits in plastic is Bisphenol A (BPA). BPA negatively interferes with the proper functioning of your hormones; in particular, BPA can impersonate oestrogen in your body. Scientists have discovered links between BPA and a broad variety of health concerns ranging from infertility to heart disease and cancer.
With the growing awareness of the many health problems BPA can cause or contribute to, companies are scrambling to develop BPA-free food storage containers. However, some BPA replacements aren't much better, therefore, a claim of "BPA Free" doesn't necessarily mean that a plastic food storage container is your safest option.
So, if you do opt for a plastic container, try to remember that heating food in plastic containers is extremely likely to carry some health risks. You will have to evaluate for yourself whether the convenience of plastic containers outweighs the risks. You can decrease your risk level by transferring your food to a glass dish or paper plate before heating it – but of course, this reduces the convenience factor that makes plastic containers so attractive in the first place. 
Try seeking out containers which are:
PVC, phthalate and BPA free
Have leak-proof lids
Freezer, microwave & dishwasher safe
If you want to avoid using plastic meal prep containers, some alternatives include silicone, glass and stainless steel.
Silicone Meal Prep Containers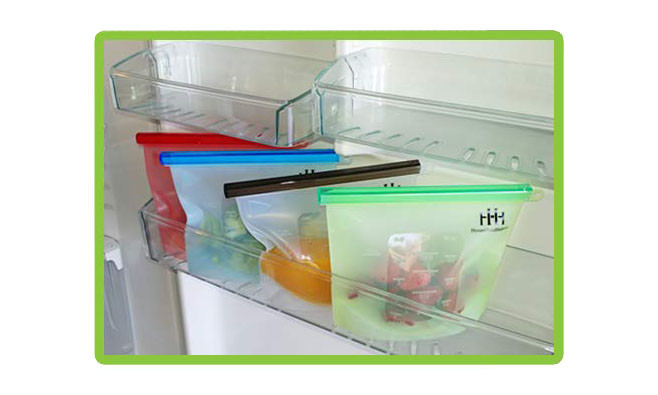 Silicone is a flexible, heat-resistant, resilient material, which makes these containers perfect for a quick reheat. Silica is a natural product, but some of the additives that can be used in the process of making the finished silicone are not; the resulting product is therefore a synthetic one.
Silicone behaves much like a plastic. Food storage containers made from silicone carry many of the same advantages that plastic ones do; they aren't prone to breaking, they resist water, and they are nonstick. Not only that, some silicone meal prep containers are collapsible, which allows for convenient storage when they are empty.
Glass Meal Prep Containers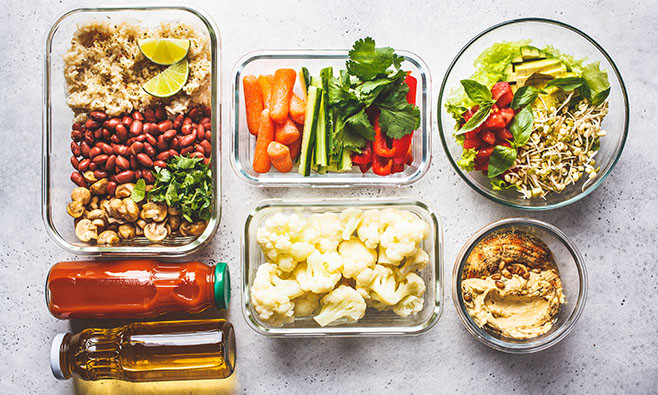 There are plenty of good reasons to choose glass food storage containers for meal prepping. Firstly, unlike plastic containers, they are oven safe; it's fine to warm up your prepped meals in the oven if they're stored in glass without having to worry about glass leaching toxic chemicals into your food.
Secondly, glass holds its shape and doesn't warp, they also look much nicer and are stain resistant which means they are often easier to clean than plastic containers and they also have superior odour resistance.
The two big downsides to glass food storage containers are their breakability and their weight. They're heavier to carry around than their plastic counterparts, and there's always a worry if you accidentally drop them, especially if you're sending them to school with the kids.
Our verdict: Plastic for on the go, glass for home.
Stainless Steel Meal Prep Containers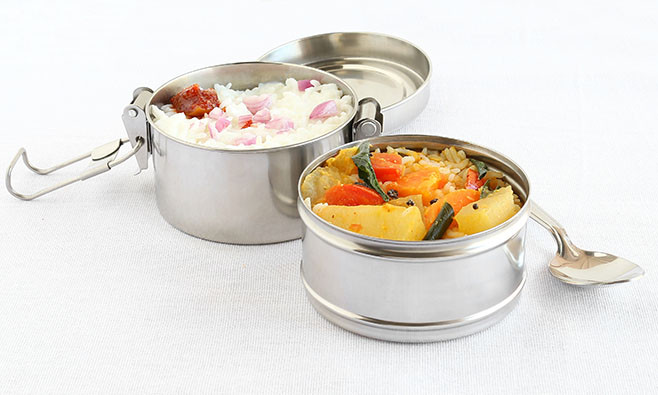 If you're looking for the most durable and rugged meal prep containers, it would probably be stainless-steel containers. Stainless steel is completely recyclable and can last a lifetime.
One problem is that stainless steel meal prep containers are not microwave friendly – so unless you're planning to unload your food onto a separate microwave-safe dish, it's more or less just a stainless steel lunchbox for cold food.
Stainless steel also has the potential to leach nickel and chromium into your food when you cook it, which is less than ideal. This can result in an increased risk of contact dermatitis.
Researchers determined that the grade of stainless steel and the cooking duration were both contributing factors to the amount of leaching that occurs. So if you use stainless steel cookware or meal prep containers, you can reduce your risk of leaching by using better grades of stainless steel and by cooking your food for the shortest acceptable duration of time.
So in conclusion, steel containers aren't exactly time savers and carry significant health risk, not to mention they are prone to leakage.
Where to Buy Meal Prep Containers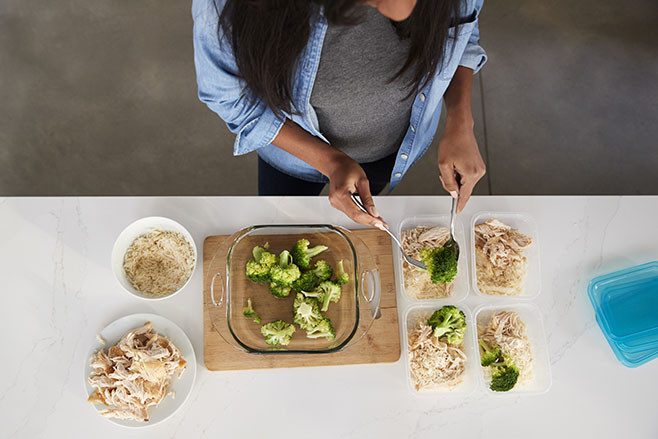 Coles, Woolworths, Target, etc. all carry BPA free leak-proof containers in both plastic and glass varieties. They're great when there are specials on but not so great at RRP.
Some of the better containers include those that were made by JuggleBox, Mealami and Meal Prep Australia. These containers are all pretty advanced, so if you're hoping to find containers which are little more budget friendly, try your luck with the supermarket brands and when as your meal prep evolves over time, upgrade to one of many nifty containers by one of the pros.