Want to start meal prepping but working on a tight budget? Can it be done without having to eat lentils and rice for each meal? You betcha it can! You can successfully meal prep and reach your health and fitness goals no matter how much money you're working with.
In this guide, we're offering some actionable tips and tricks to not only shop on a budget, but how to save even more money on your grocery shop. And no, none of this advice will tell you to buy lower quality products. No, no, no. This is how to shop on a budget in Australia buying quality food your body deserves. Let's go shopping.
Steps to Shopping on a Budget in Australia
1. Plan a Weekly Menu
Planning a weekly menu is key to shopping on a budget. Having a weekly menu (including recipes in advance) means you'll know what you're buying when you head to the shops. It'll also save you from impulse buying and wasting food by buying products you'll never end up using because you have no meal plans for them.
2. Shop Less (and write a list)
Did you know the more times you take a trip to the shops, the more likely you'll impulse buy? Makes sense when you think about it, huh? Impulse buys may seem insignificant here and there but they quickly add up. Not to mention if you buy something on a whim and then don't end up using it you're just contributing to food waste. So, shop less (twice a week max if you can) and write a list before you go so you don't forget things and have to go back to the shops again and again.
3. Shop Online
Shopping online is an easy way to take control of your shopping list and your budget. Ever got to the checkout at the shops and realised the total of your trolley was way more than you thought? Well, when you shop online you can see the total of your cart as you fill it up, allowing you to make sensible choices and remove items that don't fit into the budget. Not to mention you can easily see and compare prices for different products online, meaning you can choose the cheapest option.
4. Eat Less Meat (or choose cheaper cuts)
Meat is always going to be a premium product and you pay a price for premium – that's just life. Now, you don't have to get rid of meat entirely from your diet, but it won't hurt your health or your wallet to cut back. To save on meat, try to eat less meat throughout the week or eat smaller portions at each meal and load up on fibrous veggies instead. Or, you can choose cheaper cuts of meat, or buy meat on sale and freeze it. Now, this doesn't mean you should go buying "fake meat burgers" – because fake meat is actually more expensive than regular meat most of the time (and not so great for your health as it's a pretty processed product).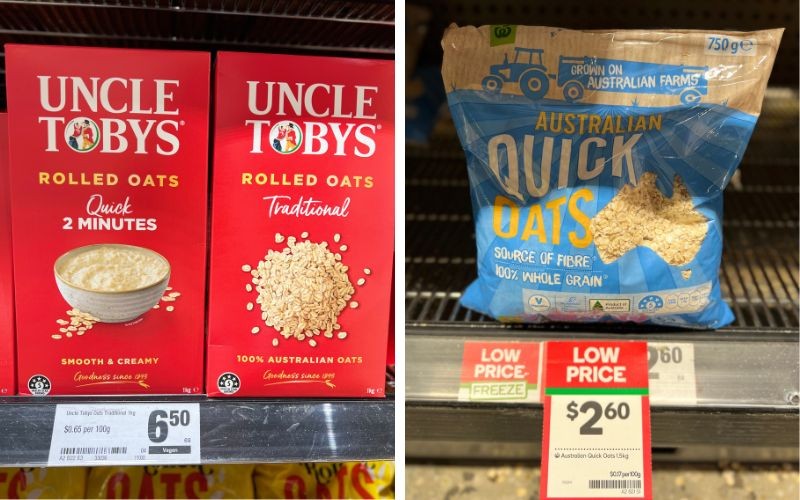 5. Buy Fruit & Veg Outside Major Supermarkets (or buy frozen)
Fruit and veg should be a staple in everyone's diet and there's no beating around the bush, it can be pricey. There are three ways to lower your fruit and vegetable budget: shop outside major supermarkets for fresh produce, buy frozen fruit and veg, order fruit and veg boxes online (like Good & Fugly – $32 gets you 5-6 kg of fruit and veg to feed 1-2 people for a week). Also, local greengrocers will often have cheaper produce available, while also offering extra discounts for fruit and veg that's ugly (i.e. it looks a bit different but there's nothing actually wrong with it).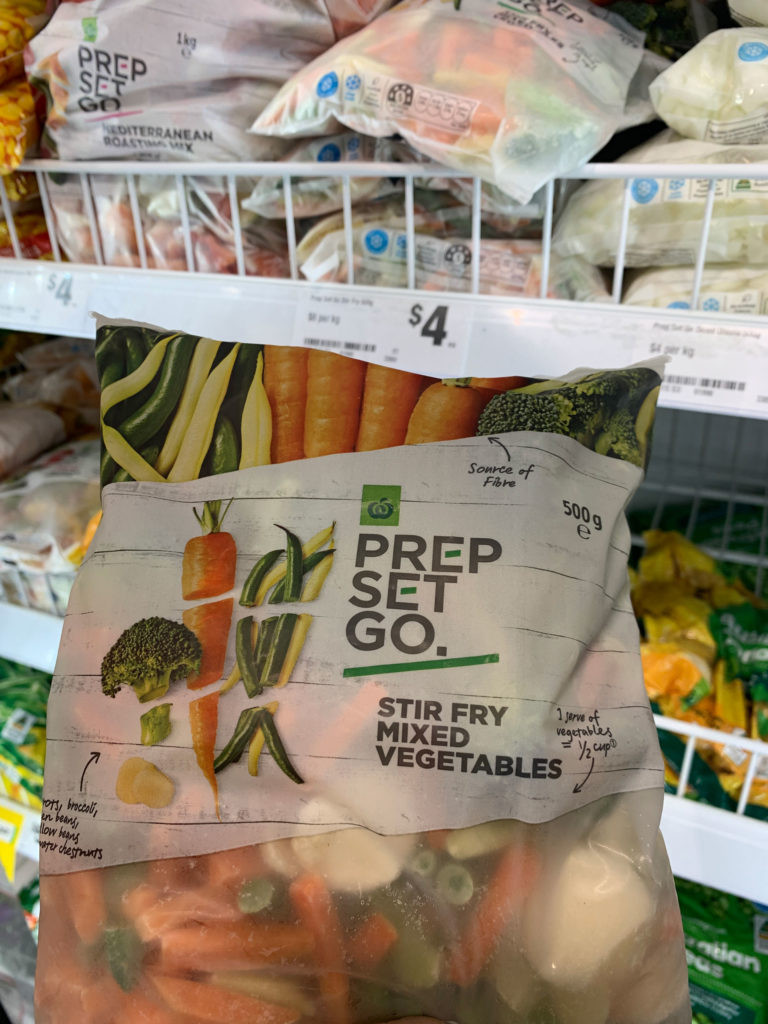 6. Choose Wholefoods Over Cereal
Not only are most cereals filled with sugar (even the ones branded as healthy), they also cost a heck of a lot. Want a cheap and healthy breaky? Choose whole foods like oats. For $1.50 you can get 750g of oats, which is 15 meals. You can eat oats by itself, or make it into a homemade muesli. You can also soak oats overnight with different ingredients like peanut butter, chia seeds and protein powder for a ready-to-go breakfast before work.
7. Buy In Bulk & Look for Sales
Buying in bulk is a great way to never have to pay full price for groceries. While it does cost a little more money upfront, in the long run, you'll definitely be making some great savings. Most supermarkets offer a range of discounts the more you spend (e.g. Buy 2 and get 1 free). Buying larger bags of items – like a larger bag of frozen veg for example – gives you more bang for your buck too.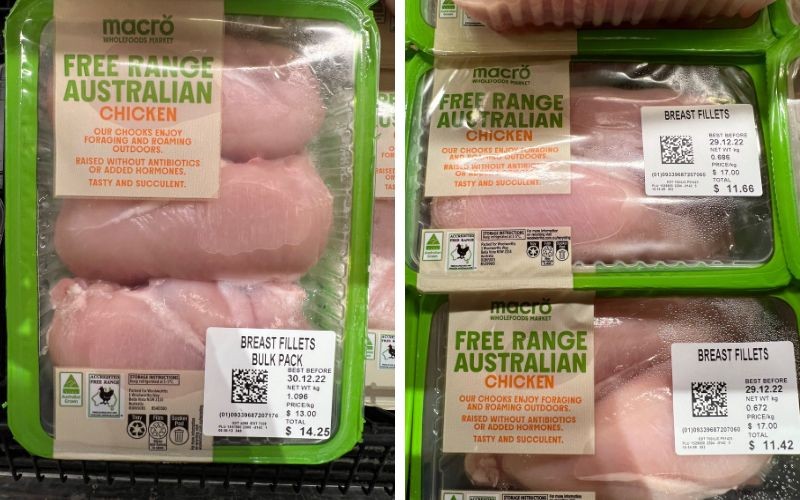 8. Go for Homemade
Want to really save on groceries? Make your own products! From pickles to almond milk, jam to bread and yoghurt, you can make many things you can buy at a grocery store, and for a fraction of a price. You'll pay more in your time used to make these products, but if you're a keen chef and love getting in the kitchen it's well worth it! If you have the backyard for it you can even look into growing your own veg and herbs to really cut down on grocery costs.
9. Check Out Supermarket Rewards Programs
Most major supermarkets have a rewards scheme that could help reduce your weekly shopping bill. Coles has Flybuys and Woolworths has Everyday Rewards, with each earning you points when you shop, which then give you access to money off vouchers, rewards and discounts off fuel. You can also link your Flybuys to a Velocity frequent flyer account, and Everyday Rewards can link to a Qantas frequent flyer account.
10. Use ready-made Meal Providers
Ready-made meal providers are an excellent way to stay on top of your budget and successfully meal prep/reach your health and fitness goals. And, most providers offer great discounts off your first few orders. For example, you can get $130 off your first 4 boxes with HelloFresh, $150 off your first 5 boxes with EveryPlate and $30 off your first order with Soulara.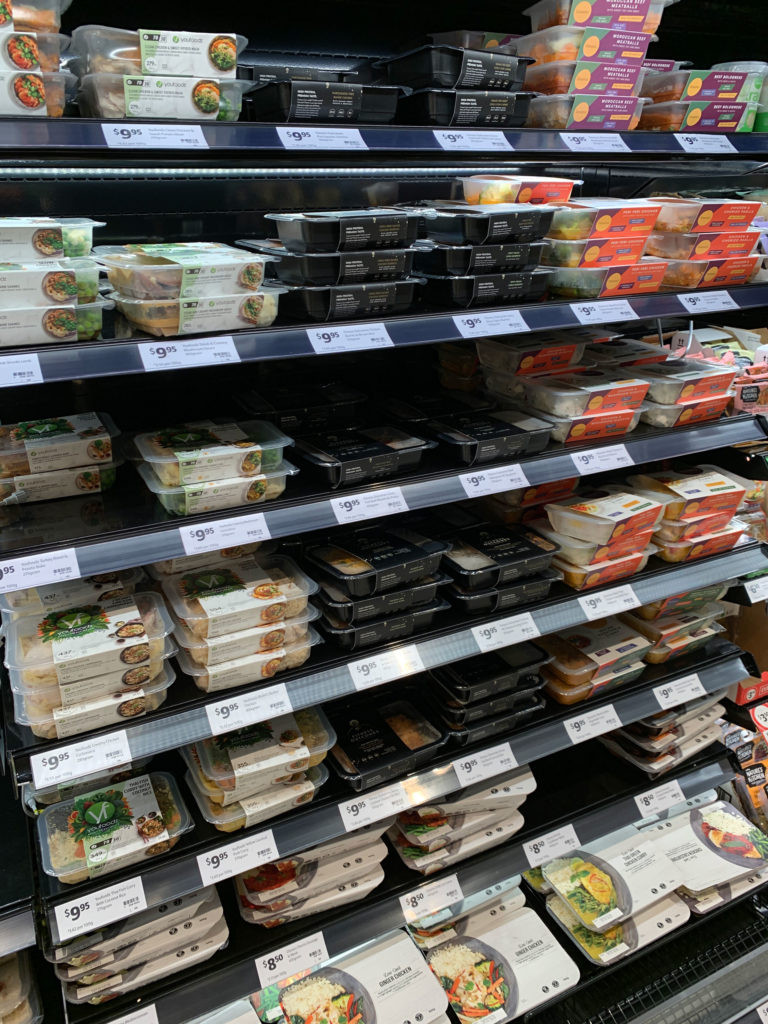 Other Resources & Recipes for Shopping on a Budget
Shopping on a Budget FAQs
How to Write a Weekly Shopping List?
Writing a weekly shopping list means first of all menu planning for the week ahead. Once you have your set menu, you can start creating a list of all the things you need and break it down into categories to make sure you don't miss anything at the shops.
How to Grocery Shop on a Budget for 1?
Shopping on a budget for one person isn't hard – it just takes some forward planning. Meal prepping will be your best friend in this instance. You'll want to find some freezer-friendly meals, batch cook your meals and freeze them, then rotate your meals throughout the week.
What's a $50 Weekly Menu in Australia Look Like?
Is a $50 shopping budget per week doable in Australia? Yes, if you're a savvy shopper. Using seasonal produce, cheaper cuts of meat, cooking from scratch, and some meal planning, it's very possible to cook 7 nights of dinners for under $50.
Keep Reading Meal Prepping Tips:
Planning:
Shopping:
Safety: