📕 Guides,🥙 Nutrition
Five Meal Planner Apps To Help Keep You On Track
Having your entire week's meals planned out is the perfect way to not only save time and money, but to help you reach your ultimate health goals. As great as that sounds, it's not always easy to stay on track, especially when we forget what groceries we have in the cupboard or forget to take food out the freezer! That's why a meal planner app may be just what you need to keep you on track.
POSTED ON Jun 30, 2021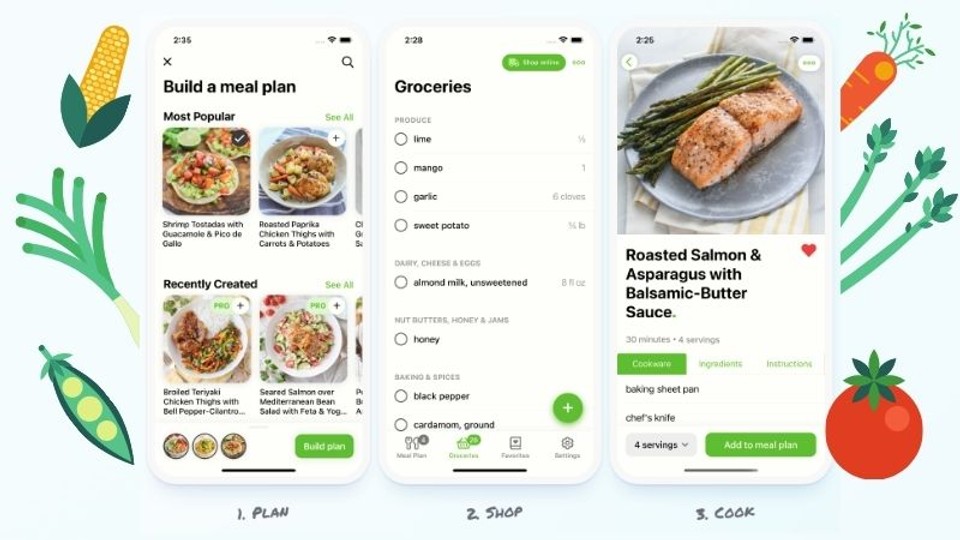 A meal planner app is exactly as it sounds, an app to help you plan your meals for the week. These meal planner apps usually feature a calendar to help you schedule your daily meals, provides healthy recipe ideas and if you're lucky, a grocery list which allows you to add and remove items.
When choosing a meal planner app, there are a few features you should look for that can potentially elevate the entire user experience, just some of these great features include:
Grocery list
Recipes
Nutritional info
There are plenty of great meal planner apps out there, but we have gone ahead and collated a list of five of our favourite apps, which are user friendly and will help you save money and stay on track to your health goals.
Basic
Mealime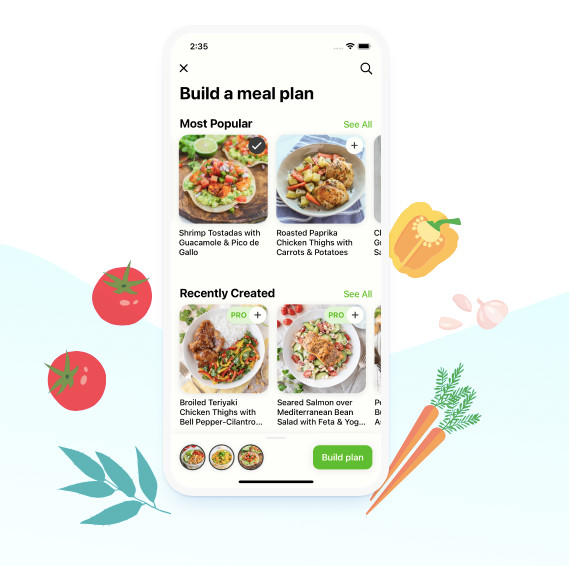 What's good?
Customisable meal plans
45-minute recipes
Basic plan is free
Grocery list feature
What's not so good?
No saved meal plans
No customised calories
No nutritional info
Mealtime is a user-friendly meal planner that allows you to create customisable meal plans which you can tailor to your food preferences. Once you've popped in your food preferences, you'll be presented with a bunch of great recipes that can be prepared in under 45 minutes.
The app allows users to add and remove items from a personalised shopping list, which categorises each item into digital aisles (categories), making grocery shopping every week, that much easier!
Unfortunately, once you've found a meal plan you like, you won't be able to save it to use again in the future, this means you will have to input your recipes manually. While you may want to add some of your own recipes, mealtime does not yet support this feature.
You will also, be unable to customise your calorie intake or read nutritional information unless you upgrade to the premium version of the app, which will cost $5.99 per month or $49.99 per year.
The app is available on iOS & android.
Cheapest annually
Plan to Eat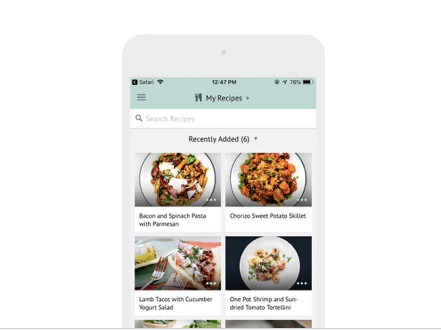 What's good?
Smart Grocery list
Freezer folder
Prep notes
Nutritional info
Digital calendar pairing
30 day free trail
Much like other meal planners, Plan to Eat give users the ability to create their own meal plan with the use of a customisable calendar. You can arrange your meal plan by dragging one of the hundreds of recipes from the task bar, onto any of the calendar dates. Once you've created a meal plan that you love, you can save it and use it again whenever you like.
If you're cooking for more than one person, you can change the serving size for every recipe, which will also be reflected in your automatic shopping list. To narrow down the ingredients you need for the week, simply select the date range you would like to shop for and cross items off the list as you shop.
To make sure the whole family stays on track, you can also sync up your meal plan to the digital family calendar. If you're planning on pulling some chicken out of the freezer for one of your recipes, you can also add little prep notes which will appear on your calendar.
The notes feature is super helpful for scheduling in leftovers you may have from previous meals, which your smart shopping list will know not to include in the next round of groceries; the same goes for meals from your freezer folder.
To help you maintain your health goals, all recipes contain important nutritional information that will come together to display your daily macros on the digital calendar, enabling you to stay in control of your macro and calorie intake.
Try the app for 30 days free of charge and then pay $4.99 per month or $39.00 for the year.
Available on iOS & android.
Best features
Lifesum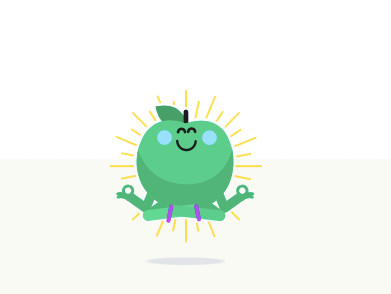 What's good?
Smart grocery list
Diet specific plans
Nutritional info
Food, activity and water tracker
Barcode scanner
Favourites list
Connects to personal health apps
Lifesum take the meal planner app game up notch by including a bunch of awesome features that take into account not only your nutritional needs, but your physical needs too. Lifesum allows users to set up a seven – 21-day meal plan, with up to for meals a day from any of the hundreds of recipes available to app users.
While there are plenty of great recipes to choose from, there are also a bunch of great meal plans available for specific diets including keto, vegetarian, vegan and more. This takes a bunch of the work out of searching through recipes for meals that suit your dietary preferences.
All of the recipes available provide valuable nutritional information to help you keep track of your daily macro, calorie and energy intake. This nutritional information can be placed into a log, where you can also track your exercises, habits and water intake, which will help you to reach those daily health and fitness goals. This information can also be connected to your personal health apps like apple health, Samsung health and Apple Watch.
To make logging your food that much easier, Lifesum also have a scanner feature, which allows you to scan the barcode on your food item and move it to your daily food log.
Most flexible
Meal Prep Pro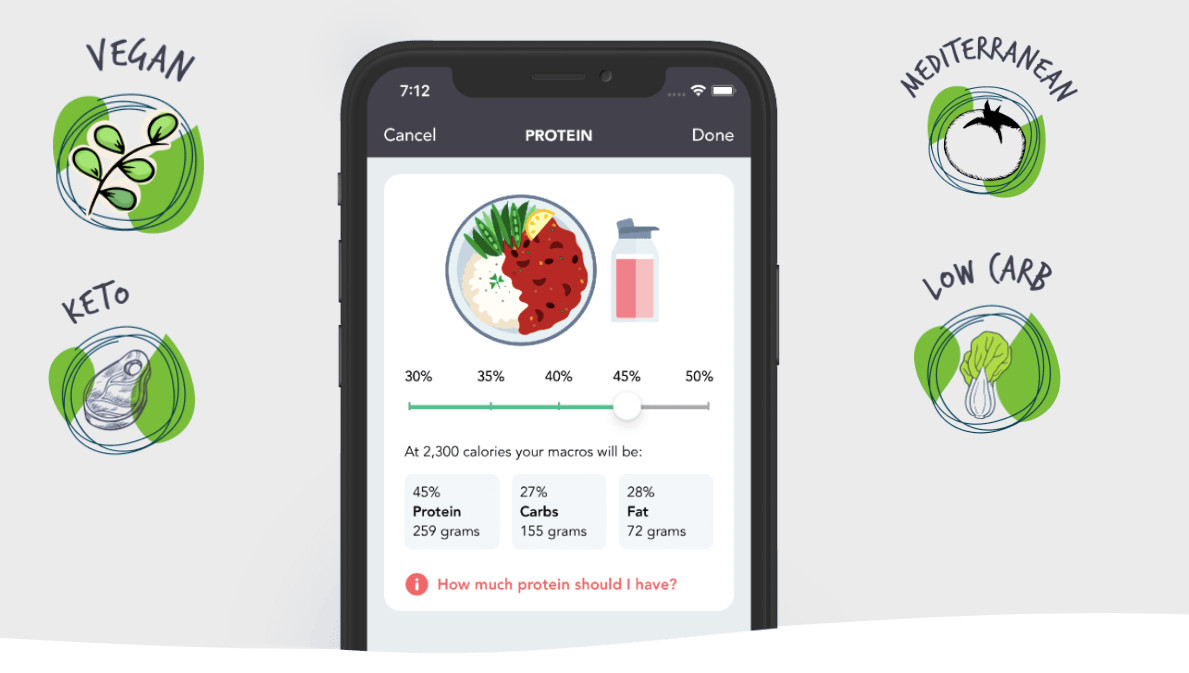 What's good?
Calorie and Macro tracker
Smart grocery list
Plan sharing
New recipes weekly
Add your own recipes
Connects to personal health apps
7-day free trial
Diet specific meal plans
What's not so good?
Limited info for personal recipes
Like the others, Meal Prep pro provides a customisable meal plan which allows you to choose your favourite meals while excluding the food items you don't like. The difference is, this food plan can be shared with others, with instructions on how to portion for your diet partner.
While the app does have hundreds of recipes for us to choose from, Meal Prep Pro provides brand new recipes every week, so you don't get stuck with the same meals back to back. The app also features a bunch of diet specific meal plans to help you maintain your health goals with plenty of great recipes, all designed to be prepped in under an hour.
One of the great benefits of Meal Prep Pro is the user's ability to add and remove their own recipes at their convenience, the catch is, while you can add a recipe and nutritional info, you can't add instructions or ingredients.
Not only does Meal Prep Pro give users the ability to set and track their health goals, you can also sync up your app with your apple health account.
The app offers a seven-day free trial and then charges $6.99 per month.
Available on iOS & android.
Most personalised
Eat this Much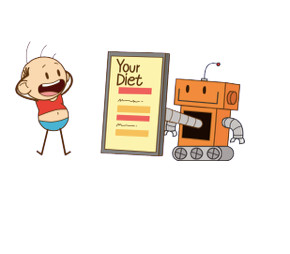 What's good?
Customised plan
Caters for cravings
New meal plan weekly
Grocery list
Calories and weight tracker
14-day free trial
What's not so good?
Upgrade required for full access
Cannot add recipes
Eat this much takes a more in depth look into your current circumstances, measurements and health goals to customise a more targeted plan for you. Of course, each plan can always be changed to make room for your cravings, whether it be that you have a sweet tooth or a savoury tooth!
As you log your meals each day, your calories and approximate weight will be counted automatically, to take the stress out of calculating every meal. To make life even easier, if you upgrade to the premium package, Eat this much will create and email a brand new meal plan to you every week, to save you time on searching for decent recipes.
The app will then send you a grocery list which you can edit as you go to ensure you don't end up with a double up of ingredients and can recycle food for future meals.
The app is free for the basic package or $4.99 per month for premium paid annually or $8.99 paid monthly.
Available on iOS & android.