📝 Updates
Best Meal Provider for Bodybuilders
UPDATED ON Jan 12, 2023
#

NAME
DELIVERY LOCATIONS
AVG MEAL COST
NSW, VIC, QLD, ACT, SA
$8.65
NSW, VIC, QLD, ACT, SA, TAS
$9.50
NSW, VIC, QLD, SA, WA
$11.80
NSW, VIC, QLD, ACT, SA, WA
$8.99
NSW, VIC, QLD
$9.95
VIC, NSW, QLD, ACT, SA, TAS, WA
$24.65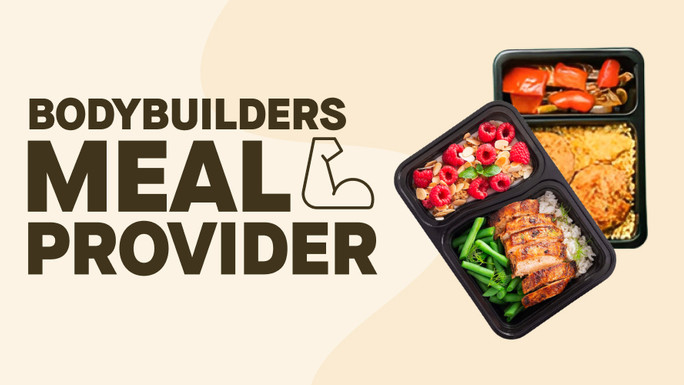 Welcome to Mealprep's guide to the best bodybuilding meal delivery services in Australia.
Bodybuilding takes a tremendous amount of effort in the gym, and of course, we know food is a huge part of it all too.
But trying to find the best bodybuilding meals, recipes and the like can be a challenge. You're probably already tired and time-poor, so cooking isn't an option. OR, your coach assigned you a diet but you plain suck at cooking (I can relate).
Maybe you want cleaner meals without the fancy flavours or sauces the more traditional 'fitness' meals have, or maybe you want to really customise your ingredients as you bulk, maintain or cut.
The solution to pretty much all your problems that'll save you time, money and enhance your bodybuilding efforts in the gym? Using the services of a bodybuilding meal delivery provider.

With so many meal delivery providers offering bodybuilding meals in Australia, which is going to help you achieve your bodybuilding goals the fastest and most effectively? Stay tuned, we have the answers.
OK but I don't want to read the whole article, which is THE BEST bodybuilding meal delivery provider?
It's a fascinating read, so we reckon you should keep on cracking on. But, if you want to know our top recommendation, the best of the best bodybuilding meal delivery providers in Sydney, Melbourne and the rest of Australia…
Food 4 Fitness.
Check out any bodybuilding forum (like the popular Aussie Muscle Asylum) and most bodybuilders will tell you Food4Fitness is their go-to provider to reach their fitness goals.
What's great about Food4Fitness and why it's the best choice for bodybuilders is because of its custom meal builder, and its cooked bulk meat offering.
You can really tailor your meals to your own macros and goals, because as we know, bodybuilding and how much your body needs to consume is a hugely individual thing.
But more on that later.
The List of the Best Bodybuilding Meal Delivery Services
If you're a bodybuilder, Mealprep has put together a list of the top 5 Australian bodybuilding meal providers serving delicious and healthy meals to help you choose the right one for you and your needs.
Whether you're after meals for fat loss or low-calorie meals while shredding, or high-calorie meals as you bulk, the below providers all offer great-tasting, high-quality ingredient meals for your bodybuilding goals.
How'd we make this list?
We based our list on the following criteria:
⚖️ Macro split: what's the average macro split of the meals?
🥩 Protein customisation: can you choose how much protein (grams)?
📍 Delivery locations: where in Australia do they deliver?
💰 Average cost per meal: what's the average cost per meal?
📅 Subscription required: does the provider ask you to subscribe in order to purchase
We've also put together a bunch of handy tips about a bodybuilding diet, including the types of food commonly found in the diet, things to consider before starting a bodybuilding diet and a whole lot more.
1. Food 4 Fitness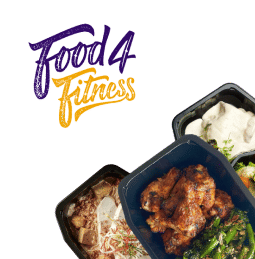 AVERAGE MACROS: N/A – can truly build your own!
PROTEIN CUSTOMISATION: Yes
DELIVERY LOCATIONS: NSW, VIC, QLD, ACT, SA
SUBSCRIPTION REQUIRED: No
As mentioned, check out any Aussie bodybuilding forum and you'll see that Food 4 Fitness is the go-to prepared meals provider in the bodybuilding community. Delivering across most of Australia (barring NT and WA), what's great about Food 4 Fitness for bodybuilders is how easily you can customise your meals.
Most ready-made meal providers allow customisation – but not to the same extent as Food 4 Fitness, especially when it comes to serving size and in particular, protein amount.
They also offer a custom meal builder where you can choose your protein, carb, vegetables and even sauce, along with how many grams of each! Or, you can choose pre-made meals that are either 250g for 'weight loss', 350g for 'maintenance' and 450g meals for 'weight gain'.
ALSO, checkout their bulk packs, which allow you to mix and match a variety of proteins, carbohydrates and vegetables, to create your meals your own way. It's a pretty excellent service, and possibly the most customisable ready-made meal provider on the market.
Example meals: Jamaican jerk spiced chicken drummettes, singapore chicken noodles and mild mango chicken curry
5. Workout Meals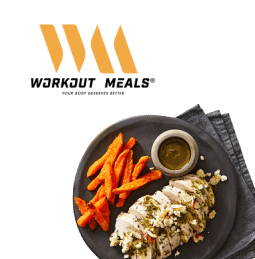 AVERAGE MACROS: 45g protein, 40g carbs, 20g fat
PROTEIN CUSTOMISATION: No
DELIVERY LOCATIONS: NSW, VIC, QLD, ACT, SA, TAS
SUBSCRIPTION REQUIRED: No
As its name suggests, Workout Meals is designed for fitness enthusiasts in mind, with several different fitness-related meal plans – including muscle gain. When you select the muscle gain meal plan, you then fill out certain details like gender, activity level, and how many meals you want per week. For a female who is very active, you're looking at a diet of around 2000 calories per day, including 150g protein, 160g carbs and 70g fat on average.
Workout Meals also offers Transformation Programs like Male Muscle Gain and Female Tone & Sculpt. For example, the Male Muscle Gain diet for men is a customised training nutrition program designed for males of all fitness levels who are looking to achieve lean gains, muscle growth and high calorie meals for bulking.
Meals from Workout Meals are tasty, and delivery is fast (and free if you subscribe)
Example meals: healthy chicken pad thai, Feta & Almond Chicken with Sweet Potato Fries and Turkey Mince Poke Bowl
2. Macros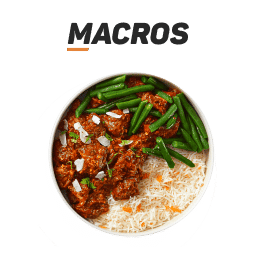 AVERAGE MACROS: 45g protein, 40 carbs, 20g fat
PROTEIN CUSTOMISATION: No
DELIVERY LOCATIONS: NSW, VIC, QLD, SA, WA
SUBSCRIPTION REQUIRED: Yes
Macros is another crowd fave in the bodybuilding community with plenty of high-protein meals to choose from. They offer everyday plans, family plans, weight loss plans and even plant-based plans.
For the bodybuilders – they have sculpt, perform and gain plans, depending on your goals. On the gain plan, meals are high-protein and carbo-loaded to help you achieve your bodybuilding goals.
What's cool about Macros is you have options to choose from dairy free, paleo, no added wheat, and even plant-based while on the gain plan.
You do have to subscribe to a plan with Macros, but you can pause or cancel at any time. Interestingly, Macros don't explicitly state their delivery areas, they do cover most metropolitan areas including Sydney, Melbourne, Perth, Adelaide and Brisbane.
Example meals: Roo bowl with fresh herbed mash, naked beef fajitas and mexican rice, and jalapeno turkey with broccoli rice.
3. My Muscle Chef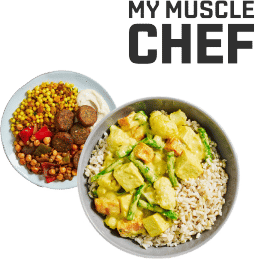 AVERAGE MACROS: 45g protein, 50g carbs, 15g fat
PROTEIN CUSTOMISATION: No
DELIVERY LOCATIONS: NSW, VIC, QLD, ACT, SA, WA
SUBSCRIPTION REQUIRED: Yes – but cancel any time
My Muscle Chef has several ready-made meal options for bodybuilders, including muscle gain and performance. When choosing muscle gain as a meal plan, for example, it asks your gender and how often you work out per week to customise your meal plan. You can then choose between 20, 24 or 28 meals per week.
Say you're a female who works out 4+ times a week – MMC's muscle gain meal plan would see you at around 2,500-2,700 cals per day with 200g+ of protein, roughly 220g of carbs and around 80g of fat.
The plan comes with set meals, but you can swap out the meals to suit your taste preferences, including protein type, the amount of carbs you want and if you have any dietary requirements (like gluten-free).
MMC is great as well because you can find meals stocked in stores like IGAs, Romeos, even some petrol stations and more. While you do need to subscribe to MMC, you can cancel at any time.
Example meals: Creamy tomato chicken fettuccine, chia crusted salmon with soy glaze, crumbed chicken with roast potatoes.
4. Foober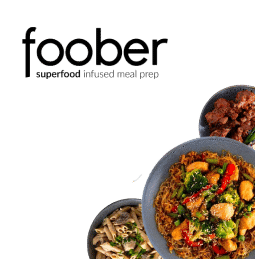 AVERAGE MACROS: 40g protein, 30g carbs, 20g fat
PROTEIN CUSTOMISATION: No
DELIVERY LOCATIONS: NSW, VIC, QLD
SUBSCRIPTION REQUIRED: No
Foober has several meal plan options, including a specific muscle builder plan. While its muscle builder plan doesn't seem to be as high-protein or high-calorie as other provider muscle building plans (with Foober hovering around 105g of protein per day), the meals are certainly protein and carb dominant.
You don't have to choose a muscle building meal plan either, you can simply choose a la carte to meet your unique diet needs.
Foober also offers keto meal plans, paleo meal plans, and specific meal plans based on a calorie calculator to help ensure you're meeting your target calories for bodybuilding.
Example meals: Miso Glazed Salmon with Pesto Zucchini Noodles, Creamy Chicken Mushroom Penne and Saucy Grilled Chicken Quesadilla
6. Garden of Vegan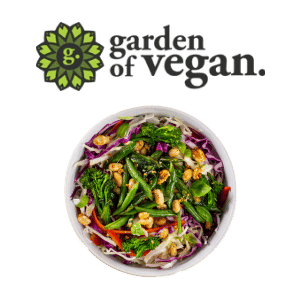 AVERAGE MACROS: 76g protein, 198g carbs, 45g fat
PROTEIN CUSTOMISATION: No
DELIVERY LOCATIONS: VIC, NSW, QLD, ACT, SA, TAS, WA
SUBSCRIPTION REQUIRED: No
The Shred and Sculpt Meal Plan is designed to help you get lean and defined while meeting your daily macro and micro nutrient requirements. It has been created based on the latest scientific, evidence-based approach to health, fitness, and nutrition, and is intended for those who want to increase lean muscle and achieve a more defined athletic physique while maintaining a healthy body fat percentage.
This meal plan will support muscle growth, definition, and repair, and enhance nutrient absorption through wholefood carbohydrates, natural sources of protein, healthy essential fatty acids, and an abundance of antioxidants, vitamins, and minerals.
By tracking calories, individuals can work towards their goals while following a more flexible and balanced approach to nutrition. To meet nutritional needs, simply select 5 or 7 days, select meals and sides, and view the total calories for the day.
Bodybuilding Diet FAQs
Is diet more important than gymming when bodybuilding?
No, they go hand in hand. Nutrition is vital to gain muscle, and of course, working out in the gym is also essential when bodybuilding and training to gain muscle. As such, you need to be eating the right foods and enough food to make sure your muscles have the right nutrients to grow and recover.
A bodybuilder's diet is typically broken down into bulking and cutting stages, and you'll have different macronutrient requirements for each.
What should I eat when building muscle?
It depends on person to person, however according to the Academy of Nutrition and Dietetics, bodybuilders require 1.4 to 1.7 grams of protein per kilogram, or about 0.63 to 0.77 grams of protein per pound of body weight each day and that 1.4 to 1.8 grams of protein per kilogram is required to build muscle mass.
Also, 15-30% of calories when bodybuilding should come from fat with the remaining calories coming from carbohydrates. However, everyone's needs and goals differ from person to person, so always consult a health professional before any diet changes.
Are bodybuilding meal providers different from others?
The meal providers listed in this article aren't specifically bodybuilding meal providers, but rather offer bodybuilding specific plans. Most Australian providers offering bodybuilding meal plans will give you nutritional breakdown of the plan, including macronutrient counts making your tracking easier.
When shopping for a good bodybuilding meal provider, you'll want to look at serving size – and importantly how much protein per meal. You do also want to look out for carbs, fats and veggies in the meal.
What is the cheapest bodybuilding meal delivery service?
My Muscle Chef is the cheapest meal provider offering bodybuilding meal plans:– 5-day plans of 20 meals for $9.49 each
– 6-day plans of 24 meals from $8.99 each
– 7-day plans of 28 meals from $8.49 each
What are some good protein snacks for bodybuilders?
Anything high protein is going to be good for your bodybuilding goals, including:
Hard boiled eggs
Nuts and seeds
Plain greek yoghurt with nuts and fruit
Tuna with brown rice and eggs
Protein shakes
Protein muffins/cookies
I have allergies – do bodybuilding meal providers offer allergy-friendly meals?
Food 4 Fitness, My Muscle Chef, Macros, Workout Meals and Foober all offer some kind of allergy-friendly meal, including dairy-free, gluten-free, plant-based and more. Food 4 Fitness is the best for those with allergies as you can really customise and create your own meals based on what you can or can't eat.
Are bodybuilding meal delivery services more expensive than regular meals?
Bodybuilding meal plans aren't typically any more expensive than regular meals, and the more meals you buy, the cheaper it becomes.
Are bodybuilding meals low-carb?
No, not necessarily. If you're working to gain muscle, your body needs a healthy balance of carbs and protein and fats. Low-carb diets are commonly associated with weight-loss diets, or people with health issues like Diabetes.
Do any bodybuilding meal providers offer vegan meals?
Several of the meal providers off plant-based meals, but none listed are specifically vegan. The best provider for vegans would be Food 4 Fitness as you can really customise and build your own meals (with protein choices being pumpkin or carrot patties, falafel, or tofu). My Muscle Chef also has a pretty good vegan range.