📕 Guides
15 Best Protein Shake Recipes for Muscle Gain 💪🏻
Searching for the best protein shake recipes for muscle gain? Check out these 15 tasty recipes!
UPDATED ON Nov 28, 2023
#

NAME
Calories
Grams of protein
293
35g
492
35g
422
35g
423
15g
282
25g
388
33g
299
36g
188
7g
407
9g
293
14g
183
2g
272
27g
268
13g
280
7g
362
11g
Protein shakes are great for muscle gain and weight loss. They're tasty and help meet your protein needs efficiently.
If you're bored of just mixing protein powder with water, give these 15 delicious protein smoothie recipes a go to mix things up!
Try using milk instead of water for a calorie boost, especially when using shakes as meal replacements or for bodybuilding. This not only enhances the taste but also aids in muscle growth and recovery. Plus, adding carbs to your post-workout shake can speed up muscle recovery by replenishing glycogen stores faster.
Best Protein Shake Recipes for Muscle Gain 🤝
1. Chocolate Peanut Butter Protein Shake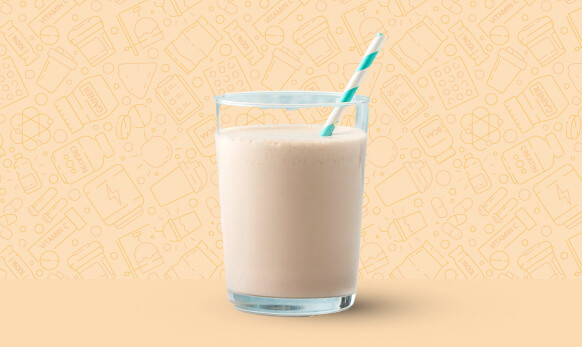 How can you go past a classic chocolate protein shake with peanut butter? Tastes like a chocolate milkshake, yet much healthier for you than a chocolate milkshake. We'd call that a win-win.
INGREDIENTS
1 1/2 cups milk (cow's, almond, soy, or coconut)
2 scoops chocolate protein powder
1 tablespoon peanut butter powder (such as PBfit or 1 scant tablespoon peanut butter)
1/2 cup old-fashioned oats
4 ice cubes
STEPS
Blend together in a blender and serve immediately.
2. Green Protein Powder Breakfast Smoothie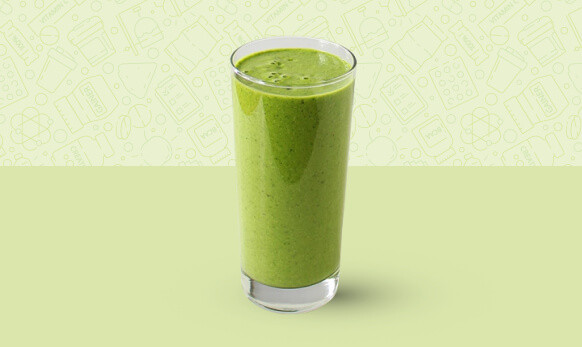 For a delicious vegan and green protein hit in the morning, give this green protein powder brekkie smoothie a go. A great way to start the day with a protein hit while also hitting a big serving of your daily greens intake.
INGREDIENTS
1 cup (250 ml) unsweetened almond milk
1 ripe banana, frozen
½ cup (125 ml) chopped mango, frozen
1-2 large handfuls of baby spinach
¼ cup (60 ml) pumpkin seeds (Pepita seeds)
2 tablespoon (30 ml) hemp hearts (hulled hemp seeds)
½ scoop (approx. 30ml) vanilla protein powder + ¼ cup (60ml) water
STEPS
Add all ingredients to a blender and blend until smooth. Serve immediately.
3. Sweet Mixed Berry Vanilla Protein Smoothie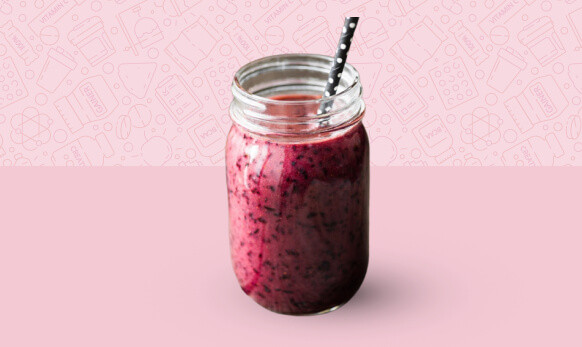 This simple mixed berry protein smoothie can be tailored to suit your macros, with the recipe adjusted for low cal, medium cal or high calories. This recipe is the medium calorie option. The mixed berries (blueberries, raspberries) are packed with antioxidants and other health-boosting compounds to really increase the nutritional content of this smoothie.
INGREDIENTS
50g frozen mixed berries
12 oz. unsweetened almond milk + 8 oz. cold water
15g raw kale
48g (1 ½ scoops) vanilla flavour protein powder*
9g chia seeds
16g almond butter
STEPS
Place all ingredients in a high-speed blender. Blend until smooth and serve.
4. Peanut Butter Oatmeal Shake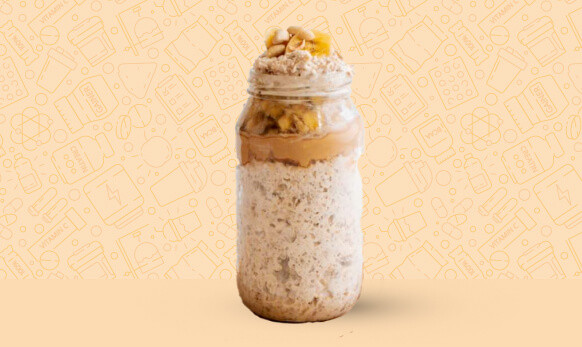 If you don't have time for a big sit-down breakfast, then this high-protein smoothie, which also contains good fats, fibre and a ton of vitamins and minerals, will keep you fully fueled until lunch.
INGREDIENTS
1/4 cup old fashioned oats
2 tablespoons creamy peanut butter
1 whole banana
1/2 cup soy milk
1 tsp chia seeds, optional if desired
STEPS
Add all of the ingredients to a blender and blend until smooth.
5. Pre-Workout Protein Shake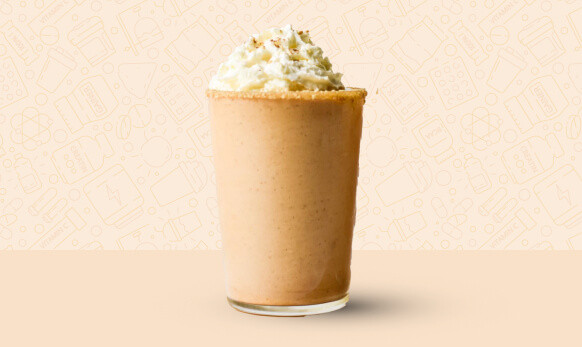 This low cal high protein shake is the ideal pre-workout boost, giving your muscles all the fuel they need to perform to their maximum potential for the duration of the session. Best to drink it an hour before training. The banana provides a steady stream of carbs for fuel and the protein powder will give you the amino acids to prevent muscle breakdown and encourage new muscle growth. Banana is also an excellent source of potassium, which helps to support muscle function during exercise.
INGREDIENTS (serves 2)
2 frozen bananas
1 cup unsweetened cashew or almond milk
1/4 cup nonfat plain Greek yogurt
1 1/2 scoops whey protein
1 tablespoon almond butter
1/2 tablespoon honey
1 teaspoon vanilla extract
1 teaspoon ground cinnamon
1/4 teaspoon freshly grated nutmeg
STEPS
Add ingredients to a blender and blend until smooth.
6. Post-Workout Caramel Coffee Shake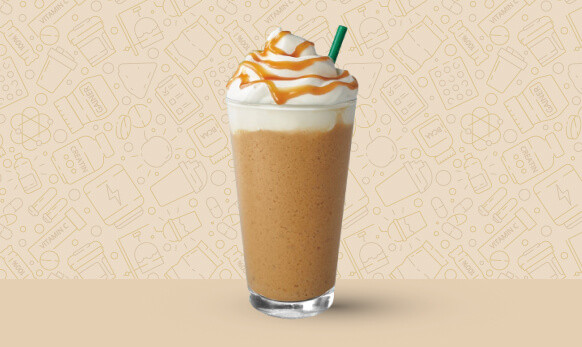 After a big session in the gym, your body needs some high-quality protein to repair damaged muscle tissue so it can grow back bigger and stronger (i.e. muscle gains!) Your body will also be feeling pretty fatigued, so this recipe with a shot of coffee will help put some pep in your step and give you the energy you need to carry on with your day.
INGREDIENTS
60g frozen banana + 1 cup ice
8 oz. unsweetened vanilla almond milk + 8 oz. cold water
15g Silk Non-dairy Caramel Almond Creamer
150g (one single-serve) Non-fat Greek yogurt, plain
24g (1 scoop) caramel protein powder
1 shot of coffee
6g ground flax seed
8g almond butter
STEPS
Make a shot of coffee.
Add it to a blender along with the other ingredients and blend until smooth.
7. Strawberry-Mango Protein Shake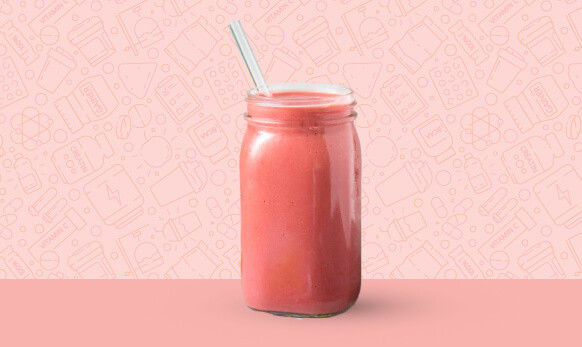 Love a fruity protein smoothie? This strawberry-mango protein shake will do just the trick. It also works with pretty much any two-fruit combination you can think of, so feel free to experiment. You could try banana and pineapple, peaches and melon … the combos are endless!
INGREDIENTS (serves 3)
2 cups mango chunks, frozen
2 cups frozen strawberries
2 teaspoons maple syrup
1 1/3 cup whole plain yogurt
1/2 cup full-fat coconut milk
1 scoop Strawberry Banana Whey+ protein powder (or similar)
STEPS
Add to a blender and blend until smooth.
8. The Basic Vegan Shake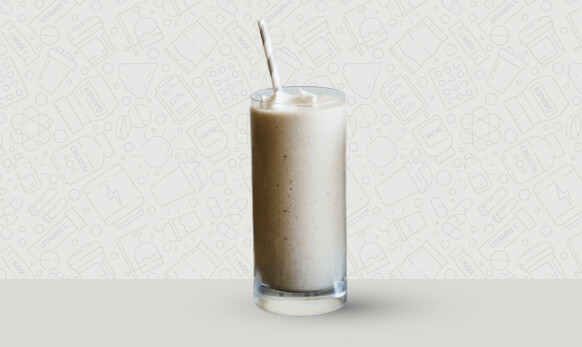 For the best protein shake that's plant-based and will help you gain some muscle mass, look no further than this delicious and low cal vegan shake. All you need to do to make a protein shake vegan is use a plant-based protein powder and plant-based milk and add whatever else you fancy!
INGREDIENTS
¾ cup unsweetened non-dairy milk (more below)
¼ cup + 2 tablespoons vanilla vegan protein powder
1 tablespoon MCT oil (optional)
1 cup ice cubes
STEPS
Add all ingredients to a blender and blend for 30 seconds or until smooth.
9. Pineapple Coconut Protein Smoothie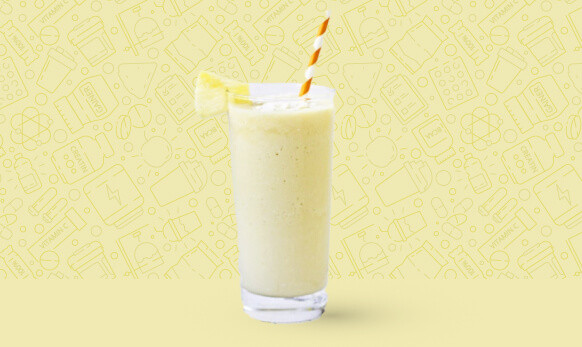 Want a protein smoothie that tastes like a pina colada? Give this recipe a go! We'd recommend using a vanilla protein powder for this one, or if you can find a pineapple or coconut flavoured protein powder, even better.
INGREDIENTS
½ to ¾ cup unsweetened coconut milk
½ to ¾ cup pineapple juice
1 scoop of your favourite whey protein powder
3 cups frozen unsweetened pineapple chunks
2 T unsweetened shredded coconut
STEPS
Place ingredients in a blender in the order listed. Blend until smooth. Serve immediately.
10. Triple Choc Chunk Brownie Protein Shake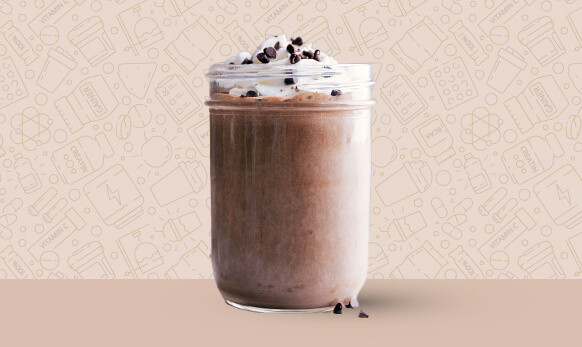 INGREDIENTS
3/4 cup unsweetened vanilla almond milk
scoop (1/4 cup + 1 tablespoon (32g)) chocolate protein powder
1 tablespoon Dutch-process cocoa powder
1/2 cup frozen banana
1 tablespoon almond butter or peanut butter
1/4 teaspoon vanilla extract, optional
8 ice cubes
STEPS
Blend ingredients until smooth. Serve immediately.
11. Easy Vanilla Protein Shake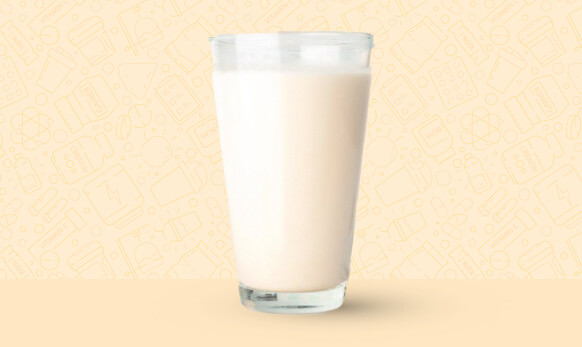 For a real calcium hit, this vanilla whey protein shake is where it's at. Tastes good, excellent for your gains and great for your bone health too!
INGREDIENTS (serves 2)
1 cup milk, of choice
1/2 cup ice cubes
1 banana
1 scoop vanilla whey protein
2 teaspoons honey
1 teaspoon vanilla extract
STEPS
Blend and serve.
12. Chocolate Chip Cookie Dough Shake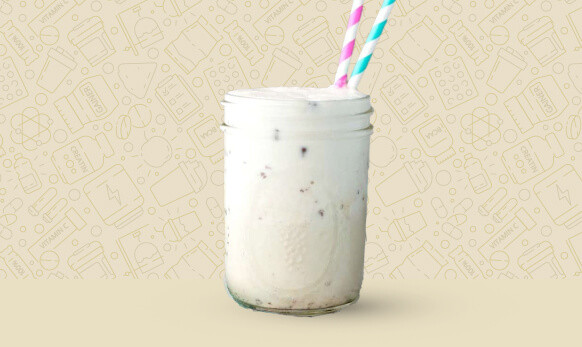 A healthy Chocolate Chip Cookie Dough Smoothie – need we say more? The best way to fuel your next workout or power through your day!
INGREDIENTS
1 scoop chocolate whey
1 cup Almond Breeze Unsweetened Vanilla almond milk
¼ cup uncooked raw oats
¼ teaspoon vanilla extract
2 cups ice
¼ teaspoon salt
2 teaspoons miniature chocolate chips
STEPS
Blend and serve.
13. PB&J Smoothie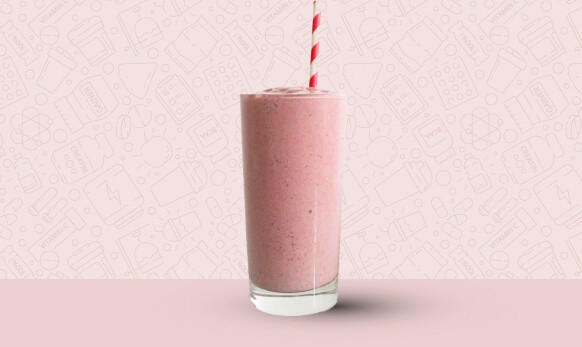 We love a PB&J sandwich, so a peanut butter and strawberry smoothie!? Sign us up!
INGREDIENTS
1 cup unsweetened almond milk
1/2 cup frozen strawberries
1 tbsp peanut butter
1 scoop vanilla protein powder
STEPS
Blend until smooth.
14. Cookies & Cream Protein Shake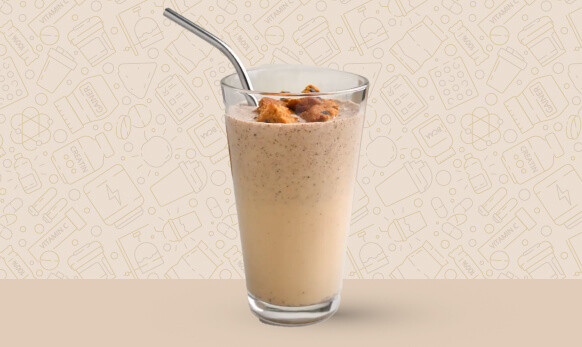 A cookie in a protein milkshake? Don't mind if we do! This recipe calls for your favourite protein cookie – whatever that may be, blended into your smoothie. Textured and delicious, this one is a must try.
INGREDIENTS
1 Chocolate Chip Protein Cookie of choice
1 cup almond milk, or milk of choice
2 tablespoons Vanilla Protein Powder
4–5 ice cubes
Pinch cinnamon
STEPS
Blend and serve
15. Banana Protein Shake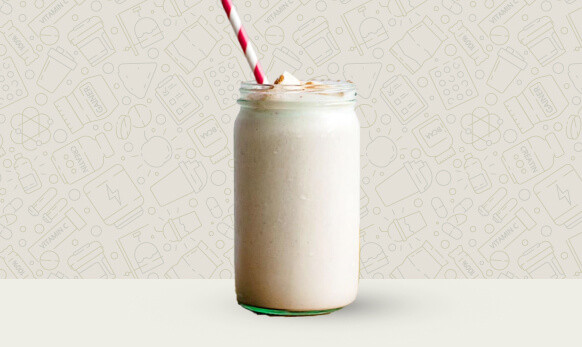 Carbs for energy, potassium for muscle support … You can't go wrong with a banana protein shake. Excellent either pre or post workout! This protein shake is extra high in protein thanks to the combo of protein powder and Greek yoghurt.
INGREDIENTS
1 cup plain unsweetened almond milk
1/2 cup plain full fat Greek yogurt
1 scoop vanilla protein powder
1 frozen banana
1/8 tsp ground cinnamon
ice as needed
STEPS
Blend and serve.
Why You Need Protein to Build Muscle 💡
Protein is essential for muscle growth because it's made of amino acids, the "building blocks" of muscle. Without enough amino acids, your body can't build or strengthen muscles. Eating protein provides these amino acids, helping to build and repair your body, especially important if you lift weights or exercise regularly.
Even if you're not active, getting enough protein is crucial, especially as you age. Older adults who don't consume enough protein lose muscle more quickly, which can lead to health problems.
A good goal is to eat about 1.2-1.7 grams of protein per kilogram of body weight per day for muscle growth. It's best to get your protein from high-quality sources rich in essential amino acids, which are key for building muscle. High-quality protein powders include whey, casein, and plant-based protein powders like pea or rice protein.
Read more: The Best Protein Powders for Women
Best Protein for Muscle Gain 🙏🏻
Whey Protein: Fast-absorbing, ideal for post-workout.
Casein Protein: Slow-digesting, good for sustained protein release, especially before bed.
Egg Protein: High in essential amino acids, a good alternative for those who can't have dairy.
Soy Protein: A complete plant-based protein, suitable for vegetarians and vegans.
Pea Protein: Another excellent plant-based option, rich in BCAAs (branched-chain amino acids).
Rice Protein: A good plant-based alternative, often combined with pea protein to improve amino acid profile.
Hemp Protein: Contains omega-3 and omega-6 fatty acids, beneficial for overall health, also plant-based.
Dairy (Milk, Greek Yogurt, Cottage Cheese): Good sources of casein and whey, plus rich in other nutrients.
What to Add to Your Protein Shake for Muscle Gain 🍫
Drinking the same protein powder flavour for months can become boring. Mixing up your shake recipes can help keep things interesting. Here are some yummy thing to add to your protein shakes:
Protein Powders: Whey, casein, and plant-based.
Dairy Products: Greek yogurt, skyr, quark, milk, and cottage cheese.
Sweeteners: Stevia, agave nectar, maple syrup, honey.
Plant-Based Milks: Almond, cashew, coconut, oat.
Nut Butters: Peanut, almond, cashew.
Seeds and Cereals: Hemp, flax, chia seeds, oats.
Fruits: Banana, strawberry, mango, avocado.
Flavorings: Vanilla, peppermint extract, cocoa.
Spices: Nutmeg, cinnamon, salt.
Toppings: Whipped topping, sprinkles, coconut.
Others: Coffee, ice.
Protein Shake Recipes for Muscle Gain FAQs
What is a good protein shake for muscle gain?
How to make protein shake at home for muscle gain?
Making a protein shake at home is quite straightforward. Here's a basic recipe:
Ingredients: 1 scoop of your preferred protein powder, 1 cup of milk or a milk alternative, ½ a banana or other fruits for added nutrients and flavour, a handful of spinach or kale (optional for extra nutrition), ice cubes (optional).
Method: Blend all the ingredients together until smooth. You can adjust the thickness by adding more or less liquid. This shake combines protein with carbs and healthy fats, making it ideal for muscle gain.
Which shake is best for bulking?
For bulking, you'd want a shake that not only has a high protein content but also a good amount of calories and carbohydrates. Mass gainers are a popular option as they are calorie-dense and designed to help you increase your overall calorie intake. They often contain a blend of proteins, carbs, and sometimes additional nutrients like vitamins and minerals. It's important to choose a mass gainer with quality ingredients and not just empty calories.
What do you mix with protein shakes?
You can mix protein powder with water, milk, or a milk alternative (like almond, soy, or oat milk). Milk or milk alternatives add extra protein and a creamier texture. For additional nutrition and flavour, you can add fruits like bananas, berries, or mango; vegetables like spinach or kale; nut butter for healthy fats; and seeds like chia or flax for fibre. Some people also add oats for extra carbs, especially if they're using the shake as a meal replacement or for bulking.