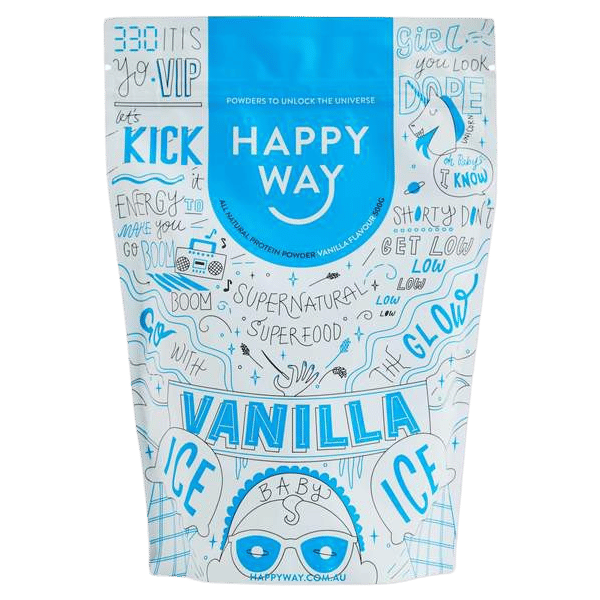 Recommended whey protein
Happy Way Whey Protein
121 calories
21.2g protein
NZ pasture fed whey
happyway.com.au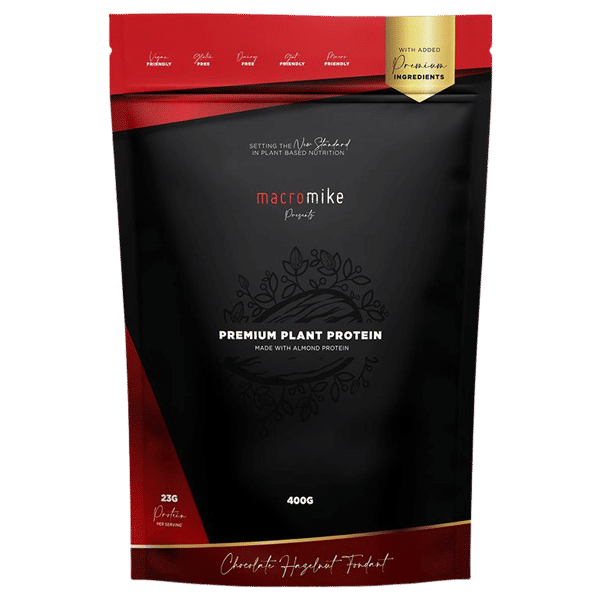 Recommended plant protein
Macro Mike Plant Based Protein
151 calories
25.1g protein
Thick & creamy texture
macromike.com.au
With so many options continually entering the market, it can be hard to figure out which protein is perfect for you. If you're feeling confused, you've come to the right place! As a female fitness trainer and nutrition coach, I'm here to be your guide.
Working in the supplement industry, I have plenty of insights for some of the best products out there. Here are some of the best and most popular protein powders for women in 2020, so you can see what's available today. Whether you need a whey protein or a plant-based option, you'll find some long-standing favourites here, as well as a couple of newer additions.
🐮 Whey-based proteins
1. Happy Way Whey Protein
Aussie owned and operated, Happy Way has made great success in the last couple of years, winning the 2018 Telstra Business Awards. Do their proteins stack up to their business acumen? Their customers seem to think so, and so do some big-name influencers! Women like Rachel Dillon, Lorna Jane and Ashy Bines have all shared their love for the products on their Instagram.
For a 30g serve of Happy Way Whey Protein, you're looking at:
121 Calories
21.2g of Protein
1.8g of Fat
1.5g Saturated Fat
3.5g Carbohydrates
1.8g Sugars
55mg Sodium
Pros:
It's made from NZ Pasture Fed Whey Protein Concentrate. This is great for two reasons:
Pasture fed whey has a 'cleaner' profile when compared to grain-fed, due to its amino acid structure and immune support nutrients. If you're curious about it, you'll find a full amino acid profile on their packaging.
Having a single source of whey means that there is less likely to be digestive upsets (except of course, if you don't digest whey protein concentrate very well, in that case, I'd suggest going for their vegan options).
It has a decent protein percentage, at 70.8%. Sodium is relatively low, which is excellent when you're trying to stop water retention building up. Happy Way Whey Proteins also provide digestive support with psyllium husk, chia seeds and coconut flour, and energy production with maca.
The most popular flavour appears to be the 'Vanilla Ice Ice Baby Whey', with a whopping 1569 website reviews at the time of writing. Vegan fans, don't despair, they also have a delicious looking plant-based collected, with exciting flavours like 'Cacao Mint'.
Cons:
The only downside I see is that they have only one size option – 500g at $44.95, which is quite expensive when most proteins are sold by 1kg or more. When spending under $100, you have to take into account shipping too – it can add up. They do offer a sample pack bundle though which is excellent if you want to try out the flavours first- nothing worse than buying a whole pack to realise you hate the taste!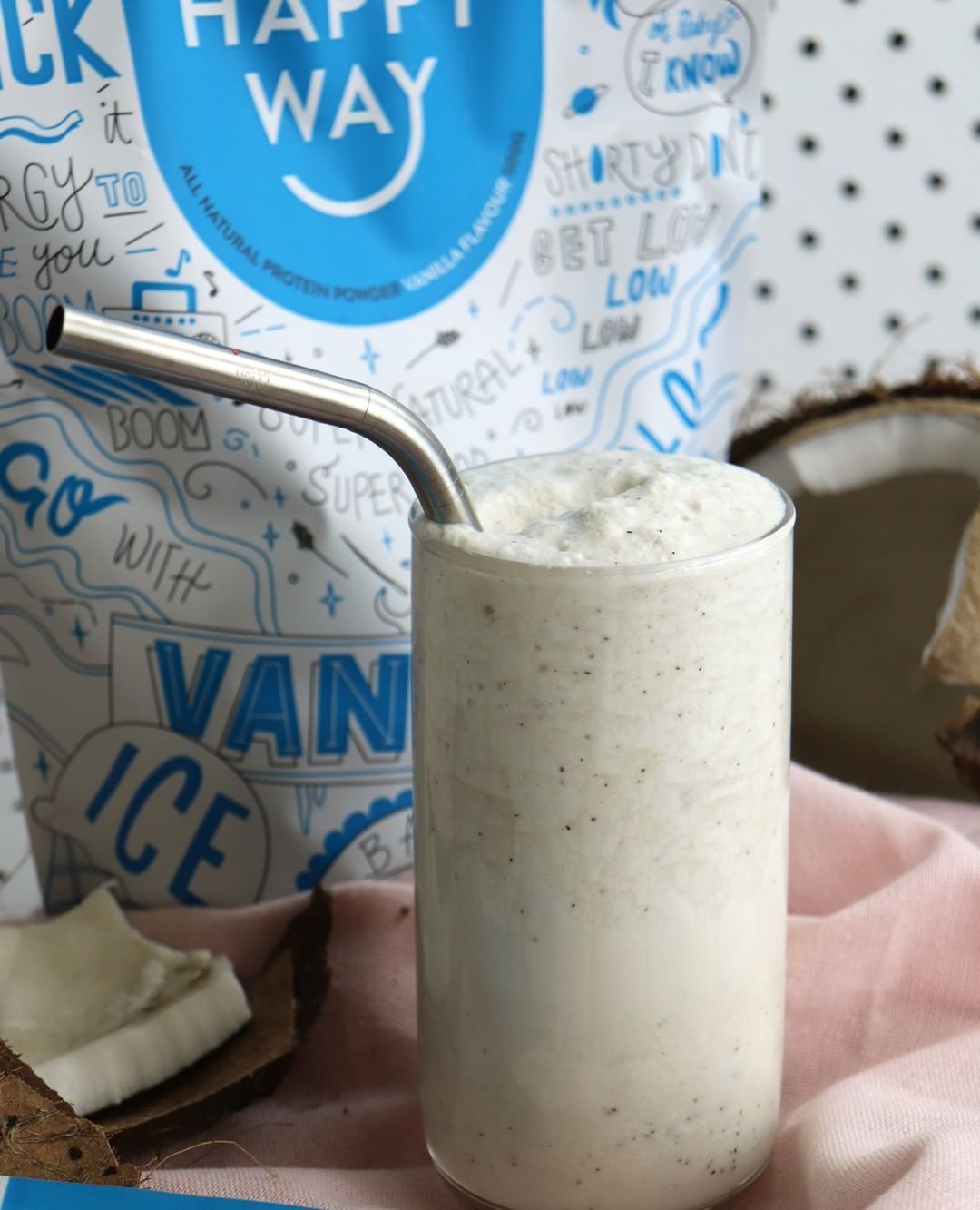 EHP Labs has a high standard for quality and excellence, and it shows in its brand presence around the world. Do you follow Lauren Simpson on the socials? You'll know she's a big fan of EHP! Gym goers love the wide variety of tasty proteins they offer, and they know that they're getting a performance-based product.
In one 30g scoop of EHP Labs IsoPept Zero, you'll find: 
110 calories
25g of Protein
0.5g of Fat
0g of Saturated Fat
2g of Carbohydrates
0g of Sugars
180mg of Sodium
Pros: 
EHP Labs IsoPept Zero is the most easily digested and absorbed protein out of the list. With hardly any carbohydrates or fats and 0g of sugar, it's an optimal choice for when you want to shred or build muscle in the leanest way possible. As it's a Whey Protein Isolate (WPI), it goes through an ultrafiltration process, so you get the most amount of protein with the least amount of fluff. They also include Hydrolyzed WPI, which means it's pre-digested and much more accessible for the body to use. If you're doing an ultra-low-carb or keto diet, IsoPept Zero is an excellent option for you.
The flavours are also delicious – my vote goes to Chocolate Decadence or Choc Peanut Butter!
Cons: 
As it's a WPI, it'll be more watery than other options, which can mean you may drink it and feel like you haven't had much! If you prefer a thicker drink, go for a casein or whey protein blend. It's on the higher end of sodium too, so something to note when looking to minimise water retention.
The cost is a little bit higher than other proteins, at $69.95 for 1kg. However, all WPIs generally cost more, so this is to expected.
If you're in Australia, EHP Labs products used to be available only at retailers, but now you can shop directly on their website too.
Note: You can find small discounts from ambassadors to save extra (also goes for some of the other brands – it's always worth to check!). Choose someone who you believe provides quality content because when you use their code, you're supporting their work too.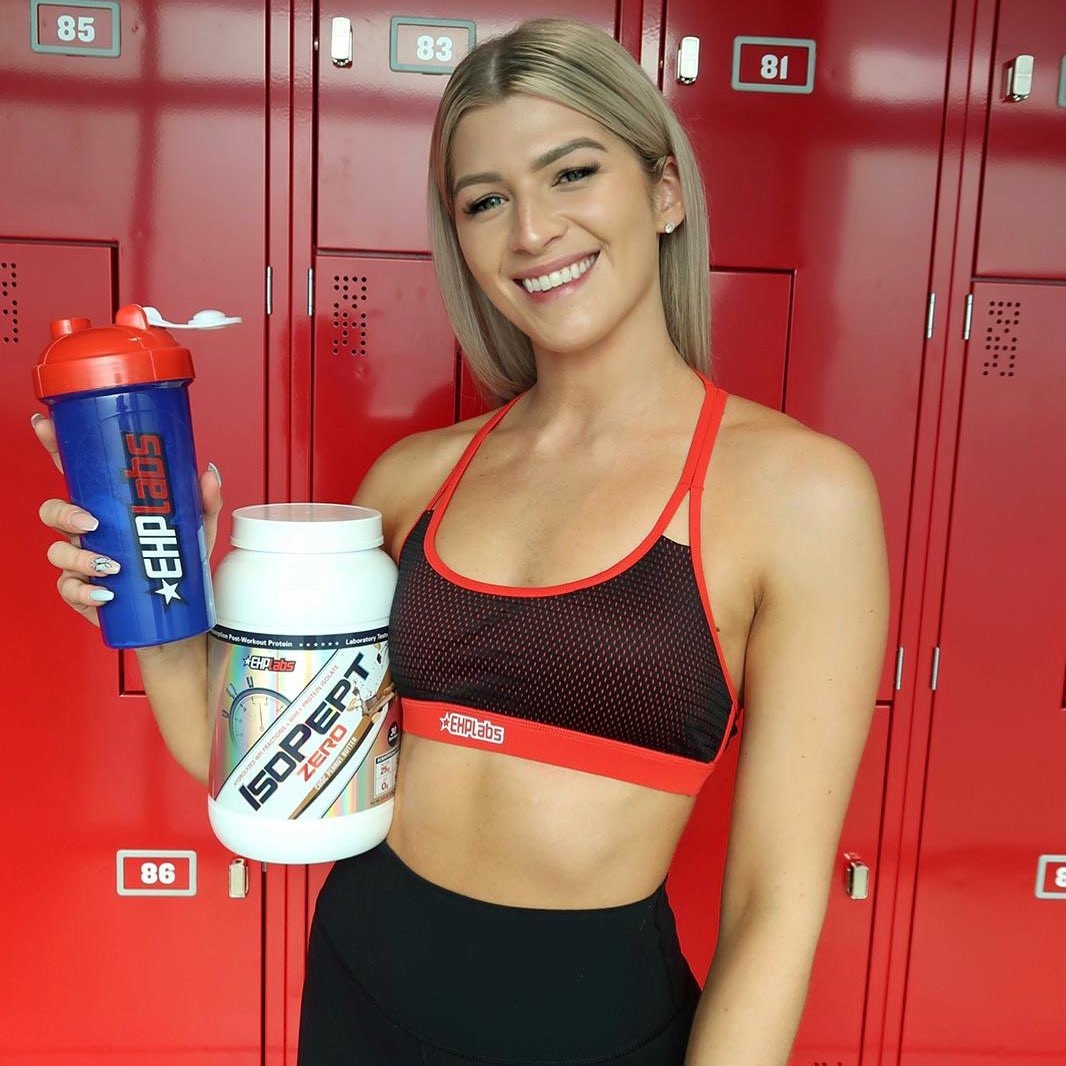 3. Women's Best Fit Pro Whey Protein
Considering there are over 2000 reviews on their website, it's impossible not to mention Women's Best. With Australia's Tammy Hembrow as one of their ambassadors and the majority of her Instagram followers being female, many women will be looking to this brand to get their protein tubs. Is their whey protein worth the hype? Let's have a look at the stats.
In one 30g scoop of Women's Best Fit Pro Whey Protein, you'll find: 
112 calories
21.3g of Protein
1.2g of Fat
0.7g of Saturated Fat
0.8g of Carbohydrates
0.8g of Sugars
240mg of Sodium
Pros:  
Though I haven't personally tried this protein, the macros are perfect for a whey protein blend. With over 80% protein and very little fat or carbohydrates, this will suit you whether you're looking to gain muscle or lose body fat. In the reviews, women seem to love that it is super low calorie, keeps them full and is tasty! At a current price of $48.74 a 1kg tub, it is crazy good value.
Cons:  
The one thing that stands out here is the sodium level, which is higher than other brands – if you're looking to lower your sodium intake or suffer from water retention, then you may want to give it a miss.
I am also not a fan of whey protein blends in general because they can be more irritating to the gut. I have heard many women complain about stomach bloating and breakouts when using whey protein blends (these proteins are also the most common). However – if you can digest a whey protein blend then there's no reason not to have it – it mixes up thicker than a straight WPI, so can be a little more enjoyable on the palette, and can fill you up for longer.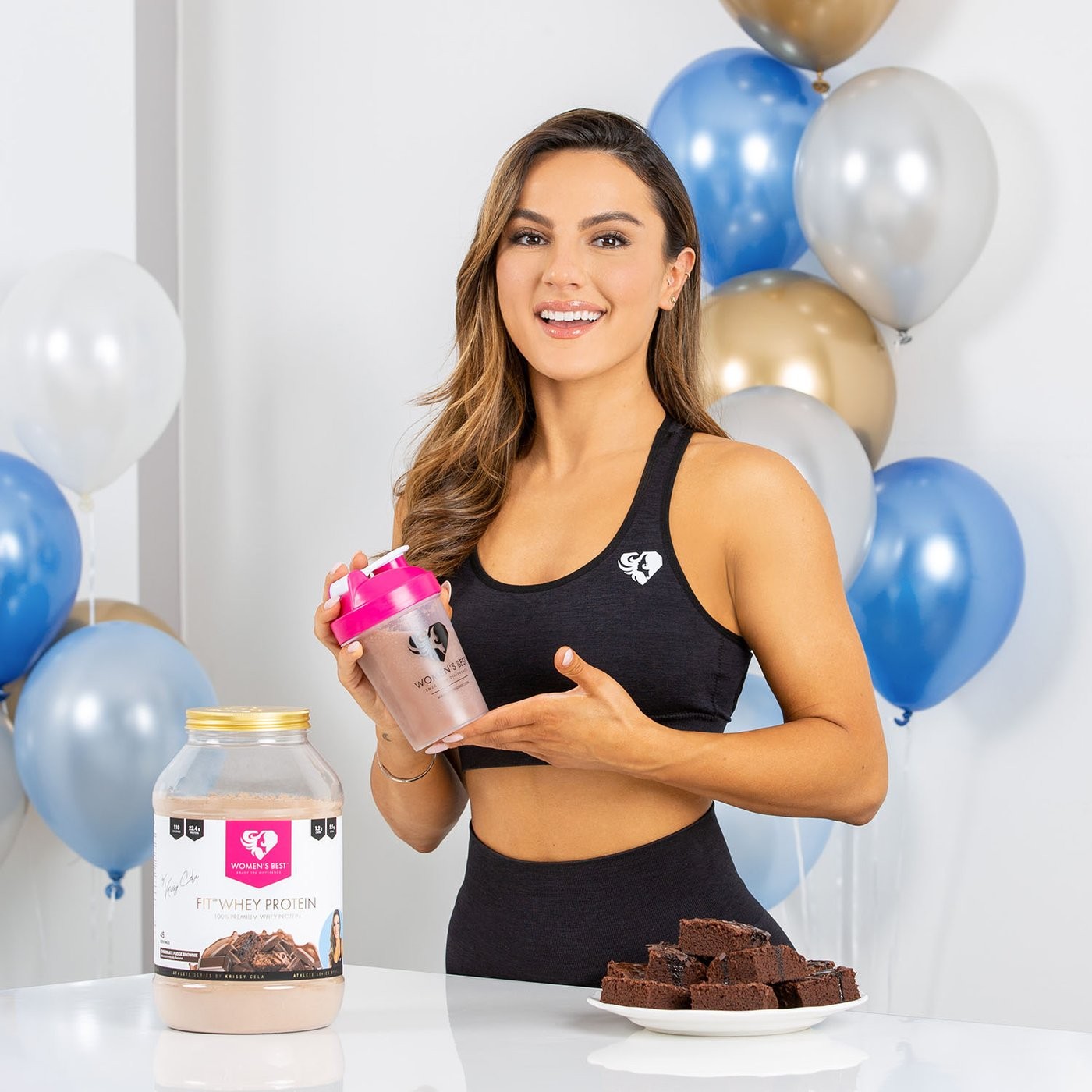 Maxine's has a long-standing reputation for quality, so it deserves a spot on the Women's Best Protein list. As a popular choice for many ladies, let's see if it's just the appeal of the female-friendly packaging.
In one 25g scoop of Maxine's Burn, you'll find:
100 calories
21.3g of Protein
0.7g of Fat
0.4g of Saturated Fat
1.1g of Carbohydrates
0.7g pf Sugars
95mg of Sodium
Pros:  
Maxine's Burn Protein has an excellent price point for their most popular sizes – only $29.95 per 500g, or $69.95 for 1.25kg. Since they've been around for a long time, Maxine's tends to be most popular with women over 35, who have been using them for a long time. This fact should give you more confidence – after all, why would you keep buying something if it's not working for you? This protein is super low in carbohydrates and fats, which is excellent for women looking to lose weight.
Cons:  
Part of the appeal of Maxine's is the inclusion of fat burners. Though it has some famous 'fat-burning' ingredients like L-Carnitine, Green Tea and Raspberry Ketones, the amounts of each are not enough to be considered a clinical dose. You're not getting enough of each ingredient to have a meaningful effect on weight loss. Nevertheless, having a well-rounded protein can be an excellent aid to weight loss.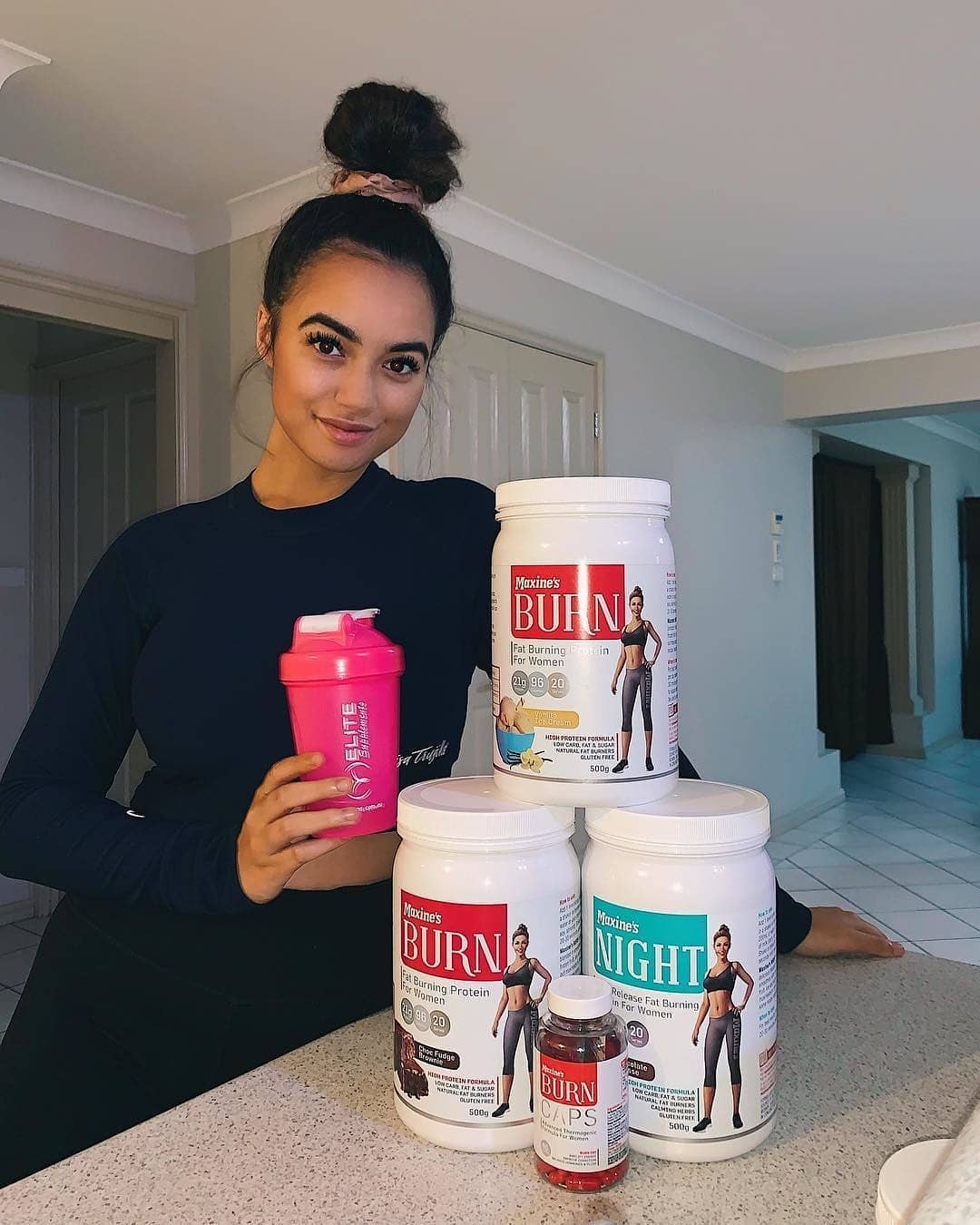 🌱 Natural and plant-based protein
1. Macro Mike Plant Based Protein
Macro Mike keeps bringing the goods, with 2020 sees the release of their new 'premium' blends. The 'Premium Protein' is the first based on almond protein! I have no doubt many of you would've tried Macro Mike before – their collection of peanut plant-proteins enjoys massive success, with the brand available at Woolworths since 2020.
The macros for Macro Mike! For a 40g serve, you're looking at: 
151 Calories
25.1g of Protein
3.98g of Fat
0.96g Saturated Fat
3.60g Carbohydrates
2.76g Sugars
138.35mg Sodium
Pros:
Macro Mike protein is excellent if you love a thick and creamy texture! Plus, the taste is top notch (could be a bad thing, depending on how often you have it!). They have powdered peanut butter (and now almond butter too) which are excellent for a low-fat treat, and they have ready-made mixes like banana bread and pancakes for guilt-free snacking.
Cons:
Obviously, not suitable for anyone with peanut or nut allergies. Due to its nature, Macro Mike Plant Based Protein is also a slower release protein, which is good or bad depending on how quickly you want it to be absorbed. Another downside is that although the packaging of the flavours looks impressive, I've heard many times that it can be hard to tell the flavours apart (they all taste like peanuts!). I've experienced this for myself too, though it's still a delicious protein! It is also a higher sugar protein compared to others, so depending on your sugar allowance for the day, you may want to take note.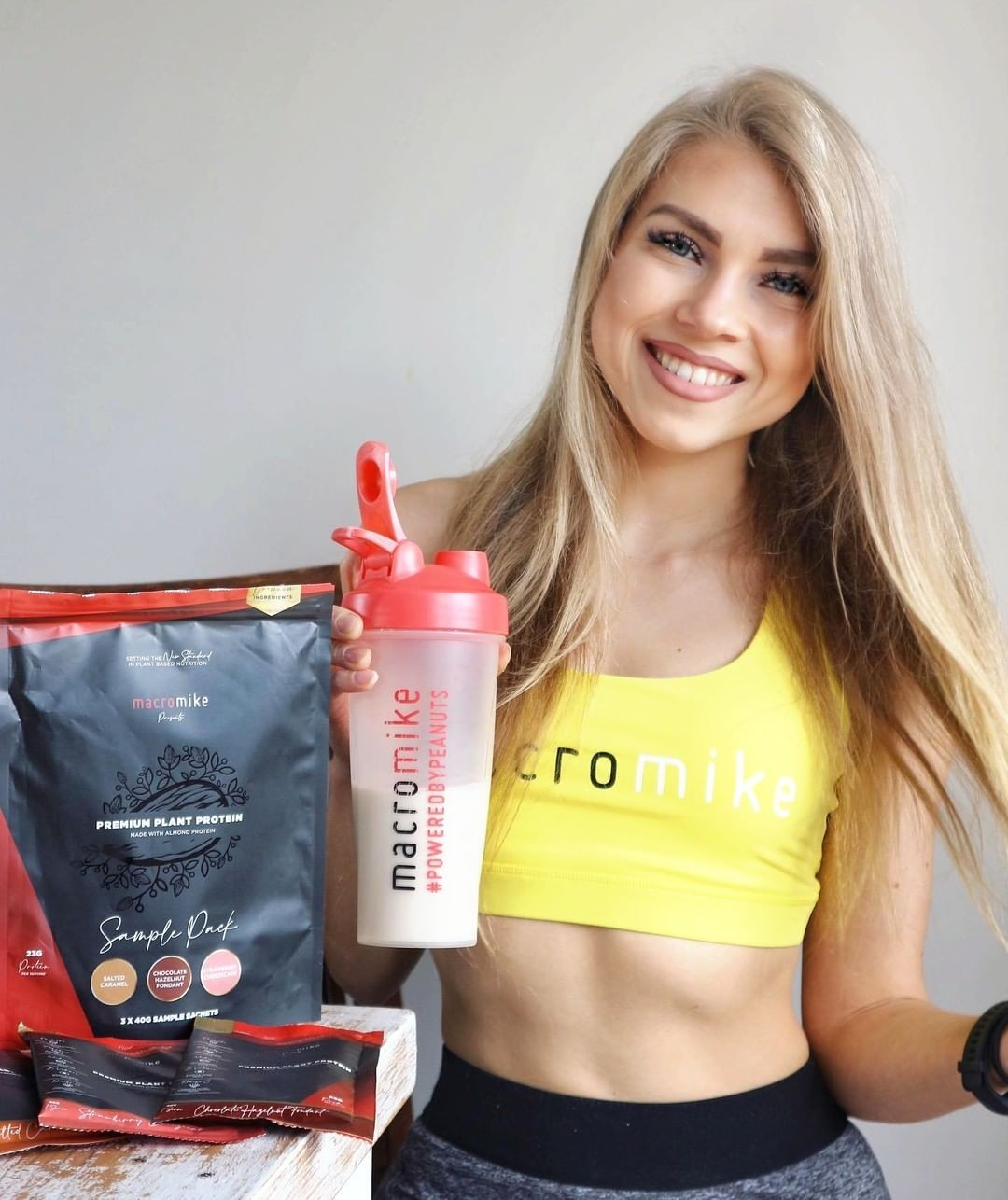 2. Botanika Blends Plant Protein
Botanika Blends Plant Protein tastes great, looks great, and if you head to their website, you'll see hundreds of reviews from other women! My personal favourite is the Custard Filled Cinnamon Donut – give it a whirl and let us know what you think! Otherwise, if you're tired of the same old protein flavours, you'll find so many options here; Cacao Mint Cookies and Cream, Caramelised Popcorn, Raspberry Coconut are just some of the creative taste combinations they have.
Per 40g serve of the Botanika Blends Plant Protein, you're looking at: 
148 Calories
24.1g Protein
3.1g Fat
1.4g Saturated Fat
6.8g Carbohydrates
1.5g Sugar
306mg Sodium
Pros: 
A 1kg pack is $64.95, which is lower than the average cost for a plant-based protein. Made from Organic Pea and Brown Rice Protein Isolates, Botanika Blends Plant Protein also infuse their blends with added Branched-Chain Amino Acids (BCAAs), so you're getting an extensive range for your muscles! On top of that, they include digestive enzymes and probiotics, inulin and acacia fibre, to promote gut health.
Cons: 
Botanika Blends have 60.2% protein, which is less than some other brands. It's also higher in carbohydrates. I wouldn't recommend it for you ladies following a keto diet. The added fats and fibre can also slow down digestion, so if you're looking for a fast-acting protein, this isn't the one for you!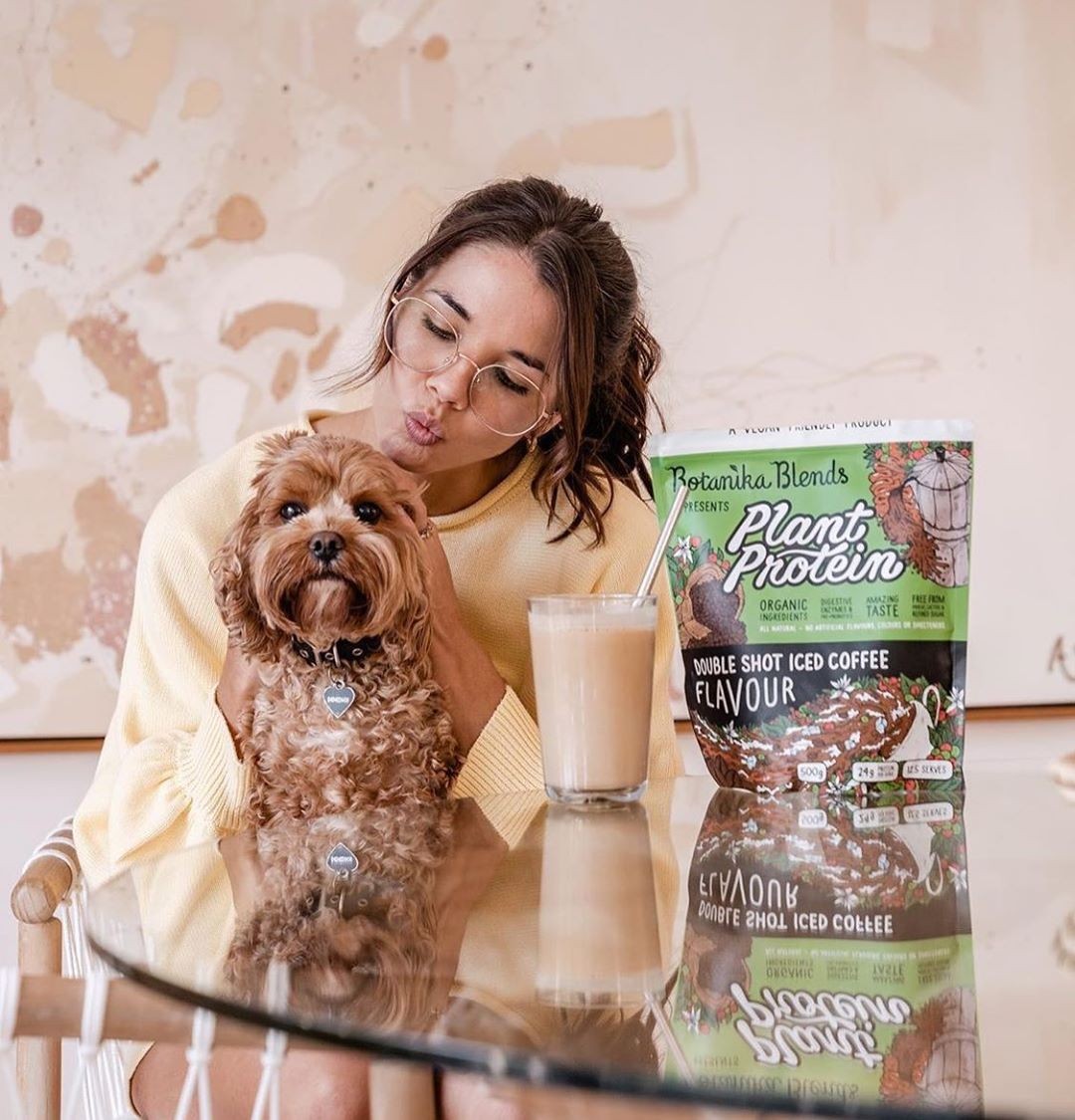 3. Ultimate Plant Protein by b Raw
When whey protein drinkers compliment the flavour of the Ultimate Plant Protein by b Raw, you know you're onto a good thing. If you usually drink whey protein, you'll know what I mean. The taste can be quite an adjustment at first! At $69.95, it comes at a standard price for plant-based protein.
Per 40g serve of the Ultimate Plant Protein by b Raw, you're getting:
157 Calories
30g Protein
2.5g Fat
0.9g Saturated Fat
3.1g Carbohydrates
0.4g Sugar
236mg Sodium
Pros:
The Ultimate Plant Protein by b Raw contains a superfood blend, so it helps you get some more nutrients into your day, which is something a lot of women are lacking. It won't fully replace a superfood blend, but it's nice to know you're getting added health benefits with your protein. It also contains digestive enzymes and an ancient grains mix, which helps you to break down the protein and keeps you fuller for longer. It's got almost no sugar too, a big plus! The most significant benefit, though, is the fact that it's organic, which is a big deal when you're looking to live a 'cleaner' lifestyle!
Cons:
If you have a grain-free diet or you struggle to digest grains, then this blend won't suit you (note: they are ancient grains though, not your typical processed type!). It has less of a flavour range than other brands, so if you're looking for tons of flavour options, they won't have it. I love a sweet and rich flavour, and the salted caramel hits the spot perfectly, but the chocolate and vanilla bean flavours a little too 'light' for my liking. However, if you prefer something less sweet or you're looking to use your protein powder in a shake with other ingredients, they will be perfect for you!
4. Nutra Organics – Vegan Collagen Glow
Many women have commented on the sheer beauty of their imagery – check out the link below to see for yourself! Nutra Organics is a local brand that prides itself on beauty nutrition – so if you're looking for a protein that will also help you glow for within, you'll want to check out what they have to offer.
Per 30g serve of Nutra Organics Vegan Collagen Glow, you're looking at:
125 Calories
13.8g Protein
3.35g Fat
<1g Saturated Fat
8.6g Carbohydrates
4.3g Sugar
7mg Sodium
Pros:
If you're looking for something more than 'just a protein', you'll be in good hands! By looking at the amount of plant-based extracts they've included in the Nutra Organics Vegan Collagen Glow, you'll feel like you're getting a luxe product. Extremely low in sodium, this protein also contains added zinc, vitamin C and Omega 3 fatty acids, which provide nourishment for your skin, hair and nails too.
Cons: 
Where the Nutra Organics proteins fall short is the taste. It might be due to the combination of plant-based ingredients in there, but the proteins do not have that 'yummy' taste that makes you look forward to them every day. Nevertheless, if health is your highest value, they are an excellent product. The cost is also higher than other blends at $49.95 per 500g – Just under $100 per kg!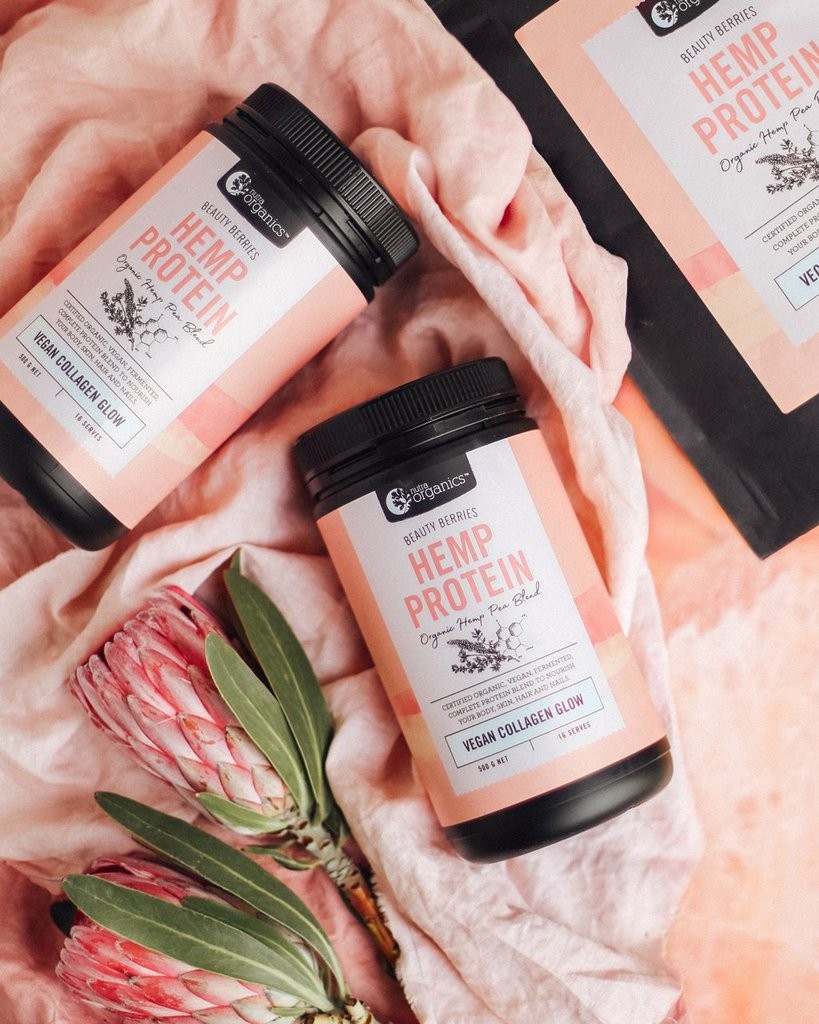 Which protein is the right one for you?
There are many things to consider when looking for a protein. These are a snapshot into some of the best proteins for women in 2020, so you can find the right one for you. The best way to get started is to choose one, take note of how it sits in your stomach and how you feel while having it. If you digest it well and feel like it tastes great, you're onto a winner! No matter whether you're looking to gain muscle or lose body fat, protein powders can be a delicious and convenient way to get your protein needs when used together with healthy eating and an active lifestyle.