Nourish'd is a Brisbane-based meal provider born out of a desire for healthy and delicious food delivered to your front door.
The big appeal of the Nourish'd meal range is that they use entirely whole food ingredients which are 90% Australian made. As a nutritionist, ordering meals that aren't laced with preservatives, additives and bulked out with refined carbohydrates is refreshing.
Related: Nourish'd Lamb Shanks Review
Related: Nourish'd Primal Pad Thai Review
How was the Nourish'd ordering and delivery process?
Nourish'd meals are available as a one-off order or reoccurring order that you can cancel at any time. To order, you simply need to head to their website and choose from the many meal plan options.
Now, this is where you can have some trouble if you're using Chrome as your browser as several of the functionalities don't always work. I had to switch to Safari to move through to the ordering stage and select the meals. I also couldn't log in and view my account from Chrome.
To trial the meals, I opted for "A Slice Of Convenience" which is 5 meals from $68.75. I choose the standard meal size but had to spend a minimum of $84.35. This included $10 for shipping. The starting cost is a bit misleading.
There are a good selection of meals to choose from, mostly lunch and dinners, but some traditional breakfast options. You can also add snacks such as juices, protein bars and muesli as an addition to your order if you choose.
Nourish'd also have an option to choose from a Keto of Vegetarian Meal Delivery. However, on selecting these options you're directed just to the main ordering page. You'll have to look at the individual ingredients and macronutrient profile of each meal to find the ones that fit with your dietary requirements. There is a visual aid to help make this process easier.
The meals are only delivered once per week. For several destinations, you can receive an option of different delivery times which I thought was helpful. I selected an overnight delivery which meant I would be waking up to meals in the morning; convenient for those wanting to take lunch to work. However, the extra loud delivery truck and person at 2 am in the morning had made me reconsider this in the future.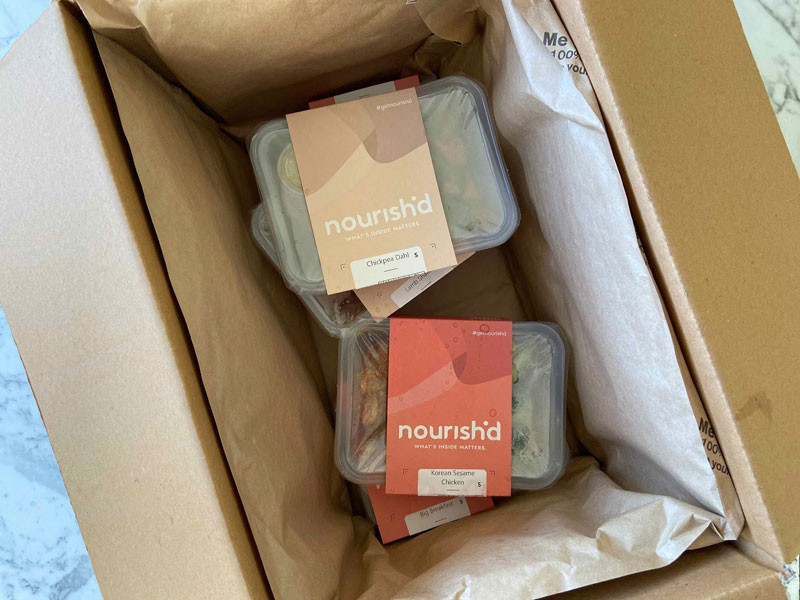 When the meals did arrive, they were carefully packaged in all-recyclable packaging and kept cool by a thermal liner which was great. And all the meals were fresh rather than frozen – another bonus.
The individual meals are packaged in minimal and visually appealing packaging, although the containers are all plastic. For a premium product with health in mind, it would be great to see they adopt cardboard to minimise the impact associated with heating food in plastic.
One thing I would have liked to see was an itemised invoice to see the cost of the individual meals compared to others. I had requested this with the head office but at the time of writing this review, I am yet to receive a copy.
Were the Nourish'd meals nutritious?
All the Nourish'd meals lived by their motto of containing no "BS". They were all preservative and additive-free, had no refined sugar and were all gluten-free. It was definitely a pleasant surprise to see only whole food ingredients and not numbers on the label.
Nourish'd also state their meals are made with 90% Australian ingredients – another appealing feature.
The "standard" meals ranged from approximately 265 – 290 grams which is on the smaller size for convenient meals. The advantage of this is that the calories were kept reasonably low ranging from 321cal for the Lamb Shanks to 437cal for the Chickpea Dhal. Ideal if you are trying to watch your portion sizes.
For the most part, the meals had a good ratio between meat and vegetables, with the later often lacking in most convenient meals. However, I would still be inclined to add a salad or non-starchy veggies to accompany most of the dishes. This will help to increase the fibre intake and the micronutrients nutrients (many of which will be lost in the reheating).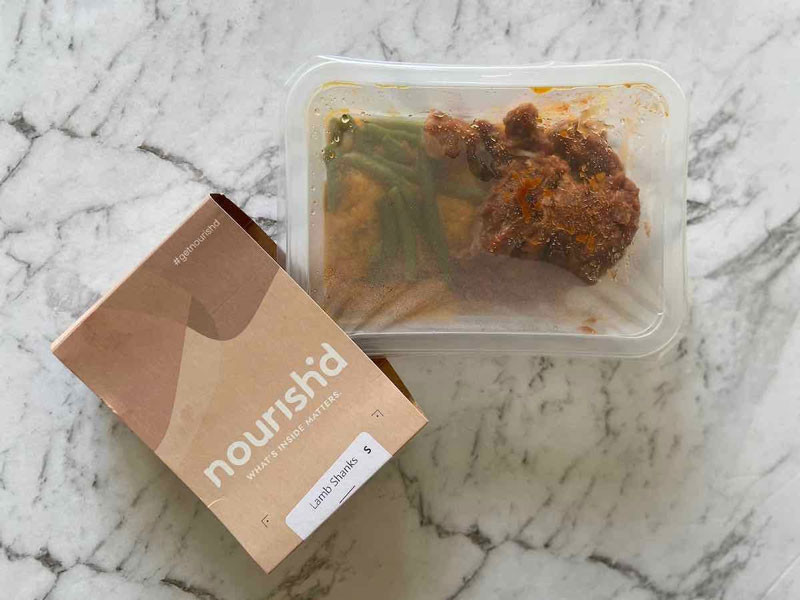 The protein content varied between the meals with some adequate at only 6g per 100g and others higher at 14g per 100g. The fat content of the meals I reviewed were all found to be low-moderate. The nutrient profile doesn't break down the fat total, however, all of it is coming from natural whole food sources such as meat, eggs, coconut oil and coconut cream so this is not a health concern for most.
The carbohydrates are kept reasonably low due to the exclusion of refined carbohydrates in place of vegetables. However, if you were wanting to adopt a ketogenic diet, you would need to pay particular attention as many of the offerings won't allow you to remain under 20 grams a day, especially if you're ordering a larger serve. Of the 18 meals to choose from, only 3 have been labelled "keto-friendly".
As the meals don't contain any added sugar, the sugar content is relatively low (under 5g per 100g) and only coming from the vegetables or natural sources such as honey. This is really great as many mainstream convenient food brands tend to use sweeteners as a way to enhance the taste. The sodium content is also kept to a minimum with most meals.
Nourish'd have opted to refrain from using refined carbohydrates in their meals and instead have used vegetable alternatives such as cauliflower rice or sweet potato noodles. As a nutritionist, this is a welcome change as many pre-made meals use pasta or rice as an inexpensive filler.
This means for the serving size, most of the Nourish'd meals do contain a good ratio of vegetables. For most of the meals, they do highlight the number of serves of vegetables, however, you need to keep in mind these are based on the "large" option. After trying some the "standard" meals, I would think you are consuming a minimal or just hitting the recommended amount of vegetables and would be inclined to add extra.
Overall, these are nutritionally balanced meals. I commend their commitment to cooking with whole foods and the extra effort to eliminate the refined carbohydrates.
How did the Nourish'd meals taste?
On the whole, I enjoyed the Nourish'd meals, some more than others. I tended to enjoy the plainer options such as the Lamb Shanks over the Korean Sesame Chicken or the Pad Thai. I found the meals with sauces tended to be overpowering and bearing on sickly with little relief. This was a view also shared by others in my household.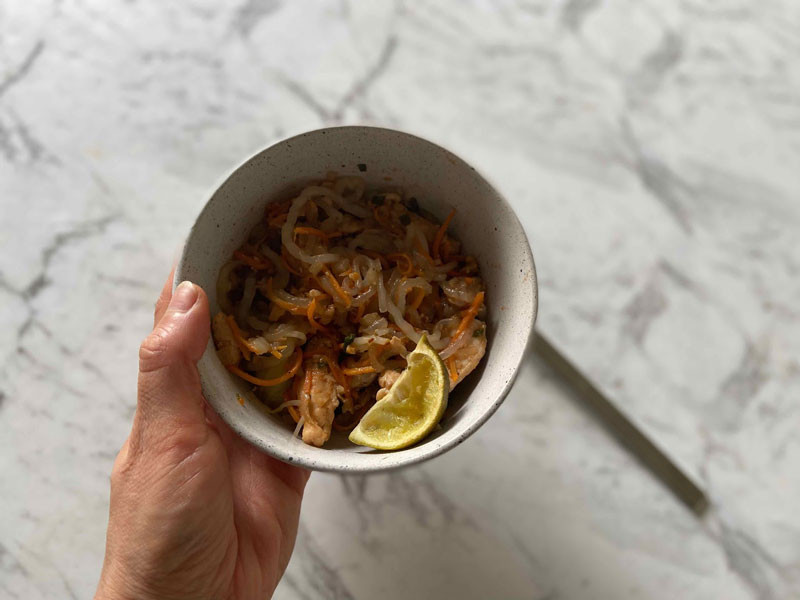 You could definitely taste the quality with some meals tasting freshly homemade. The textures were great with vegetables such as broccoli and green beans still crisp and nothing was mushy. This was further enhanced by the fact the meals are delivered fresh rather than frozen.
Were the Nourish'd meals good value?
The Nourish'd "standard" size meals on a "one-off" plan of 5 meals average at $16.87 (including the delivery cost). Given the size only ranges from 265 – 290 grams, this is at the upper end for pre-made meals.
There is no doubt, you could cook these meals at home for much less or even head down to your local cafe or restaurant.
Having said that, you're paying for convenience and quality. Ordering Nourish'd meals means you don't have to meal plan, shop, cook or clean up. You're also consuming whole foods and eliminating all the lab-made ingredients you're likely to find in similar but cheaper products.
Keep in mind, you can reduce the cost of the meals if you opt for a reoccurring order or choose from one of the larger plans.
Where can you buy Nourish'd?
Their meals are available online – see their website for more details.
Have a product review suggestion?
All of our reviews are independent based on our own experiences. If you have a product you want to see reviewed, let me know in the comments below!