The meal provider Nourish'd have a simple mission: To eliminate the 'eat crap or go hungry' dilemma. They offer their customers a range of fresh and healthy meals delivered to their doorstep each week while catering to a variety of dietary requirements.
You can choose a one-off order, ideal for trying the meal provide for the first time or sign up for a reoccurring order.
Nourish'd have established a reputation as one of the premium quality meal providers but does their service and quality of food stack up? I continue my trial of Nourish'd and their meals with a review of their Lamb Shanks.
Was the Lamb Shanks nutritious?
With the slogan "what's inside matters", I had high hopes for the Nourish'd Lamb Shanks.
True to their motto, the Lamb Shanks had only whole food, 90% Australian made ingredients. Deciphering the ingredients list took no time at all with the meal being comprised of just pumpkin, lamb, tomato, green beans, garlic, rosemary, pepper and salt. As a nutritionist, seeing no preservatives or additives is a welcome sight.
Nourish'd offer three size options in their range: "standard" "large" and "athlete". The following review is based on the "standard" size Lamb Shanks which is approximately 270g. One of the negatives of their packaging is that they don't list the serving size in grams.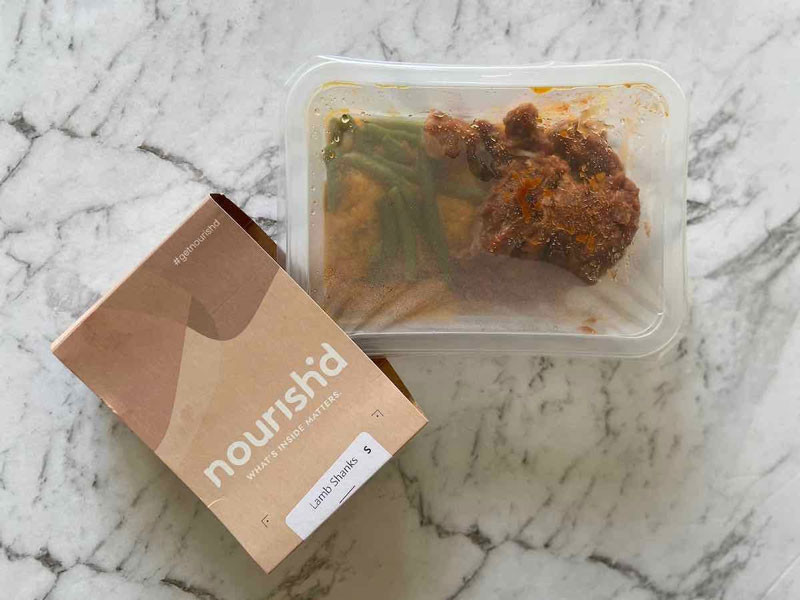 The total calories for the standard Lamb Shanks is only 320 cal which is relatively small for a main meal. However, this may be ideal if you are trying to reduce your caloric intake or planning to bulk the meal out with additional vegetables or complex carbohydrates. Keep in mind, if you are choosing to add more ingredients to the meals, it does make it more expensive.
While the pumpkin is the main ingredient of the meal, you do get a generous hit of protein at 37g from the lamb. And as they've swapped traditional potato mash with simply pumpkin, this has reduced the carbohydrates to just 16g per serve.
The fat and sugar both come from the natural whole foods, which is great considering a lot of convenient meals rely on added refined sugar to inject more flavour into their dishes.
How convenient is the Nourish'd range?
Deliver to your front door weekly, the Nourish'd range are incredibly convenient. If you're time poor or simply need more accountability when it comes to eating a healthy diet, these meals could be a good option for you.
For those disorganised types, you can even opt for a reoccurring delivery where the meals will come to you until you stop or pause your order.
It only takes 2-3 minutes to heat the meals and they can be frozen if you can't eat them by the expiry date. As they don't contain any preservatives, they won't last as long fresh as some of the mainstream brands.
How was the taste of Nourish'd Lamb Shanks?
For a meal that doesn't contain many ingredients, the Lamb Shanks smell pretty delicious and not too dissimilar to a homemade meal.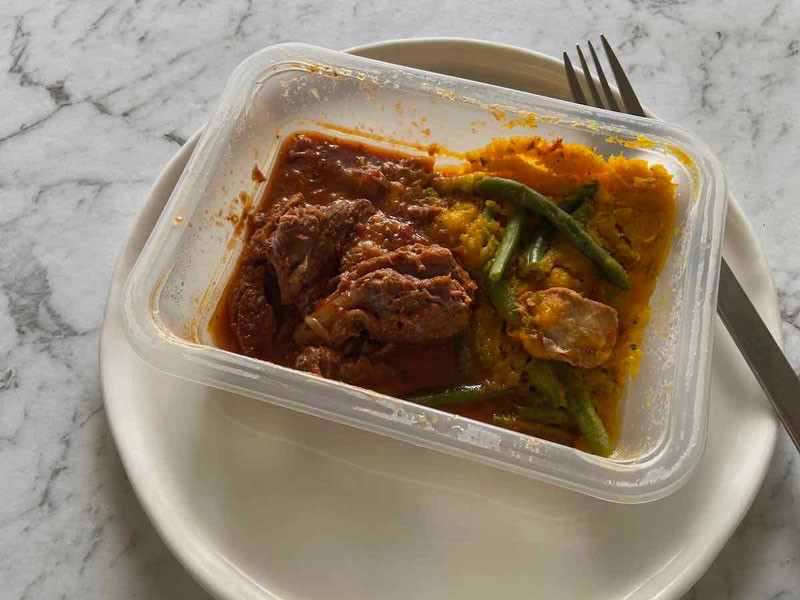 There is a good ratio between the meat and vegetables, although like more meals I would love to see some more non-starchy veggies. This will help to not only increase the fibre but also the micronutrients.
One thing I wasn't expecting to see in my Lamb Shanks was a piece of chicken! Obviously this is a mistake but might be concerning for those with allergies.
The Lamb Shanks were very tasty and certainly left me wanting more. For a meal with so few ingredients, it was very flavoursome and tasted homemade. The vegetables were clean and balanced out the tomato, rosemary sauce of the lamb. The green beans were tender, yet still had a fresh crunch rather than soggy texture.
Overall, the Nourish'd Lamb Shanks is a wholesome meal. I only wish it was a little larger with more veggies and for the same price.
Where can you buy Nourish'd?
Their meals are available online – see their website for more details.
Have a product review suggestion?
All of our reviews are independent based on our own experiences. If you have a product you want to see reviewed, let me know in the comments below!