Healthy and delicious meals delivered to your door is the motto behind the Brisbane brand Nourish'd. They offer consumers a diverse range of convenient meals in different sizes that meet a variety of dietary needs from vegetarian and dairy-free to keto and paleo-friendly. The menu is also regularly changing to keep your taste buds interested.
If ordering online and enjoying nutritious meals without leaving the house or cooking wasn't convenient enough for you, you can even streamline the ordering process. Nourish'd offer meal plan options and a subscription service based on your taste preferences and hunger level.
But are Nourish'd premade meals as delicious and nutritious as they claim them to be? I trial the service and taste test several meals. First up, The Primal Pad Thai.
Was the Primal Pad Thai nutritious?
As a nutritionist, one thing that attracted me to the Nourish'd meals is the use of whole food, natural ingredients and 90% of those are Australian.
The Primal Pad Thai doesn't contain any additives or preservatives such as MSG which are often found in South East Asian-style foods. There are also no refined carbohydrates that can cause a spike in blood sugar. Yet, there are still the flavours and aromatics we associate and love about Thai food.
One of the beneficial aspects of the Nourish'd range is that they offer three different size options: "standard" "large" and "athlete". This allows you the ability to tailor your portion sizes and essentially your calorie intake to your needs. The following is based on the "standard" size which is approximately 290g.
The total calories for the standard Primal Pad Thai is 426cal which is okay if this is enough food to sustain you and dependant on your food intake for the rest of the day.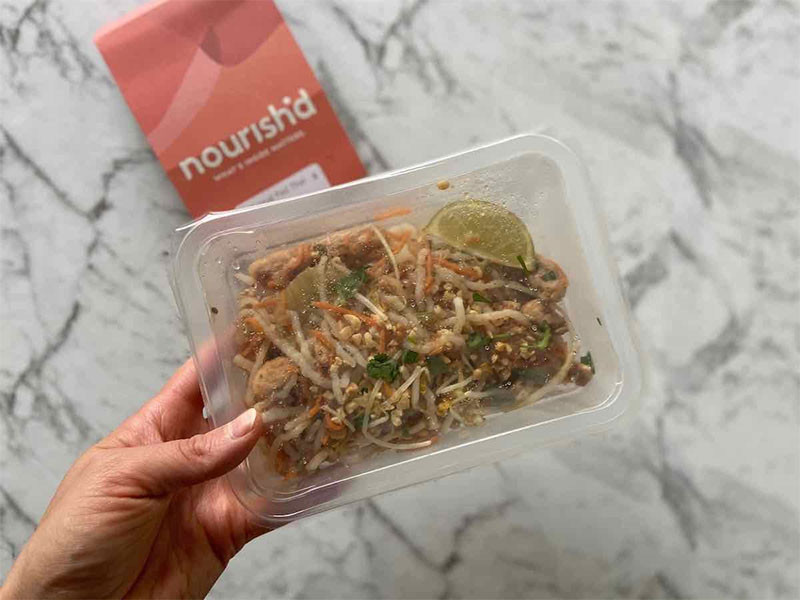 With free-range chicken being the main component of the dish, the protein per serve is 29g. Not overly generous but in the proportion given the portion size.
The carbohydrate content at 39g has been kept relatively low in comparison with your typical pad thai dish due to the substitution of sweet potato noodles. What's great about this is that it makes the meal gluten-free with no refined carbohydrates. It also increases your overall vegetable intake which is a bonus.
The sugar content at 4g is just below what I tend to recommend you look out for, choosing meals that are less than 5g per 100g. At 933mg of sodium, this is in the medium range for a processed meal but in comparison with your typical pad thai the salt and sugar is minimal.
Also typical to a pad thai, the vegetable content is low. However, they have made all attempts to increase this by replacing the rice noodles with sweet potato and including a few Thai favourites like boy choy and bean sprouts.
Related: 7 healthy meals made with non-perishables
How convenient is the Nourish'd range?
It's hard to get more convenient than browsing through the website and adding meals to your virtual basket before receiving them on your doorstep. To minimise your level of effort even further, you can have a subscription service where you only have to choose your meals for the week.
If you're doing a one-off order as I did, they do need to be placed by Thursday 5 pm to receive the order the following week. The day of delivery will depend on your individual location. You may also have options of delivery times to suit your schedule.
I opted for an overnight drop off, which meant the meals were at my doorstep when I work up. Although the loud truck and delivery person has made me think twice about selecting this delivery time in the future!
Heating and storing the range is also made easy. The meals are fresh and can be refrigerated up to a certain date. However, they can also be frozen if you aren't going to consume them in time. They only need a few minutes to microwave before ready to eat.
How was the taste of Nourish'd Primal Pad Thai?
After heating the Primal Pad Thai certainly smelt of a flavoursome meal you'd typically associate with the South East Asian Dish.
Visually it's not that appealing and the poor, shrivelled up lime slice doesn't look that appetising. However, the pieces of chicken were real chicken and of a good size which provided a nice texture. Interestingly, the sweet potato noodles looked like clear rice noodles. That wasn't what I expected, but it did mimic the noodle-like texture.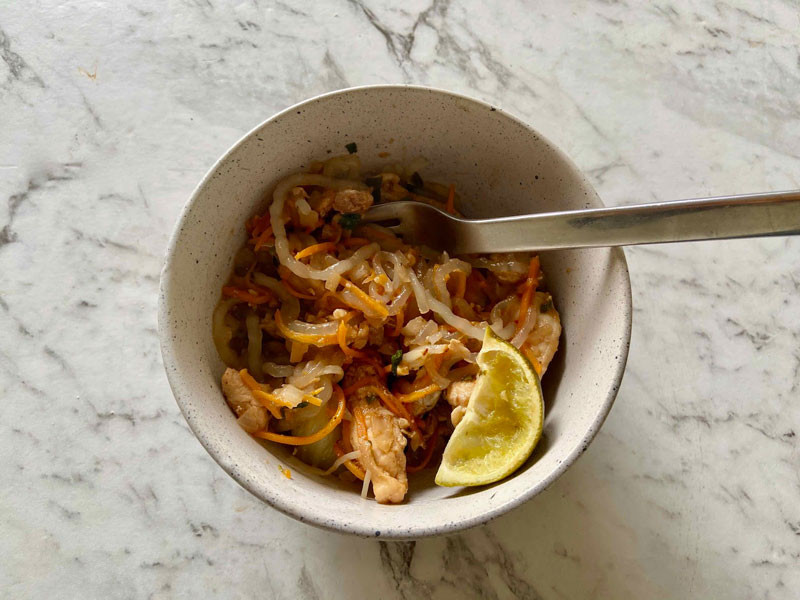 What was a little off-putting about the Pad Thai was that the sauce was overly sweet and heavy on the lime. The meal really needed the relief of streamed veggies such as bok choy or broccoli.
Even with the chicken pieces and the little bits of peanuts, as you move through the meal you really notice the gluggy nature of it. Was it the best Pad Thai I've eaten? No. Was it made of whole food ingredients and convenient? Yes.
Where can you buy Nourish'd?
Their meals are available online – see their website for more details.
Have a product review suggestion?
All of our reviews are independent based on our own experiences. If you have a product you want to see reviewed, let me know in the comments below!