🏡 Lifestyle,📕 Guides
How To Meal Prep Salmon For The Week
Prepping meals for the week is hard enough without having to worry about cooking the perfect piece of fish, especially fish that will maintain its integrity when reheated. But what if we tell you that finding and meal prepping fish for future meals doesn't have to be tricky? What if we tell you that it's all about finding the right piece of fish and remembering a few easy tips & tricks?
UPDATED ON Jun 15, 2022
It's simple enough to prepare your favourite chicken, pork and beef recipes in bulk for the long week ahead, but what about fish? Contrary to what you probably believe, there is a way to incorporate fish into our meal prep, but it does depend on the type of fish we choose to cook with.
For the longest time, salmon has been considered one of the healthier seafood options we include in our diets based on the many great nutrients and health benefits it provides.
Benefits:
Rich protein source
Arguably one of the greatest health benefits of salmon is its high-protein content. Protein assists the body in many great ways including muscle growth, muscle maintenance during weight loss, lower appetite, helps the body to heal when injured and improves bone health.
Helps to control weight
Incorporating salmon into your diet regularly can also help to aid weight loss and to keep the weight off. This is due to the high levels of protein which limits the production of the hunger hormone, which as a result, stops the mindless snacking. In addition, salmon is low in calories with a 99g piece of wild salmon containing around 182 calories.
Rich in Omega-3 fat
Much like protein, we can only get omega-3 through our diets because our bodies do not naturally produce this. Salmon is an extremely rich source of omega-3, supplying the same amount of omega-3 to that of a fish oil capsule. Unlike other oily fish, salmon does not have the same fishy flavour, making it extremely versatile and the perfect ingredient to include in meal prep.
Omega-3 also holds great weight loss properties. Researchers have found that omega-3 can help to increase an individual's metabolism. Your metabolic rate indicates your metabolism and the higher your metabolic rate, the quicker you burn calories which means those with a high metabolic rate are likely to find losing weight and keeping it off much easier than others.
Rich in B vitamins
Salmon just so happens to be a very rich source of B-vitamins which provides us with a long list of great health benefits. B-vitamins assist the body with converting food into glucose (one of our key energy sources), reduces inflammation throughout the body and promotes great brain and heart health!
How to meal prep salmon:
With all of these great health benefits in mind, we would be silly to not include salmon in our weekly meal prep, the question is – how do we do it while still keeping our salmon fresh and tasty?
If you've ever cooked fish before, you'll know it's not hard to over-cook leaving the beautiful flesh dry and unpleasant. Similarly, when microwaving pre-cooked meals, if the meat isn't cooked to the right degree, the microwave can over-cook and dry out the meat you spent precious man hours cooking in advance.
That's why US food blogger and expert meal prepper 'A Sweet Pea Chef' Lacey Baier, worked hard to perfect the art of meal prepping salmon while still maintaining its integrity. Lacey has a slew of great recipes for aspiring health seekers to use as a guide through their first attempts at meal prepping for the long week ahead, providing great tips and tricks for keeping food well preserved, fresh and most importantly, delicious.
Lacey has come up with the perfect, healthy salmon meal prep dish, along with tips on how to store it for the week, how long it will keep and how to reheat the dish to perfection. Not only is Lacey's salmon dish tasty, quick and full of healthy ingredients, but the dish is entirely gluten free, low in calories and equates to around $6.00 per meal.
Pan Roasted Salmon with Garlic Rice & Garlic, Parmesan Green Beans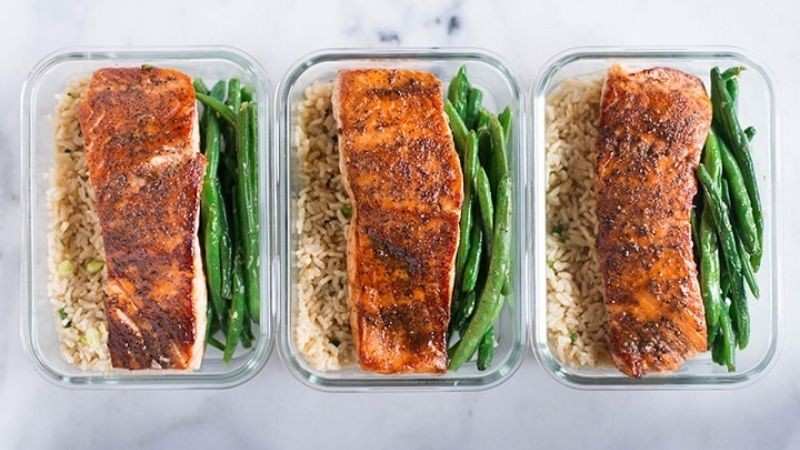 Calories per serve: : 479
Ingredients
For the Pan-Roasted Salmon:
4x 170g skinless salmon fillets
1 tbsp olive oil
2 tbsp coconut sugar
1 tsp sea salt
1 tsp ground black pepper
1/2 tsp ground cumin
1/4 tsp dry mustard
1/8 tsp ground cinnamon
For the Garlic Brown Rice:
1 tbsp olive oil
3 cloves garlic, minced
1 tsp sea salt
1 1/2 cups brown rice, uncooked
3 1/2 cups low salt chicken stock
2 green onions, sliced (optional)
For the Garlic Parmesan Green Beans:
1 tbsp olive oil
2 lbs fresh green beans, stems removed
2 cloves garlic, minced
1 tsp sea salt
1/4 tsp ground black pepper
2 tbsp parmesan cheese, grated
If you simply cannot find the time for meal prep, why not try one of our favourite meal providers?
My Muscle Chef
If you're looking for a couple of tasty salmon dishes to include in your weekly meal plan, My Muscle Chef have multiple salmon based options for you to choose from including the Red Curry Salmon with Cauliflower flower and Cashews (568 cals), the Chia Crusted Salmon with Soy Glaze, Broccoli & rice (536 cals) or if you're undecided on which side you'd like to pair it with, they also offer baked salmon in bulk through their PLUS PROTEIN range.
Food 4 Fitness
If it's variety you're chasing, Food 4 Fitness basically have an entire seafood section with up to 15 different seafood dishes for you to choose from. There are plenty of salmon dishes included in that menu such as the Oven Baked Salmon Fillet With Special Greek Sauce And Lemon Wedge (468.75 cals), the Sous Vide Salmon Fillet With Special Honey Soy And Lemon Wedge (544 cals) and the Sous Vide Salt & Pepper Crusted Salmon With Sweet Chilli Sauce And Lemon (475.25 cals), each of which with three different sizes to choose from.
There are plenty of other great meal providers with tasty salmon dishes on their menu including Macros with Japanese Miso Salmon (502 cals) or Youfoodz with Salmon & Dill with Sweet Potato Mash (399 cals), it's just all about finding what flavours work for you and your busy schedule!