🏡 Lifestyle,💪 Training
Tips For Staying On Track To Your Fitness Goals This Winter
As the days get shorter, the weather gets cooler and our alarms become much easier to snooze! While it's super easy to put our healthy habits on the back burner until the sun returns, it's important we try our hardest to keep on track.
POSTED ON Jul 07, 2021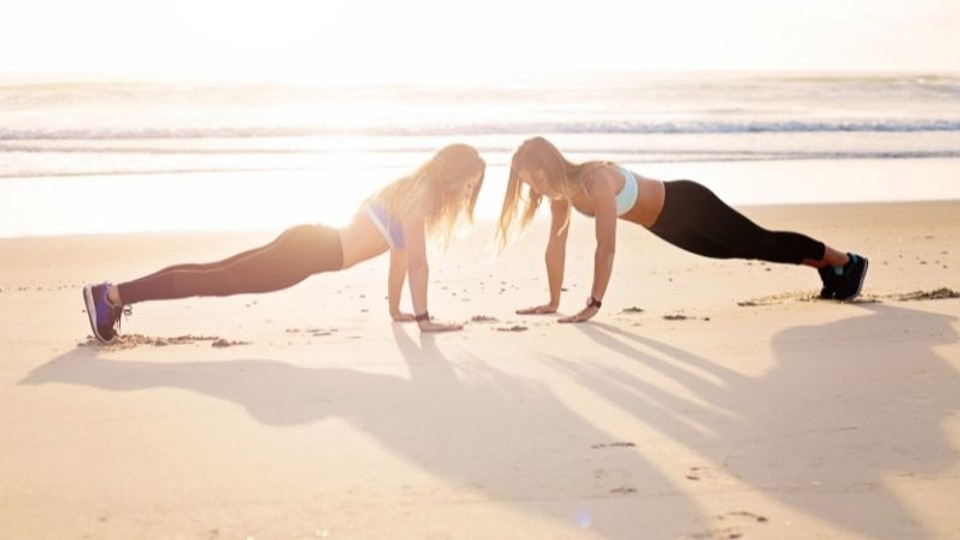 Dietitian at Jenny Craig, Laura Ford shared a bunch of great recipes and tips to ensure we are staying on the path to our health goals even when the weather makes us want to chuck on a pair of trackies and wait out the winter.
Build that immunity
Given the days are shorter, this means less time in the sun and more time indoors which can result in a deficiency of vitamin D. A great way to combat the lack of vitamin D is ensure you are consuming a well-balanced diet, which will also help you to fend off seasonal illnesses.
"Eat a variety of fruits and vegetables, especially greens and vitamin C-rich foods, to keep your immunity firing this winter. You'll get the greatest boost through citrus fruits, berries, kiwifruit, tomatoes, broccoli and capsicums. Integrate these foods simply by including seasonal fresh fruit into your breakfast or morning tea, making a big batch of vegetable soup to snack on throughout the week and aiming to integrate a variety of veggies into your evening meals."
Stock up on veggies
While summer is great for veggie variety, winter also has a lot to offer in the way of delicious, nutritional veggies. Laura has gone ahead and provided us with a list of great winter veg along with different methods of preparation so you can get the most out of your produce.
"Cauliflower: Rich in vitamin C, magnesium and fibre, cauliflower is delicious steamed or roasted with a light coating of spray oil and some garlic, thyme and smoked paprika.
Carrots: Naturally sweet and loaded with beta carotene, fibre and antioxidants, carrots are easy to love. Roast some carrots with a light coating of spray oil and ground cumin as a delicious side.
Zucchini: By simply preparing zucchini using a spiraliser tool, you have a delicious substitute for or addition to, pasta.
Spinach and Kale: Spinach and kale are at their peak during the winter months, and both of these cruciferous greens are rich in iron, fibre and Vitamins A and C… all essential for staying healthy during cold and flu season. Up the ante even further by wilting some spinach or kale with spray oil and crushed garlic. Add roasted tomatoes and mushrooms and you've got a yummy accompaniment to a spinach frittata.
Try our warming, creamy cauliflower soup tonight, or this super quick and easy roasted carrot recipe."
Take care of your mental well-being
Winter can really take a toll on our mental health, especially when we are couped up indoors and neglecting a well-balanced diet and exercise. A great way to make up for some of our losses is to incorporate more nutrient packed ingredients into our diets such as berries.
Berries are jam-packed full of antioxidants and hold strong anti-inflammatory properties. Laura suggests trying this creamy choc strawberry recipe, which is both healthy and tasty!
Indoor exercise
Obviously, one of the biggest deterrents from exercising through winter is the weather! While it's hard enough mustering the energy to jump in the car and head to the gym, it's even harder for those of us without gym memberships who have to head out to our local park in the cold.
Since Covid-19 hit, the fitness app industry has exploded with thousands of great home-workout apps. This means that leaving the house for exercise is no longer a necessity because we have everything we need right here at our fingertips.
If you can't find a fitness app that works for you Laura has another suggestion!
…why not keep your winter health accountable by signing up to a springtime fun-run, or even a half-marathon. With this challenge in mind you can plan your training throughout the colder months – time flies when you're chasing your goals.
Avoid weight loss fads
There's nothing worse than realising summer is around the corner, but you've spent the entire winter hibernating with piles of snacks and now your body is nowhere near summer ready. Well, I know it's tempting to jump on an 'quick and easy' weight loss fad, but often this can cause a whole lot of damage to our bodies. So, instead of jumping on the latest trendy weight loss fad, try to maintain a healthy diet and exercise throughout the course of winter, to save you having to shed those winter kilos at the last minute!
Track your progress
Sometimes, it's hard to find the motivation to exercise after a long day at work, but something that could help keep you motivated, is to track your progress with regular photographs. Often, it's difficult to see the progress from day to day so by looking at comparison shots, you will get a better idea of what effect the exercise and diet regime is having on your body.
So, there you have it, six tips to help keep you on track to your health goals through winter! For more tips and tricks to keep you on track, check out our article on meal planner apps and 5 ways to motivate yourself to be healthy