📕 Guides
How To Live Green When Using Meal Delivery Services in 2020
UPDATED ON Jun 26, 2023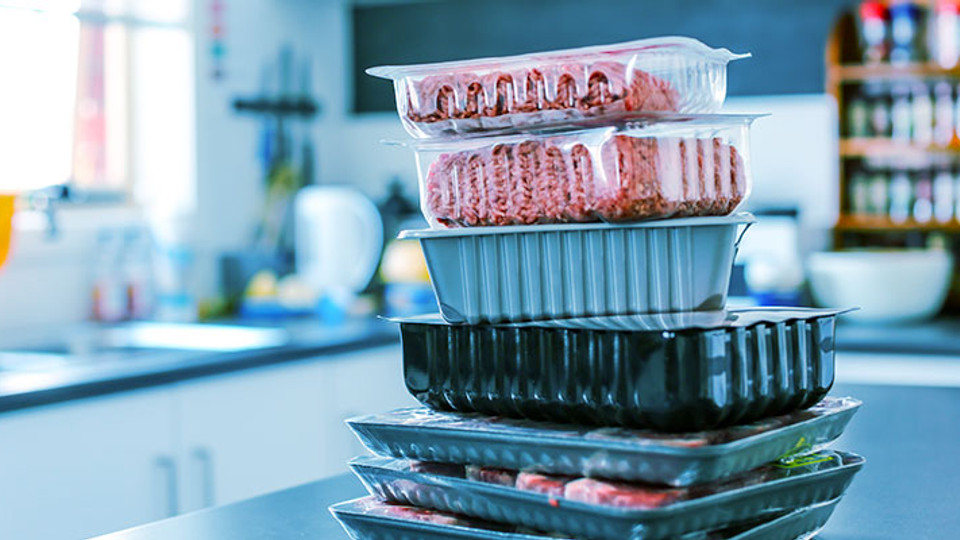 We live increasingly busy lives and if you're anything like me, you want quick and easy solutions that enable you to spend more time on the things that are important to you without compromising your values. Ready-made-meal and meal-kit delivery services probably seem like a great way to save time on food prep without impacting your health, but are these meal delivery services environmentally friendly?
Some meal delivery services are greener than others, so your choice matters. But if you've heard the news about the new recycle/reuse service, Loop, you may be wondering whether any of the services available in Australia are good enough. The thing is, regardless of the meal delivery service you choose, there are simple steps you can take to make your environmental footprint the best it can be when using meal delivery services, even though we don't yet have Loop or an equivalent.
Sound good? Read on, and I'll tell you everything you need to know.
Loop and recycling in Australia
Ok, first let's talk about the elephant in the room — Loop. You might have heard about this fantastic new program and wondered if it's coming to Australia. And if you hadn't heard of it before, you're sure to be wondering about it now. So, let's start there.
Loop is a brand new reuse/recycle program that's launching in the US and Paris and will soon expand to the UK, Canada, Germany and Japan. Loop has partnered with popular brands to develop robust, reusable packaging. Anyone in Loop's service area can purchase products with the upgraded packaging through the Loop website and have them delivered to their home. Then Loop picks up the packaging, for free, and hygienically cleans and refills it with more of the product, ready for the next purchase. (Once someone places their first order, Loop will pick up empty packaging when future orders are delivered, so reuse doesn't result in extra 'food miles'.)
That means no hassles with non-recyclable packaging and zero waste.
Unfortunately, Loop hasn't got plans to come to Australia, yet. But the team is collecting the contact details of people interested in the service. So, if this sounds like something you'd be interested in using, let Loop know. The more Aussies who fill in the form, the more likely it is that Loop will roll out here.
Recycling programs in Australia
Ok, so Loop is a no go. But are there other programs in Australia that you might be able to participate in? TerraCycle, the company launching Loop, offers a range of recycling programs for everyday products. Food-related ones include several programs for coffee pods, and a program for recycling those bits of plastic that keep your bread bags closed. Now, that's great for reducing your general environmental footprint, but 'what about the environmental impacts associated with meal delivery services?' I hear you ask.
Well, REDcycle can allow you to recycle any soft-plastic packaging that meal kits and pre-prepared meals come in. Have you got cling film on your ready-to-eat meals? REDcycle has you covered. And much of the packaging associated with meal delivery services is made from cardboard, which can be recycled in your standard household recycling collection. The same goes for glass and metal containers.
Other than that, the recycling options for meal delivery packaging are limited. And you've probably heard news about recycling facilities stockpiling recyclable materials because China and other countries will no longer accept them.
So, what are the alternatives? And what steps do you actually need to take? Well, let's start with what you don't need to do.
Environmental benefits of meal prep and meal delivery services
Apart from enabling you to eat healthy food without having to spend hours on food prep each week, meal delivery services also offer another huge benefit — they reduce food waste. By providing you with ready-made meals, or meal kits that include exactly the quantities of each required ingredient, meal delivery services can prevent you from buying food that you aren't going to use.
They can also reduce food waste before the food even gets to you. How? Meal prep companies source many of their ingredients directly from local growers immediately before they're needed in recipes, rather than purchasing from intermediaries. This means food spends less time in storage, when compared with food sold through supermarkets, and no time on display. A HelloFresh spokesperson told Choice this "eliminates waste associated with speculative purchasing and deterioration."
According to Pepper Leaf, meal delivery services can also make use of smaller fruits and vegetables that don't meet supermarket standards. For example, if a recipe calls for two teaspoons of lemon zest, you and I might have to buy a large lemon from the supermarket and then not have any use for the rest of the lemon peel (though we could at least make a tasty lemon drink with the juice). But a meal delivery service can instead use the peel of large lemons in multiple meals or it can buy smaller lemons that would be rejected by supermarkets and would otherwise go to waste (and the juice can still be used in other recipes). The same could be said of any other fresh ingredient like capsicums, celery and onions.
Many meal delivery services also have food waste reduction programs in place. Some donate unused food to hunger-relief programs, and others recycle inedible green waste through compost programs or give it to farmers who feed it to their stock.
According to the National Food Waste Baseline report, Australia produces more than seven million tonnes of food waste a year, and 34% of that food waste comes from homes. To put that in terms of cost, the average Aussie household throws out over $1000 of food each year.
So, using meal delivery services could mean you waste less food and less money.
But more than that, a University of Michigan Study found that meals made using meal kits actually produce far less greenhouse gas emissions than the same meals when they're made from ingredients purchased from a supermarket when you measure emissions from farm to plate. Sure they may use more packaging, but the reduction in food waste and the fact that they rely on more streamlined supply chains means that meal delivery services are actually the more environmentally friendly option!
The environmental initiatives of meal delivery services
Many meal delivery services are, however, conscious of the environmental impact of the packaging associated with their services. So some have taken steps to reduce their carbon footprint. Here are a few examples from services listed on MealPrep.
HelloFresh's environmental initiatives
HelloFresh gives its customers a few basic tips https://www.hellofresh.com.au/about/sustainabilityon how to reuse and recycle some of its packaging — repurpose the boxes when moving house or as building materials in a cubby house etc. I was more impressed with their efforts to make their insulation recyclable, however.
HelloFresh provides cool pouches to keep dairy and meat products cool in transit. In an effort to reduce the environmental impacts of these usually non-recyclable necessities, they're trialling several more eco-friendly options. They're looking at pouches made from plant-based materials, like corn, which can be reused before being discarded in general waste. When they go to landfill, they break down much more rapidly than an equivalent plastic pouch. The team is also trialling two kinds of cool pouches made from soft plastic that is completely recyclable through REDcycle.
Marley Spoon's environmental initiatives
Marley Spoon is a member of the Australian Packaging Covenant Organisation (APCO) which means the meal-kit provider has made a commitment to continuously seek ways to reduce packaging and waste. APCO members also have to undergo an annual audit of their packaging practices to ensure they're up to scratch.
How is Marley Spoon solving their packaging issues? 70% of each box is recycled paper. They pack dairy and protein products in insulation bags made from sustainable sugarcane, which are recyclable through the REDcycle program. And like HelloFresh, they also use recyclable ice packs.
Youfoodz's environmental initiatives
Youfoodz uses packaging that is 100% recyclable. Their meal sleeves, snack packaging, meal trays and bottles are recyclable in household recycling bins. Their meal trays are also biodegradable. And the plastic wrap they use to seal their meal trays can be recycled through REDcycle.
Dinner Twist's environmental initiatives
Dinner Twist goes one step further and reuses some of their packaging. When they make a delivery, they pick up the delivery box from the previous delivery and reuse it in another delivery. Their boxes have a lifespan of about 10 deliveries and to make this system more hygienic, they line their boxes with a liner that is 100% Australian certified compostable. They'll also take back soft plastics and recycle that waste for their customers.
Once a delivery box reaches the end of its life, the team delivers it to a special recycling plant that breaks it down and turns it into things like planters and stationary.
Tips for staying green when using a meal delivery service
As you can see, many of the meal prep services available in Australia are focused on making sure their packaging is recyclable. But there's much less emphasis on reducing single-use packaging which is where a company like Loop could play a big part.
So, in the absence of established packaging reuse programs, what can you do to reduce packaging waste when you use a meal delivery service? The good news is there is a lot you can do.
Firstly, if you haven't already done so, let Loop know you want reusable packaging in Australia. You could also get in touch with TerraCycle and your preferred meal-prep service provider if you have ideas about how to deal with packaging from ready-made-meal and meal-kit delivery services. After all, if delivery services would also take back packaging to reuse again, that would be a massive help.
Once you've done that, think about the packaging that your favourite (or prospective) meal delivery service uses and develop strategies that will enable you to reuse that packaging. Here are some ideas:
Plastic bags. Plastic bags have lots of uses. Unless you're having all your shopping delivered, you can use bags with handles to carry groceries that meal delivery services don't provide as well as other kinds of shopping. You can also use them in place of other kinds of bags. For instance, you can pack your lunch in plastic bags. If you've got a baby and you don't use reusable nappies and wipes, you can use them to wrap those items.
Now, all that's pretty standard, but there are more creative things you can do with plastic bags. You can use clean ones as gloves when handling messy food or to cover rising dough. You can use them to wrap wet paintbrushes so they don't get dirty — or if you need to take a break mid-project and you don't want to have to wash the paint off only to use the same colour again when your break is over. When you're painting your house, you can also tape plastic bags over things that need to be kept paint-free, like light switches and power points. You can also cut a hole in the bottom of a bag and then pull it over coats and other items that you hang up (coat hanger and all) to protect the shoulders from dust. Posting a fragile present? Use plastic bags instead of bubble wrap. Like gardening? Use plastic bags to make mini greenhouses. Live in a frosty area? Cover the side mirrors of your car in plastic bags in the evening, then you can just remove the bags in the morning instead of having to defrost them.
Cardboard. Obviously, cardboard is recyclable. But you can reuse cardboard boxes plenty of times before recycling them. Keep some in your car and use them to carry shopping instead of plastic bags. Use them to deliver gifts instead of buying shipping boxes or decorative gift boxes. Decorate them and use them for household storage instead of buying fancy storage containers. And yes, they make great cubby houses, spaceships, boats, castles and, well, you get the idea. Then when they can't be reused any more, you don't have to put them in household recycling. You can recycle cardboard boxes yourself. There are lots of creative things you can make with cardboard. Or you can use it under mulch to keep weeds at bay. You can even break it up and use it to make compost or to feed worms in a worm farm. If you find yourself with a stockpile of cardboard that you can't use quickly enough, see if there's a local charity or community garden that needs boxes.
Ice packs. Need to keep your lunch cold when you're on the go? Re-freeze your ice packs and pop them in your lunch bag. Do exercise? Keep some in your freezer to use in case of injury. When you've got too many, give them to any friends who need some. When you run out of friends, find a local charity, school, university or business that can use them. Meals on Wheels could be a good place to start and vets, physiotherapists, doctors and pharmacies might have a use for them. A local dance studio, gymnastics centre or another kind of sporting club might also be grateful for ice packs to keep as medical supplies.
Plastic bottles. Plastic bottles make great seed-raising containers, mini greenhouses and seedling-friendly watering cans. In fact, you can create a whole vertical garden from plastic bottles. You can use them to store pens and other stationery items and once again, they can be repurposed into great kids toys. Indeed, there are lots of amazingly creative ways to upcycle plastic bottles.
Why should you use a meal prep service?
If you've considered using a meal delivery service but held back because of the excess packaging, or if you use such a service and are alarmed by how full your rubbish and/or recycling bins are getting, I hope this has helped ease your mind and given you some green strategies you can start using immediately.
There're many reasons why you might want to try or rely on a meal prep service. You might choose to use one or more services if you want to:
Save time making healthy meals for yourself and your family
Reduce your food waste
Save money by eating out less often or buying fewer takeaways, and wasting less food
Make healthier eating choices
Reduce your greenhouse gas emissions
Learn how to create tasty meals with seasonal produce
Spice up your standard menu
Whatever your reason, you needn't feel guilty about the environmental impacts of your choice. But you can make an even greener choice — you can reduce packaging waste, just by using the tips in this article.
What do you think? Is this a good way of reducing the environmental impacts of meal delivery services? Have you thought of other ways to make these services greener? Leave a comment below and let us know your thoughts so we can all live happier, greener lives.