As a nutritionist, there are a few things I look for in a convenient, premade meal: quality of ingredients, nutrient profile and of course, taste.
Meal provider My Goodness Organics is delivering on this and more.
As you will see from my review about My Goodness Organics (read my overall review), the meal provider aims to deliver delicious meals using premium organic and pesticide-free ingredients. Their range is extensive featuring meals to suit many dietary requirements, snacks, juices and even supplements.
I'm trialling My Goodness Organics' service tasting several of their meals. Here, I'll review the Sticky Lime Beef and see if the product lives up to the brand's claims.
Was the Sticky Lime Beef nutritious?
Like all the My Goodness Organics meals, the Sticky Lime Beef is made up of 100% certified organic meat and certified organic or pesticide-free vegetables and dry ingredients. It is priced at $23.59.
The ingredients include organic beef, wild rice, pumpkin, red capsicum, spring onion, broccoli, pistachio, onion, garlic, bone broth, lime, chives, fresh coriander, tamari, sesame, coconut sugar and spices. My Goodness Organics aim for the plant content to make up approximately 65% of the meal.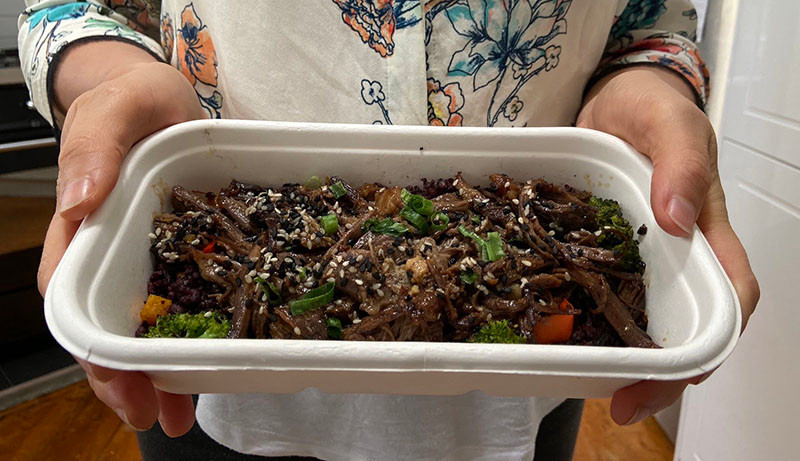 Providing meals that are gluten and wheat-free, My Goodness Organics have opted for wild rice. Wild rice is known to be a good vegetarian source of protein and fibre as well as rich in magnesium and antioxidants. Keep in mind, a lot of the micronutrients will be lost in the cooking and reheating. As the wild rice has been cooked and cooled, it's also a great source of resistant starch that will feed your gut microbiome.
My Goodness Organics promote the Sticky Lime Beef as a Paleo dish with the cavitate some Paleo supporters don't approve of wild rice.
Not only are there lots of nutritious vegetables, herbs and aromatics as well as bone broth which is very nourishing and healing for the gut.
The serving size for the Sticky Lime Beef is very generous at 400g. The total calories (581 cal) is a little higher than some of there other meals as is the 31g of carbs. However, if you're counting macros, you may be pleasantly surprised to see the meal has 43g of protein.
The total fat content is 26g, which doesn't follow My Goodness Organics aim of creating meals that are 50% fat, 30% protein, 20% carbohydrates. If they did increase the fat, this meal, would be much higher in calories overall, however, possibly better nutritionally balanced.
I'm surprised the dietary fibre is only at 6g, however, pleased to see sodium and sugars are kept at a minimum.
How convenient is the My Goodness Organics range?
My Goodness Organics is an online meal provider delivering their extensive range weekly to your doorstep. You can choose individual meals or a meal plan where the meals are chosen for you based on the plan type. For example, "Vegan Dinner for 5 Days" or "Paleo Lunch for 5 Days".
Meals are available both fresh and frozen. You do have to defrost the frozen meals before heating which does require a little extra organisation. They can be microwaved for 2-3 minutes or cooked in the oven for 20 minutes (but who has time to wait?!).
While you don't have to commit to a reoccurring order, there is a $90.00 minimum spend.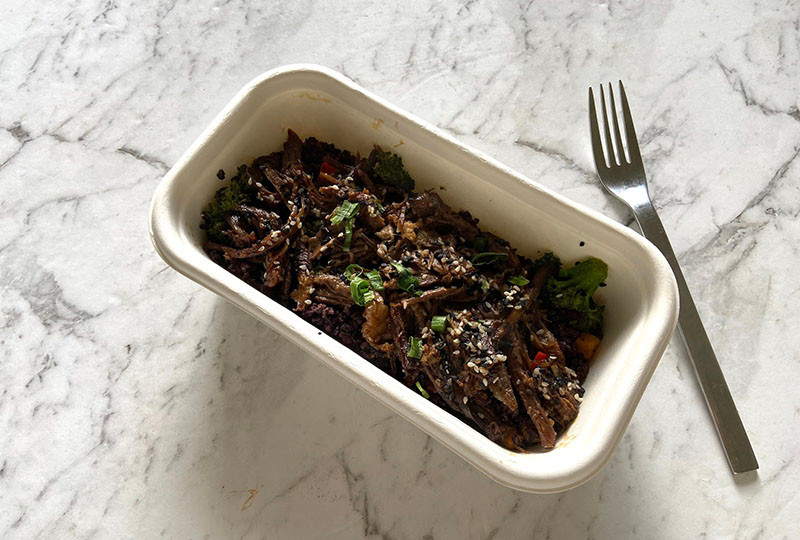 The website to order is very user friendly and easy to navigate, and all the meals look delicious. You can also choose from lunch or dinner options as well as snacks, desserts, juices and condiments.
Upon ordering, you'll receive an email confirmation and on the day of your delivery, you'll receive a text message giving you an hour window of when your order will be on your doorstep.
How was the taste of Sticky Lime Beef?
The Sticky Lime Beef didn't look overly appetising when frozen but after heating for 2 minutes in the microwave you could smell the flavours of the slow-cooked beef and aromatics like tamari, garlic and coriander.
The meat was very tender and very tasty. The wild rice wasn't gluggy or too sticky, instead, it mixed well with the veggies. The vegetables themselves are in good bite-sized and are still fresh – not at all soft or soggy.
The flavour was delicious! In fact, if you watch the video I couldn't get off fast enough to finish off the meal.
This is not a meal I would regularly choose with a greater tendency to select fish, chicken or vegetarian meals. However, I was pleasantly surprised that this wasn't an overly rich or sickly sweet meal. I'll definitely be ordering this meal from My Goodness Organics again!
Where can you buy My Goodness Organics?
Their meals are available online – see their website for more details.
As of July 2022, My Goodness Organics have ceased operation.
Have a product review suggestion?
All of our reviews are independent based on our own experiences. If you have a product you want to see reviewed, let me know in the comments below!