My Goodness Organics is a convenient meal service that prides itself on delivering nourishing meals made of premium whole food ingredients right to your doorstep.
As a nutritionist, there are several things I love about these premade meals and that sets My Goodness Organics apart from a lot of convenient meal brands.
How was the My Goodness Organics ordering and delivery process?
The ordering and delivery process of My Goodness Organics is what you would expect from a convenient meal provider: easy and efficient.
The website is user-friendly allowing you to comfortably and quickly navigate the site to find the meals to suit your needs and taste preferences. There is also no requirement for a subscription, so you can order when you need. There is a minimum spend of $90.00 which equates to about 4 main meals.
If you are an NDIS participant, My Goodness Organics offers their service with a split of 30/70% whereby you only need to pay 30% of the order.
My Goodness Organics have a wide range consisting of fresh and frozen breakfast, lunch and dinner options. They also offer snacks, desserts, juices, condiments like bone broth and cashew cheese, and even supplements.
For this review series, I chose 4 main meals ranging from $17.99 to $25.79. The total order with delivery was $114.06. An itemised invoice is emailed to you and kept on your online account for your reference.
The meals are delivered on Sunday with a strict cut-off time of 10:00am Wednesday. While they don't give a delivery time, they do send a text message to provide you with an hour window on the day. This is just one example of their level of service.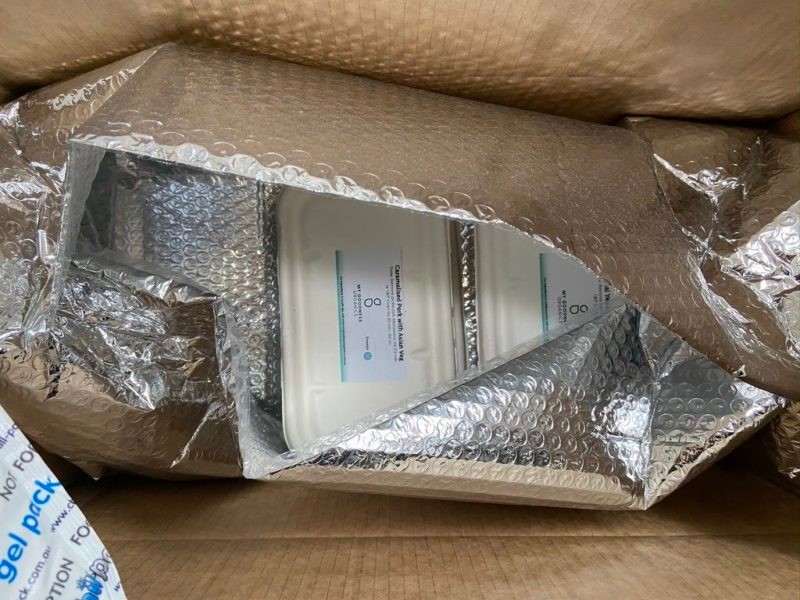 My order arrived in a plain, no branded box that was well packed with an ice pack. Instantly what I loved about My Goodness Organics was that each individual meal was packed in biodegradable cardboard boxes with no plastic in sight.
As a nutritionist, the packaging is something I typically consider a downside of convenient meals with most using a plastic tray and sleeve. Using cardboard packaging reduces the risk of toxic chemicals leaching into your food when heated and limits waste. Win for your health and win for the environment.
Were the My Goodness Organics meals nutritious?
One of the main standouts of the My Goodness Organics range is the emphasis on premium wholefood ingredients.
My Goodness Organics are committed to using 100% certified organic animal products.
They use 80-100% certified organic or pesticide free produce and dry ingredients.
The meals are free of refined carbohydrates, sugars, additives and preservatives.
They are all gluten, wheat and dairy free.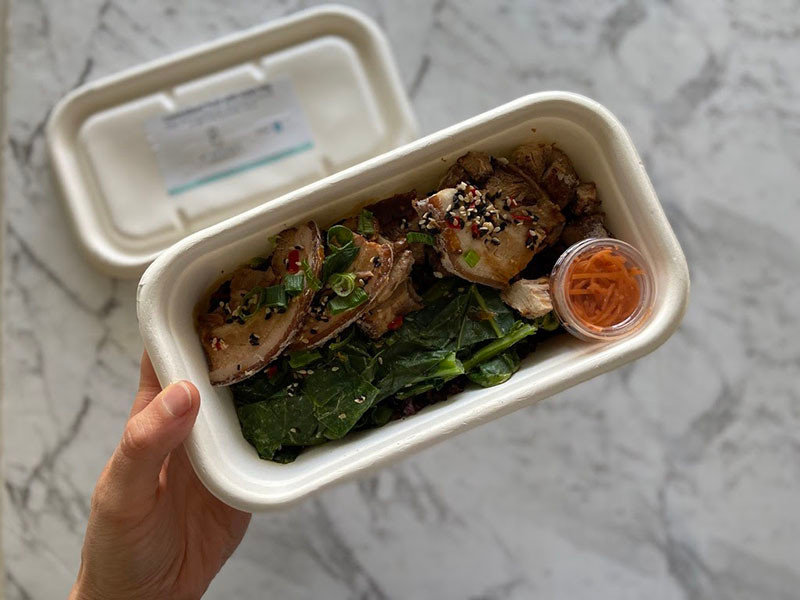 These are all features that make My Goodness Organics a level up from their competitors.
The other main standout of these convenient meals was the portion size. While most premade meals are 300-350g, the My Goodness Organics meals are 400g. This is a generous size and appealing for those with a large appetite. Additionally the protein portion of the meat dishes I tried were also generous, resulting in a filling meal. The meals ranged from 323 to 581 calories.
On their website, My Goodness Organics state their meals are created based on the macronutrient profile of 50% fat, 30% protein and 20% carbs. I appreciate their reasoning for this as there is a great body of evidence linking the excessive intake of carbohydrates, in particular refined carbs, with chronic health issues such as obesity, insulin resistance, type 2 diabetes and cholesterol dysregulation.
However, none of the meals I reviewed were aligned with this macronutrient ratio. Most offered a good portion of protein, but had higher carbohydrates than fat. There may be several reasons behind why as including fats would increase the overall calories of each meal, and healthy fat ingredients tend to be more expensive than carbs, particularly organic.
My Goodness Organics also state the aim to deliver meals that are made with 65% plants and 35% animal foods. This I noticed was the case with all of their meals, however, that does include the complex carbohydrate component. In a couple of the meals, the carbs such as the wild rice, was a large portion of the meal.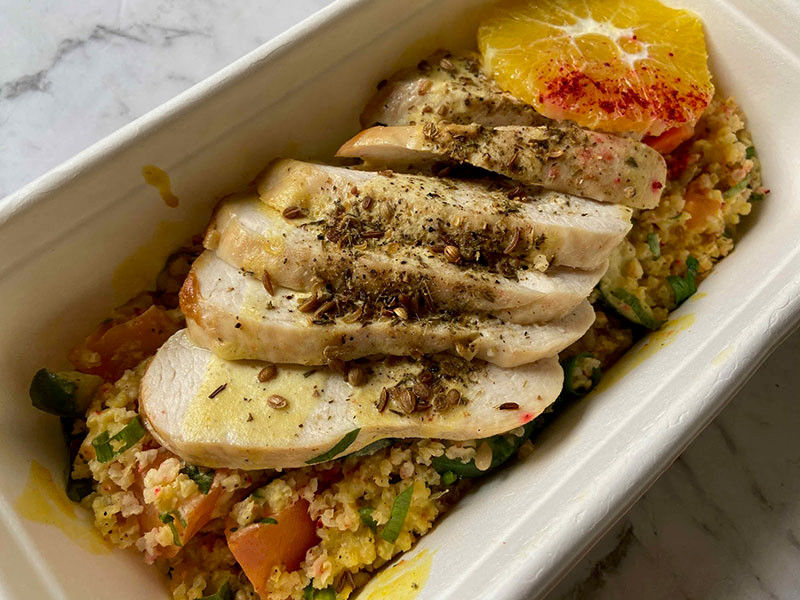 Unless you're looking to transform your physique such as losing weight or gaining muscle or have a specific health issue, I recommend you look beyond the calorie content and macro nutrient breakdown in products like these that only use wholefood ingredients.
Obviously macronutrient ratio is incredibly important, but what's also important is your micronutrient intake and the quality of the ingredients itself. My Goodness Organics have certainly delivered in providing you with nutritious meals thanks to their commitment to using organic and pesticide free produce and eliminating lab made ingredients. This for me, is significant when reviewing convenience style meals.
One thing I would like to see on their packaging is the ingredients and nutritional information. This is helpful in planning out your meals to ensure you're achieving a healthy balance of nutrients throughout the day.
How did the My Goodness Organic meals taste?
The My Goodness Organic meals are some of the best premade dishes I have tried, especially given 3 out of the 4 were frozen.
I put this down largely to the quality of ingredients used, but the cooking techniques have also no doubt influenced the taste. Of the meat-based dishes, the meat was succulent and never dry even after reheating.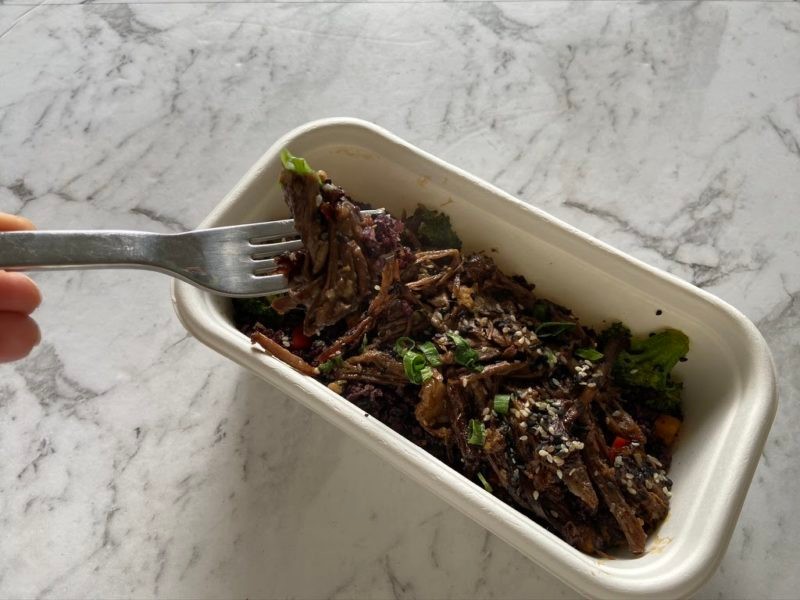 The vegetables were always a good texture and not at all soggy or bland in taste. Same goes for the use of wild rice. I also appreciated the attention to detail in some of the dishes with the addition of pickled veggies and the use of nourishing bone broth rather than a conventional stock.
Were the My Goodness Organics meals good value?
There is no question, the My Goodness Organics meals are on the expensive side. Having paid $114.06 for four meals, it would get rather costly if I was purchasing for more than one person or wanting meals for the entire week.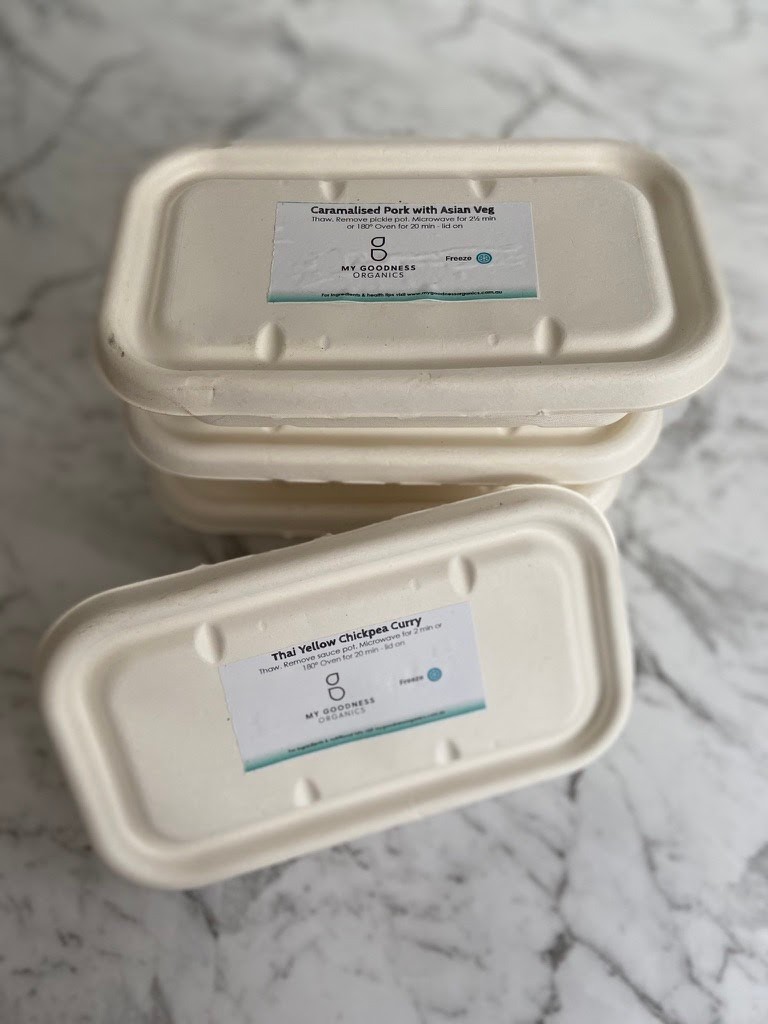 However, the big draw card of these meals is the use of premium organic ingredients and the avoidance of refined carbs, sugars and additives. The attention to the packaging is also a bonus and the larger portion size. I can justify spending more on these convenient meals over others who use cheap and refined ingredients to bulk out there meals or those that lack vegetables.
Would I order from My Goodness Organics or recommend them to my clients? Absolutely. I would happily keep some of their meals in my freezer for those days I lack the time or energy to cook. Next time though, I'm keen to test their delicious looking snacks and desserts.
Where can you buy My Goodness Organics?
Their meals are available online – see their website for more details.
As of July 2022, My Goodness Organics have ceased operation.
Have a product review suggestion?
All of our reviews are independent based on our own experiences. If you have a product you want to see reviewed, let me know in the comments below!