My Goodness Organics is a premium meal provider delivering organic and pesticide-free dishes right to your doorstep.
With an extensive range of meals catering for a variety of dietary requirements, as well as snacks, juices and supplements, My Goodness Organics appears to be your one-stop-shop provider.
But with a high price tag, are the meals worth it? I review My Goodness Organics meals and their service starting with the Middle Eastern Orange Chicken (read my overall review).
Was the Middle Eastern Orange Chicken nutritious?
The Middle Eastern Orange Chicken is made of all the beautiful whole food ingredients that we would expect from this cusine.
All the My Goodness Organics, including this chicken meal, are gluten, wheat and dairy-free. There are also no artificial preservatives, flavours or colours and no refined ingredients – all a bonus from a nutritionist point of view. Another big appeal is the chicken and dry goods used are certified organic and 80% of the vegetables are certified organic or pesticide-free.
The Middle Eastern Orange Chicken is also a really generous portion size at 400g, especially when compared to other meal providers. The total calories is 323, which is great given the portion size and the ingredients used.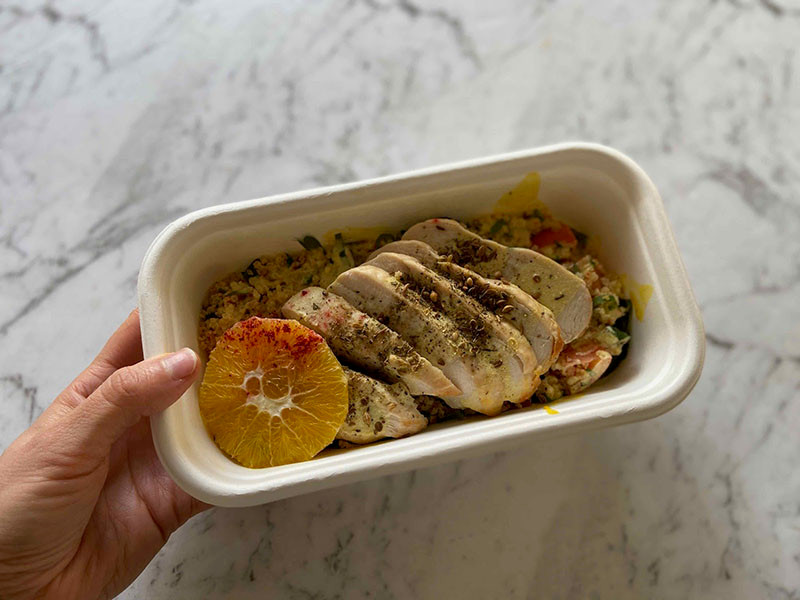 My Goodness Organics based their meals around 30% protein, 20% carbs and 50% fat. This works out to be approximately 65% plants and 35% of animal products.
For this meal, the protein is 20g which is adequate based on this size. Depending on your individual requirements, you may want to ensure you're having a higher protein meal throughout the day.
The meal is higher in carbohydrates at 25g, but keep in mind this is coming mainly from the millet and buckwheat. As complex carbohydrates, these are a great alternative to the refined you may find in other premade meals and will provide a greater amount of fibre and nutrients such as B vitamins. Mind you, the overall fibre content isn't that high considering the percentage of plant ingredients.
The saturated fat, sodium, sugar are also relatively low for a convenience meal. This is reflective of the whole food ingredients used rather than processed. However, the macro ratios don't reflect My Goodness Organics' statement that they aim to create meals that are 50% fat, 30% protein, 20% carbohydrates.
The use of sunflower seeds, pumpkin seed, spices and herbs not only help to add lots of flavour to the meal but also increase the overall nutrient profile.
The focus on premium ingredients, nutrition and the generous portion size does come at a cost. The Middle Eastern Orange Chicken is $24.69, so at the higher end of the range.
How convenient is the My Goodness Organics range?
As an online service, My Goodness Organics meals are really convenient. Simply order the individual meals or choose a meal plan such as "Carnivore Dinner for 5 days" or "Paleo Lunch for 5 days". There is a minimum order of $90.00 and they are delivered on Sunday right to your door.
The range of meals is extensive and one of the greatest I've seen of all convenient meal providers. Along with their lunch and dinner options, the My Goodness Organics range extends to light meals, snacks, desserts, condiments, juices and even supplements. They also cater for dietary a variety of dietary requirements. The meals are a combination of both frozen and fresh to suit your lifestyle.
My Goodness Organics update you on the progress of your delivery and also send you a reminder email when it's time to place your next order so you don't miss out.
How was the taste of Middle Eastern Orange Chicken?
Firstly, what I love about the My Goodness Organics' Middle Eastern Orange Chicken and other in the range is that the meals are packed in biodegradable cardboard packaging that can be opened before heating in the microwave or oven.
This is a fresh meal and what was noticeable immediately was how succulent the chicken is for a premade, microwaved meal. There is also a generous amount, in fact, more than I would normally consume in one meal.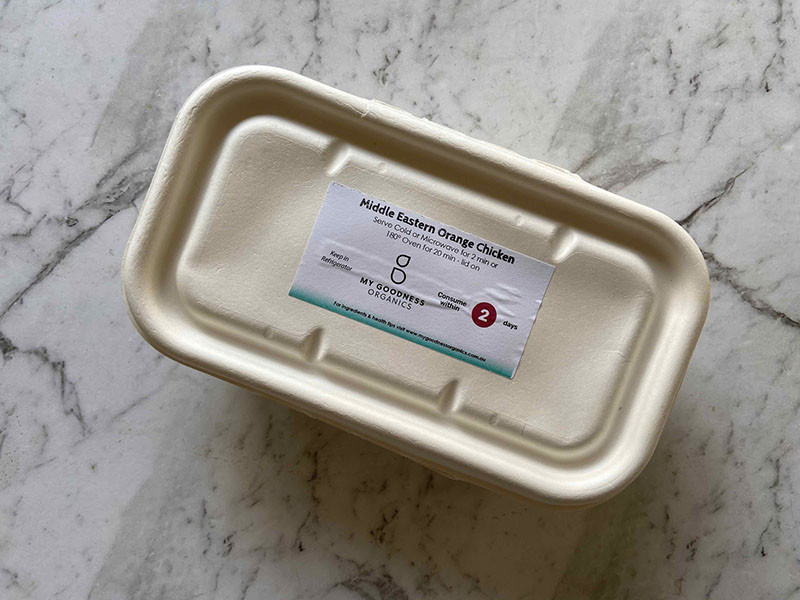 Moving through the meal, I was pleasantly surprised to see the number of veggies and also leafy greens in the dish. While there was a substantial amount of buckwheat and millet, the large pieces of tomato, cucumber and card brought flavour and texture to the dish. The addition of the Middle Eastern spices added a lovely flavour but wasn't overpowering.
This is an expensive meal, but I can see why. The use of quality ingredients and packaging is visible in not only how it looks, but also how it tastes. I personally think it's worth every penny.
Where can you buy My Goodness Organics?
Their meals are available online – see their website for more details.
As of July 2022, My Goodness Organics have ceased operation.
Have a product review suggestion?
All of our reviews are independent based on our own experiences. If you have a product you want to see reviewed, let me know in the comments below!