This Thai Yellow Chickpea Curry is apart of the My Goodness Organics Vegetarian and Vegan-friendly range of premade meals.
Unlike many other convenient meal providers, My Goodness Organics has a decent non-animal product offering from main meals to smoothies, baked goods and decadent desserts.
And what also sets them apart from their competitors is that they're all gluten-free, wheat-free and don't use any refined sugars. So you won't find a vegetarian dish that's largely made of wheat pasta to "fill" you up.
Over the week, I've been reviewing My Goodness Organics' range and service (read my overall review) to see how they stack up nutritionally and of course, taste. Here, I review the Thai Yellow Chickpea Curry.
Was the Thai Yellow Chickpea Curry nutritious?
The My Goodness Organics Vegetarian and Vegan-friendly meals are all made of certified organic or pesticide-free vegetables and dry ingredients. Like all their meals, they're packed in biodegradable cardboard packing that eliminates plastic altogether.
As a nutritionist, My Goodness Organics choice of premium ingredients and packaging are a couple of significant and appealing aspects of the brand that sets them apart from many other convenient meal providers.
Like all their meals, the serving size of the Thai Yellow Chickpea Curry is generous at 400g and it is priced at $17.99.
The ingredients include chickpeas, cauliflower, broccoli, eggplant, snowpea, white potato, red capsicum, spring onion, coconut cream, coconut flakes, red onion, ginger, garlic, lemongrass, fresh coriander, dried herbs and spices, coconut oil, lime and salt.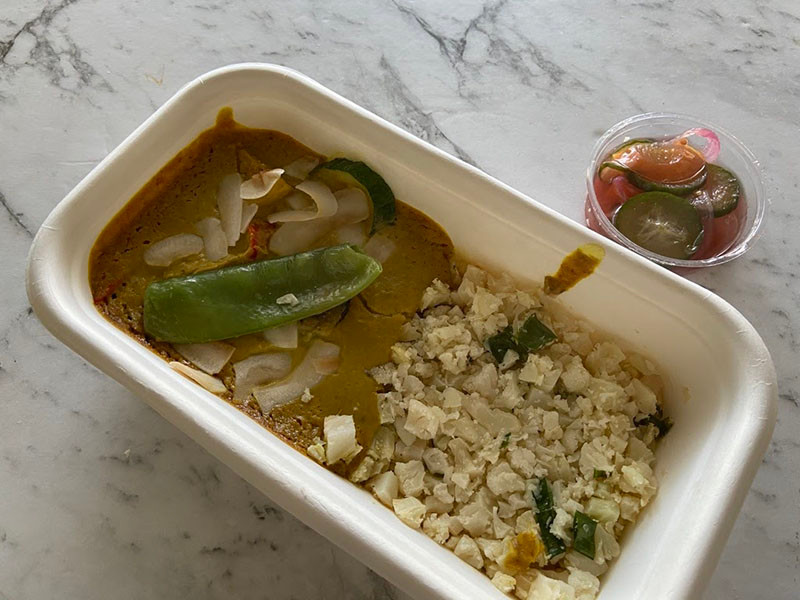 To increase the vegetable content of this meal, My Goodness Organics have replaced the standard white rice we'd typically see with a Thai curry with cauliflower rice. This has reduced the carbohydrate content and increased the micronutrients and fibre content in the dish.
However, it is still a higher carbohydrate dish than some of their others at 48g per serve. Lacking in any animal products, the meal only contains 17g of protein which is mainly coming from chickpeas. If you are requiring more protein, adding tofu to the dish may be an option.
The total calories of the Thai Yellow Chickpea Curry is 489 which is largely coming from the inclusion of the coconut products. These also have influenced the total fat content.
While this meal does have a lot of nutritious ingredients, it doesn't meet My Goodness Organic's aim of the macronutrient breakdown Fat- 50%, Protein- 30%, Carbs- 20% as noted on their website. Their statement "We choose to keep the carbohydrate content low rather than fat" is also not applicable with this meal.
When analysing the macronutrients and calories of meals, particularly these premade meals, it's important to look at them in relation to the ingredients. In this case, all the ingredients are of high quality and diverse with nothing refined or lab-made. Obviously, your calorie intake will affect your ability to maintain a healthy weight, but the "calories in and calories out" equation or macronutrient ratios are not the only defining factors influencing your overall health.
How convenient is the My Goodness Organics range?
My Goodness Organics have developed a very easy and convenient online ordering system. You simply need to jump on their website, select the individual meals you like and add them to your cart. Alternatively, you can choose one of their meal plans which compile the meals depending on the type of plan you select.
Regardless of your location, My Goodness Organics deliver on Sundays with a 10:00 am Wednesday ordering cut off.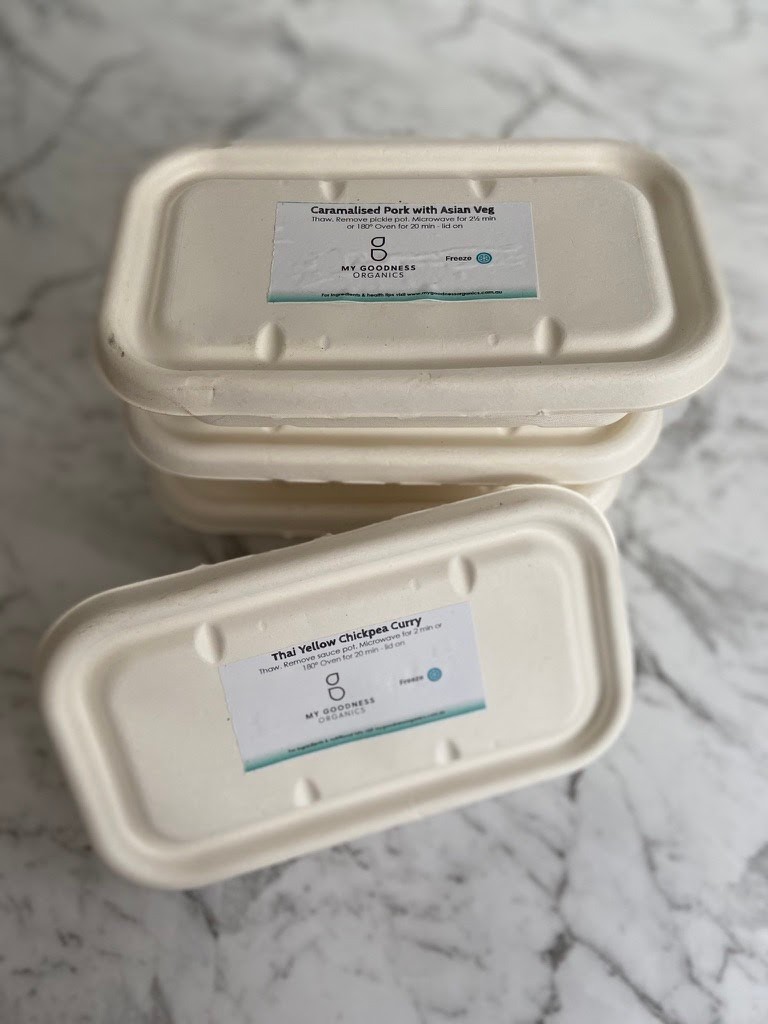 In their extensive range, they offer both fresh and frozen options. The frozen meals do need to be thawed before reheating but both can be heated in the microwave or oven if you have the extra time.
My Goodness Organics have a $90.00 minimum spend which equates to approximately 4 meal minimum. Don't worry, you'll easily make this up especially if you add a couple of their treats or juices to your order.
Upon ordering, you'll receive an email confirmation and on the day of your delivery, you'll receive a text message giving you an hour window of when your order will be on your doorstep.
How was the taste of Thai Yellow Chickpea Curry?
The Thai Yellow Chickpea Curry had a pleasant taste to it with subtle Thai flavours coming through.
There were only a few whole chickpeas, so either they were blended or dissolved into the sauce or there wasn't many. There was a good portion of cauliflower rice, however, it was very chunky as opposed to a rice texture. If you're not a cauliflower fan, this might prove off-putting.
The addition of the pickles are a nice detail and the vegetables were of good texture and not at all soft or mushy.
Overall though, it wasn't an overly flavoursome dish and it certainly missed a hit of chilli. If you like mild flavours, then this meal would appeal. Personally, I found it lacked punch.
Where can you buy My Goodness Organics?
Their meals are available online – see their website for more details.
As of July 2022, My Goodness Organics have ceased operation.
Have a product review suggestion?
All of our reviews are independent based on our own experiences. If you have a product you want to see reviewed, let me know in the comments below!