This is the last of the four meals I have tried from the My Goodness Organics range. So far, all the meals have been delicious and of good quality.
If you've watched my overall review (read my overall review) on this premade delivery service, you'll be familiar with My Goodness Organics' intentions of creating nourishing meals that use premium ingredients.
In their range, you'll find meals to suit many dietary requirements, snacks, juices and even supplements. They also have an extensive and indulgent dessert selection.
In this review, I try the My Goodness Organics Caramelised Pork with Asian Veg. It's not a meal I would normally choose (more my husband's tastes) as I usually find these too heavy and sickly. Let's see if that's the case.
Was the Caramelised Pork with Asian Veg nutritious?
First of all, what's really pleasing about this dish is that the ingredients list isn't long and, like all the My Goodness Organics meals, it doesn't feature unfamiliar ingredients.
Inside the biodegradable packaging (a win there!), you'll find 100% certified organic pork, wild rice, broccolini, onion, garlic, ginger, spring onion, fresh coriander, daikon, carrot, red chilli, tamari, apple cider vinegar, rice vinegar and coconut sugar.
What's great about the packaging beyond you're not being exposed to chemicals leaching in your food from plastic is that you can remove the lid and take out any ingredients that don't need to be heated. In this case, the lovely addition of the pickled carrots and daikon.
It's evident looking at the meal that there is a decent portion of pork which is reflective in the high protein content of 45g. This portion size is very generous, probably too much for me, but would appeal to those with a greater appetite.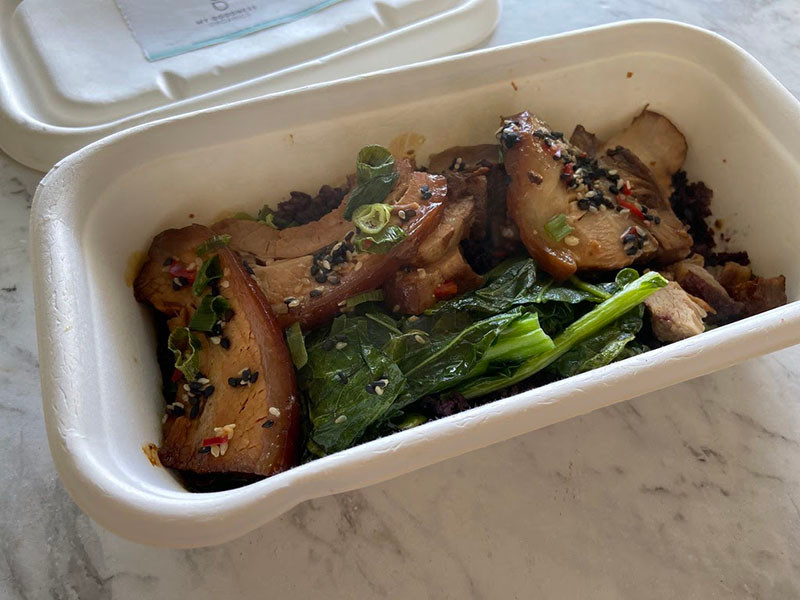 What's nice to see is the addition of the broccolini, however, that's really the only source of vegetables with the rest being more for flavour than to bulk out the meal. This means in order to fill the 400g serving, they've opted for a large portion of wild rice.
As a result, the meal is reasonably high in carbohydrates at 48g per serve. Like all the other meals I have tried, this goes against My Goodness Organics intention of creating meals that are 50% fat, 30% protein and 20% carbohydrates. The total fat content of this meal is 34g.
Being marketed as caramelised pork, I instantly think there will be a lot of ingredients to make a sticky, sweet sauce. But in this case, it appears they've relied on the use of Tamari and aromatics like chilli, ginger and garlic as well as the pork itself to create the flavour. This is great because you're not being overloaded with sugars and salty ingredients.
How convenient is the My Goodness Organics range?
As an online service, My Goodness Organics couldn't get much more convenient. In fact, if you don't want to cook at all and love home delivery, you could have every meal and snack covered.
You have the option to choose the individual meals based on your needs and taste preferences or select a meal plan where it's done for you. There is a minimum spend of $90.00 with equates to about four meals.
The range consists of both fresh and frozen options depending on the meal you choose. The frozen meals do have to be thawed before heating in the microwave (2-3 minutes) or oven (20 minutes).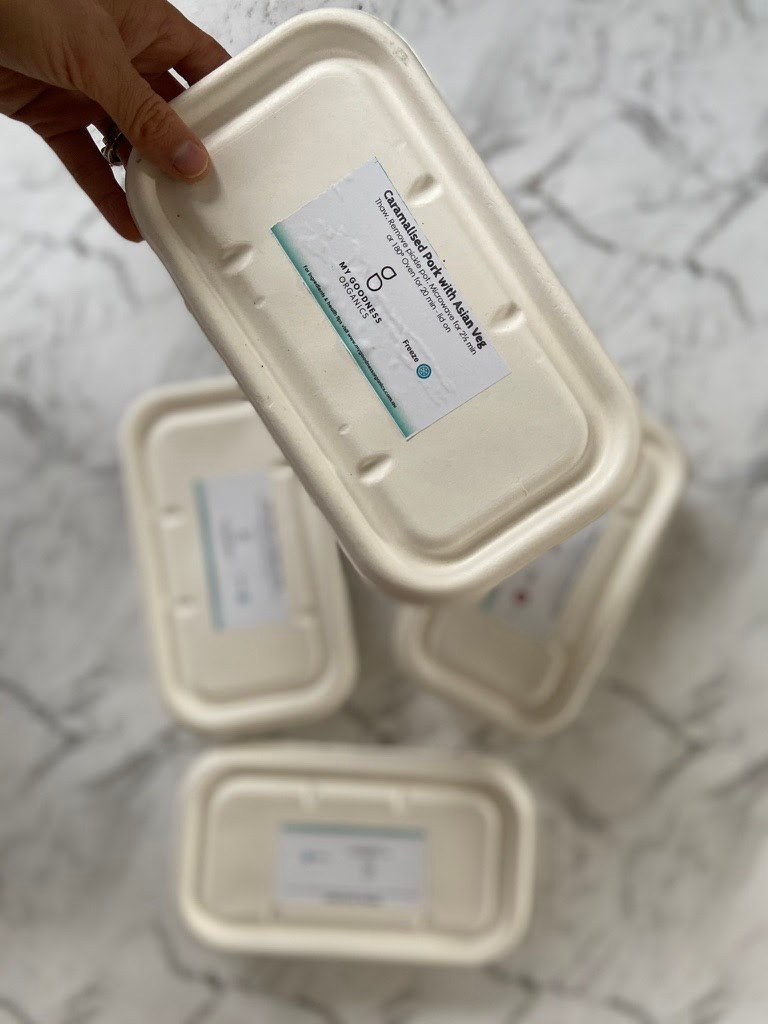 Navigating the website and ordering is easy. Simply choose your options and they will be delivered to your door on Sunday. There is no ongoing commitment to order again although you will get infrequent reminders to place an order before the cut-off date.
On the day of delivery, you'll receive a text message providing you with an hour window of when your order will arrive. While the meals are packaged in a box with a cooler, it's nice to know when you can expect them.
How was the taste of Caramelised Pork with Asian Veg?
The Caramelised Pork smelt delicious once heated and as I expected, the portion of the pork was very generous. The meat had been slow-cooked and even though this meal was frozen and reheated in the microwave it was still so tender with a melt-in-your-mouth texture.
The flavours were delicious and not at all sickly sweet and rich. It was very pleasant to eat.
However, the lack of vegetables was really obvious once I started eating the meal. There was so much wild rice and not enough greens. While the wild rice does bring micronutrients to the dish, it becomes a bit bland after you've had several mouthfuls. I would have liked to see the ratios of rice to broccolini to have been reversed and even the pork portion reduced slightly.
The pickled carrot and daikon were a nice touch but didn't bring much flavour with them.
Overall, the dish was tasty but a little unbalanced in ingredients. At $25.79 it is one of their pricer dishes so I would expect it to be more refined and reflective of their macronutrient targets.
Where can you buy My Goodness Organics?
Their meals are available online – see their website for more details.
As of July 2022 they've ceased operations. See their Facebook Page for more details.
Have a product review suggestion?
All of our reviews are independent based on our own experiences. If you have a product you want to see reviewed, let me know in the comments below!