📕 Guides
Which Australian Ready-Made Meal Brand Has the Healthier Satay Chicken?
Love yourself some cheeky Thai satay chicken but want a ready-made meal brand that offers healthier satay chicken? You're in luck! Below we've listed 13 ready-made satay chicken meals you can find in Coles, Woolworths and direct via ready-made meal delivery providers. From lowest to highest calories per serve, find out who has the healthiest satay chicken recipe.
UPDATED ON Oct 11, 2023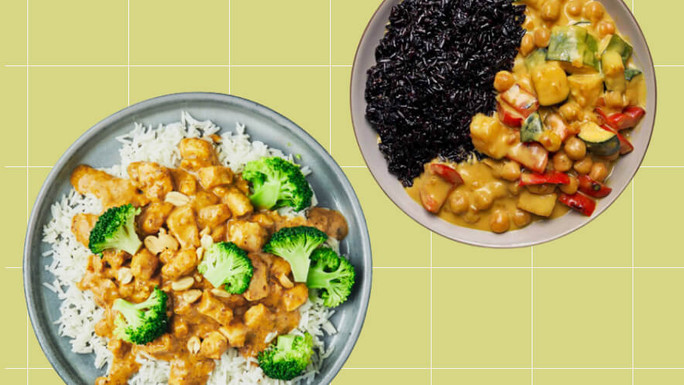 There's nothing quite like a delicious satay chicken meal. However, this tasty Thai meal often gets a bad rap for being "unhealthy".
Here at Mealprep.com.au, we don't think anything is inherently unhealthy – it's all about balancing your macros and calories to reach your health and fitness goals. So, if you enjoy a good old satay chicken every now and again, go for gold, friends!
But, it's also okay if you want to find a satay chicken recipe that's healthier than the standard you might find at a Thai restaurant. Often laden with lots of peanut sauce and coconut milk, the fat and calorie content of this dish can quickly add up. And, if you're cooking it yourself or eating out, it can be hard to properly figure out the calories and macros of your meal.
That's why we love ready-made satay chicken meals. With the calories and macros all laid out for you, it's super simple to fit in a serving of satay chicken into your daily calorie goals.
So, which ready-made meal brand has the healthier satay chicken overall? We've rounded up the top satay chicken dishes you can find in your local Coles, Woolworths or online dedicated meal delivery service provider.
The table at the top of the page shows you the top ready-made satay chicken meals on the market, and below we've broken it down into some key info you might find useful!
Important:
PS – Wanna know the best ready-made meal of other classics like butter chicken, lasagne, spaghetti bolognese and more? Head here!
Is Satay Chicken Healthy?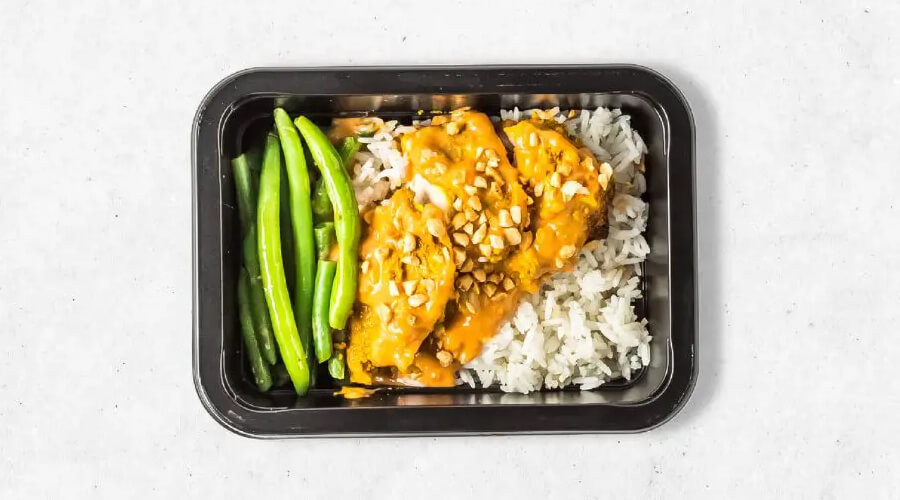 Is satay chicken a healthy choice? Well, it depends on a few factors.
First, let's talk about serving size. Satay chicken can be part of a healthy diet when consumed in moderation and considering the recommended serving size. It's all about finding the right balance.
Now, while satay chicken offers protein from the chicken and potentially some nutrients from the marinade and sauce, it's important to be mindful of the overall nutritional composition. Some satay sauces may contain added sugars or high sodium levels, so it's a good idea to check the labels.
To make satay chicken a healthier option, you can consider grilling or baking the chicken instead of deep-frying. Additionally, pairing it with a variety of vegetables or opting for a lighter sauce can further enhance the nutritional value.
Remember, as with any food, it's all about enjoying satay chicken as part of a well-rounded diet that includes a variety of nutrient-dense foods. Moderation and balance are the keys to maintaining a healthy lifestyle.
What's in Satay Chicken?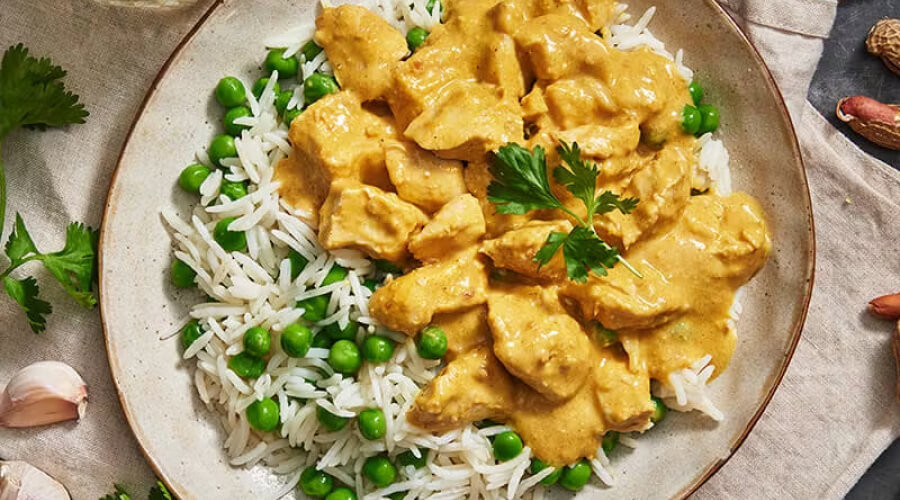 Satay chicken is made with simple and tasty ingredients. It typically includes chicken breast, coconut milk, lemongrass, green beans, basmati rice, coriander, peanut butter, red curry paste, soy sauce, tamarind, stir-fry sauce, and galangal. These ingredients work together to create a delicious and flavourful dish. It's usually served with basmati rice and veggies for a well-balanced meal.
Which Ready-Made Meal Brand Has the Healthier Satay Chicken?
So, who has the healthier satay chicken? Coles, Woolworths, or dedicated ready-made meal delivery providers? Well, if we're looking just at calorie content, Be Fit Food Satay Chicken has the healthiest satay chicken with just 258 Kcal per serving ✅ .
Meanwhile, The St. Food Co Malaysian Satay Chicken has the highest calorie content with 760 Kcal per serving. But that doesn't mean it's bad for you or unhealthy! If it fits your macros and fitness goals, you can enjoy whichever brand of satay chicken you like.
Which Providers Featured on Mealprep.com.au Offer Satay Chicken?
Can I Order Satay Chicken on a Meal Plan?
Absolutely, you can definitely order satay chicken on a meal plan! It's a tasty choice that can add some variety to your meals. However, it's important to keep in mind that some meal plans may have a minimum order requirement, and you may need to order in bulk. Or, sometimes the provider might not have satay chicken if the menu is frequently rotated. So, it's a good idea to double-check with the specific meal plan provider you're interested in.
Satay Chicken FAQ
What common allergens are in chicken satay?
Chicken satay may contain allergens like peanuts (in the peanut sauce), fish sauce, and other dietary allergens that vary based on the recipe.
Is satay chicken gluten-free?
Satay chicken can be gluten-free, but it depends on the ingredients used in the marinade and sauce. Some recipes or brands may include gluten-containing ingredients like soy sauce, so it's important to check.
Is satay sauce high in carbs?
The carbohydrate content of satay sauce can vary. It typically includes ingredients like peanut butter, soy sauce, and spices, which may contribute to its carb content. Refer to the nutritional information for accurate information.
Are there preservatives and additives in satay chicken?
The presence of preservatives and additives in satay chicken depends on the brand or recipe. Commercially prepared sauces may contain them, while homemade versions might not. Checkout the labels/ingredients to know for sure.