📕 Guides
Compared: My Goodness Organics, Nourish'd vs Soulara (Nutritionists Review)
UPDATED ON Jul 12, 2022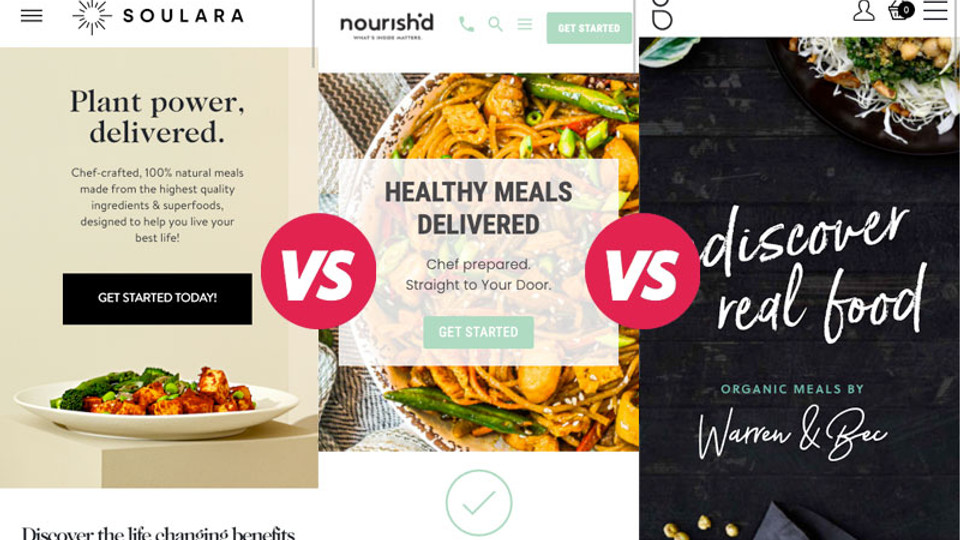 My Goodness Organics, Nourish'd and Soulara are three leading convenient meal providers that focus on the quality of whole food ingredients and the nutrient profile of their meals. The brands market themselves heavily towards those who are seeking optimal health and wellbeing, and their appealing packaging and photographs are drawing attention.
But how do the ready-made meal providers compare? Here, I compare the ordering process, nutrient content and value of the My Goodness Organics, Nourish'd and Soulara. Read on to find out my honest opinion and favourite provider.

How did the ordering and delivery process compare?
My Goodness Organics, Nourish'd and Soulara all offer a convenient way to order and receive whole food, ready-made meals. These are online providers, meaning you place your order through their website and it will be delivered straight to your door once a week.
There are a few differences in the individual models:
My Goodness Organics allows you to order from their extensive menu, however, the minimum spend is $90.00.
When ordering meals from Nourish'd, you're required to select from one of their five meal plans or choose your own with a minimum order of five meals. You can also place a one-off or reoccurring order.
Soulara is a subscription-based model which requires you to sign up to the service and choose from the number of meals you'd like delivered weekly. You can pause or cancel the subscription at any time without any financial implications.
All three providers offer a variety of meals to suit a variety of taste preferences and meal requirements. While they all have add-ons such as snacks, breakfast and juice options, My Goodness Organics has the most extensive range, including condiments, desserts, bread and supplements in addition to their meals and snacks.
Beyond the ordering, the main difference between the three providers is that Soulara is 100% plant-based. My Goodness Organics and Nourish'd also offer a good variety of vegetarian and vegan meals. Nourish'd, however, do not market their plant-based meals as 'vegan' so you do have to refer to the ingredients to be sure there are no animal products present.
The delivery service of My Goodness Organics, Nourish'd and Soulara was comparable with the latter two delivering fresh meals. My Good Organics was the only provider that delivers a combination of fresh and frozen. The meals were all delivered in boxes that had cooler packs to ensure food safety and reminders were sent prior to the delivery so you know when to expect your order.
Of the three meal providers, My Goodness Organics was the only provider to use biodegradable packaging. This was a big drawcard for me as it not only reduces the waste used, it also eliminates the concern of harmful chemical exposure due to heating in plastic. For those who prefer not to use a microwave or don't have one, the My Goodness Organics meals can also be heated in the oven.
How did the nutrition profile of the meals compare?
Ingredients
As a nutritionist, the main appeal of My Goodness Organics, Nourish'd and Soulara is that they focus on using whole food ingredients without the addition of preservatives, additives, colours or refined sugars. This feature alone is what sets the brands apart from other commercial meal providers and in my mind, justifies the price tag.
The three brands are also committed to eliminating refined carbohydrates from their meals, and the My Goodness Organics and Nourish'd range are also all gluten-free. Unlike may of the ready-made meal options available, My Goodness Organics, Nourish'd and Soulara don't rely on bulking out their meals with pasta or rice meaning the meals are going to keep you feeling full for longer without causing a blood sugar imbalance.
Beyond this, each of the three providers offers something a little different when it comes to their ingredients:
As the name suggests, My Goodness Organics use 100% certified organic animal products and 80-100% certified organic or pesticide-free produce and dry ingredients. Origin of the ingredients is not known.
The Nourish'd meals use 80-90% Australian grown ingredients.
Soulara use 100% plant-based and vegan-friendly ingredients, the origin of which is not known.
Based on ingredients alone, My Goodness Organics is my preferred option and well worth the extra cost if you value premium ingredients free of pesticides, hormones, and non-GMO.
As you can read in my review of Soulara, my big concern with their meals is that they don't reveal whether or not the soy products are non genetically modified. Given they don't disclose this on their website, packaging or when contacted it is highly likely they are using GMO soy in their tofu and tempeh which features heavily throughout their range. As a nutritionist, this raises red flags for me due to the potential health implications associated with the consumption of GMO soy products.
There were also several inconsistencies in the labelling of the ingredients on Soulara's packaging with attention to detail clearly lacking.
Portion size
Beyond convenience, one of the main advantages of ordering from a meal provider is the ability to control your portions. This is especially helpful if you've set a body transformation goal such as weight loss. However, often the complaints I hear from some clients, particularly men or those with a high activity level, is that the meals are too small.
To best cater for this Nourish'd give you the option to choose from three different serving sizes or a combination with their smallest being 265-290g. My Good Organics offers larger portions (420-450g) compared to commercial meal providers and the Soulara meal sizes average is 350g.
If you are looking for portion control to achieve weight loss, the low-calorie options in the Nourish'd range, may be appropriate for you.
Nutrient profile & calories
For the most part, all the My Goodness Organics, Nourish'd and Soulara meals I tried were well balanced between protein and vegetables. All three had a good portion of meat or plant-based protein, especially compared to many other ready-made meals on the market.
The My Goodness Organics meals, in particular, featured a large portion of meat which is reflective of their increased portion size. They also had a good focus on the addition of vegetables. This was also the case with Soulara, although it wasn't as varied as I would have expected from a plant-based meal.
Of the three providers, Nourish'd meals were the only ones I would want to add more leafy greens to increase the nutrient content and improve the overall taste of the dish. Keep in mind, I reviewed the standard serve of 265-290g.
There were a couple of discrepancies when it comes to the macronutrient profile of the meals. My Goodness Organics, for example, state on their website that their meals are centred around 50% fat, 30% protein and 20% carbs. However, of the meals I reviewed, none of them fit that ratio with most higher in carbohydrates than fat.
While comprising of meat, the Nourish'd meals on average tended to have the lowest protein content based on their size. It would be worth being selective of the type of meals you are going to choose from the range, particularly if you have set yourself a body transformation goal.
As the three meal providers all eliminated refined carbohydrates and focused on the addition of complex carbs through whole grains and vegetables, on average their meals weren't carbohydrate heavy. The fat content in most of the meals I reviewed across the three providers were all found to be low-moderate and other ingredients such as sodium and sugars were low especially in comparison with commercial ready-made meal options.
When it comes to calorie counting, My Goodness Organics clearly state their focus is on the quality of ingredients and nutrient density of their meals than the energy content. This is a view I share, although in the cases of obesity or other metabolic health conditions, calories and macronutrient ratios are important.
Of the three providers, Nourish'd is perhaps the most suitable when it comes to portion control and calorie counting. Their standard size (265-290g) offers meals that contain approximately 290-410 calories. The My Goodness Organics and Soulara are relatively comparable in regards to calories, although Soulara has recently added a low cal range (<300cals). At the moment this only includes a few meals and mostly in the form of soups.
How did the meals compare in taste?
When it comes to taste, there was a clear stand out for me and that was My Goodness Organics. In fact, their meals were some of the best ready-made meals I have tired which I largely put down to the quality of ingredients. The flavours and textures were all delicious, even in the frozen options, leaving my very satisfied.
The Nourish'd ready-made meals, on the whole, were enjoyable although several meals I tried, particularly those that were Asian-inspired, had overpowering sauces. I also felt that several meals could have been improved by more leafy green vegetables, but this is perhaps reflective of the smaller position size.
Our of the three providers, I was probably surprised at how bland the Soulara meals were. Most tended to lack flavour and the texture of the tempeh, in particular, was dry and unappetising.
How did the providers compare in value?
My Goodness Organics is the most expensive meal provider when you compare cost per gram with the main meals ranging between $15.99 – 25.79. Their delivery fee is also expensive at $22.00, but this may depend on your location.
Nourish'd is closely behind based on the cost per gram. I paid in total $84.35 for 5 standard meals (265-290g), compared to $114.06 for 4 My Goodness Organics meals (400g). Nourish'd delivery fee is less at $10.00.
Somewhat surprisingly, Soulara is the cheapest of the three, even when you choose their most expensive plan with meals costing $11.50 each (the cheapest option is $8.50). They also don't charge additional for delivery. Keep in mind, all meals are a set price regardless of whether you choose a snack or main. Although eliminating meat does reduce overheads so the cost should be less, Soulara has a very premium looking brand that gives the appearance it would come with a higher price tag so I was surprised when I ran the figures and compared them with the other providers.
Keep in mind, each provider offers several ways you can reduce the cost:
My Goodness Organics have set meal plans to choose from.
Nourish'd offer packs in addition to their different options in portion size.
The more meals you order in the Soulara subscription, the cheaper your meals.
For me when it comes to value, it's not just how much the meals cost. The value also includes the overall quality of ingredients, packaging, nutrient density, and of course taste. My Goodness Organics is the clear winner of the three ticking all the boxes.
Is it expensive? Yes, especially if you're ordering these on a regular basis and for more than one person. However, if you can afford it you will be putting your health and environment at the fore while enjoying delicious, nourishing meals.