🏡 Lifestyle
Best Australian Meal Providers for Vegetarians (2023)🍆🌱🥦
Welcome to Mealprep's guide to the best vegetarian meal delivery providers in Sydney, Melbourne, Brisbane and the rest of Australia.
UPDATED ON Aug 30, 2023
#

NAME
DELIVERY LOCATIONS
AVG MEAL COST
NSW, VIC, ACT, QLD, SA, TAS
From $14.95
NSW, VIC, ACT, QLD, NT, SA, WA, TAS
From $10.50
NSW, VIC, ACT, QLD
From $9.10
NSW, VIC, ACT, QLD, SA
From $10.80
NSW, VIC, ACT, QLD, SA
From $10.80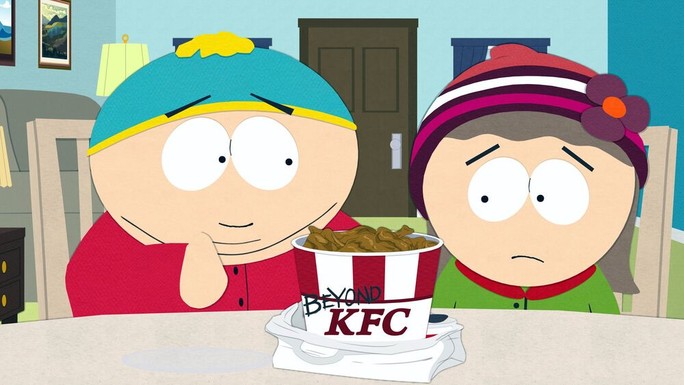 As a vegetarian (or aspiring vegetarian), you know the challenges of keeping things spicy and creative in the kitchen. And if you can't be bothered getting to the shops and making your own meals in the kitchen, well the good news is you absolutely don't have to!
🥬 Vegetarian meal delivery providers exist for a reason – to help nourish your body with delicious food, save you time and save you money. It's a win-win all round!
If you're new to vegetarian meal delivery services or want to try something new, we've put together this handy guide to help you find the best one. We've also put together a bunch of handy tips about a vegetarian diet, including the types of food commonly found in the diet, things to consider before starting a vegetarian diet and a whole lot more.
The List of the Best Vegetarian Meal Delivery Providers 🙌🏻
1. Garden of Vegan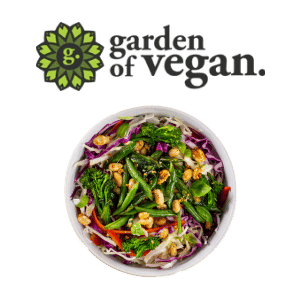 DELIVERY LOCATIONS: NSW, VIC, ACT, QLD, SA, TAS
AVG MEAL COST: From $14.95
DIETARY REQUIREMENTS: gluten free, dairy free, egg free + more
PURELY VEGETARIAN?: Yes (vegan)
Garden of Vegan is a hugely popular vegetarian meal provider in Sydney and the rest of Australia. Using certified organic, non-GMO and locally sourced ingredients, Garden of Vegan serves delicious, nutrient-dense meals designed and prepared by its in-house team of chefs, nutritionists, and health experts.
Another benefit of Garden of Vegan is every meal is designed to provide a complete essential amino acid profile and provide your body with all the protein it needs. And, most of their meals are gluten free too! You can even filter meals from soy-free, onion free, nut free, grain free, chilli free and even citrus free.
Garden of Vegan delivers Australia wide (not inc WA yet), and you can choose a la carte or a dedicated meal plan – whether that's fitness focused, detox focused, health and wellness focused and a range of other options!
2. Hello Fresh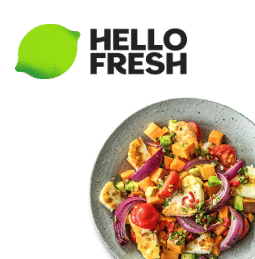 DELIVERY LOCATIONS: NSW, VIC, ACT, QLD, NT, SA, WA, TAS
AVG MEAL COST: From $10.50
DIETARY REQUIREMENTS: Vegetarian
Hello Fresh is one of the most popular meal kit providers, offering easy-to-follow recipes with fresh, quality ingredients. Hello Fresh offers a great Veggie Plan from $10.50 per serving, making it a cheap, cheerful and simple (yet tasty) meal provider for plant-based diets.
Hello Fresh works closely with Australian suppliers to make sure only the freshest and best season produce is delivered straight to your door. And, because everything is pre-portioned, no food ever goes to waste, so it's a win-win! Not to mention most of their meals can be cooked in an easy 15 minutes.
One thing to note about Hello Fresh is they are unable to cater for special allergies or intolerances. However, since HelloFresh boxes only contain unprocessed ingredients, it is possible to omit, or replace, any ingredient that could cause an allergic reaction.
Another thing to note is that meals start for 2 people, so if you're shopping just for yourself, it might not be the best option for you!
3. Soulara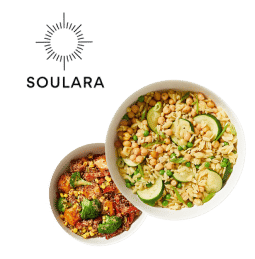 DELIVERY LOCATIONS: NSW, VIC, ACT, QLD
AVG MEAL COST: From $9.10
DIETARY REQUIREMENTS: Nut free, gluten free, dairy free, garlic free, onion free, alcohol free + more
Soulara is a plant-powered meal provider that actually specialises in vegetarian food, making it one of the better options for plant-based eaters. Every meal is designed by expert chefs and nutritionists, so you can be sure your meals will be packed with food that is good for your body, and good for the planet.
Meal plans vary depending on how many meals you want each week, ranging from seven to 24 meals. A bonus point is their menu rotates each week, so you won't experience meal fatigue! Starting at $9.10 per meal (when ordering 24 meals), Soulara is making it accessible for plant-based eaters to jump on the meal provider train.
In terms of dietary, you can only filter to no added nuts. But you can also select ingredients to exclude from the menu, including soy, sesame, gluten, peanut, garlic, onion and more.
4. My Muscle Chef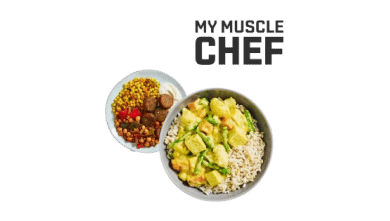 DELIVERY LOCATIONS: NSW, VIC, ACT, QLD, SA
AVG MEAL COST: From $10.80
DIETARY REQUIREMENTS: gluten free, dairy free,
My Muscle Chef is one of Australia's top rated meal delivery services, offering a range of freshly prepared meals to pick from either for muscle gain, performance, or calorie control. In terms of meals for plant-based eaters, they have a vegan meal pack, or you can choose your own meals and filter to just vegetarian meals.
They also have a build-your-own meal plan and fixed sets with meals that are keto-friendly, vegan, low-carb or high-calorie. Their vegan and veggie prepared meals offer a range of delicious protein alternatives including falafel, tofu and seitan, plus lentils, beans and plenty of veggies.
And, if you don't want to order online, you can actually buy MYMC in-store from selected IGA's, FoodWorks, Harris Farms, Romeo's, Drakes and Cornetts stores across Australia.
5. Chefgood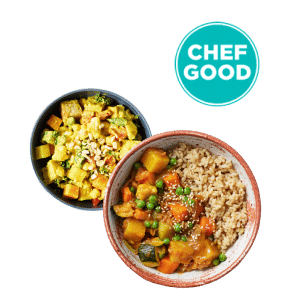 DELIVERY LOCATIONS: NSW, VIC, ACT, QLD, SA
AVG MEAL COST: From $10.80
DIETARY REQUIREMENTS: gluten free, dairy free,
Chefgood is highly rated amongst vegetarians thanks to its range of cost-effective plant-based meals. You can either choose the Chefgood vegetarian meal plan, or there's also a vegan plan. There are no a la carte options.
Chefgood is a great option for vegetarians looking to lose weight. With the meal plan, you have the option to choose the everyday plan or a weight loss plan. Meal plans with meat-free protein alternatives include as egg, tofu and beans. Lentils, crunchy cashews and chickpeas and sweet potato accompany low carb ingredients and fresh veggies to deliver Chefgood's healthy vegetarian options.
Which is THE BEST Vegetarian Meal Delivery Provider? 🥕🌽
We've done the research, crunched the numbers and eaten enough vegetarian meals from providers to last us a lifetime, so here's our number one pick:
Now, we know vegan isn't the same as vegetarian – there are several things vegetarians are able to eat that can't be consumed on a vegan diet (namely eggs and dairy).
However, Garden of Vegan truly does stand out amongst the rest as the best option for vegans and vegetarians – you won't even know you're missing eggs and dairy from your diet!
What we love about Garden of Vegan is it's organic, filling, has several meal plan options, NDIS approved, free shipping over $200, delivers Australia wide and so much more… it ticks pretty much all the boxes!
How'd We Make Our List? 🤔
Important:
This list is based on personal experience with each brand, and countless hours of research from actual customer reviews on mealprep.com.au, productreview.com.au and Trustpilot. We made our selection for the best meal providers based on the highest scores within each "Best of" category.
Vegetarian Meal Delivery Providers FAQs
Which is the best vegetarian meal delivery Sydney provider?
We rate Garden of Vegan as the best vegetarian meal provider in Sydney and the rest of Australia.
What is the cheapest vegetarian meal delivery service?
This depends on the number of meals you order from the meal delivery service per week. The more you order, the cheaper it is. as the more you order, the lower the cost. One of the cheapest providers is Soulara when you choose its 24 meal/week plan, where meals come down to $9.10 each.
Do any vegetarian meal providers offer keto too?
Currently, no meal delivery services in Australia offer meals which are both keto and vegetarian.
Should I consult a doctor or health professional before switching to a vegetarian diet?
You should consult a health professional before starting any new diet, especially if you're pregnant or have underlying health conditions.
Are vegetarian meals healthy?
As with any diet, you can find healthy and unhealthy meals. Generally speaking, healthy vegetarian meals meet the same nutritional dietary requirements as mainstream meals but the protein sources are plant-based, not animal-based.
Looking for more vegetarian and plant-based meal providers? Check out our more comprehensive list here!