📝 Updates
Ridiculously Simple 1-Week Weight Loss Meal Prep for Fit Women Who Can't Cook
A 5-day meal prep plan for beginner cooks to help you lose weight and get healthy.  A fool proof plan to help you reach your 2021 health and fitness goals.
UPDATED ON Jul 12, 2022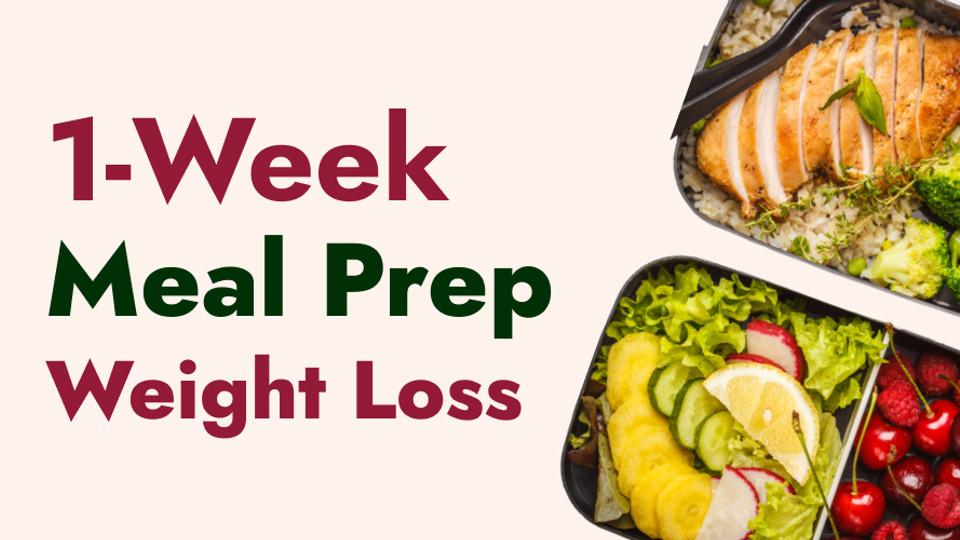 It's an unspoken rule that anyone who takes their health seriously plans some of their meals ahead of time. Meal prep takes the guesswork out of eating healthy, helps you reach your fitness goals effortlessly and saves you money. It's a no-brainer BUT it's so damn intimidating. Especially when so much information is out there and they're all meal prepping for a month or a year! What if you don't even like the food?
This is an easy, fool-proof guide to ease you into meal prepping for the weekday. It's a great way to trial the food and make sure you actually like it before you commit to a longer meal prep plan. I've created a 5-day plan with 6 main recipes (and 2 of those recipes require zero cooking!)
| | | | | | |
| --- | --- | --- | --- | --- | --- |
| | Mon | Tues | Wed | Thurs | Friday |
| Breakfast | High Protein Egg Muffins | Mixed Berries Overnight Oats | High Protein Egg Muffins | Mango Overnight Oats | Mixed Berries Overnight Oats |
| Lunch | Ginger soy glazed salmon + sweet potatoes + broccoli | Sweet potato, avocado & spinach salad with roasted chickpeas | Ginger soy glazed salmon + sweet potato and broccoli | Sweet potato, avocado & spinach salad with roasted chickpeas | Vegetable and Cannellini Bean Soup |
| Dinner | Vegetable and Cannellini Bean Soup | Chicken Summer rolls | Vegetable and Cannellini Bean Soup | Chicken Summer Rolls | Ginger soy glazed salmon+ sweet potatoes + broccoli |
Within this weekday meal plan, there are 6 main recipes with similar ingredients to make the meal prep process easier.
The main components of this meal prep are:
Protein: Whole eggs, egg whites, tofu, salmon, chickpeas, chicken
Wholegrains or starchy vegetables: rolled oats and sweet potatoes
Healthy Fats: Avocado and Olive Oil
Fibre-rich fruit and non-starchy vegetables: green beans, onions, spinach, broccoli, capsicum
Step – By – Step Guide
Start with breakfast recipes – Egg Muffins and Overnight Oats.
Preheat the oven to 190 C.
Follow the recipe for the High Protein Egg Muffins.
While that is cooking, mix together the ingredients for the overnight oats and refrigerate.
Move on to the Lunch and Dinner Recipes
Start by washing, trimming and chopping up vegetables; sweet potatoes, onions, green beans, broccoli. Spinach only needs to be washed.
Assemble the ingredients according to their recipe.
Follow the Roasted Sweet Potato, Broccoli and Chickpeas
While the vegetables are in the oven for 20-25 minutes, cook the Vegetable and Cannellini Bean Soup.
Remove roasted vegetables from the oven.
Marinate the salmon for 30minutes before prepping the Chicken Summer Rolls.
Cook Ginger Soy Glazed Salmon.
Well done! All your ingredients are cooked!
Assemble & pack away to enjoy 😊
*Please note: you can separate this meal prep across two days if you prefer.
Breakfast Recipes:
High Protein Egg Muffins
Makes 6 Egg Muffins
INGREDIENTS
1 tablespoon olive oil
4 large eggs
4 large egg whites
¼ cup skim milk or almond milk
1 large red capsicum, diced
100g mushrooms, chopped
100g baby spinach, chopped
Shredded cheese or crumbed feta (optional)
Salt and pepper to taste
METHOD:
Preheat oven to 180 C.
Grease a standard non stick 12-slot muffin pan with cooking spray and set aside.
Heat a large non stick skillet over medium heat.
Once hot, add in oil, red pepper, green pepper, and onion.
Saute 5-7 minutes, or until peppers are tender.
Add in spinach and mushrooms and cook for an additional 2 minutes.
In the last 30 seconds, add in minced garlic.
Season with salt and remove from heat.
Crack eggs/egg whites into a large 4 cup measuring cup and whisk together.
Stir in cooked veggies.
Pour the egg/veggie mixture evenly into the prepared muffin pan.
Bake for 15-20 minutes, or until the tops are firm to the touch and eggs are cooked.
Cool slightly and serve immediately!
Leftovers can be stored in an airtight container in the fridge for about 4 days.
These may also be frozen.
To reheat, pop them in the microwave until warm.
Overnight Oats; Berry, Mango or Kiwi Flavour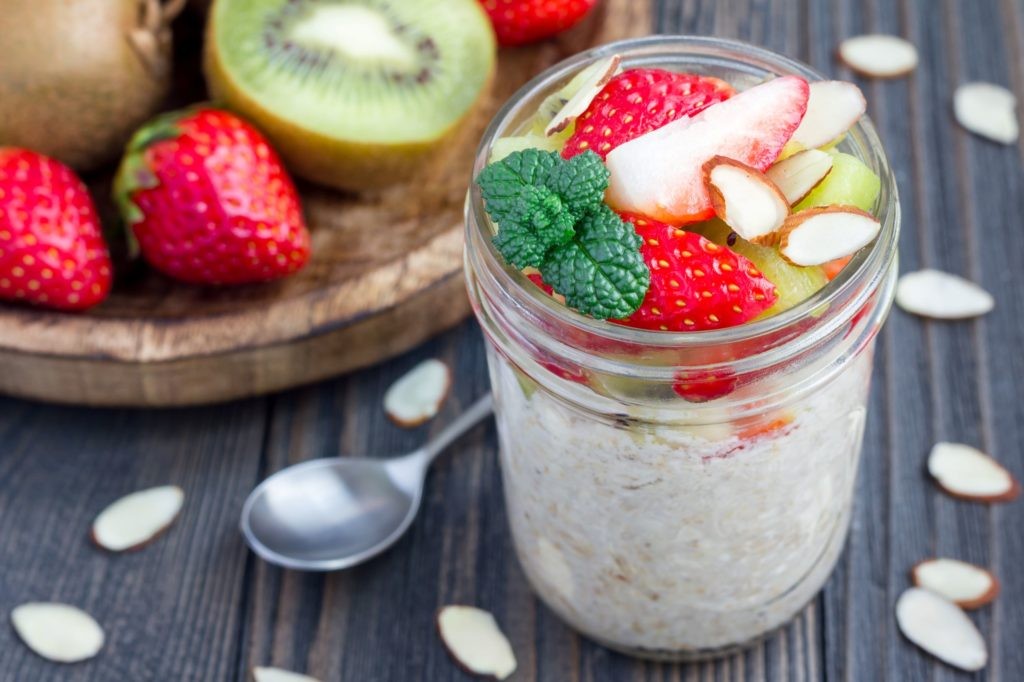 Makes 3 pots of Overnight Oats
INGREDIENTS
1 cup rolled oats
200mL almond milk
200g 4% Siggi's Vanilla Skyr Yogurt
Toppings of Choice; frozen or fresh berries, mango, kiwis,
METHOD:
Combine rolled oats, almond milk and yoghurt in a small bowl.
Separate into 3 jars or small bowls. Garnish with toppings of choice.
Refrigerate overnight.
Roasted sweet potatoes + broccoli and chickpeas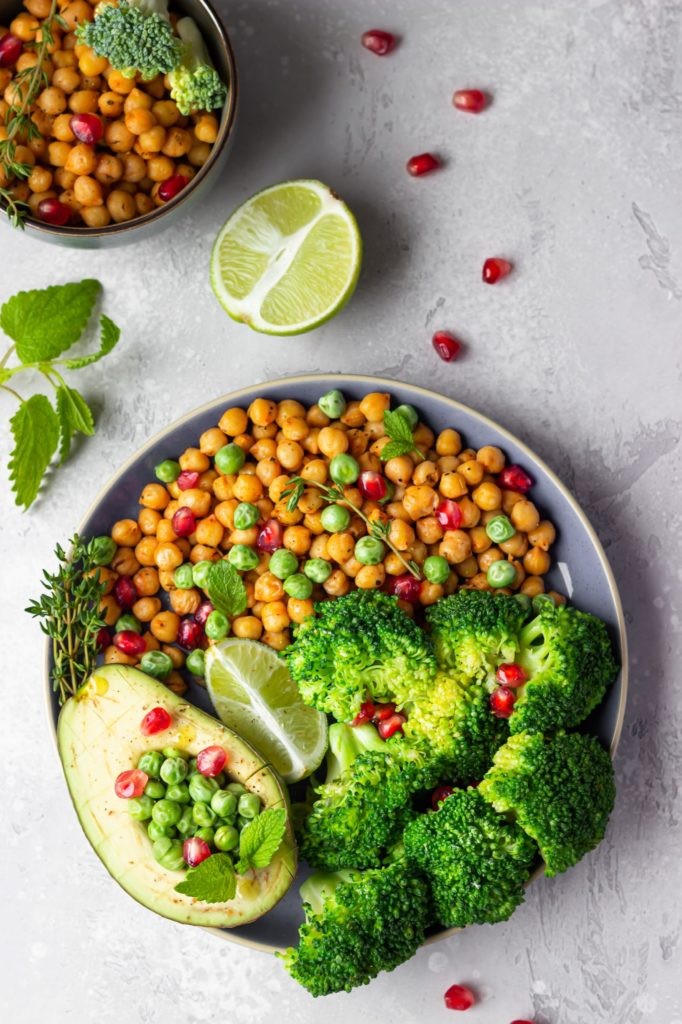 Makes 5 Servings (divide sweet potato and broccoli between salmon dish & chickpea salad)
INGREDIENTS
400g canned chickpeas, rinsed and dried
2 medium sweet potatoes
400g broccoli,
3 tbsp olive oil
1 tsp garlic powder
½ tsp salt
1 tsp smoked paprika powder
Preheat oven to 190C and line two trays with baking paper.
Dice sweet potato into small cubes and chop broccoli into bite-size pieces
Toss broccoli and sweet potato in olive oil. Sprinkle salt and pepper and spread across one tray.
Toss chickpeas in olive oil, paprika and garlic powder. Spread across the other tray.
Bake for 20-25 minutes, rotating the trays at halfway point.
Let chickpeas cool completely before storing in an air-tight container at room temperature.
Allow broccoli and sweet potato cool completely before storing in air tight container in the fridge.
The chickpeas are easily overcooked and should be checked regularly. Chickpeas are firm and crunchy when ready.
Sweet potato will be tender, and a fork can pass through when ready.
Broccoli is ready when slightly golden brown.
Chicken Summer Rolls with Peanut Hoisin Sauce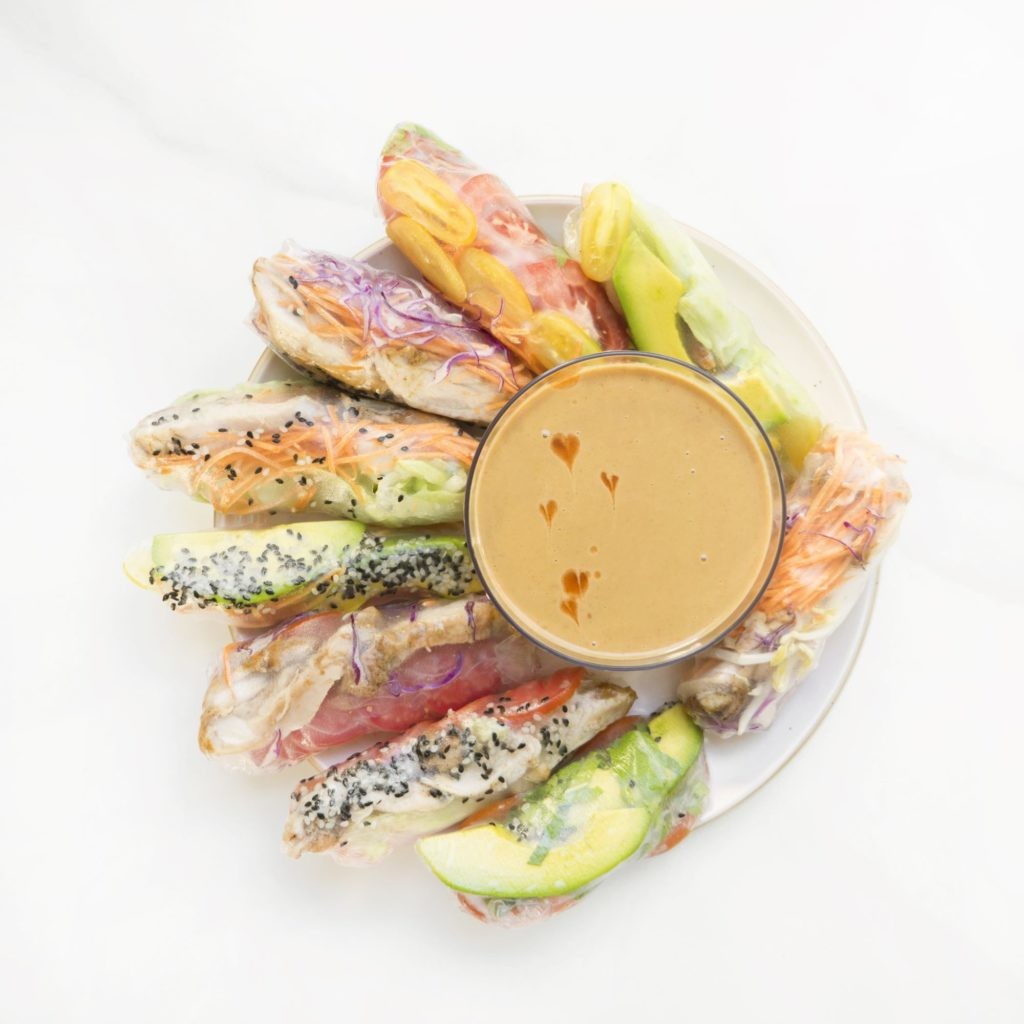 Makes 8 -10 rice paper rolls
2 cups of shredded chicken (you can create your own with chicken thigh or use a rotisserie chicken)
8-10 rice paper sheets
1 large carrot, julienned (cut into matchsticks)
1 cucumber julienned (cut into matchsticks)
1 cup lettuce, torn into strips
8 Fresh mint leaves
8 fresh basil leaves
Peanut Hoisin Sauce
3 tbsp hoisin sauce
2 tbsp crunchy peanut butter
1 tbsp sesame oil
1 finely chopped garlic clove
¼ cup water
INSTRUCTIONS:
For the sauce, heat up sesame oil in a small pan on low heat. Cook garlic for 1 min, before mixing in hoisin sauce and peanut butter. Stir in water slowly until desired consistency reached. Taste and adjust as needed by adding in more hoisin sauce or peanut butter. Allow to cool and store in a container or small bowl.
Remove skin from the rotisserie chicken and shred chicken using a fork.
Julienne carrot and cucumbers.
Tear lettuce into rough strips about 2cm wide.
Store carrot, cucumber and lettuce in individual plastic containers that are lined with paper towels. Seal with a lid and store until needed.
When serving, dip rice paper into a bowl of warm water, spinning it until all parts of the rice paper are wet. Lay on flat surface and add strips of lettuce, carrot, cucumber and shredded chicken. Fold up the bottom, close the left and right side inwards onto the filling and roll to enclose the filling.
Please note that if you are gluten-free that many hoisin sauces have gluten-containing ingredients as an additive.
Ginger soy glazed salmon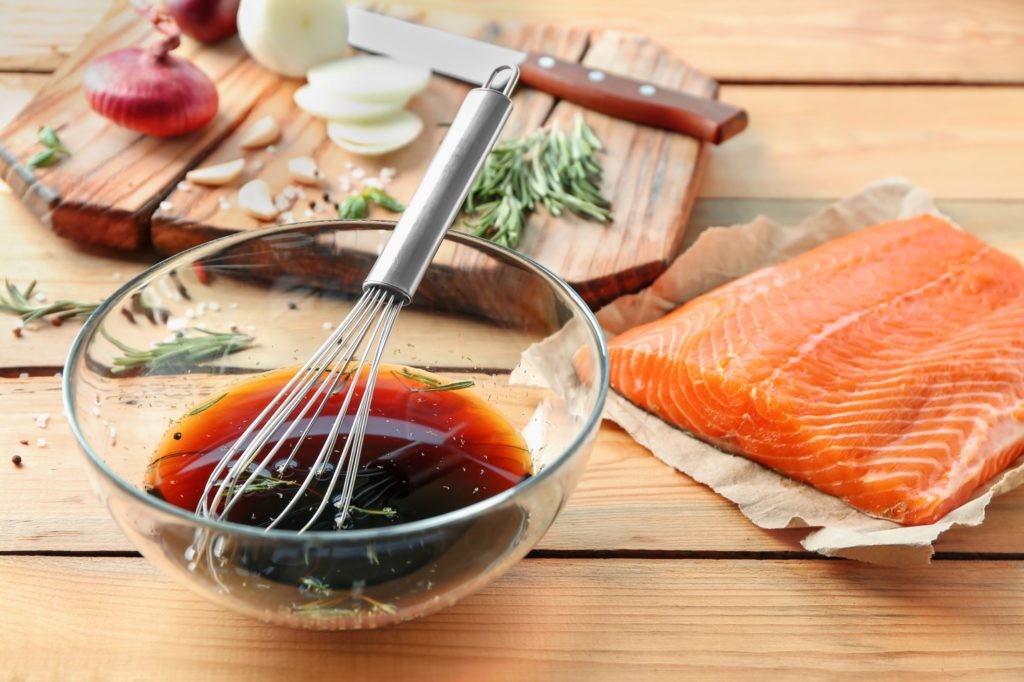 Makes 2 servings
INGREDIENTS
2 x 100g salmon fillets
1 Tbsp olive oil
Ginger & Soy Marinade
80mL soy sauce
1 tbsp honey
1 tbsp olive oil
2 tsp minced garlic
2 tsp grated or minced ginger
METHOD
Mix soy sauce, honey, olive oil, garlic and ginger in a bowl.
Pour marinade into a ziplock bag and add salmon fillets.
Shake to combine and refrigerate for 30minutes.
Preheat the oven to 200 C.
Put salmon (with the skin side down) on greased baking paper.
Bake for 10 minutes.
Assemble with sweet potato and broccoli. Refrigerate up to 3 days.
Vegetable and Cannellini Bean Soup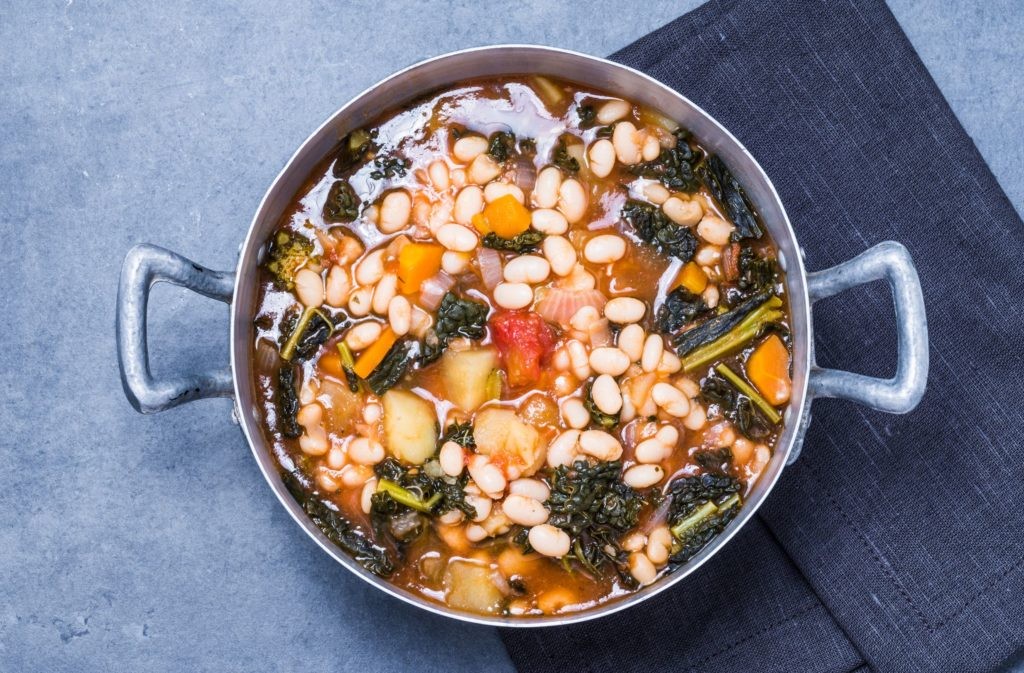 Recipe Adapted from: https://feelgoodfoodie.net/recipe/white-bean-soup/#wprm-recipe-container-8825
Makes 3 servings
INGREDIENTS
2 tsp olive oil
1 large onion, diced.
2 tsp minced garlic
2 large carrot chopped
2 celery stalks, chopped
3 cups vegetable broth (homemade or 300mL liquid vegetable stock with 300mL water)
1x 400g can of cannellini beans, drained and rinsed
2 cups baby spinach
Salt and pepper to serve
Fresh parsley for serving (optional)
Grated parmesan cheese for serving (optional)
METHOD
Add olive oil to large pot and heat on medium heat.
Add chopped onions and stir often for 5 minutes or until onions are translucent.
Stir in minced garlic, carrots, celery, oregano and thyme for another 2-3 minutes.
Add vegetable broth and cannellini beans and bring to a boil. Reduce to low heat and simmer for 15 minutes.
Remove from heat.
Add salt and pepper to taste.
Stir in the spinach.
Divide into shallow, airtight containers. Allow to cool to room temperature before refrigerating for up to 5 days.
Serve with fresh parsley and parmesan cheese (optional)