📰 News,🥙 Nutrition
Top 5 Healthy, Calorie- conscious Sauces, Dressings and Dips
Looking for dietitian-approved ways to add flavour to your food?  Check out these 5 Low Calorie Sauces, Dressings and Dips!
UPDATED ON Jul 12, 2022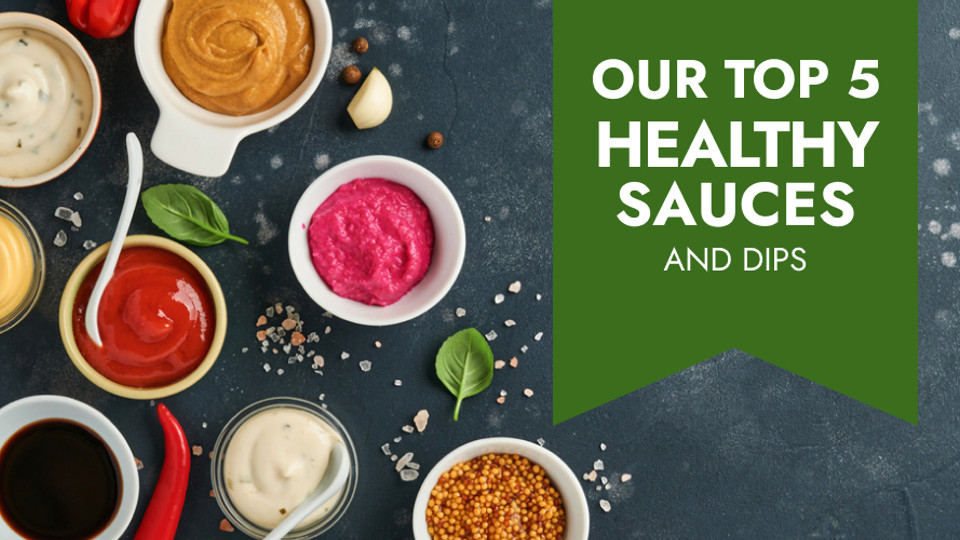 What to look for in a healthy dressing or dip?
When reading the nutrition label on dressings and dips, I look at the total calories, saturated fat and search the ingredient list for healthy fats. I am also mindful of sugar and sodium (salt), but buying pre-made sauces, dressing or dips tends to include both.
Healthy fats I search for: tahini, avocado, yoghurt, olive oil
Not-so-healthy fats that I limit: coconut oil/milk/cream, butter, cream, palm oil, sour cream
When it comes to weight loss and overall health, aim for:
Sugar: less than 15g of sugar per 100g.
Saturated fat: Less than 3g saturated fat per 100g
Calories: Less than 50 calories per serve
Top 5 Dietitian Approved Healthiest Dips
1. Healthiest Salad Dressing: Balsamic vinaigrette
Balsamic vinaigrettes are a combination of two nutrient powerhouses; balsamic vinegar and extra virgin olive oil. Store-bought versions often have a sweetner added (honey or sugar) but you can make your own by using a 3:1 ratio of olive oil to balsamic vinegar.
Balsamic vinegar is considered a functional food because it helps with blood glucose control and can reduce the glycaemic index (GI) of high GI foods. [1]
Extra virgin olive oil is rich in antioxidants and can help prevent non-communicable diseases including cardiovascular disease, type 2 diabetes and breast cancer.[2]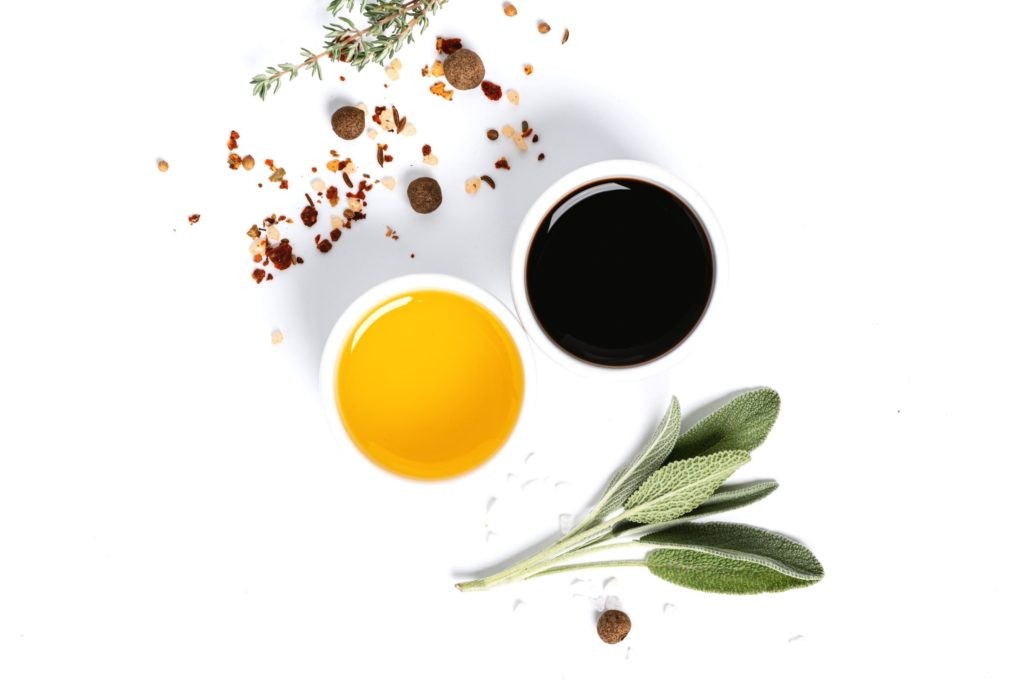 2. Hummus – A fibre-packed, plant protein dip
Packed with plant protein, hummus is a heart-healthy dip filled with healthy fats. The main ingredient of hummus is chickpeas which is packed with fibre, vitamin A, vitamin E, folate, magnesium and potassium. Hummus and chickpeas has benefits for weight management, gut health and reduced risk of cardiovascular disease.[3]
Pair it with carrot, cucumber or capsicum strips for a high fibre, low calorie snack.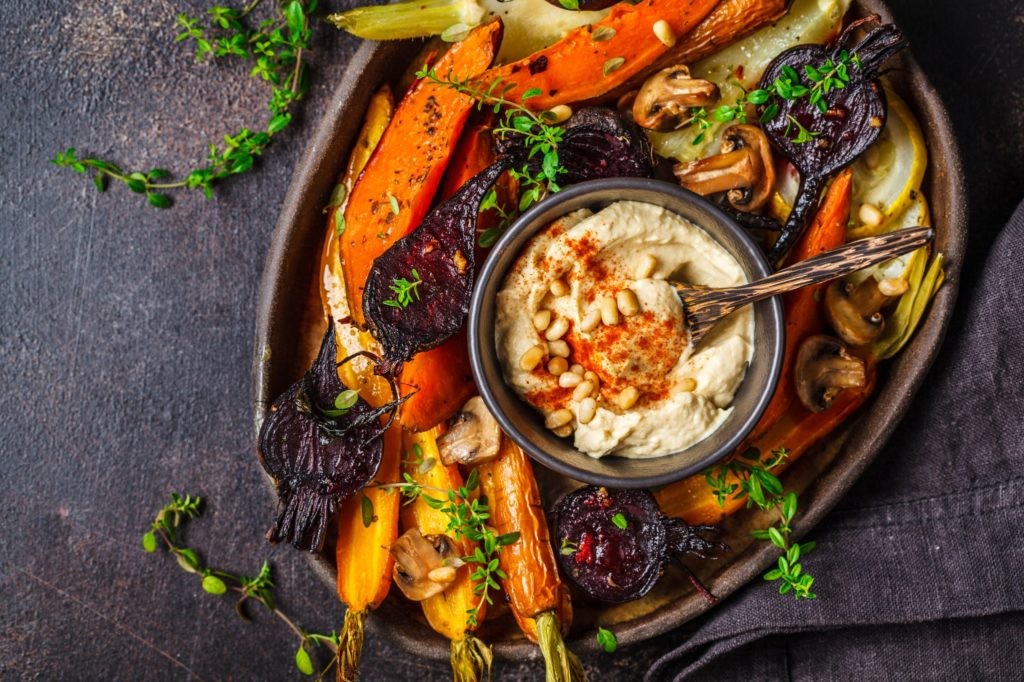 3. Tahini Dressing – A vegan friendly, creamy dressing
Want to upgrade your salad and stay fuller for longer?
Using tahini as the base of a dressing can help make salad dressings or dips creamy without using added oil or dairy.
You can create it by combining water, lemon juice, minced garlic or garlic powder and sea salt.
1/2 cup tahini (from raw or roasted sesame seeds)
1/4 cup warm water
1/3 tsp sea salt
1/4 tsp garlic powder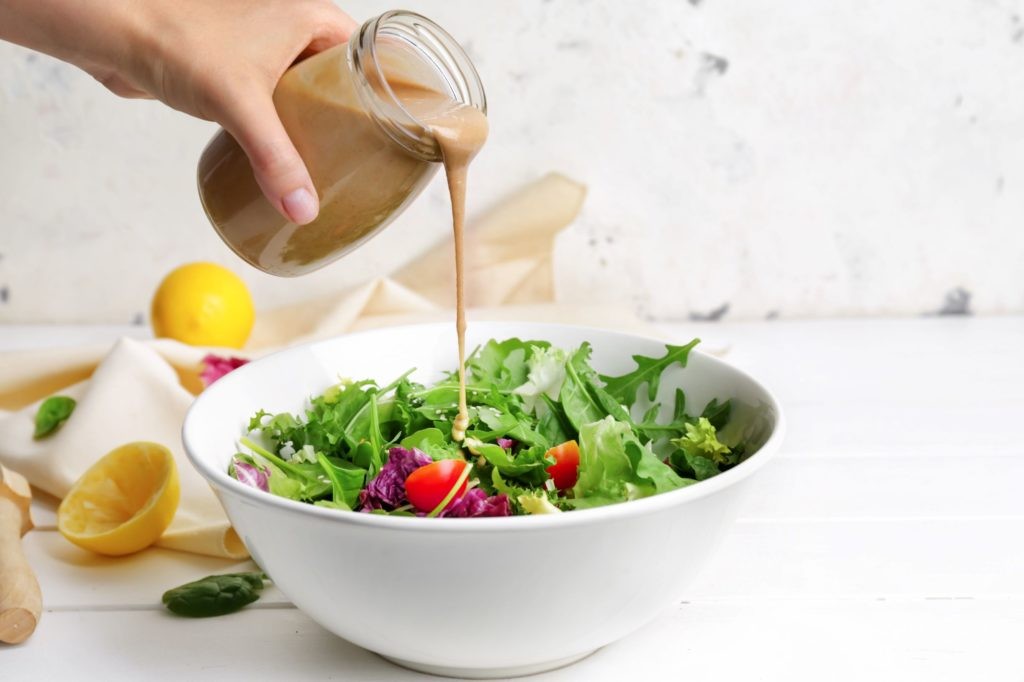 4. Healthy Mayonnaise – A smooth, creamy and lower calorie alternative.
You don't have to give up mayo. Swapping out whole egg mayonnaise for fat free mayo can save you hundreds of calories across the week. As you can see in the table below, regular whole egg mayo has almost 6x more calories than the 99% fat-free version. You can still make a meaningful impact to your health by reducing to the whole egg lite mayo.
While the fat-free version is higher in sugar, in small serving sizes (e.g. 1 tablespoon), it is still a better option than the whole egg version.
| | | | |
| --- | --- | --- | --- |
| | Praise Whole Egg Mayo | Praise Whole Egg Mayo Lite | Praise Traditional 99% Fat Free |
| Calories per 100g | 648 calories | 304 calories | 115 calories |
| Protein per 100g | 1.7g | <1g | <1g |
| Total Fat per 100g | 71.2g | 26.2g | <1g |
| Saturated Fat per 100g | 8.7g | 3.3g | <1g |
| Sugar per 100g | 2.4g | 13g | 20.9g |
| Sodium per 100g | 565mg | 1070mg | 715mg |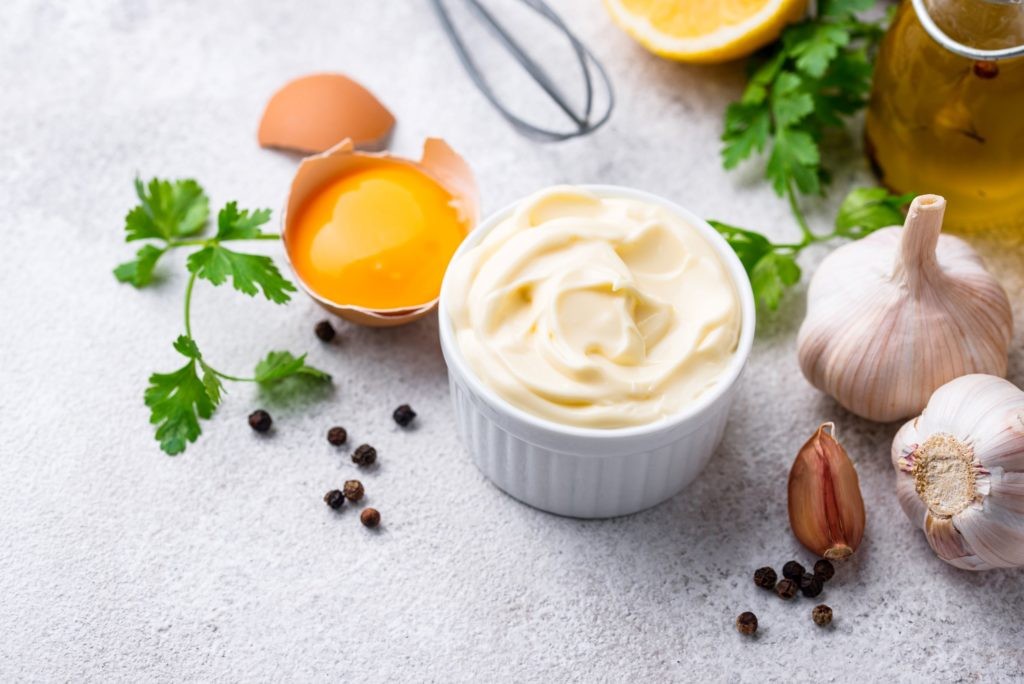 5. Avocado – The secret to a nutritious and creamy dip
There's a reason why avocados are so popular with dressing, dips, desserts and even cafes dedicated to avocado in all its delicious forms.
½ Avocado provides

28% of your daily vitamin C and helps with iron absorption
30% of your daily folate needs, especially important for individuals who are pregnant or breastfeeding.
5g of dietary fibre to support gut health
Healthy monounsaturated and polyunsaturated fats that help lower cholesterol
Antioxidants including beta carotene, chlorophyll, lutein and zeaxanthin. [4]
With just 5 ingredients, you can make your own avocado dip. Combine one ripe avocado, 50g full-fat yoghurt, 1 tsp minced garlic, 1 tbsp of lime juice and salt!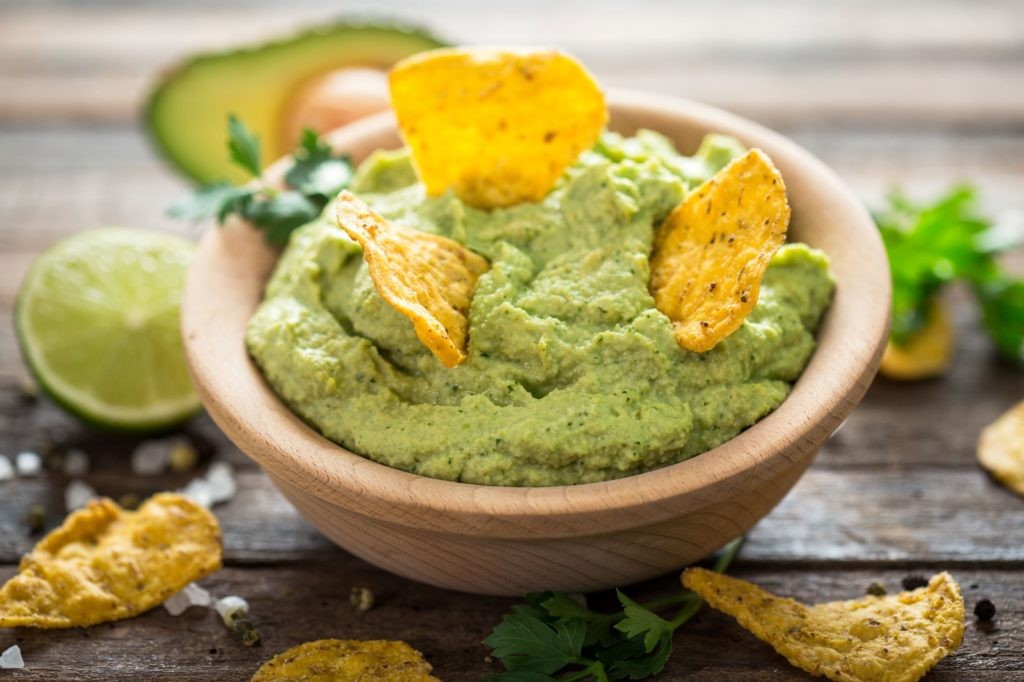 FAQs
What is the healthiest salad dressing?
Balsamic Vinaigrette and extra virgin olive oil with lemon juice are tied as the two healthiest salad dressings. The extra virgin olive oil is a source of healthy monounsaturated fats and antioxidants. In addition, the lemon juice is rich in Vitamin C and is important for iron absorption from leafy green vegetables and wholegrains.
What dip is healthiest?
My philosophy is if using a dip helps you eat more veggies, you should do it! Hummus or a simple guacamole are the healthiest options.
What is the most unhealthy dressing?
Generally speaking, creamy dressings are normally more energy dense due to the added fats. The least healthy dressing would be store-bought Caesar Dressing, with Birch & Waite Creamy Caesar Dressing and Paul Newman's Own Creamy Caesar Dressing delivering approximately 100 calories and over 10g of fat per 20mL serve.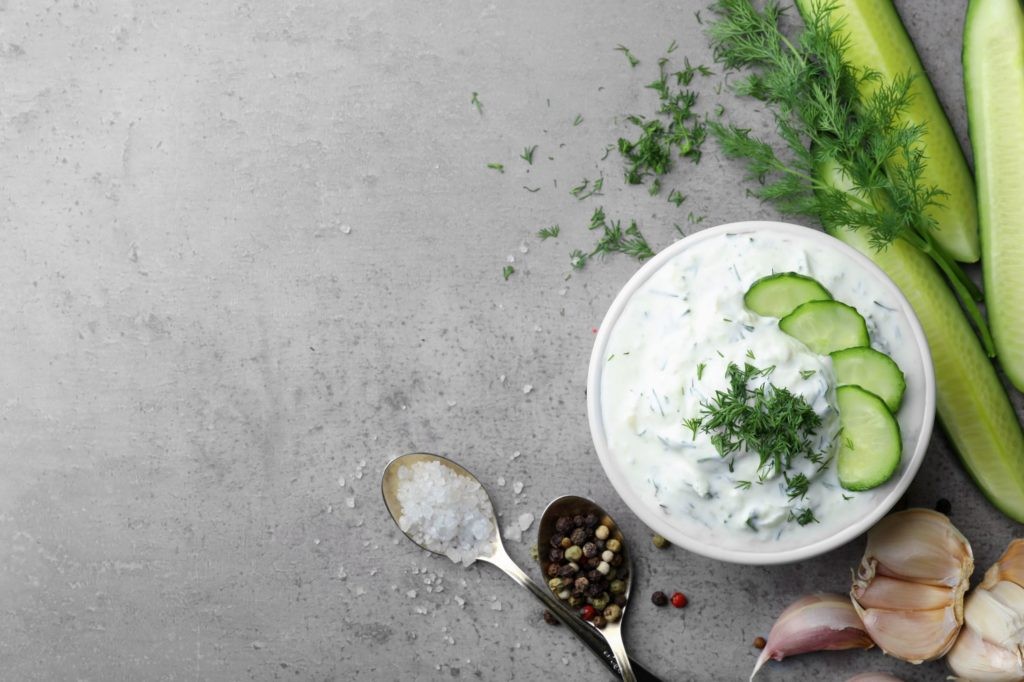 Bonus tip for creamy dressing and dips lovers:
Substitute mayonnaise or for Greek yoghurt in dips e.g. French onion dip or ranch dip. You can also make your own creamy dressing using 1 cup of plain Greek yoghurt, 4 tablespoons of tahini and 65mL lemon juice
What is the best salad dressing for losing weight?
The best salad dressing for losing weight is the one that you find tasty and keeps you feeling fuller for longer. I would choose an oil-based vinaigrette as the healthy fats will keep you satisfied until your next well, if paired with a some protein and plenty of leafy vegetables.
Is salad with dressing healthy?
Yes, because it helps you absorb more nutrients and keeps you fuller for longer. Remember to eat salad dressings in small amounts as they can be calorie- dense.
Is oil and vinegar the healthiest salad dressing?
Yes, you can combine 3 parts of oil to 1 part of vinegar at home to create a super healthy salad dressing.
Olive oil is a great base. For the vinegar portion; you can use rice vinegar, fruit vinegar, white wine vinegar, champagne vinegar or even lemon or lime.
Which subway sauce or dressing is healthiest?
The healthiest Subway Australia dressing is Marinara sauce. It is 68 calories per 100g, only 2.5g of total fat and 2g of dietary fibre. This contrasts Subway's worst sauce (Chipotle Southwest Sauce) which is 442 calories per 100g, a whopping 48g of total fat and absolutely zero dietary fibre!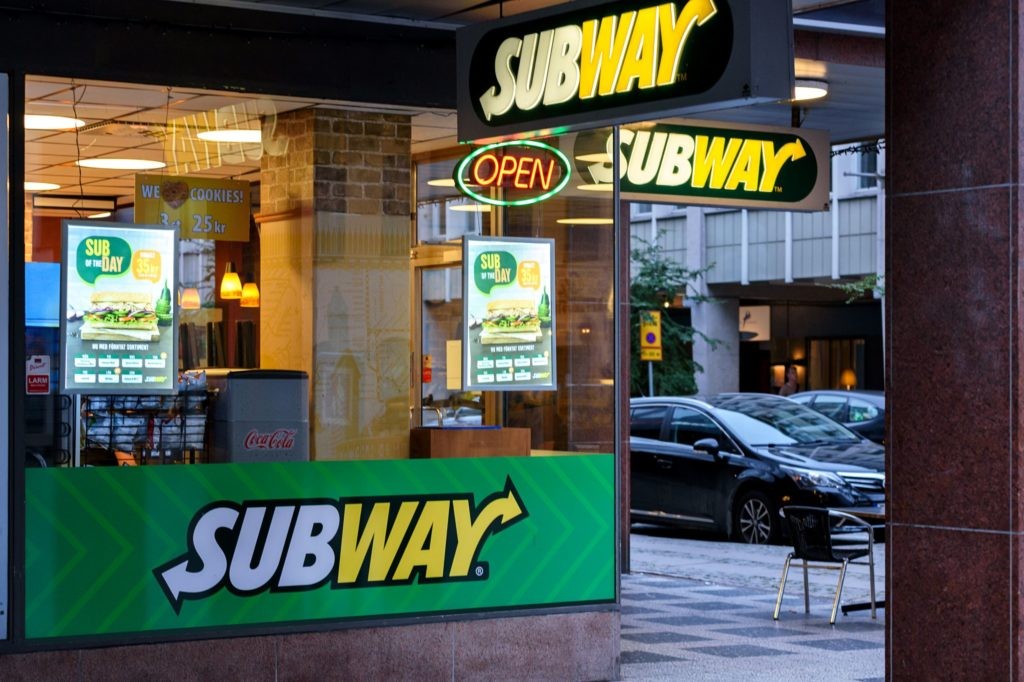 How bad is ranch dressing for you?
While ranch dressing isn't the healthiest choice, it can still be part of a healthy diet when eaten in small amounts. You can make a healthier version of ranch dressing at home by swapping out the vegetable oil for Greek yoghurt. This reduces the calories and increases the protein while retaining the creamy goodness!
What is the best salad dressing for high cholesterol?
The best salad dressing for high cholesterol is one that uses a healthy fat (high in monounsaturated and polyunsaturated fats) and low in saturated fat. This includes any salad dressings that are olive oil- based.
References
Budak, N.H., Aykin, E., Seydim, A.C., Greene, A.K. and Guzel-Seydim, Z.B. (2014), Functional Properties of Vinegar. Journal of Food Science, 79: R757-R764. https://doi.org/10.1111/1750-3841.12434
Gaforio, J. J., Visioli, F., Alarcón-de-la-Lastra, C., Castañer, O., Delgado-Rodríguez, M., Fitó, M., Hernández, A. F., Huertas, J. R., Martínez-González, M. A., Menendez, J. A., Osada, J., Papadaki, A., Parrón, T., Pereira, J. E., Rosillo, M. A., Sánchez-Quesada, C., Schwingshackl, L., Toledo, E., & Tsatsakis, A. M. (2019). Virgin Olive Oil and Health: Summary of the III International Conference on Virgin Olive Oil and Health Consensus Report, JAEN (Spain) 2018. Nutrients, 11(9), 2039. https://doi.org/10.3390/nu11092039
Wallace, T. C., Murray, R., & Zelman, K. M. (2016). The Nutritional Value and Health Benefits of Chickpeas and Hummus. Nutrients, 8(12), 766. https://doi.org/10.3390/nu8120766
Dreher, M. L., & Davenport, A. J. (2013). Hass avocado composition and potential health effects. Critical reviews in food science and nutrition, 53(7), 738–750. https://doi.org/10.1080/10408398.2011.556759