📕 Guides,🥙 Nutrition
The Ultimate Guide To Healthy Hangover Food
After a big night and a few too many cocktails, it's normal for our bodies to crave some fried food or quick and easy takeout. Grabbing yourself a big, juicy burger with a side of hot chips may make you feel a better at the time, but the calories are still very much adding up which can really make a dent in your daily calorie intake.
UPDATED ON Dec 22, 2022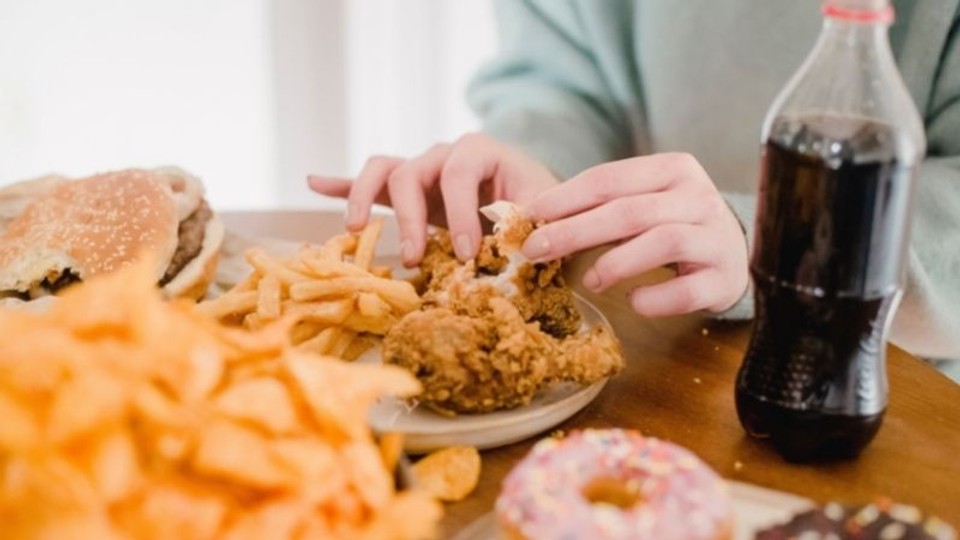 As strange as it is that we crave less healthy foods when we are hungover, there is a reasonable explanation for this! Cornell University College of Human Ecology professor David Levitsky told Mentalfloss.com "Greasy food is a surrogate for fat and fat is the nutrient for the highest energy density. We go for calorically dense food because it takes the minimum of preparation and yields [the] highest caloric payoff."
As delicious and satisfying as this greasy takeout might be, there are other options for you that don't require a whole lot of effort (especially when you're sporting a throbbing headache). Below we have gone ahead and listed the Mealprep team's four, go-to takeout options, along with healthier alternatives that could just as easily scratch that fast-food itch!
Fried Chicken
I mean, does anything really beat a bucket of crispy fried chicken on a lazy Sunday? You could easily head to your local fried chicken takeout OR you could opt for a much healthier version from one of our favourite meal providers.
Workout Meals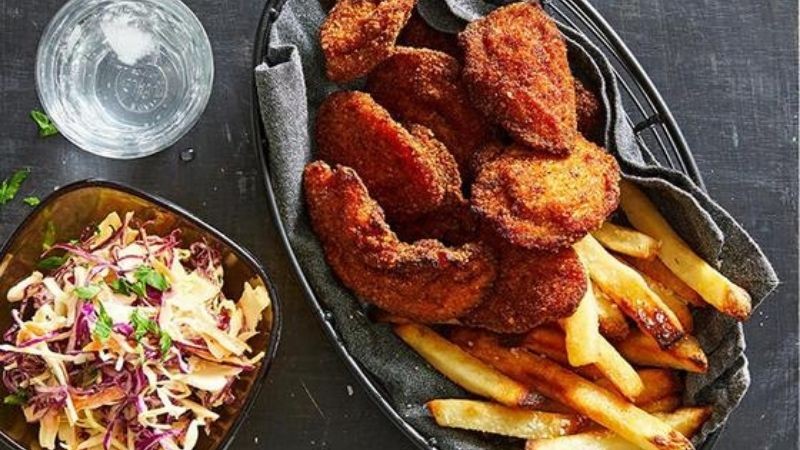 Southern Fried Chicken & Slaw – Calories: 310 per serving
Price: $10.55
Macros:
| | |
| --- | --- |
| Carbs | 33.9g |
| Protein | 15.3g |
| Fats | 11.3g |
If this doesn't quite scratch your itch, there are healthier take out options available! Grill'd has recently released a new 'Healthy Fried Chicken' range, including multiple new chicken burger options, as well as a handful of new sides.
The HFC natural bites are a great alternative to your regular fried chicken snack! Not only are they light in calories in comparison to other brands, but the coating is gluten friendly.
Grill'd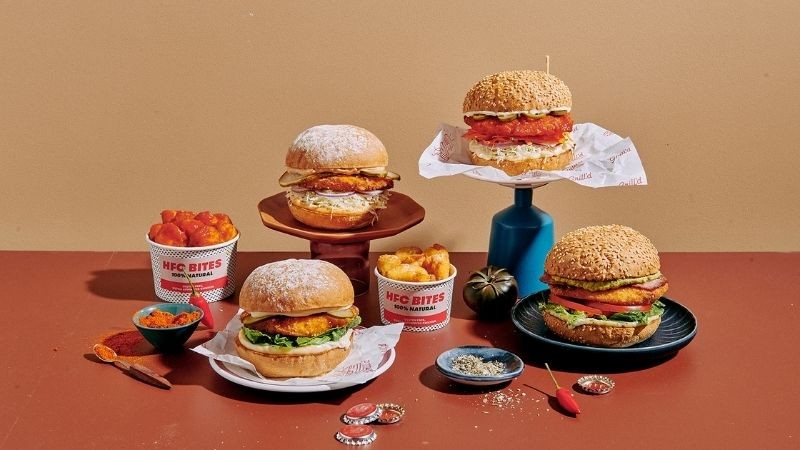 HFC Natural Bites (9x Bites) – Calories: 389 per serving, 43.28 calories per bite.
Price: $10.50
Macros:
| | |
| --- | --- |
| Carbs | 27g |
| Protein | 35.8g |
| Fats | 15.3g |
Pizza
Pizza is way too easy to order and have delivered directly to your door and with the endless value deals offered by the larger pizza franchises, you often end up ordering yourself much more than you actually need. Gorging on cheesy pizza & garlic bread might make you feel better at the time, but the next day – the food guilt sets in, along with the sluggishness caused by overindulging in gluten.
Believe it or not, some meal providers include healthy pizza options in their menu, just so health seekers aren't having to sacrifice all of their favourite foods to achieve their ultimate health goals.
Core Powerfoods have a great menu for those who enjoy our classic pub style feed, from a chicken parmy to bangers and mash, Core Powerfoods know how to do delicious comfort food with a healthy twist. If you've scheduled in a few drinks over the weekend, prep yourself for a dusty Sunday and grab yourself one of their five mouth-watering pizza options.
Core Powerfoods: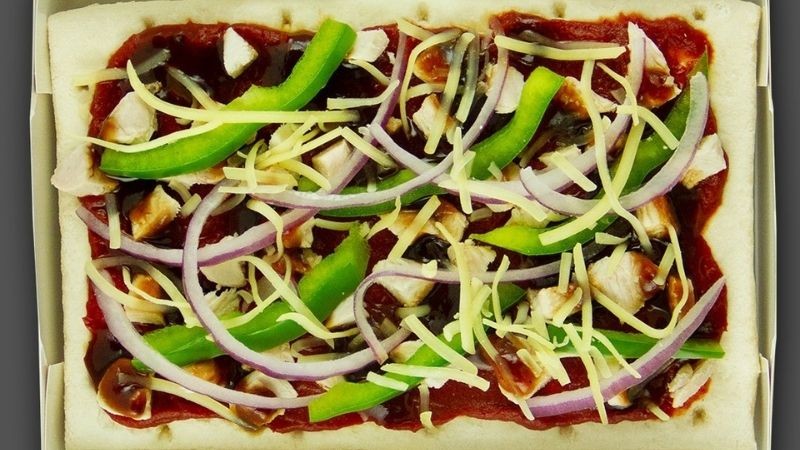 Smokey BBQ Chicken Pizza – Calories: 573 calories per serving
Price: $9.00
Macros:
| | |
| --- | --- |
| Carbs | 65.6g |
| Protein | 50.2g |
| Fats | 10.8g |
But if you'd still prefer a fresh pizza made by someone else, there are healthier pizzas you can have delivered. Dominos definitely has some deliciously greasy pizzas on their menu, but they also have a healthier option available too.
The Spicy Veg Trio will give you all of the feels and flavour you'd normally get from a cheesy meat pizza, just without the meat and with less cheese. The dominos website allows you to switch the regular crust out for thin & crispy and to request less cheese, these two small changes will make a dramatic difference to the calorie count.
It might seem easier to simply order from the vegan or vegetarian pizza menu, however, surprisingly, these pizzas have almost double the amount of sodium and carbs in comparison to a regular Spicy Veg Trio!
Dominos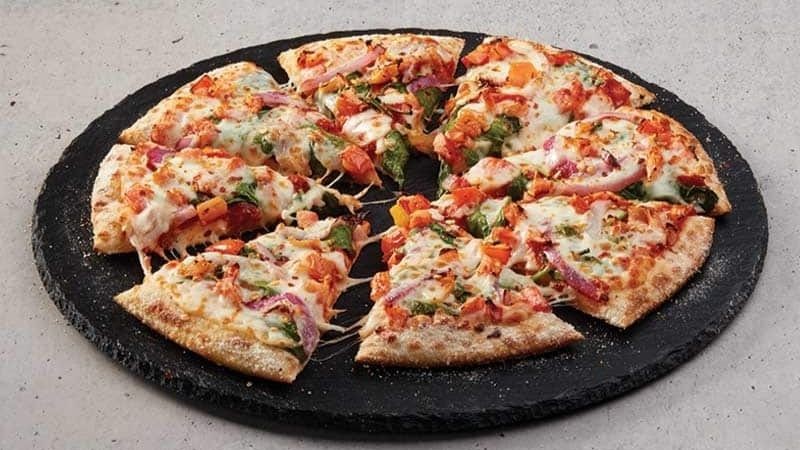 Spicy Veg Trio on Thin & Crispy – Calories: 76 per serving (8 servings per pizza)
Price: $5.00
Macros:
| | |
| --- | --- |
| Carbs | 8.8g |
| Protein | 3.4g |
| Fats | 2.9g |
Mexican
Sometimes, a spicy, piping hot Burrito is all you need to set yourself right after a few too many vinos the night before! As Mexican takeaway spawns new franchises across the country, our options broaden and we are left to choose from a long list of tasty restaurants, now including the American franchise Taco Bell.
Many of us think that just because we are purchasing a burrito instead of a burger, that we are opting for a healthier choice, but unfortunately, this isn't always the case. If you're trying to monitor your calorie intake, a single burrito from your favourite takeout is likely to send you well over your recommended calorie intake for the day with some burritos containing over 800 calories.
Crazy right? Well, when you add up the beans, rice, cheese and sauces, it all starts to make sense. But fear not, you can still get your Mexican fix without having to sacrifice too many of your precious calories. There are so many great meal providers out there who feature a healthy amount of Mexican on their menu but we've gone ahead and picked the lowest calorie option for you.
Youfoodz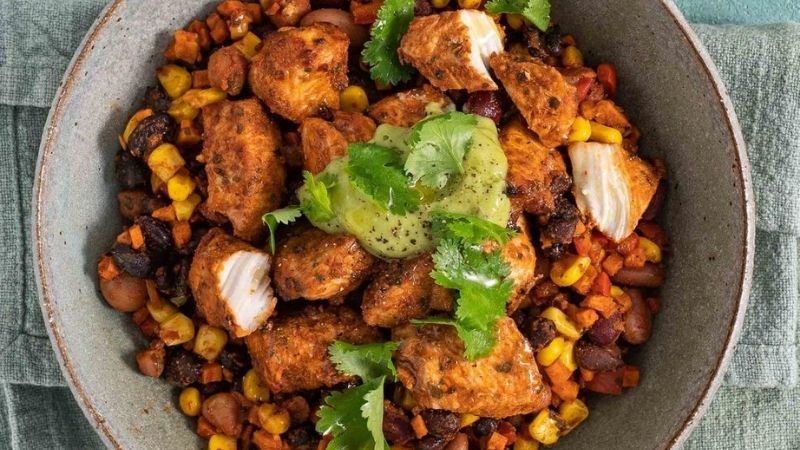 Mexi Burrito Chicken Power bowl – Calories: 320 per serving
Price: $9.95
Macros:
| | |
| --- | --- |
| Carbs | 28.5g |
| Protein | 24.9g |
| Fats | 9.6g |
Again, if you'd prefer the fresh Mexican feel, there are definitely healthier options out there to replace the high calorie burrito! It may mean you ditch the burrito part altogether and switch it out for a Mexican bowl, or you simply opt for a different menu item entirely.
Zambrero has a pretty extensive menu, with burritos, quesadillas, bowls and tacos available, all with vastly different calorie counts. If you're wanting to keep your calorie count super low, opting for a vegetarian quesadilla or taco is your best bet.
Zambrero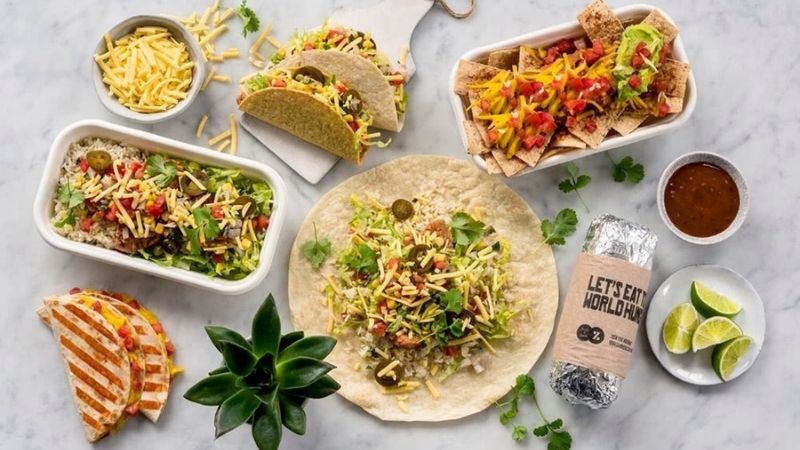 Cauliflower Quesadilla – Calories: 179.49 per serving
Price: $7.40
Macros:
| | |
| --- | --- |
| Carbs | 7g |
| Protein | 15g |
| Fats | 10g |
Burgers
I honestly feel like a good, juicy burger has magical powers that can make your hangover disappear… or at least transform into a deep state of tiredness. The problem is, finding a healthy burger is almost impossible, given the high amount of carbs, fats and proteins usually present.
After a bit of investigating, we have found a meal provider that features a healthy burger on their menu, the only difference – it's naked! By that we mean there's no bun, which immediately eliminates the unnecessary carbs and calories!
My Muscle Chef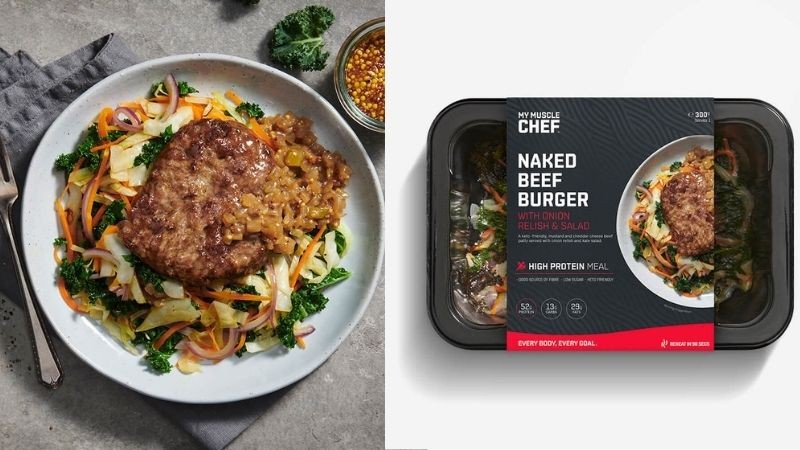 Naked Beef Burger with Onion Relish & Salad – Calories: 460 per serving
Price: $9.55
Macros:
| | |
| --- | --- |
| Carbs | 13.1g |
| Protein | 51.9g |
| Fats | 29.1g |
But if you aren't willing to budge on takeaway, at least consider a healthier option! I know we've already vouched for their healthy fried chicken, but their burgers are definitely worthy of a recommendation too! Grill'd burgers are some of the healthiest takeaway burgers available and are just as tasty (if not more) than some of your favourite 'fast food' burgers.
Grill'd openly advertise 'healthy burgers' and provide a long list of delicious options in lamb, chicken, beef and plant-based, with the calories for each item clearly outlined for you to consider.
The lowest calorie burger on their menu is the Zen Hen, which is packed full of fresh produce such as carrots, cos lettuce, Spanish onion and coriander.
Grill'd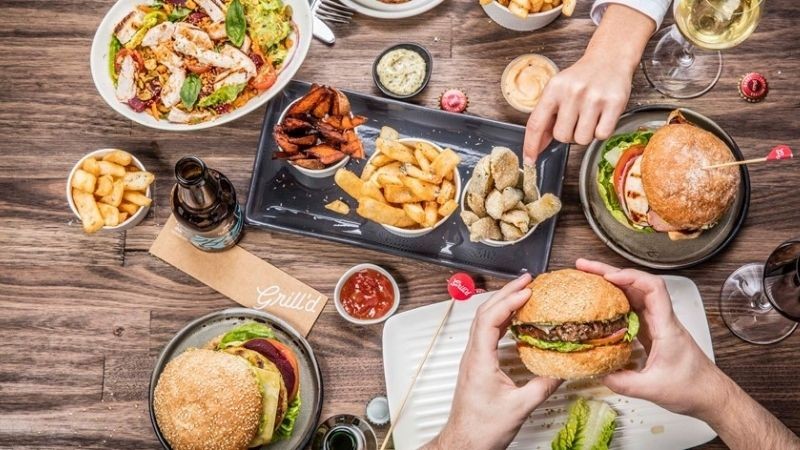 Zen Hen – Calories: 504.30
Price: $13.50
Macros:
| | |
| --- | --- |
| Carbs | 40.1g |
| Protein | 42.7g |
| Fats | 17.7g  |
For more healthy hangover meals, follow the link to browse our favourite meal providers!