Several years ago, I was a vegan. The veganism didn't last all that long before I decided I'd eat fish and eggs, but not red meat in an attempt to curb my animal protein intake in a way that felt more sustainable and easier for me.
Fast forward to March 2021, on a trip to Tasmania where I was presented with a plate of gluten-free fried chicken… I caved. And ate meat for the first time in 3.5 years.
I'd initially felt pretty guilty for consuming meat after so long having gone without it, but after getting over the guilt, I realised I enjoyed incorporating more meat into my diet. I didn't necessarily feel any different consuming meat again, but I was certainly enjoying my meals and cooking more.
About 18 months later and I'm not looking to go back to full time pescetarian or plant-based, but I am trying to lower my meat consumption where possible.
And the thing about plant-based meals, at least in my experience, is they a) take a long time to make because they're usually loaded with lots of (yummy) ingredients and b) actually can be pretty pricey, especially with vegetable prices at the time of writing.
So that's why I decided I wanted to give Soulara a try. A popular plant-based meal delivery service, Soulara by all accounts seems to use really high quality and fresh produce in its meals, while also offering the time-poor an easy way to get more plant-based goodness into their diets.
This is my experience of a week eating Soulara, including the meals I got, the taste, how I felt and loads more.
I also did a video review if you want to jump straight to that instead!
What Meals Did I Get?
This is my meal list for the week. I had 15 meals, and I am gluten and dairy free. I was very surprised with how many options there were available with these dietary restrictions.
The thing about Soulara – and actually most meal providers – is you're filtering to "no added gluten", meaning a lot of the meals still actually had gluten in the form of soy sauce, which might not be ideal for people with Coeliac disease.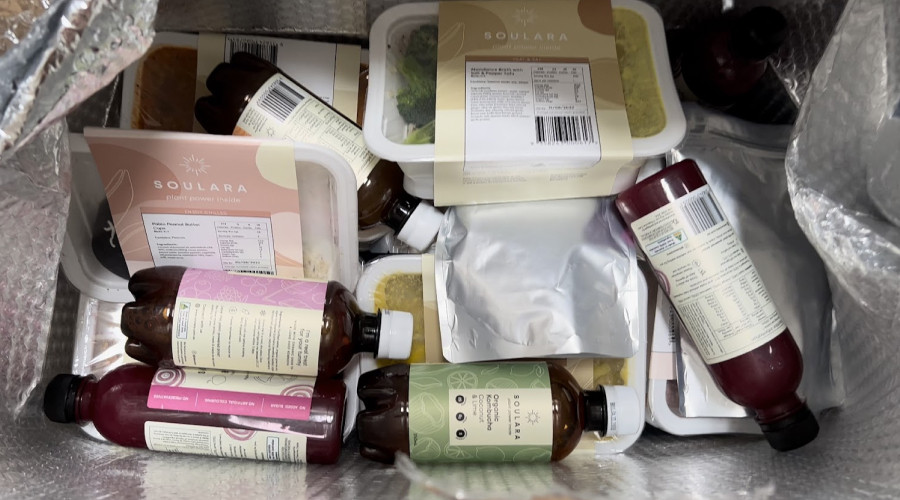 Ruby Sunrise Chia Pudding x 1
Deva Dahl Makhani x 1
Tomato Soup for the Soul x 1
Golden Tofu Ratatouille & Cannellini Mash x 1
The Good Chowder x 1
Abundance Broth with Salt & Pepper Tofu x 1
Mushroom Bourguignon & Garlic Mash x 2
Healing Turmeric Soup x 1
Bushwalker's Granola Blend x 1
Falafel with Ruby Hummus x 1
Chickpea Shakshuka x 1
Supercharged Satay x 2
Spiced 'Butter' Chickpeas x 1
Cold Pressed Beet Treat x 1
Paleo Peanut Butter Cups x 1
Healing & Detoxifying Organic Kombucha Variety Pack
How Much Did it Cost?
I ordered 15 meals, which basically gave me 7 lunches and 7 dinners, with one meal leftover for the next week. I made my own breakfasts, which were usually eggs on toast or a protein shake.
15 Soulara meals work out to be $10.20 per meal, or $153.00 a week. I also paid $10.00 in delivery.
Could I grocery shop for myself for a whole week much cheaper than that? Probably not. Especially with the current price of vegetables.
It works out to be the same as a grocery shop for myself for a week, PLUS I don't have to cook the meals, so while I'm not saving money, I'm saving time, which is an added bonus.
Soulara is Subscription Based
Soulara is a subscription-based service, however, I only wanted to try it out for a week and didn't want to commit any further.
It was really easy to cancel the subscription component after I'd ordered, I could just do it via the Soulara dashboard.

Was I Hungry After the Meals?
Let me tell you: for anyone who says plant-based meals aren't as filling as meat-heavy meals – you're wrong. Plain wrong. Soulara's meals were all super filling!
I felt extremely satisfied after eating all my meals, and could actually make it through the day without any snacks (unheard of from me!) Most meals were around 400g, which is a pretty decent serving size.
Soulara Calories & Macros
Presently, I am trying to lose a few COVID kgs. So the week prior to Soulara, I also tried MACROS meal delivery and their specific Weight Loss meals, which are calorie and portion controlled at 300g and 350 calories or less. I managed to lose 1kg in a week with MACROS.
So when I saw the calories and macros of Soulara meals… I was a little nervous. Would I put back on the 1kg I lost? Thankfully, I stayed the same weight. Didn't lose, but didn't gain weight.
I think if you're not looking to lose weight, you can eat your heart out with Soulara. But if weight loss is something you're working towards and you are on a low-calorie diet, you might need to look closely at Soulara's meals and the calorie contents. Some meals were almost 600 calories (the Deva Dahl Makhani was 568cal!)
What Did the Meals Taste Like?
I was so impressed with the flavour profile of Soulara's meals. I'm typically nervous when it comes to ready-made meals and constantly worry they'll be bland or boring.
Definitely not the case with Soulara! Some of the meals even made me think I could easily be enjoying the same kind of food in a restaurant or cafe (not all the meals, but several of them for sure).
From spicy to sweet to umami, there were a lot of different flavour combos going on, which were really enjoyable to eat.
Soulara's New Drinks Range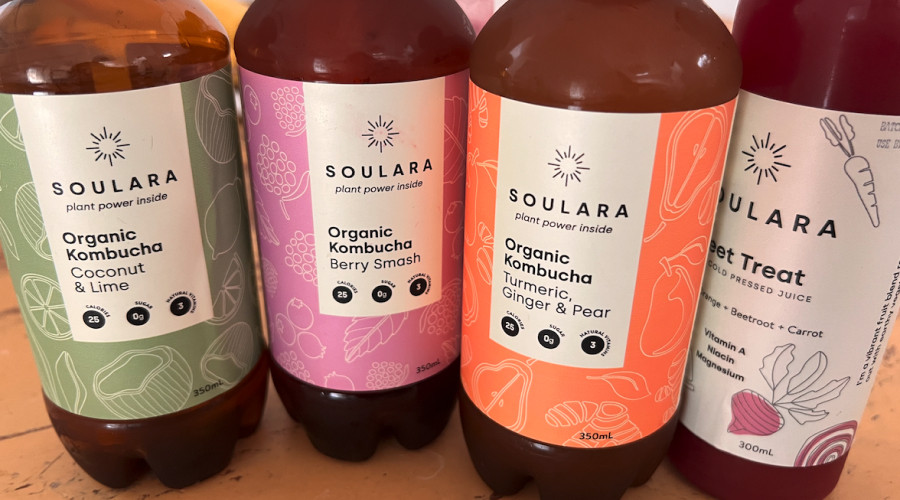 Soulara recently unveiled a new drinks range, including cold-pressed juices and organic kombucha.
The thing about most cold-pressed juices is they are often topped up with added sugars and preserves – too much filler for my liking. But Soulara cold-pressed juices are quite literally all juice and nothing else.
For example, Soulara's Cold Pressed Beet Treat is just 34% Apple, 28% Orange, 32% Beetroot and 13% Carrot, with the health benefits of Vitamin A, Niacin, and Magnesium.
How long do they last if they don't have preservatives? Well, I received these drinks on August 21, and they expire on Oct 2 2022.
Soulara also has an awesome range of detoxifying and healing kombucha that's low-sugar and full of probiotic goodness. On the menu are Berry Smash, Coconut & Lime, Turmeric, Pear & Ginger, and Zingy Ginger.
My Favourite Meals
I particularly liked:
Abundance Broth with Salt & Pepper Tofu
Mushroom Bourguignon & Garlic Mash
Falafel with Ruby Hummus
Supercharged Satay
Spiced 'Butter' Chickpeas
I can honestly say I enjoy all the Soulara meals, but these were standouts for me because they were packed full of flavour with lots of different veggies, and a good combo of protein and veg too. I also felt the most satisfied after these 5 meals.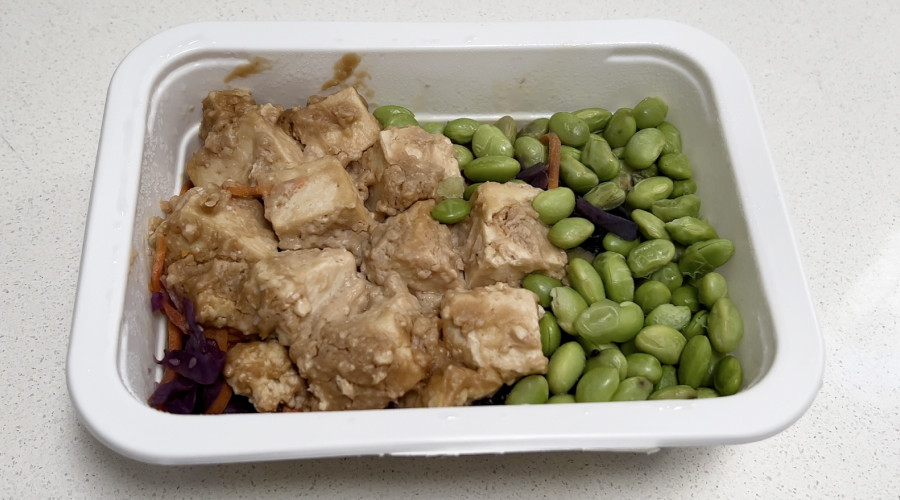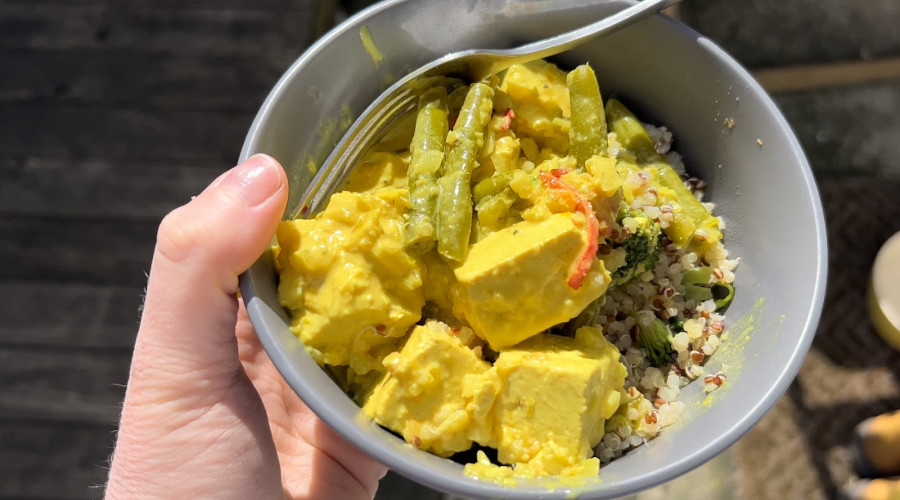 Who Should Try Soulara?
Soulara is a great meal provider for those who are looking to add more plant-protein into their diet, as well as boost their veggie intake. And, if you're too time-poor to shop for and cook your own meals but still want to be eating healthy, premium ingredient meals, Soulara might be the ideal solution.
Soulara vs Garden of Vegan vs Herbidoor
So how does Soulara compare to other plant-based providers like Garden of Vegan and Herbidoor? There are several plant-based providers in each state that only deliver locally, but Soulara, Garden of Vegan and Herbidoor all deliver nationally and are 3 of the biggest plant-based providers.
They all have great plant-based offerings, but I think where Soulara shines is value for money. Soulara's meals are around $12.30 per meal at the most, and can go down to $9.10 per meal the more you order. Meanwhile, Herbidoor's meals can be as much as $14.95 per meal. Garden of Vegan's meal prices are about $17.95, and while it sits on the premium end of the scale, the quality of GoV is next to none, so definitely worth giving it a go too.
What Do Other Customers Say?
There are plenty of positive reviews about Soulara on mealprep.com.au, with lots of customers enjoying a diverse range of good-quality plant-based food.
Some customers have taken issue with slow delivery, but this is something out of Soulara's hands for the most part.
Others were unimpressed by the subscription model and being charged for another week of food after forgetting to cancel. This is fair, but can be avoided by setting a reminder to cancel your subscription before the cut-off date if you don't want another delivery.
Give Soulara A Go Today
If you're looking to add more plant protein and superfoods into your diet, Soulara is worth giving a go. It's a pretty good bang for buck considering the volume and quality ingredients. Soulara also tries to source fresh, seasonal fruits and vegetables from Australian farmers as much as possible, which is an added nicety!