🏡 Lifestyle
RECIPE VIDEO: How To Make Delicious Lemon Tuna Pasta Salad
Need a new light and delicious, protein-packed salad for summer? We've got just the thing! Our resident nutrition and health coach Ophie Ho shows us how to make Lemon Tuna Pasta Salad.
UPDATED ON Jul 14, 2022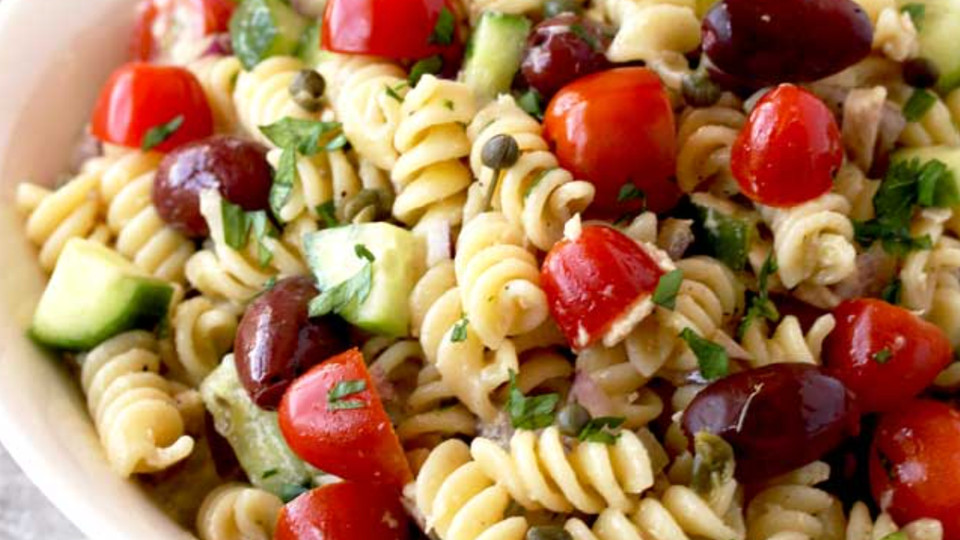 With just one more month left of summer, we're making every effort we can to embrace all things good times, good weather, and good food. Speaking of good food, nothing says a breezy summer lunch quite like a banging salad. However, truth be told, a good salad isn't super easy to make at home, but the salad we're bringing you today is so simple and so delicious to make. With tasty Mediterranean flavors, heaps of protein and juicy tomatoes, cucumbers, and some salty capers, you really can't go wrong with this recipe.
The great thing about this Lemon Tuna Pasta Salad is that it can be served as a side dish or a main dish, depending on what you fancy on the day. It'll definitely wow your friends and family, and it'll be your little secret on just how easy it was to make!
This recipe comes from Chef Kathy at
Lemon Blossoms
but has been adapted slightly by Mealprep.com.au's certified nutrition and health coach
Ophie Ho.
Follow her step by step video below, or we've written out the recipe for your convenience.
Lemon Tuna Pasta Salad
Prep time: 8 mins
Cook time: 8 mins
Total time: 8 mins
Serves: 10
Nutrition
Calories: 238kcal
Carbohydrates: 29g
Protein: 12g
Fat: 8g
Sugar: 3g
Ingredients
For the Pasta Salad
340g spiral pasta (but any short pasta will do rotini, penne, farfalle)
400g canned tuna (in water)
1/2 cup diced red onions
1 container cherry tomatoes, halved
1 diced cucumber
1 diced red capsicum
1/2 container of roasted capsicum (in oil)
rocket leaf salad
For the Vinaigrette
3 tablespoons freshly squeezed lemon juice
1/4 cup olive oil
2 tablespoons plain yogurt
1/2 teaspoon Dijon mustard
1/4 teaspoon garlic powder
1 teaspoon sea salt
1/4 teaspoon ground black pepper
Method
To make the vinaigrette
Whisk together the vinaigrette ingredients.
To make the pasta salad
Cook the pasta according to package directions until al dente.
Chop all ingredients whilst waiting for pasta to cook
Once pasta is cooked, rinse in cold water.
Combine all the ingredients in a large bowl.
Add the vinaigrette and toss well to combine.
Add some rocket, mix and serve.
Et voilà! An easy, tasty, zesty summer salad that's packed with protein and delicious Meditterrian inspired goodness. We can just picture ourselves in Greece (hopefully one day soon!) eating this delicious meal.