📕 Guides
Quick Spaghetti Bolognese: How 20+ Australian Ready-Made Meals Compare
Looking for quick spaghetti bolognese? How about a ready-made meal that's a quick "heat and eat" and you're good to go? Below, we're comparing the best ready-made spag bol you can find in supermarkets and online. We're looking at macros, calories, cost and more.
UPDATED ON Oct 15, 2023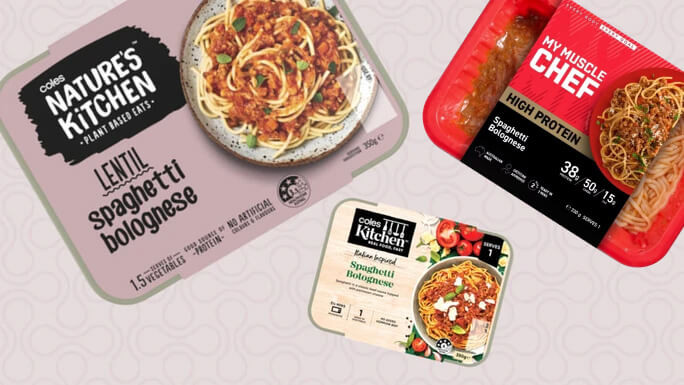 A quick spaghetti bolognese 🍝 dish is an Aussie staple. Every kid grew up with an Italian spag bol night once a week, right? The veggies combined with the delicious pasta sauce combined with the meat sauce (and of course a big serving of tomato sauce much to my own mother's disapproval) – you just can't beat it.
If you're not much of a chef, or you simply are on the hunt for the most convenient (and tasty) spaghetti bolognese you can find in supermarkets across Australia, you're in luck.
In this article, we're comparing 20+ Australian ready-made spaghetti bolognese dishes from traditional brands like McCain and Lean Cuisine you can find at most major supermarkets, to dedicated meal delivery services providers you can order online from like My Muscle Chef, Fitness Outcomes and more.
The table at the top of the page shows you the top ready-made spag bols on the market, and below we've broken it down into some key info you might find useful!
PS – Wanna know the best ready-made meal of other classics like butter chicken, carbonara, lasagne and more? Head here!
Which Ready-Made Spaghetti Bolognese Has the Highest Protein?
My Muscle Chef's spaghetti bolognese packs the biggest punch in terms of protein ✅, with 38g per serve (330g). It also has a very decent 501 calories per serving.
What about spag bol you'd find at the supermarket?
Woolworths Spaghetti Bolognese Chilled Meal 🛒 gives you the most protein, with 27g per serve (350g). It has 511 calories per serving.
Check out our favourite spag bol meals from featured Mealprep.com.au providers!
Which Ready-Made Spaghetti Bolognese Has the Lowest Calories?
McCain's Spaghetti Bolognese comes in with the lowest calories per serving ✅ at 400 calories (in 400g). However, protein is on the lower side with just 19g of protein per serve🙅‍♂️.
What about the lowest calorie spag bol from a dedicated ready-made meal provider?
Soulara's Spaghetti Veganese comes in at a very decent 305 calories per serving (350g) ✅. Protein per serve is on the lower side, however, at 15g of protein per serve 👎.
Have You Checked Out Our Super Handy Meal Finder?
⚖️ If you're more interested in knowing which spag bol has the lowest calories per 100g, or perhaps the lowest carbs, you can check out our meal finder and sort through the data yourself. Simply type in "spaghetti bolognese" and it will instantly return all the results from our meal providers.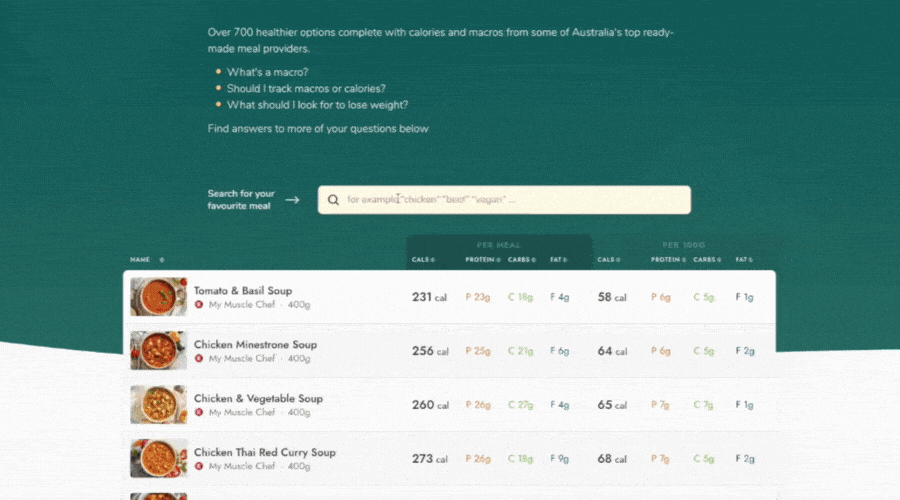 Note:
Both datasets is available on Google Sheets. Meals from Coles & Woolworths and those from our meal prep partners on mealprep.com.au. Feel free to use them but please credit us with a link to our website!
What's the Difference Between Traditional Ready-Made Meals & Meal Delivery Services?
Traditional ready-made meals are typically pre-packaged meals that can be purchased from supermarkets – think Lean Cuisine or McCains. These meals are already cooked and often require minimal preparation, such as heating in the microwave or oven before consumption. They are designed to provide convenience and save time in meal preparation.
On the other hand, while dedicated meal delivery services (think along the lines of Youfoodz) do offer the same "heat and eat solution" – there's a lot more personalisation in the meal planning. Many meal delivery providers offer packages, from weight loss to muscle gain, as well as the convenience of buying in bulk and having it delivered to your door. It's a much more bespoke and unique offering.
Is Spaghetti Bolognese Healthy?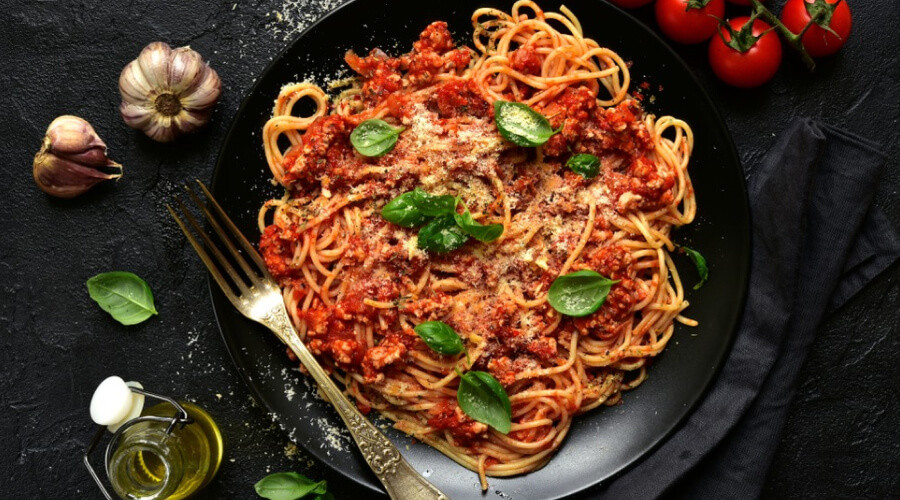 Spaghetti bolognese definitely packs a punch when it comes to macronutrients. First up, the protein element. Beef mince 🐄, a staple in bolognese sauce, is a fantastic source of protein. It helps keep you feeling full and satisfied while providing the building blocks your body needs.
Next, we've got the tomatoes 🍅. Tomatoes are not only bursting with flavour but also packed with vitamin C, an essential nutrient that supports immune function and promotes healthy skin. So, every spoonful of spaghetti bolognese delivers a boost of this immune-boosting vitamin.
I think where spag bol often gets a bad rep is from the carbohydrate content – but carbs are life 🍝! A healthy meal has a balance of protein, fats and carbs, so really spaghetti bolognese is the perfect dish. You should also be choosing good quality ingredients, such as lean meats, fresh tomatoes, and whole wheat pasta, which can enhance the nutritional profile of the dish.
So, yes. When prepared with care and mindful ingredient choices, spaghetti bolognese can indeed be a healthy and delicious option for the whole family. It's all about finding that perfect balance of flavours, nutrients, and quality ingredients that nourish both the body and the soul.
What Are The Basics of Spaghetti Bolognese?
Originating from Italy (of course), spag bol has found its way into the hearts (and stomachs) of Aussies everywhere. This classic dish is all about simple, comforting goodness.
Common ingredients you'll find in spag bol include:
Tomato paste/tomato puree
Bolognese sauce
Olive oil
Beef mince
Diced veggies like onions, carrots, zucchini and celery
Ragu, oregano
Passata
Bay leaves
Parmesan and more.
What's so good about a bolognese is that it can really be made however you like! It's such a versatile meal. You can add more or less veg, add a dash of red wine, make it gluten free, make it plant-based… the options are endless. Every family and home cook seems to have their own version of spaghetti bolognese, so you're unlikely to try the same one twice!
FAQ
Where can I find nutrition information for spaghetti Bolognese?
Nutrition information for spaghetti Bolognese can be found on food packaging, recipe websites, or nutrition databases. It's important to check the specific recipe or product you're using to get accurate information about the nutritional content.
Can I use soy sauce in Bolognese sauce?
While soy sauce is not a traditional ingredient in Bolognese sauce, you can experiment with different flavours and add a touch of umami by incorporating a small amount of soy sauce.
Are stews similar to Bolognese sauce?
Stews and Bolognese sauce differ in their preparation and ingredients. Stews are typically slow-cooked dishes that involve simmering meat and vegetables in a flavorful liquid, while Bolognese sauce is a specific type of sauce made with meat, tomatoes, and aromatic ingredients.
Is bolognese high in cholesterol?
The cholesterol content of Bolognese sauce varies depending on the ingredients used. Using lean meats and moderating Parmesan cheese can help reduce cholesterol.