Strength Meals Co has a range of chilled and frozen meals and soups available at Woolworths that is all about protein. Targeting those who want to fuel their "active life", Strength Meals Co have focused on the macronutrients, in my opinion, at the expense of ingredient quality.
These ready-made meals may help you hit high protein targets and the range is diverse, but the processed ingredients mean these meals are nutritionally a "no" for me. Move on…there are better options out there especially if health is your priority!
Were the Strength Meals Co ready-made meals nutritious?
Ingredients
As the brand name may indicate, the main focus of Strength Meals Co is protein. This is reflected in the ingredients where protein-rich foods such as meat, poultry, beans and dairy feature as key ingredients in the majority of the meals.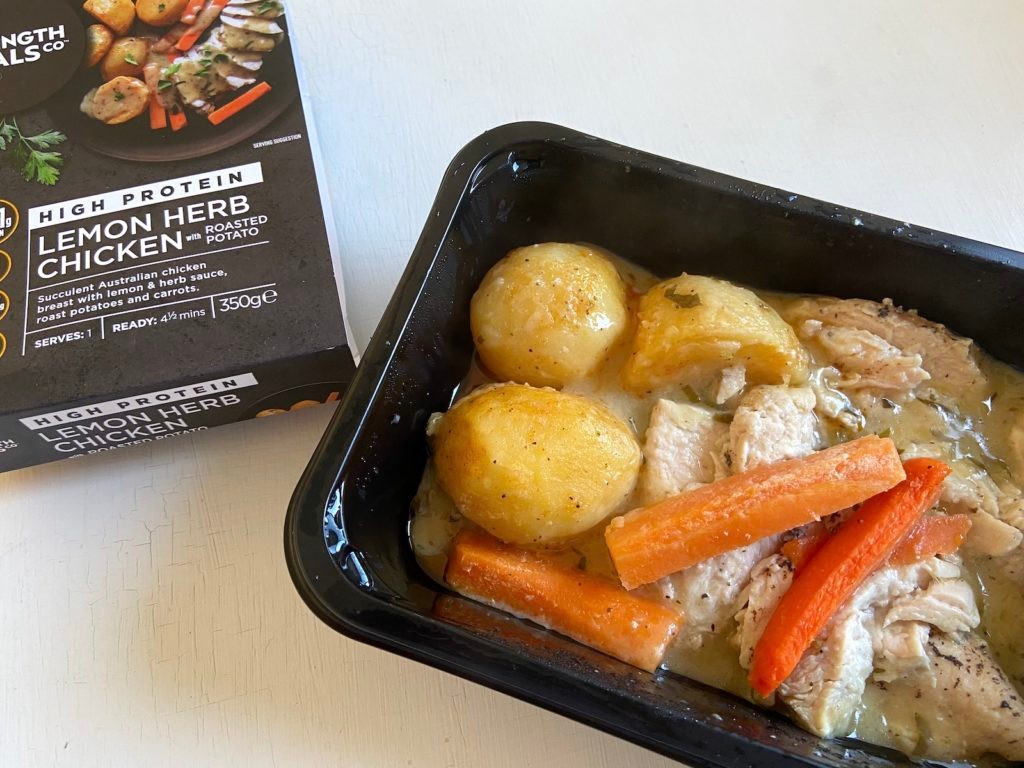 However, in addition to the whole foods, there are a lot of ultra-processed and refined ingredients in the meals such as canola oils, firming agents, thickeners, stabilisers, anticaking agents, yeast extracts, flavoured stock powders etc. This is a bit disappointing and would stop me from purchasing again, even as an emergency meal, especially given other options with superior ingredients are available.
Warning:
What's so bad about refined and ultra-processed ingredients? With refined ingredients, all the fibre, vitamins and minerals are removed from the whole food and you're left with a nutrient-poor ingredient.
Ultra-processed ingredients like firming agents and thickeners are often higher in calories, fat, salt and added sugars. They tend to be devoid of nutrients and can be inflammatory for the body.
Sure, the occasional consumption of these foods isn't going to derail your health goals but incorporating them into your everyday diet could compromise your overall health.
There are no vegan-friendly meals in the Strength Meals Co range and only one vegetarian meal. The majority also contain gluten, wheat and dairy. These meals are likely to be problematic for those who have digestive issues such as irritable bowel syndrome (IBS) or are FODMAP sensitive.
Calories and Macronutrients
The Strength Meals Co meals are 350g portions and the soups 400g. The calorie content of the meals ranges from 426 kcal to 614 kcals which is reasonable given the focus of the protein and the portion sizes. The soups average 242 kcals which could make for a snack or light meal alongside salads, vegetables or complex carbohydrates.
Let's break down the macros in the meals which, Strength Meals Co states, are "macro balanced".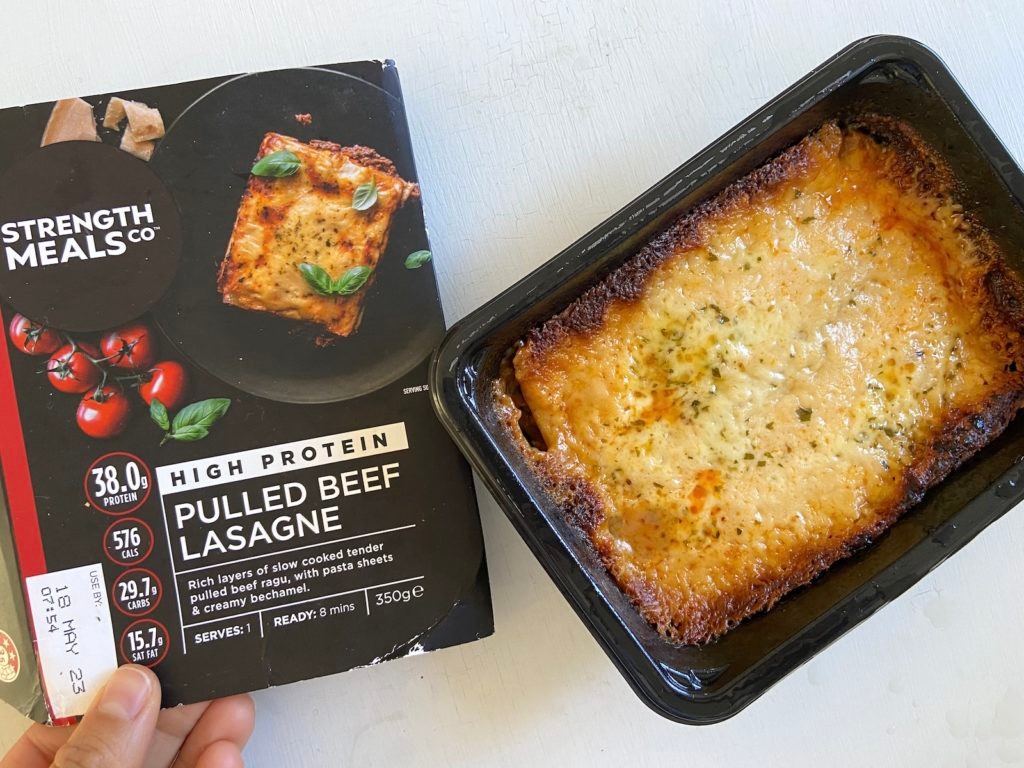 The Strength Meals Co have produced a high protein range containing up to 41.8g of protein per serve (11.9g per 100g). This is a decent amount of protein for a ready-made meal! Containing up to 26g of protein per serve (6.5g per 100g), the soups also pack a punch in the protein department. These are probably some of the highest protein convenient meals I've seen in the supermarket.
The majority of the meals are rich in carbohydrates with some meals, such as the Spinach & Ricotta Tortellini, containing as much as 62.6g of carbs per serve. The carb content comes from a mix of refined and whole food ingredients such as rice, whole grain pasta, semolina and starches as well as vegetables like carrots, potatoes and beans. If you are adhering to a low-carb diet, the Strength Meals Co range isn't for you with even the soups averaging about 23g per serve.
Note:
Carbohydrates aren't the enemy and can be very helpful in supporting an active lifestyle, particularly if you're choosing the right type and portion of carbs. Complex carbohydrates such as sweet potato, potato, lentils, beans, quinoa, buckwheat, brown rice and oats can be a great addition to a balanced diet.
With the inclusion of meat, poultry, oils and dairy, the fat and saturated fat content is expected. The total fat content for the meals is under 10g per 100g for the 350g meals. Compared to other frozen meal brands in the "fitness" and "health" space, these are some of the highest total fat-containing meals on supermarket shelves.
Sugars, fibre and sodium
The sugar content of these meals is similar to most frozen meals on the market. It was nice to see several of the Strength Meals Co meals don't contain added or hidden sugars and aren't overly sweet in flavour – a common problem I find with many ready-made meals. Most meals featured less than 2g of sugar per 100g.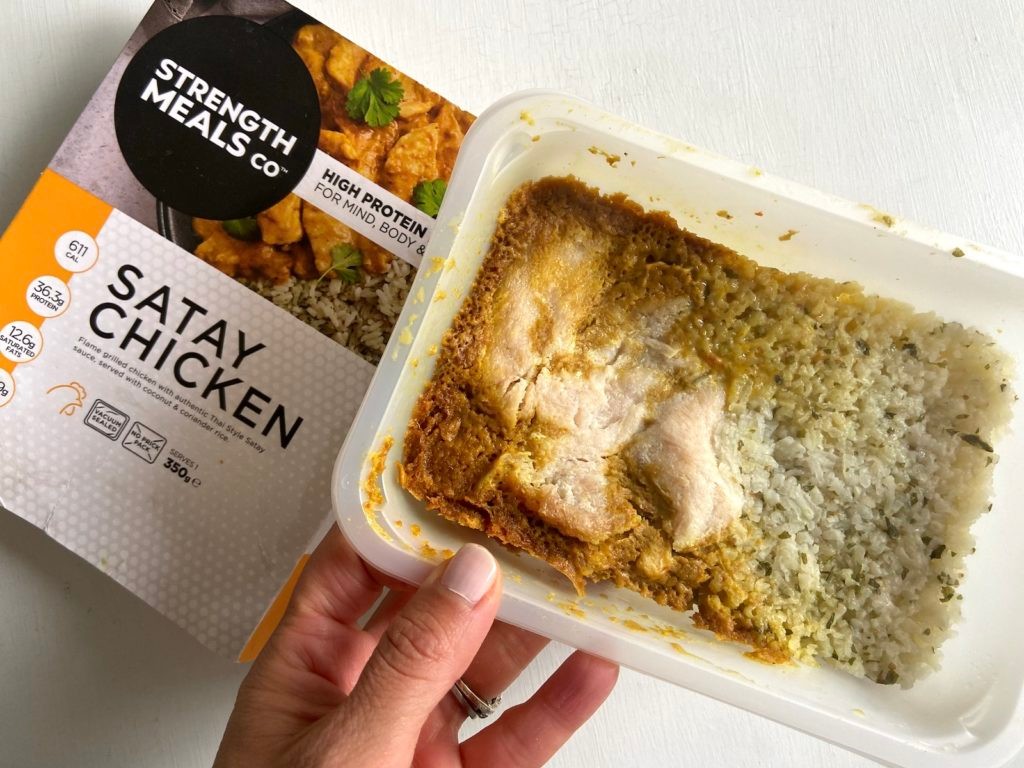 The meals don't boast much dietary fibre which wasn't a surprise as fibre isn't their focus. The lack of fibre is due to the refined ingredients and minimal addition of fibre-rich vegetables – another common sight in pre-made frozen meals. Meals with 10g of dietary fibre per 100g are great, but most of the Strength Meals Co options average less than 2g.
Tip:
Adding a leafy salad, steamed greens, nuts or seeds to most of the meals wouldn't go astray to boosting the dietary fibre content of the meals as well as the micronutrients.
It's good to see the sodium content for most meals is well below the recommended 400mg per 100g with the exception of the Italian Pork Pasta which has a huge 510mg of sodium! Most of the meals have plenty of sodium-containing ingredients like bouillon powders, flavoured stock powered, yeast extract, salt, mineral salts, fish sauce and soy sauce. It's fair to say you don't need to season these meals!
How was the taste of Strength Meals Co ready-made meals?
The Strength Meals Co meals were satisfying to eat. Like most meal providers, some meals were more enjoyable than others. The high protein content meant that the meals were really filling, keeping hunger at bay.
The textures and flavours for both the chilled and frozen meals were pleasant, although I enjoyed the chilled meals more. But there weren't any standouts and they didn't taste any better than other convenient meals.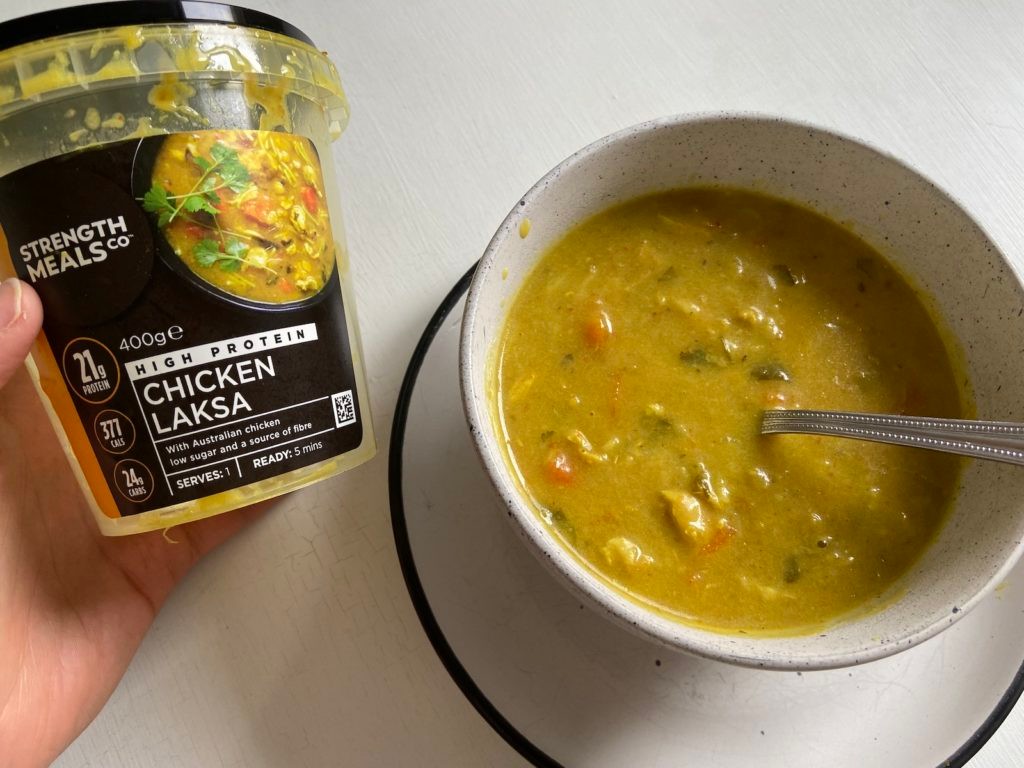 Some meals like the Chicken Laska or Pulled Pork Lasagna were quite rich in flavour, which can get a bit too much if you're eating them on repeat. You could benefit from adding fresh herbs or a salad to freshen up the meals as well as enhance the nutrient profile.
Were the Strength Meals Co ready-made meals convenient?
The Strength Meals Co chilled and frozen range is only available in Woolworths. Depending on your store, you may only have a limited selection of meals. My nearest Woolworths didn't have that much variety but another I visited had a wide range, so you might need to shop around. Ordering online may prove more successful.
These meals are quick to prepare and can be heated in the microwave or oven. I only tried the microwave, so can't vouch for the experience when heated in the oven.
Ranging between $5.00 for a soup and $9.00 for a meal, these are affordable ready-made meals, but I'm sure you could make most of these meals for less and improve their nutrient profile.
There are meals in this "fitness" space prioritising protein and macronutrient balance that are made with better quality ingredients than featured in the Strength Meals Co range.
Fitness Outcomes
, for example, has a similar nutrient focus and target consumer but less and better quality ingredients at the same price. If you're looking for a convenient meal provider that is going to support your health and fitness goals, is this the right one for you?