Plantitude is a brand Woolworths featuring frozen and shelf-stable meals of "plant-based deliciousness" along with baked goods, ice cream and crumbed meat-free foods.
As a meat-eater and lover of plant foods, I was curious to see how Plantitude meals stack up nutritionally and taste. Let's say there were mixed thoughts on the range and it wouldn't be my go-to if you're looking for a vegan-friendly, nutritious meal to fuel your day.
Were the Woolworths Plantitude meals nutritious?
Firstly, I want to preference by saying I could only try three of the meals in the Plantitude range due to availability. It's also very challenging to find the ingredients and nutrition information for a lot of the Plantitude meals on the Woolworths website, which for me indicates they're not promoting the nutritional quality of the range.
It's also worth mentioning, that unlike a lot of prepackaged meals, Woolworths aren't using marketing terms like "healthy", "nutritious", "wholesome", or "high protein" on the packaging. They do state "plants are good for you" but emphasise that these as delicious, flavoursome meals that vegan and animal-product eaters will enjoy.
The fact Woolworths aren't raving about the nutritional quality of the meals, I wasn't surprised when I looked at the labelling.
Ingredients
The ingredients of the frozen Plantitude meals vs the shelf-stable meals are quite different. The frozen meals had a much greater list of ingredients and quite a few additives. The shelf-stable meals, on the other hand, had fewer ingredients and one or two additions such as a thickener or firming agent.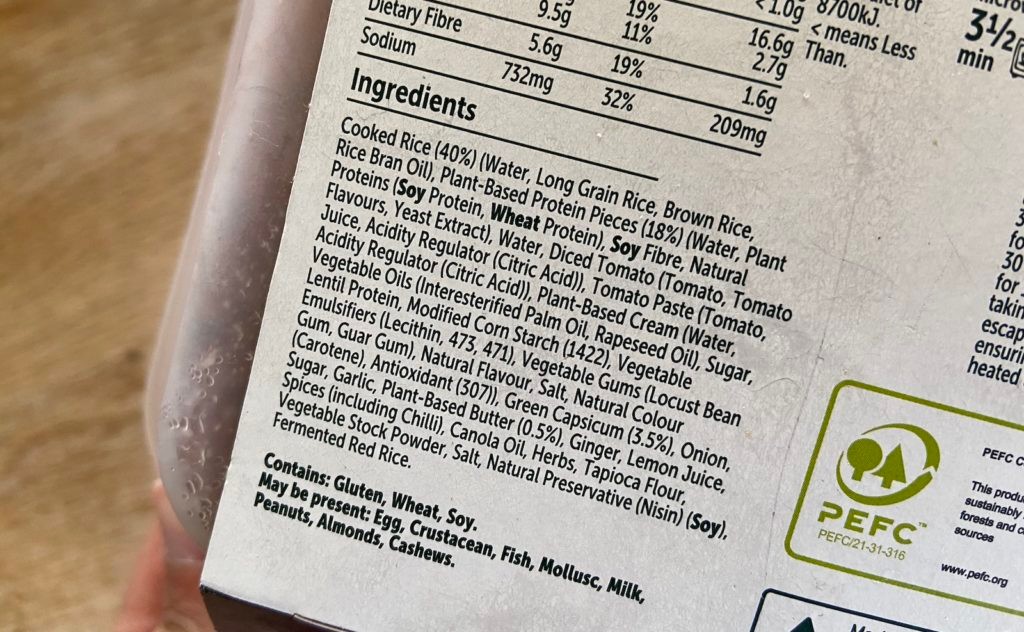 Processed ingredients such as Interesterified Palm Oil, Sugar, Modified Corn Starch, Sunflower Lecithin, 473, 471, Modified Starch (1404, 1450), Locust Bean Gum, Natural Colour, Yeast Extract fill the label of the frozen meals. These are just some of the processed ingredients in the Moreish Mushroom & Lentil Lasagne.
It's not hard to see why some of the Plantitude meals contain only 1 serving of vegetables – very minimal for a plant-based meal one would think.
While the shelf-stable Plantitude meals such as the Mexican-inspired Burrito Bowl have less processed inclusions and ingredients overall, they're not the most nutritious of options.
This is my big gripe with the plant-based movement and commercialisation. Consuming a plant-based diet can be very healthy for you and whether you like to eat animal products or not, most people can benefit from including more plant foods. But I'm talking real, whole foods. Not factory-made Frankstein products that contain little to no nutritional value. The load processed ingredients have on the body will outweigh any nutritional benefit you gain from consuming the minimal whole foods in these meals.
Calories, Macronutrients and Micronutrients
The calorie content of the Plantitude range isn't too high at around 350 cals per 350g meal. Some meals, like the Butter Chicken Tofu, are higher at 517 calories largely due to the addition of coconut and nuts.
The Plantitude range of meals are carbohydrate-based with carbs being the dominant macronutrient ranging from 12.9g – 22.7g per 100g. This is not unusual for a plant-based meal. The carbs are mainly coming from the addition of grains such as jasmine rice, wheat pasta or quinoa.
Some of the meals, like the Jack'd Jackfruit Burrito Bowl, state they are high in protein. At just 3.1g per 100g (10.9 per serve), I would argue isn't a decent serving of protein (even though it ticks the food label standard boxes). The highest Plantitude meal in protein I've seen is the Butter Chicken Tofu at 4.8g per 1000g (16.6g per serve) which is better.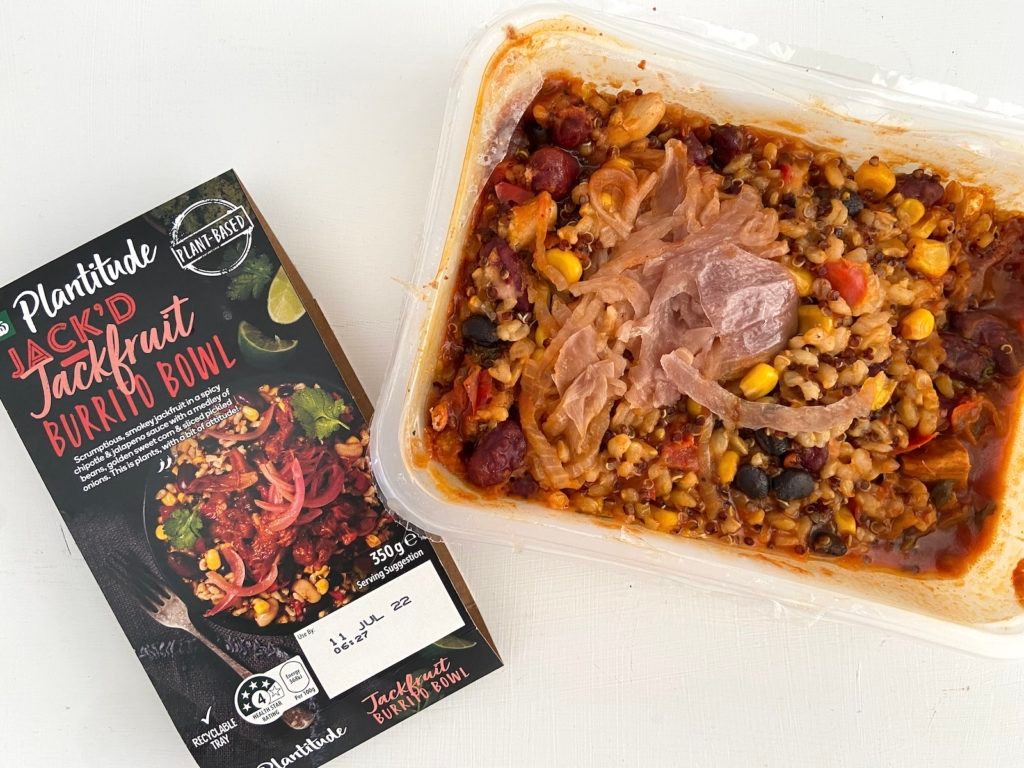 Most of these meals don't contain enough protein-rich ingredients. Jackfruit, while it can mimic the texture of meat, only contains about 2.84g of protein per 100g. The meals that contain lentils and beans, aren't of a high quantity to really make an impact so you'll want to be aware of your protein intake for the rest of the day.
The Plantitude convenience meals are all less than 13.7g of fat. Unfortunately, the main fat sources in these meals are unhealthy, cheap fats such as canola oil, sunflower oil, rapeseed and palm oil. Manufacturers opt for these because they are inexpensive and have long lifespans.
Dietary fats should be part of a balanced, nutritious diet and are necessary for energy production, absorption of fat-soluble vitamins, and reduction of inflammation – just to name a few functions. Ideally, we'd be seeing more whole food, vegetarian/vegan fats such as nuts, seeds, avocado and coconut in these meals.
Like protein, some of the meals claim to be high in fibre by just meeting the standards (3g per 100g), however, they really aren't that high considering these are plant-based meals. I recommend my clients look for meals with as close to 10g of fibre per 100g or more so when you see some of the Plantitude meals containing less than 1g, you can see why I would find this disappointing.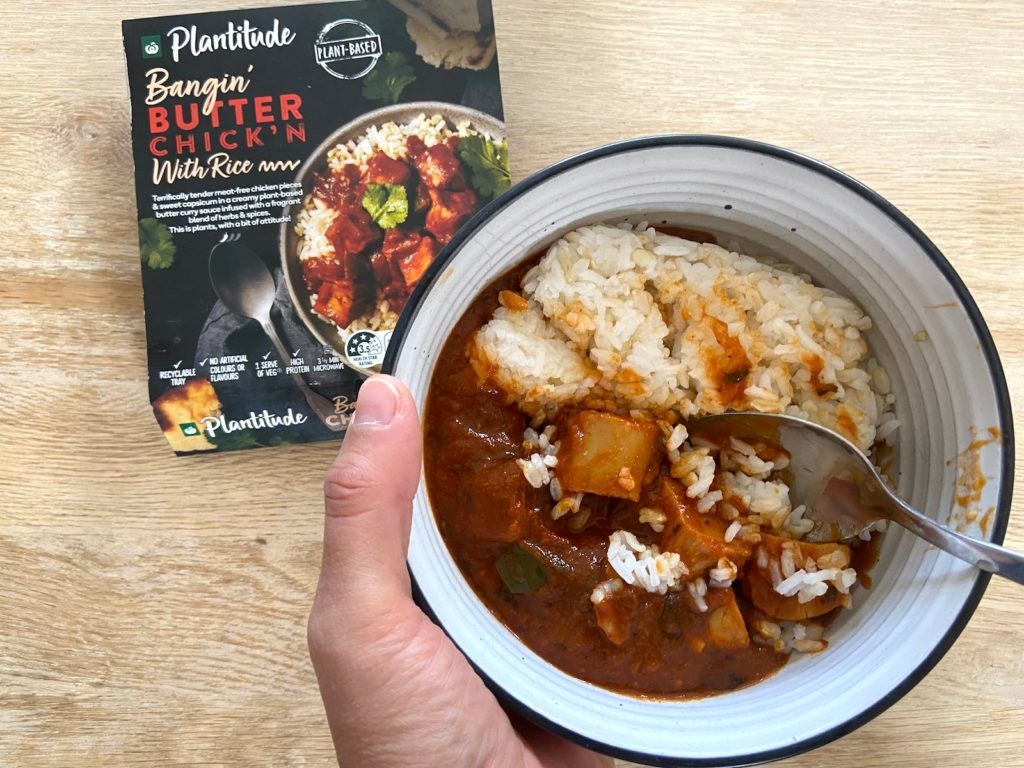 Two other nutritional factors to pay attention to with all packaged foods are sugar and sodium.
Some of these meals contain higher amounts of sugar than others (The Mexican-Inspired Burrito Bowl contains 10g per serve), but most are between 5-8g which is equivalent to about 1-2 tsp.
The meals range in sodium between 144mg – 250mg per 100g. What's considered a good amount of sodium is anything less than 400g but better is less than 120mg. The amount in Plantitude meals is pretty similar to most convenient meal brands and comes from ingredients such as salt, yeast extract and stock powder. If ready-made meals are a mainstay of your diet, paying attention to the total amount of sodium you're eating daily is very important.
How was the taste of Woolworths Plantitude meals?
I didn't love the flavours and textures of the Woolworths Plantitude meals and that's not because of missing animal products. The Mexican-Inspired Bowl and the Bangin' Butter Chicken were sickly sweet and rich to the extent I struggled to eat the entire meal.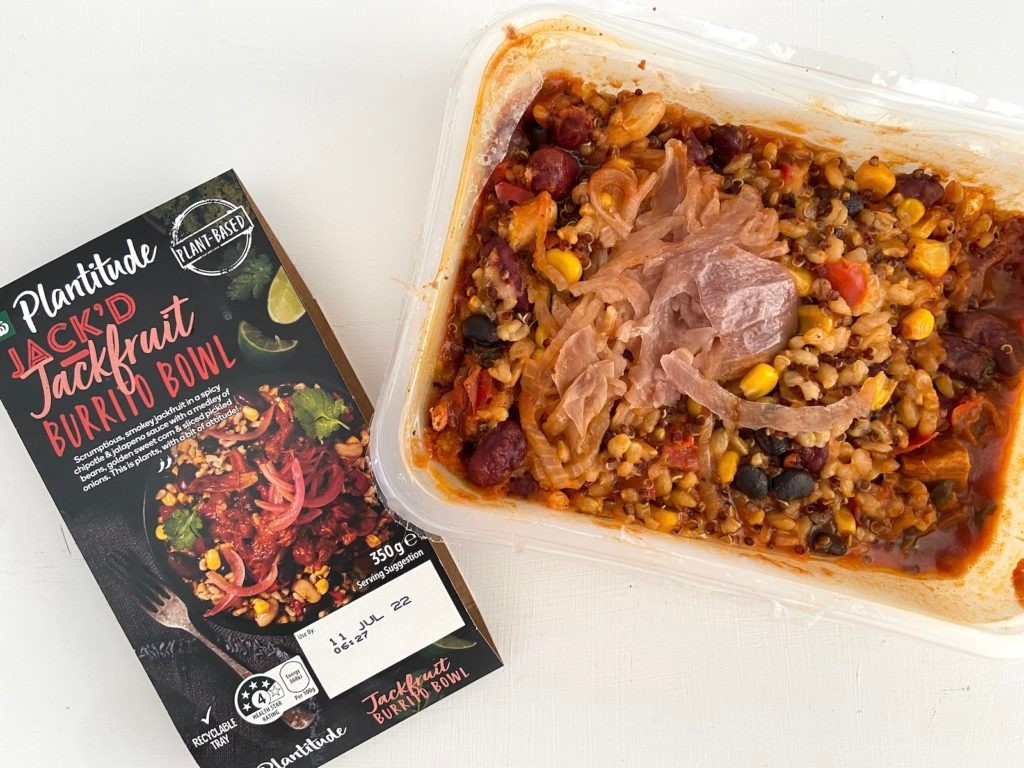 The Moreish Mushroom Lentil Lasagne was watery and the texture gluggy. The Bangin' Butter Chicken's rice was very sticky and gelatinous. After reading many reviews on other products like the Vegan Mac & Cheeze and the Pad Thai Tofu With Noodles, it seems I wasn't alone in finding the textures off-putting.
I think Woolworths may have a hard time trying to win over meat-lovers with these Plantitude meals and they certainly aren't showing off how delicious and diverse vegan food can be!
Were the Woolworths Plantitude meals convenient?
Being only available in Woolworths makes the Plantitude range not readily accessible to everyone. I also found searching for the range in store difficult as the meals are placed in various, sometimes unsuspecting, areas.
You can, however, shop the entire Plantitude range online.
Ranging from $5.00 – $7.00, these are affordable options. You can often find these also on special.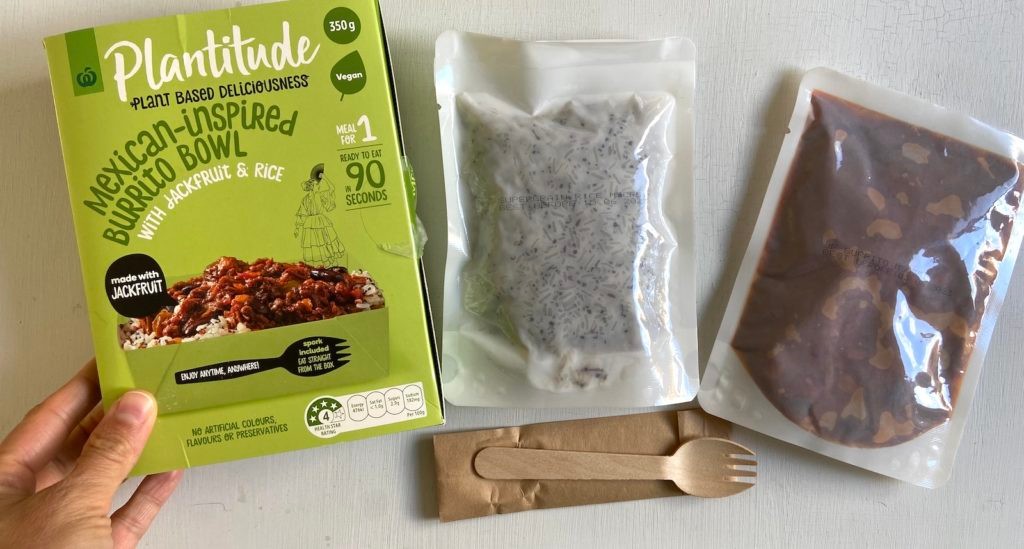 As for preparing and heating, the Plantitude range features typical ready-made meals that can be heated in the microwave or oven. One thing I did like was some of the shelf-stable meals can be served in the box once heated and comes with a fork making it truly convenient if you're on the run.
Eat. Real. Food!
Woolworths have jumped on the trend of plant-based foods and who can blame them as it is a big market. But like many convenience foods, the Plantitude range is a processed meal that offers little nutritional benefit.
If you're looking for the occasional emergency plant-based meal, you could try these but I would recommend sticking with the shelf-stable as these contain fewer processed ingredients. But for me, the Plantitude range would be one of the last options I would choose if I was looking for a statisfying meal to fuel my day.