Lean Cuisine® Protein Plus Range consists of "calorie-controlled meals made with veggies, grains and high-quality protein". Lean Cuisine® has gone to considerable lengths to market its frozen meal range as a healthy option but for me, the Protein Plus meals are just another processed food filling the supermarket shelves.
Will the Lean Cuisine® Protein Plus meals help you lose weight? Possibly depending on the rest of your diet and lifestyle. They are calorie-controlled and do contain a good amount of protein for the meal size, but the poor quality ingredients aren't going to optimise your health.
A clever marketing strategy
Lean Cuisine® engaged Dietitian and Nutritionist, Susie Burrell to develop the range alongside chefs and food scientists. They've chosen natural-looking branding and colours and acknowledged the (somewhat controversial) healthy eating pyramid on their packaging. And they have highlighted the key points they know the public associates with a healthy choice – good source of fibre, low in sugar, preservative-free and of course, the Health Star Rating (another controversial marketing scheme).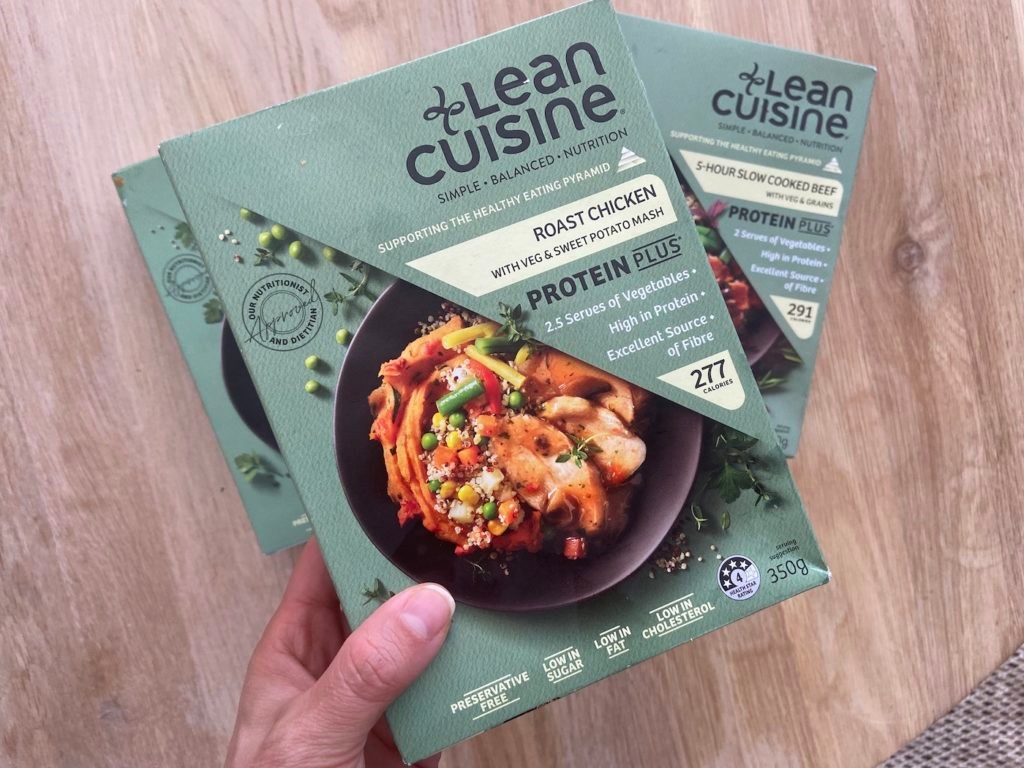 Personally, I think the packaging looks great and is very appealing if you're looking for a healthy meal. The box and container are also recyclable which is a tick. But, before we dive into the ingredients and macronutrient balance, I just want to point out a few of their clever marketing tactics to make you think these are nutritionally great for you:
Excellent Source Of Fibre – they're not that high in fibre per 100g.
Preservative-free – great, but look at all the refined and artificial ingredients on the list.
Low in cholesterol – cholesterol consumed through food is minimal and doesn't affect our blood cholesterol levels so this isn't that relevant (something Lean Cuisine® even mentions in their website's FAQs).
But hopefully, like me, you can see through the marketing tactics and know to unpack the ingredients and nutrition profile to find out whether these meals are a healthy option. As a nutritionist who prioritises real food, I'd be putting the Lean Cuisine® Protein Plus Range back in the freezer and opting for a balanced diet of real, whole foods. If at a pinch, these might be an emergency option.
Were the Lean Cuisine® Protein Plus Range meals nutritious?
The Lean Cuisine® frozen meal range is designed based on, in my opinion, a dated healthy eating pyramid. While positive changes have been made to the pyramid in recent times, it still doesn't prioritise protein over grains and fruit and it significantly limits essential fats. 60-80g of protein per day is also not enough for the average adult.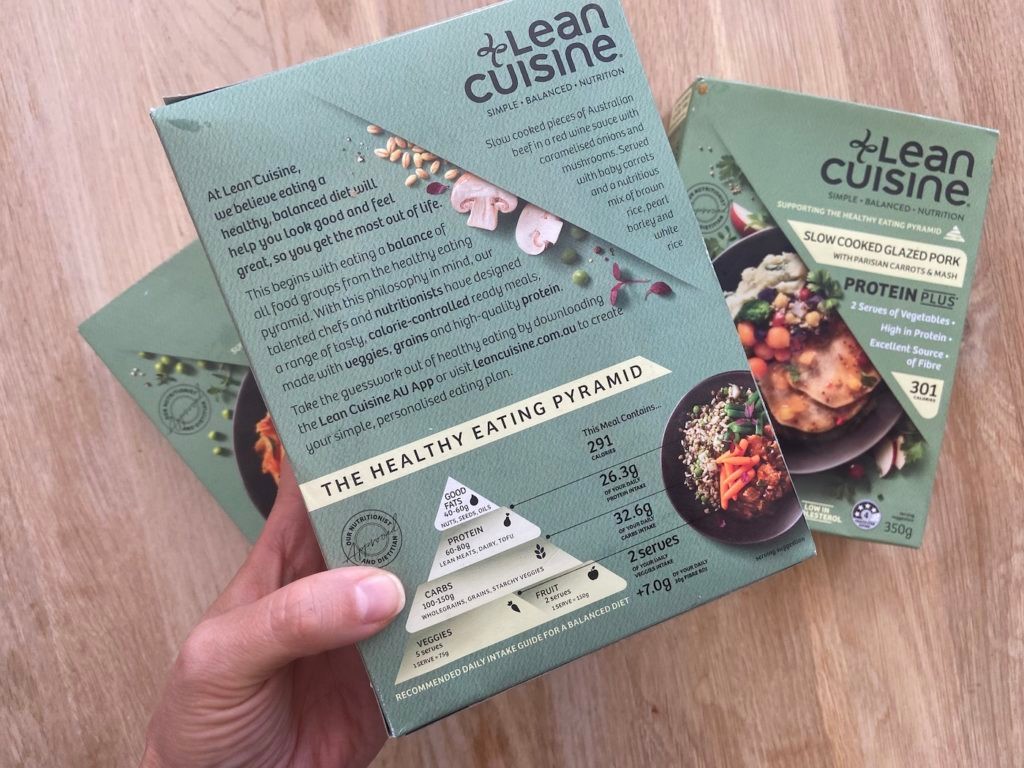 But let's look at the meals themselves.
The Lean Cuisine® Protein Plus meals are part of a range that's made with "high-quality protein" according to the brand that will enable you to "hit your daily protein requirements." Compared to the standard 280g Lean Cuisine® meals, this range has about 2g per 100g more protein and are bigger portions.
Ingredients
The ingredients list doesn't scream "simple, balanced nutrition" to me. But let's look at it in more detail.
As a protein-focused meal range, I would expect the main protein source to feature in the first few ingredients. Non the less, there is a good variety of meat-based protein sources (I reviewed three meals – chicken, beef and pork). The protein content was really good based on the number of calories per serve.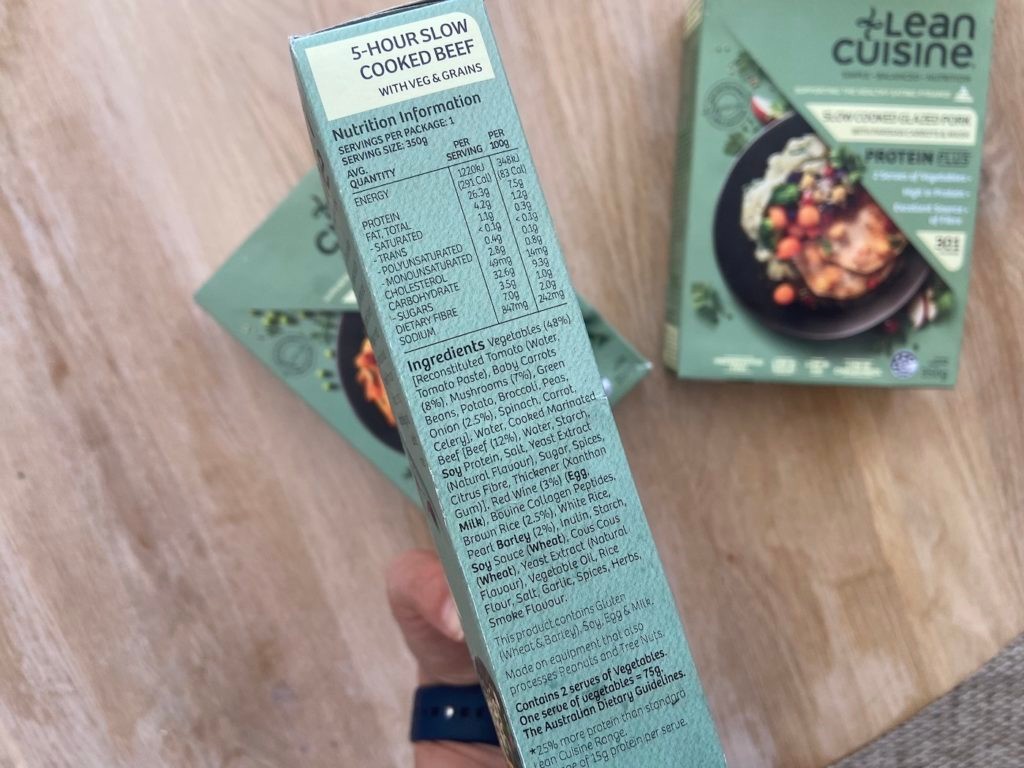 There is one vegan meal in the Lean Cuisine® Protein Plus range with the protein largely coming from soy protein isolate and concentrate. There are some additions of whole food protein sources such as green lentils and chickpeas. It would be good to see this expanded and include whole food plant-based protein sources like organic tofu rather than isolates.
I was pleasantly surprised by the variety of vegetables that are included in the meals. It wasn't just the peas, carrots and corn mix you commonly see in frozen meals. Cabbage, kohlrabi and parsnip feature in the meals adding variety in taste, texture and nutrient intake.
There has been an obvious effort to also include more whole grains in the Lean Cuisine® Protein Plus range with the addition of ingredients like quinoa and brown rice. This is a positive upgrade from the old-school Lean Cuisine® meals that feature white rice and wheat pasta.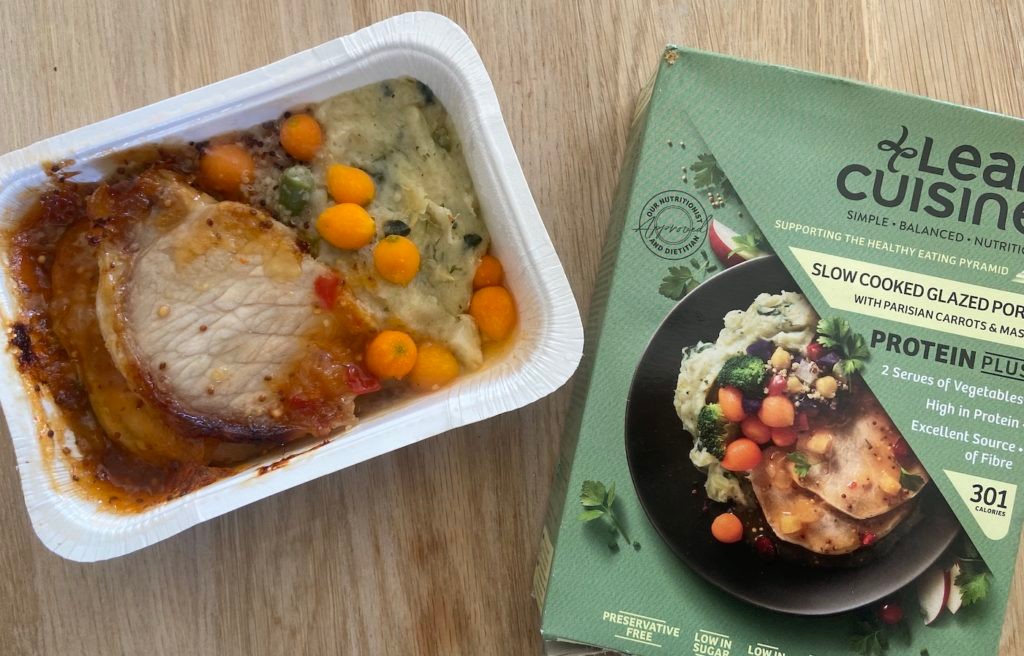 But these Lean Cuisine® meals contain a lot of processed ingredients including thickeners, natural flavours, stabilisers, yeast extract, vegetable oil, maltodextrin, dextrose, acidity regulators, vegetable gums, sugar…I do question whether these meals contain MSG too.
Due to the addition of such nutrient-poor ingredients, I would consider the Lean Cuisine® meals as an emergency meal option, but not an everyday choice.
Calories and Macronutrients
Lean Cuisine® is a weight loss-focused brand. These meals are calorie-controlled averaging around 300 calories per 350g.
The Lean Cuisine® Protein Plus meals contain at least 25g of protein per serve which is a good amount for the serving size and will help you reach your daily protein targets.
The carbohydrate content of these meals is middle of the road when compared to other frozen meals at an average of 31g per serve. I did note, on their website Lean Cuisine® suggests if you need to increase the portion of these meals add whole grains such as brown rice.
This would drastically increase the carbohydrate content and may throw out your macro balance. I would recommend you add more non-starchy vegetables, protein and healthy fats to increase before adding a complex carbohydrate. If you're watching your calorie intake, load it up with your leafy greens!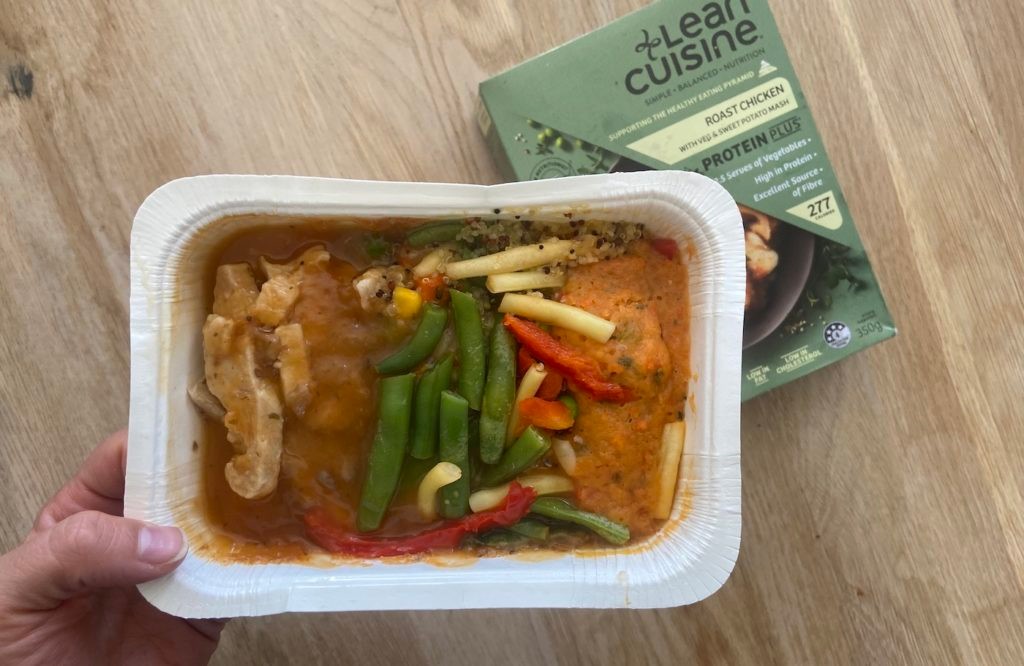 The fat content is low (one of the aspects Lean Cuisine® market), but I would love to see more quality fat ingredients such as nuts, seeds, avocado and fatty fish being used. As these meals are protein-focused, it's clear Lean Cuisine® have capped the fat to keep the calorie content low in favour of protein.
Healthy fats not only offer many nutritional benefits, but they also improve the taste of the food without the need for sugars and artificial flavourings. They are also what keep us feeling full which is important if you are trying to lose weight.
Lean Cuisine® promote these are "an excellent source of fibre". Averaging around 2.1g of fibre per 100g, I would argue it is not that much. I encourage people to opt for packaged meals with 8-10g per 100g for optimal fibre intake. Remember, if you're wanting to lose or maintain weight, fibre is very important!
Food products with 120mg of sodium per 100g are considered the best for keeping a lid on your sodium intake. While the advice is that adults should aim to consume no more than 2,000mg of sodium per day to avoid chronic disease, we only need 460 – 920mg per day to stay healthy and function! At an average of 800mg of sodium per 350g and you're eating enough for the day in just one meal.
Side note – my active husband ate two of these meals in one sitting, so that's 1600mg of sodium just at lunch.
How was the taste of Lean Cuisine® Protein Plus meals?
While it isn't an expansive range of Lean Cuisine® Protein Plus options, each of the three meals I tried did taste very different which was great for variety and interest.
Some, like the Roast Chicken with veg and sweet potato mash, were simple in flavours. However, the 5-hour slow-cooked beef was very sickly sweet and the aftertaste was quite artificial.
I did think the vegetables and meat held up well in regards to the texture which is a bonus.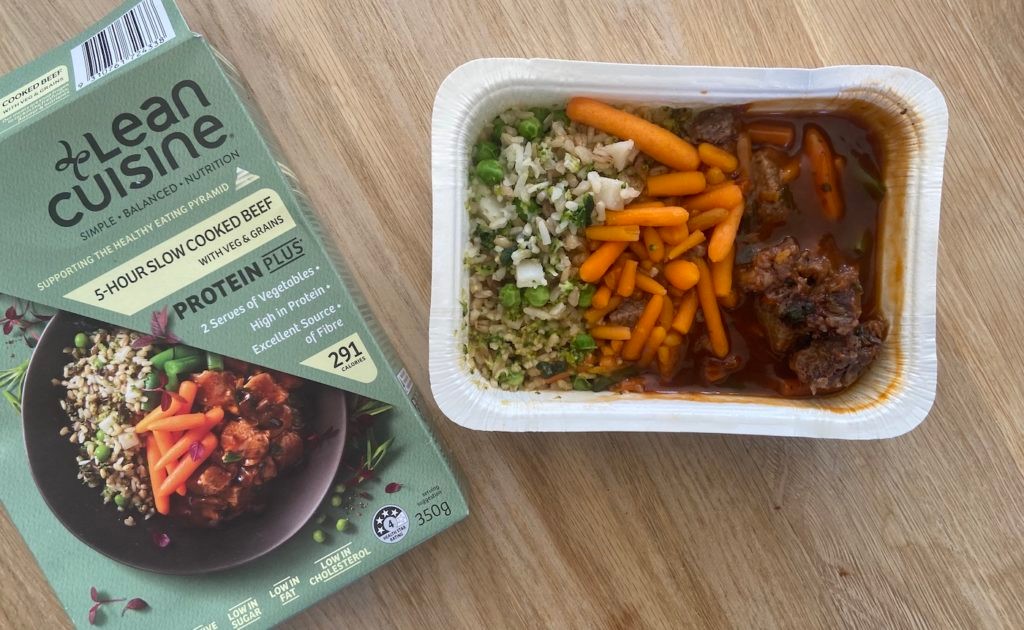 You can make the best judgement on their taste, but for me, these types of processed meals just don't digest well and I end up regretting eating them!
Were the Lean Cuisine® Protein Plus meals convenient?
The Lean Cuisine® Protein Plus meals are available at Coles, Woolworths, IGA stores and some local retailers. I've noticed you can only find generally 3 or 4 different meals, so something to consider if you're looking for variety.
At $7.50 per meal (often on special for less) these are pretty affordable meals. But this price reflects the quality of ingredients and I'd prefer to pay more for less processed and refined meals. Having said that, if you need to eat two (like my husband) at $15.00, I'm not sure they are that great value.
If you're looking for calorie-controlled meals, the Lean Cuisine® Protein Plus range contains enough calories and protein to qualify as a meal that may keep you going to your next feed.
But for me, the refined ingredient, lack of healthy fats and the high sodium content are enough for me to avoid them. The extent Lean Cuisine® has gone to promote the "health" of their frozen meal range doesn't hide the fact that they are a processed food. You've just got to weigh up what's more important to you: convenient, calorie-controlled meals or quality whole food ingredients.