HerbiDoor is a plant-based meal delivery service that promises to make vegan living easy. As a nutritionist who enjoys eating meat, I may be harder to impress than vegan enthusiasts, but HerbiDoor received a tick for its ingredients. It was their meals that attempted to mimic meat that didn't win me over.
Were the HerbiDoor meals nutritious?
One of the things you'll find about affordable plant-based convenient meals is their use of processed ingredients, in particular, vegan-friendly proteins like soy, refined oils or wheat fibre. For what should be a simple meal, often vegan microwavable meals feature a hefty ingredients list that makes you question whether this lifestyle is really healthy. Hate to break it to you, it's not if those meals are the mainstay of your diet.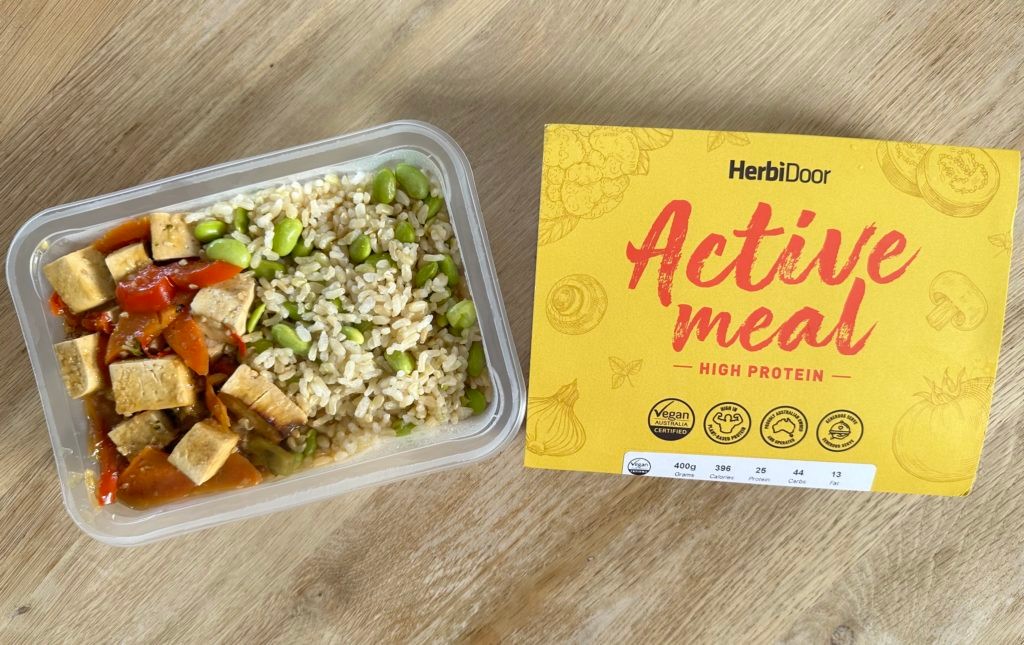 To my surprise, HerbiDoor delivered nutritious meal options that surpassed my expectations for competitively priced plant-based meals.
Ingredients
It was incredibly refreshing to see the majority of meals HerbiDoor offer contain only a short list of familiar ingredients. I respect that they are utilising Australian organic or spray-free ingredients and featuring a lot of whole foods. No numbers or Frankenstein food products in sight in the bulk of the meals!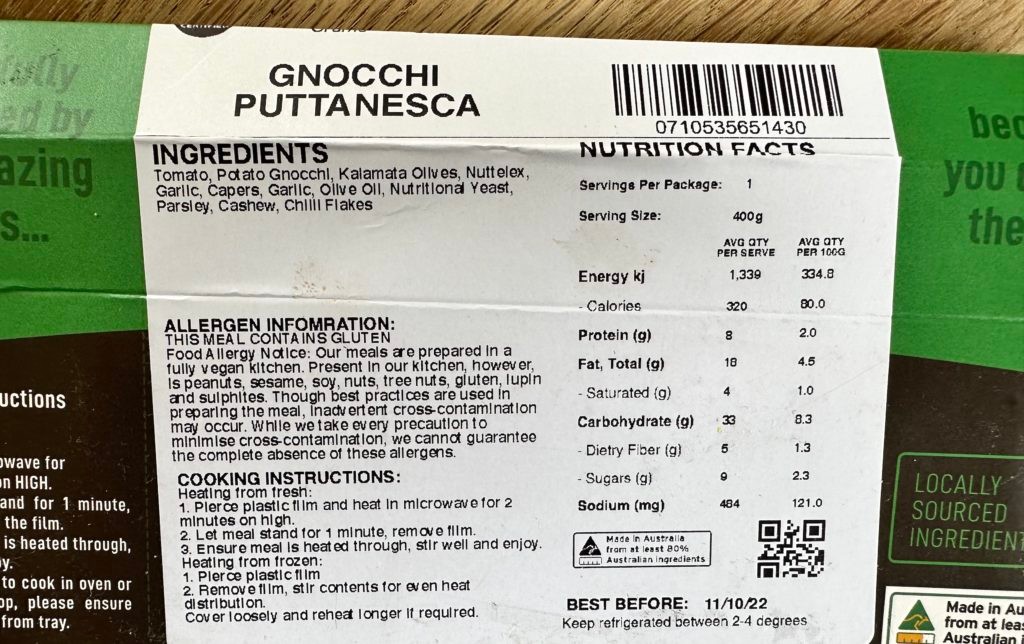 A few meals sneak in Nuttelex, Vegan Mayonaise (which I'm not sure the ingredients of) and wheat gluten but the vast majority of ingredients are non-processed whole foods.
I also found some meals didn't list the ingredients on the website, like the Feijoada, or they didn't break down the ingredients in items such as the Vegan BaKon or potato gnocchi. I made an effort to bypass some of these meals.
Calories and Macronutrients
The HerbiDoor meals vary in size from 300-450g depending on the type selected. Regardless of the meal weight, all the dishes I tried were very filling.
The current menu features dishes with calories starting at approximately 243 cals for a 300g meal to 725 cals for 400g.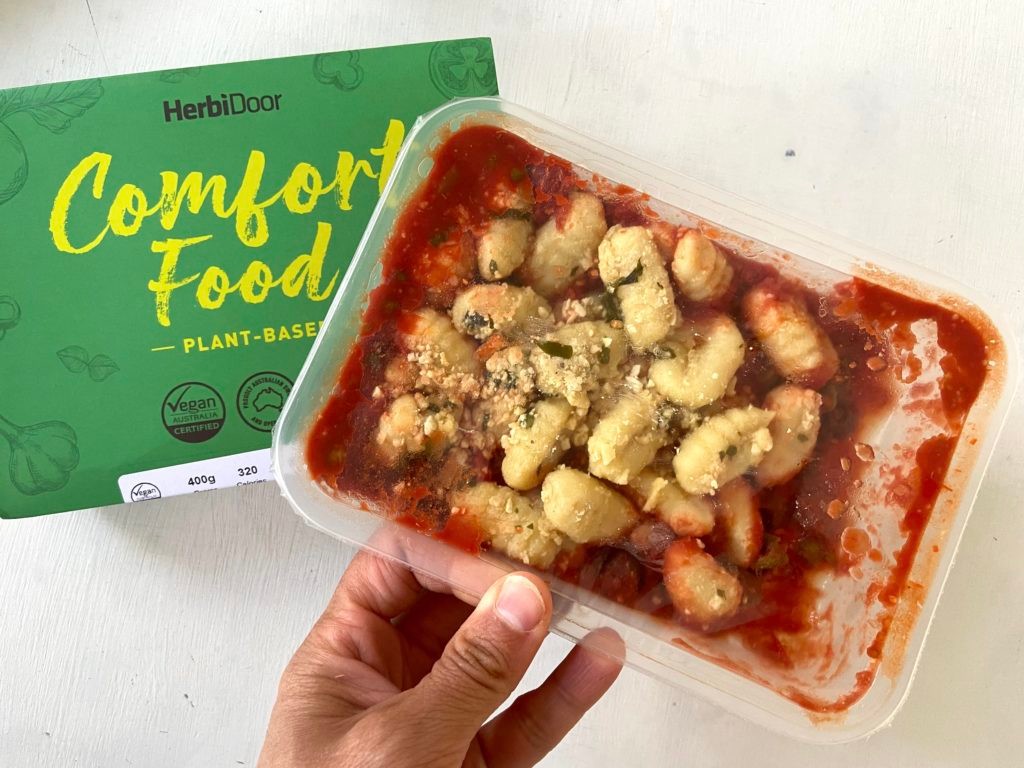 Like most vegan or vegetarian meals, carbohydrates make up a large portion of HerbiDoor's macros. So if you're attempting a low-carb diet, your options are limited with this convenient meal provider.
Protein is usually a sticking point for some convenient meal providers as many struggle to achieve high protein without the addition of soy protein powders or other processed ingredients. HerbiDoor does have meal options for those with higher protein needs with some containing 46g of protein per serve. Some of these do include a texture soy-based vegetable protein and products like Vegan BaKon (vegan bacon made out of pea or soya protein). If you're trying to stay away from refined soya protein, you just need to scan the HerbiDoor menu a little more thoroughly.
Animal product free, the fat component of the HerbiDoor appears to be most from plant oils, seeds and coconut products.
The ideal macronutrient profile for you will really depend on your lifestyle and nutritional needs. It's good to know, however, there are a variety of meals in the HerbiDoor range that could suit you.
How was the taste of Herbidoor meals?
Most of the HerbiDoor meals I road-tested were delicious. The flavours were well-balanced and the textures were enjoyable to eat.
The meals that are vegan versions of meat-based classics were a letdown for me. While it may be part of their Signature Series, I didn't go much on the Sunday Roast and Mini Yorkies. The look of the roast alone put me off and the vegetables were soft and bland, lacking the mouthwatering flavour and texture of homemade roast vegetables.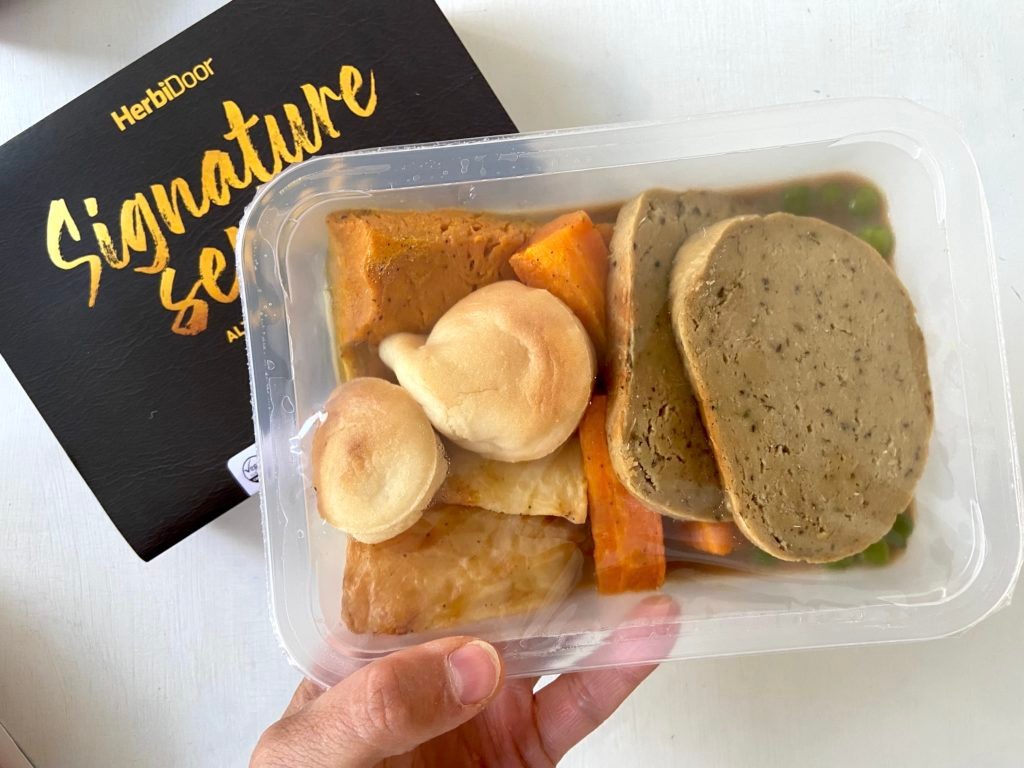 My advice is to choose meals that allow vegetables to hero the dish. The Pumpkin Korma, Thai Green Curry and Dhal are all means that celebrate the ingredients rather than recreate a vegan-friendly meat replacement. For me, the look of the clean meatloaf is off-putting and doesn't do anything to entice me to eat it no matter the quality, ingredients or nutritional profile.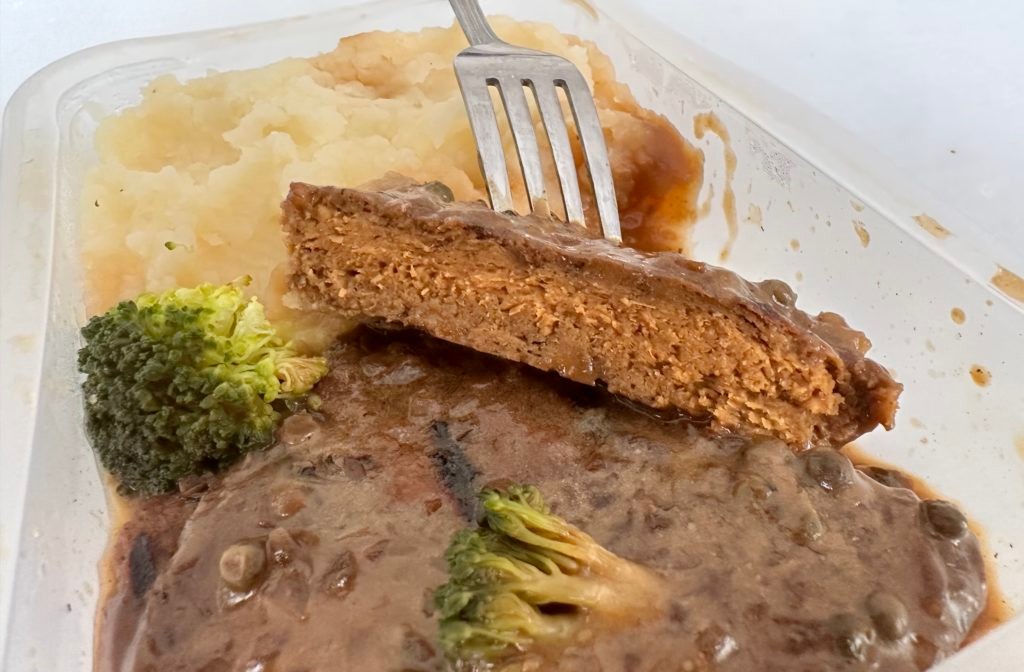 While not the most healthy option, if you're looking for a sweet treat, the Funky Fudge Brownie was incredibly delicious! Just remember, that is four servings, not two!
Were the HerbiDoor meals convenient?
HerbiDoor is a subscription service that delivers plant-based meals Australia-wide making it a convenient option. There is also a wide range of meals to choose from, although I am unsure of how regularly they update their menu offering.
The HerbiDoor meals are delivered fresh and designed to be reheated in the microwave for just a few minutes. You can freeze the meals for 4 weeks – 6 months (depending on your freezer), however, keep in mind the consistency of the meals will be affected.
In my opinion, there aren't that many convenient meal providers that do plant-based meals well. HerbiDoor is a good option that's competitively priced and uses predominantly wholefood ingredients. Did they wow me? No, not really.
As I consume a plant and animal based diet, I may have more choice than someone who is strictly vegan or vegetarian. So, I'll keep HerbiDoor in my back pocket for an emergency go-to, but I won't be placing a regular order.