Coco & Lucas' Kitchen Fam Fav Range features seven popular ready-made meals like lasagna and spag bol that are, on the whole, flavoursome and enjoyable to eat. To my surprise, especially after reviewing their Earth range, there were a few positives with the ingredients. However, these meals aren't going to help you kick any major nutrition goals.
Were the Coco & Lucas Fam Fav meals nutritious?
Ingredients
Firstly, it was nice to see the Coco & Lucas' Kitchen Fam Fav meals had a relatively short list of ingredients for a ready-made meal. The Swedish Meatballs is the one exception that features about double the ingredients of the rest in the range. The Fam Fav frozen meals also contain predominately whole food ingredients and some of the meals contain 90% Australian ingredients, which is excellent.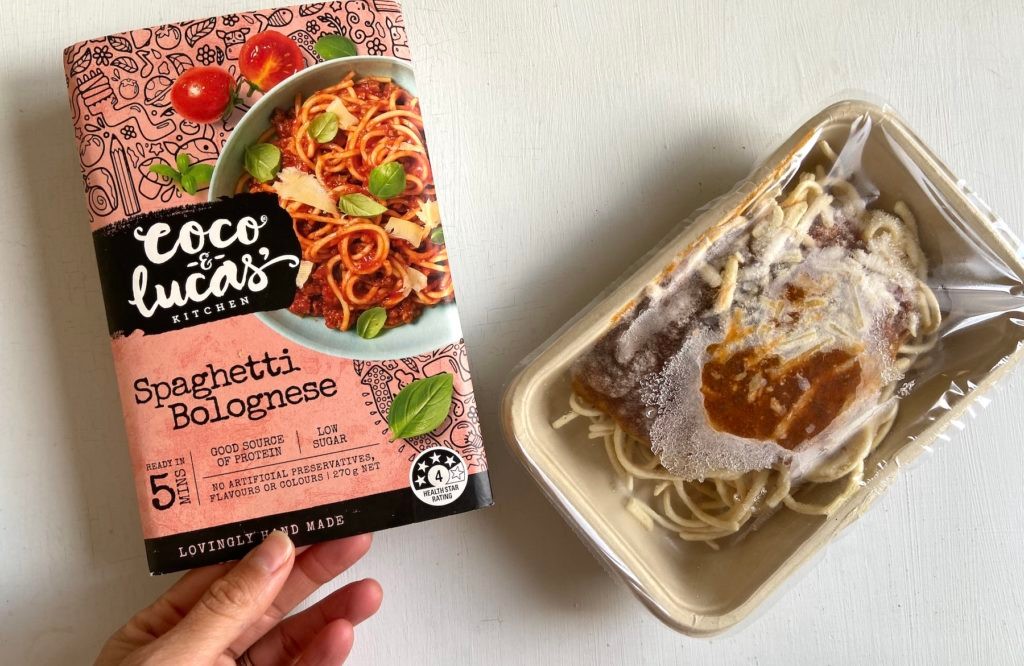 The Coco & Lucas' Kitchen Fam Fav meals aren't packed with vegetables and could benefit from a salad or some leafy green veg as a side.
Some of the Fam Fav meals feature canola oil, sugar, natural colouring, maltodextrin and yeast extract, which I wouldn't recommend eating regularly. The Swedish Meatballs and Butter Chicken are the two meals I wouldn't reach for based on the ingredients.
If these are an emergency dinner, they may be better than a fast food takeaway meal.
The Coco & Lucas' Kitchen Fam Fav meals are all meat-based. If you're looking for a plant-based meal, the Earth range has options for you. Check out the review here.
Calories
The Coco & Lucas' Kitchen Fam Fav meals are 270g, consisting of 275 -464 calories per serve. Their portions are smaller than most meal providers, which generally are about 350-380g. The calorie content per 100g is also a bit higher than many providers I have reviewed, even those that aren't marketed towards weight loss.
Protein
The protein content is okay, ranging between 5.8 – 9.1g per 100g. It's good to see the Fam Fav meals feature whole-food meat, and there is no inclusion of artificial ingredients to boost the protein content (excluding the Swedish Meatballs, which includes textured wheat protein. I would suggest this is to improve the consistency of the meatball, not increase the protein).
Carbohydrates
These meals, however, are higher in carbohydrates with ingredients such as wheat flour, corn starch, potato starch, rice and rice flour featuring in their meals. The carbohydrate content of the Fam Fav meals averages 34g per serve, with the highest meal being the chicken fried rice – no surprise.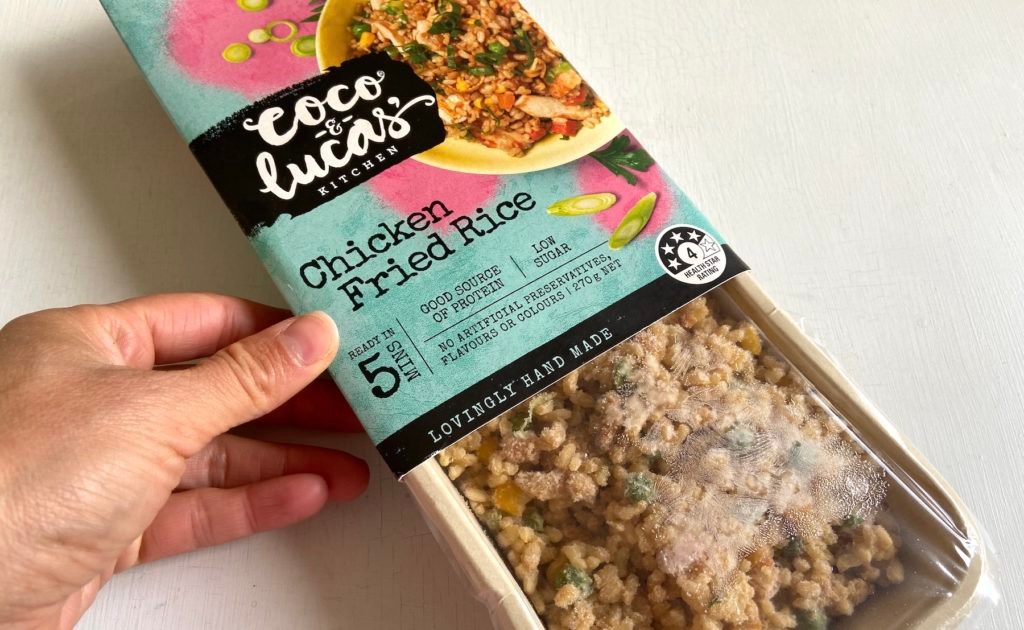 Fat
The fat content mainly comes from the protein source and the addition of dairy, which all meals, excluding the fried rice, contain milk, butter or cheese. The meals ranged between 4.6 – 9g of fat per 100g (0.8-5.7g of saturated fat). On average, this is slightly higher than many other everyday pre-made meals.
Micronutrients
The Coco & Lucas' Kitchen Fam Fav Range aren't "low salt" meals, but you won't find many frozen ready-made meals that are considered low in sodium. Ideally, you want to look for meals with a sodium content well below 400g per 100g and opt for those with whole food sodium sources instead of ingredients such as yeast extract and MSG.
A meal containing less than 120g per 100g is considered low salt – this is optimal. Coco & Lucas' Kitchen Fam Fav Lasagna contains 339mg of sodium per 100g. That's 915mg and at the upper end of what should be your target.
The Beef Lasagna is also one of the highest of their meals in sugar at 3.1g per 100g with the addition of added sugar.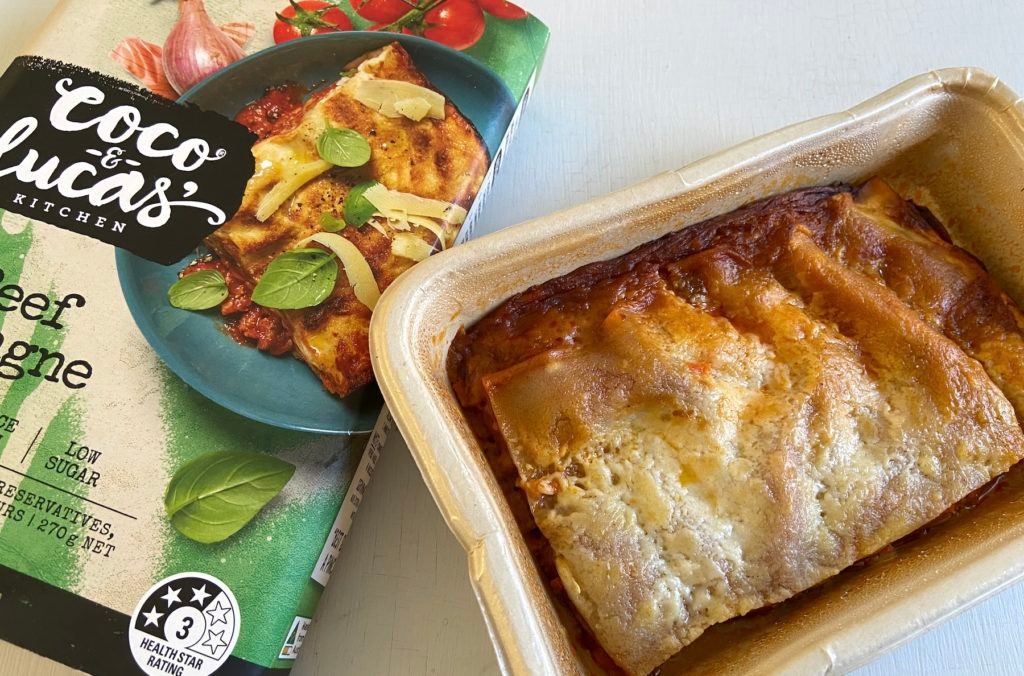 The fibre content isn't on the label, which is not a requirement unless Coco & Lucas' Kitchen stipulates that the meals are "high in fibre" or a "good source of fibre". Knowing the extent food marketers go to advertise the health properties of their products, coupled with the minimal high-fibre vegetable and whole-grain content, I don't imagine these meals contain enough fibre.
Most people don't eat enough dietary fibre! So if you are thinking of expanding the portion, I suggest adding fibre-rich ingredients such as legumes, lentils, broccoli, Brussels sprout or collard greens.
How was the taste of Coco & Lucas Fam Fav meals?
I tried three of the seven meals: Chicken Fried Rice, Spaghetti Bolognese and Beef Lasagne. The bolognese and the lasagne were full of flavour, the texture pleasant and overall, enjoyable to eat.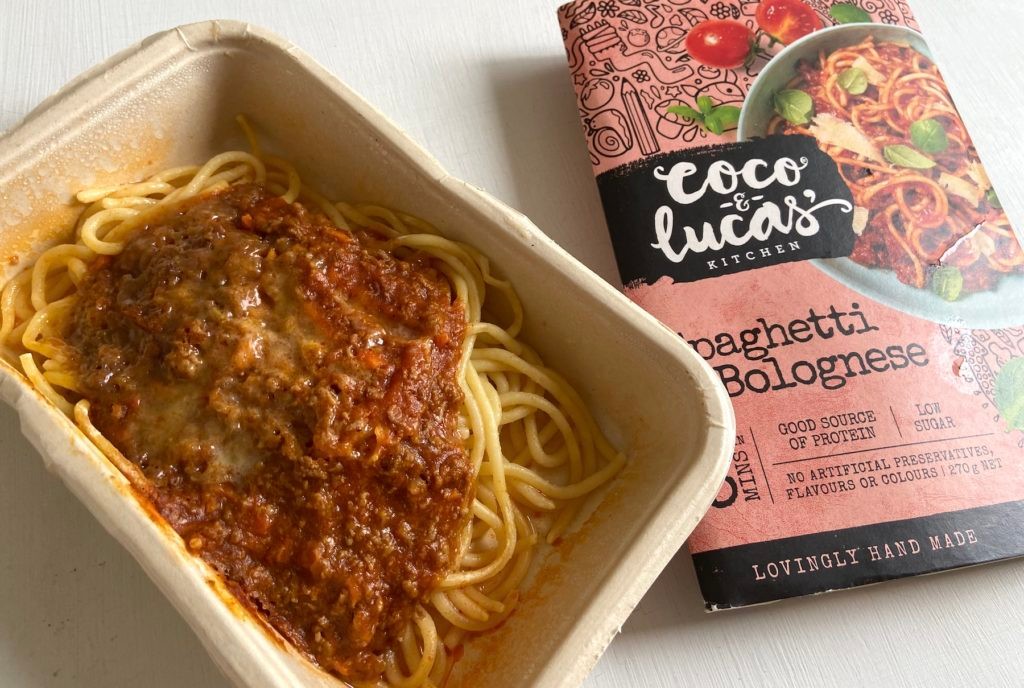 The Chicken Fried Rice was a bit mushy in texture, the chicken was dry and the flavour was bland. The lifeless peas, carrot and corn weren't that visually appealing! The lack of vegetables and flavour profile just made it a bit boring. After I ate the meal, I noted the recommendation to serve it with sriracha and fresh coriander. This would have lifted the meal's flavour I'm sure!
As with many microwavable frozen meals, I think those that include a sauce are more enjoyable to eat which was the case with the fried rice.
Were the Coco & Lucas Fam Fav meals convienent?
The Coco & Lucas Fam Fav meals are only available at Woolworths in the freezer section. The meal options and availability will depend on your local supermarket. For example, there were only 3 of the seven meals available in my nearest Woolies and non in a nearby store.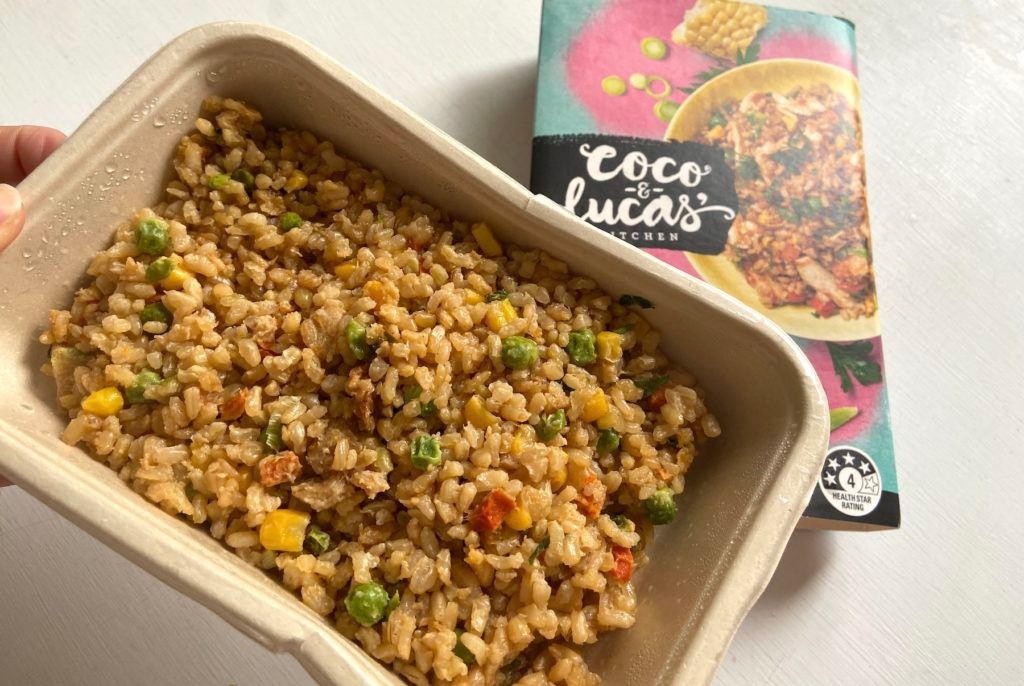 The Fam Fav meals are packaged in a recyclable cardboard sleeve and tray (big tick from me) and ready to heat in the microwave within 4 minutes.
If you're shopping at Woolworths and need a quick, ready-made meal, the Coco & Lucas' Kitchen Fam Fav meals aren't the worst of the frozen food bunch. They are also flavoursome and enjoyable to eat, but don't expect them to fill you up and keep you energised for a long time unless you grab a salad mix or steamed veg for some additional fibre and micronutrients.
Like when choosing any food product, read the ingredients and nutrition information as some of the Coco & Lucas' Kitchen Fam Fav are nutritionally better than others.