I've been trying to lose weight for well over a year. The COVID kilos. I consistently go to the gym, and by all standards of "healthy eating", I eat pretty darn healthily.
And still, have I lost much weight in a year? No. Maybe a 1-2kg here and there, but my weight tends to hover around the same mark. Not gaining, but not losing.
I've tried counting my calories and macros, and I thought I was doing it right. But after a week of calorie controlled MACROS ready-made meals, turns out maybe I haven't been counting my calories right.
Because after a week of MACROS, I managed to lose 1kg.
Now, there are plenty of factors that go into this. I was eating about 1,500 calories a day, sometimes more if I did a big workout at the gym (I typically weight train 4x a week – including the week I was on MACROS Weight Loss meals).
Everyone's body is different. Weight fluctuates a lot. I once lost 3kg in 3 days (according to the scale), so I'm still taking these results with a grain of salt.
BUT a week on MACROS has definitely opened my eyes to what a low calorie diet actually looks like.
This is my review on how I felt eating a week of MACROS meals. If you want, you can catch my video review below too.
What Meals Did I Get?
This is my meal list for the week. I had 15 meals, and I am gluten and dairy free. I was very surprised with how many options there were available with these dietary restrictions.
Curried Sausages & Sweet Potato Mash x 1
Louisiana Spiced Beef n Wedges x 1
Naked Beef Fajitas & Mexi Rice x 1
Chinese Corn Soup with Chicken x 1
Jalapeno Turkey with Broccoli Rice x 1
Butter Chicken & Turmeric Potatoes x 1
Shredded Chicken & Mushroom Korma x 1
Baked Fish & Summer Salsa x 1
Persian Lamb with Babaganoush x 1
Beef Rogan Josh x 1
Tender Beef Brisket with Peppercorn Sauce x 2
Shredded Mexican Chicken Bowl x 1
Nonna's Special Meatballs x 1
Shakshuka with Tofu Scramble x 1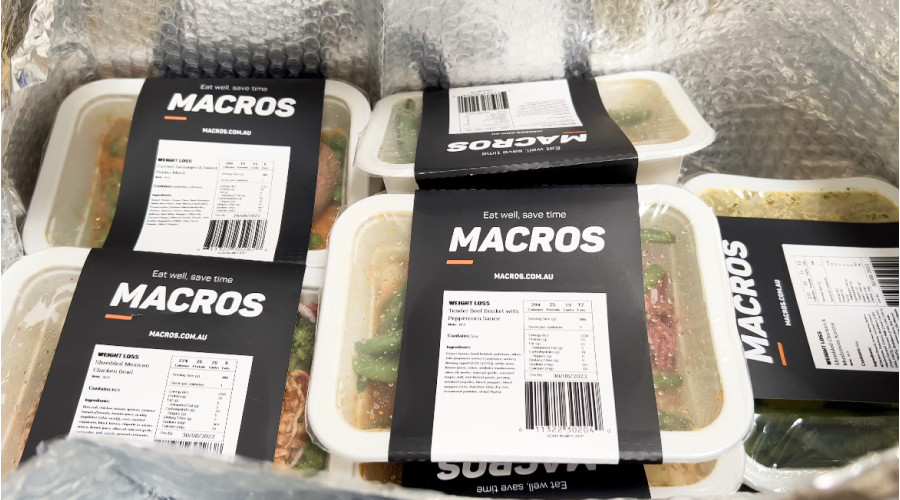 I ordered from the MACROS Weight Loss plan. All meals were low cal and low carb, 300g serving size under 350 calories.
How Much Did it Cost?
I ordered 15 meals, which basically gave me 7 lunches and 7 dinners, with one meal leftover for the next week. I made my own breakfasts, which were usually eggs on toast or a protein shake.
15 MACROS meals works out to be $10.25 per meal, or $153.75 /week. I also paid $10.00 in delivery.
Could I grocery shop for myself for a whole week much cheaper than that? Probably not. It pretty much works out to be the same as a grocery shop for myself for a week, PLUS I don't have to cook the meals, so while I'm not saving money, I'm saving precious time.
MACROS is Subscription Based
Now MACROS is a subscription based service, however, I only wanted to try it out for a week and didn't want to commit any further. It was really easy to cancel the subscription component after I'd ordered, I could just do it via the Macros dashboard.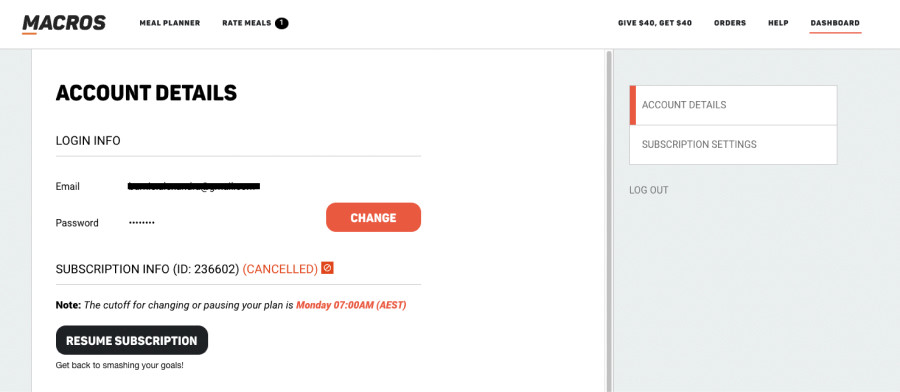 Was I Hungry After the Meals?
I was definitely nervous about the MACROS serving size and amount of calories. Meals under 350 calories and 300g in size are pretty small, and you don't realise it until you transfer the food from the container into a bowl.
I'm an active person in the sense I walk my dog twice a day and go to the gym 4x a week, but otherwise my job involves me sitting on my butt all day.
So I don't need a tonne of food, and I don't get hungry that easily unless I've had a huge workout.
How did I feel after eating MACROS meals? Look, I wasn't hungry after each meal, but I wasn't full. But I also think I'm used to feeling full after meals, when simply feeling satiated is enough.
The times I did feel a bit hungry in the afternoon, I'd have a protein shake to keep me going until dinner.
For me and my needs and daily energy expenditure, I'd say MACROS Weight Loss meals did the trick, but it definitely is a case by case basis and you'll have to determine what works best for you.
What Did the Meals Taste Like?
Ready-made meals have always made me nervous because they definitely don't look that appealing when they're packaged in a container.
And, when you add in that these are weight loss meals, I was worried there wouldn't be much flavour to the meals.
But boy was I wrong.
MACROS meals were full of flavour. I especially liked the Curried Sausages & Sweet Potato Mash and Jalapeno Turkey with Broccoli Rice.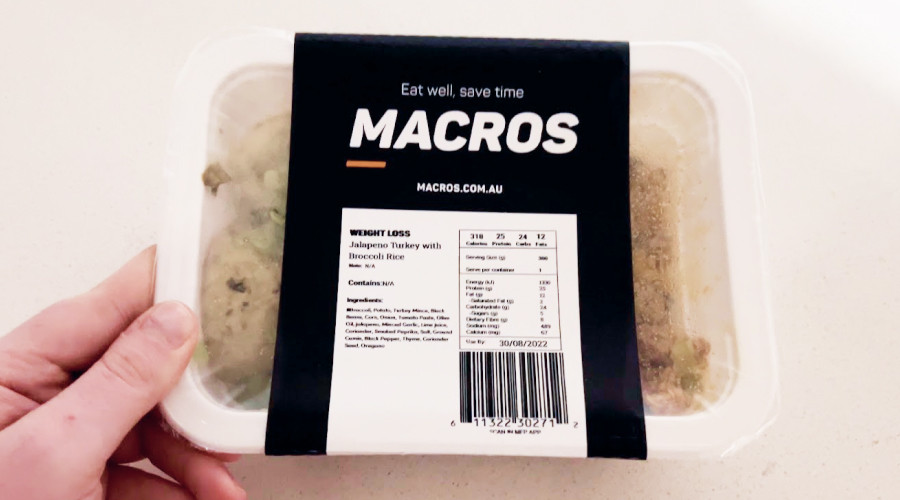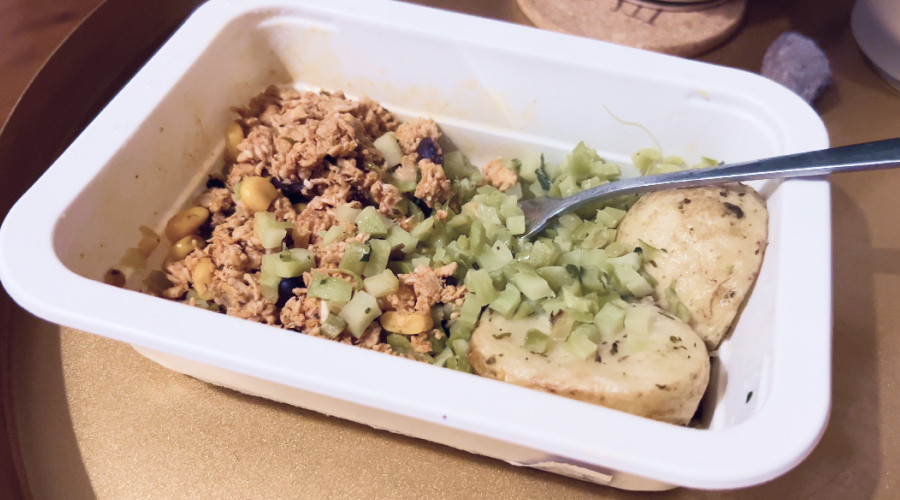 Flavours felt really well balanced and there was a good mix of protein, carbs and veggies in all the meals – even the soups!
My Favourite Meals
I particularly liked:
Curried Sausages & Sweet Potato Mash
Naked Beef Fajitas & Mexi Rice
Jalapeno Turkey with Broccoli Rice
Shredded Chicken & Mushroom Korma
Shredded Mexican Chicken Bowl
Nonna's Special Meatballs
I liked them all for varying reasons but mostly because they had the most flavours and I felt the most full after each of these meals.
Who Should Try MACROS?
MACROS is definitely geared towards athletes, gym-goers and fitness enthusiasts. MACROS provides meals that are protein-packed, wholefood and designed by dietitians to really help you achieve your fitness goals whether it's weight loss or muscle gain and so on.
However, you don't exclusively have to be into health and fitness to try MACROS, because they do offer a range of meal plans to suit everyone, including a Balanced range of healthy meals that are 350g.
There's also a family plan option if that's what you're after, which includes healthy 700g meals designed for two people.
MACROS Vs My Muscle Chef
How does MACROS compare to ready-made meal provider My Muscle Chef? At first glance, they appear pretty similar, with a fitness focus theme.
But here are the added pros of MACROS:
Family meals: MACROS offers a family meal range, which is various 700g meals designed to be shared for two people, which is ideal for couples or parents who want to give it a go. MMC doesn't have the same offering, only offering single-sized meals and single meal plans.
More fitness focused meal plans: While My Muscle Chef does have a Muscle Gain Meal Plan (along with Weight Loss and Calorie Control meal plans), MACROS takes it one step further with a clear range of meals designed for different fitness goals. MACROS has three fitness-focused plans, including Sculpt, Perform and Gain, so it really tailors the meals to your specific gym goals.
MACROS vs Youfoodz
And what about MACROS and Youfoodz? Well, if you're looking for a fitness-focused provider, MACROS is a bit of a no-brainer. But what about just for everyday meals for the everyday person wanting to eat a bit healthier?
One of the frustrating things about Youfoodz is it requires you to register your credit card details before you even choose your meals. This might not be a big deal to some people, but it personally put me off having to put in payment details before seeing my meal options for the week.

If you want more options tailored to your health goals, I'd say MACROS has quite a few more options. With Youfoodz, you can choose between Everyday, Low Cal, Vegetarian and Flexitarian meals. This is great, it gives you lots of variety based on your dietary requirements, but MACROS really takes it further with 7 different meal plans to choose from.
What Do Other Customers Say?
Looking at other customer reviews on Mealprep.com.au, it's definitely varying. There are plenty of positive reviews and some suggestions on how MACROS could do better.
Several customers had the same concerns I initially did over serving size and feeling full.
Meanwhile, others took issue with the subscription offering and were charged and sent meals after not cancelling. And some customers also had problems with delivery, although this is outside MACROS control.
What I'd say is that the serving sizes are on the smaller side, but as you can see from my results, if weight loss is what you're after, it definitely works! And in terms of subscriptions not being cancelled, I'd simply set a reminder to cancel after the final order. I did that because I knew I only wanted one week of MACROS and had no issues there.
Give MACROS A Go Today
If you're looking to try a meal provider that delivers healthy and nutritious meals designed by dietitians, I'd definitely recommend giving MACROS a go. You can try it for a week to see how you go (just remember to cancel your subscription before the next shipment date).