📕 Guides
Is Lasagne Healthy? 20 Australian Ready-Made Meals Compared
Wondering if lasagne is a healthy meal? Well, it depends on what healthy means to you. Below, we're breaking down the macros and calories of 12 Australian ready-made lasagnes you can find in your local supermarket or online, so you can find the best lasagne to suit your goals.
UPDATED ON Jun 23, 2023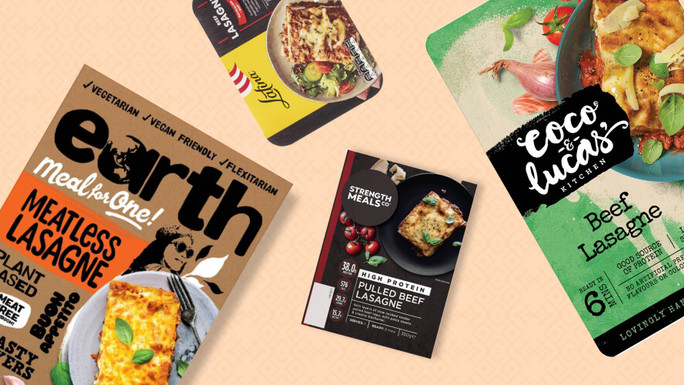 I love lasagne. You love lasagne. We all love lasagne, right? But is it healthy? At MealPrep.com.au, we know healthy means different things to different people.
So, instead of asking if lasagne is healthy, we've decided to break down the nutritional value, macros, calories and value for money of 20 pre-prepared meals of this tasty dish.
Whether your goals are weight loss or you simply want to add some lasagne into your life (and meal plan to fit your macros), we've got you covered.
Say goodbye to unhealthy takeaway and hello to lasagne you can find at your local Woolworths, Coles, IGA or online via a dedicated meal prep provider.
Below, we've ranked ready-made lasagne with the highest amount of protein, to the lowest.
PS – Wanna know the best ready-made meal of other classics like butter chicken, carbonara, spaghetti bolognese and more? Head here!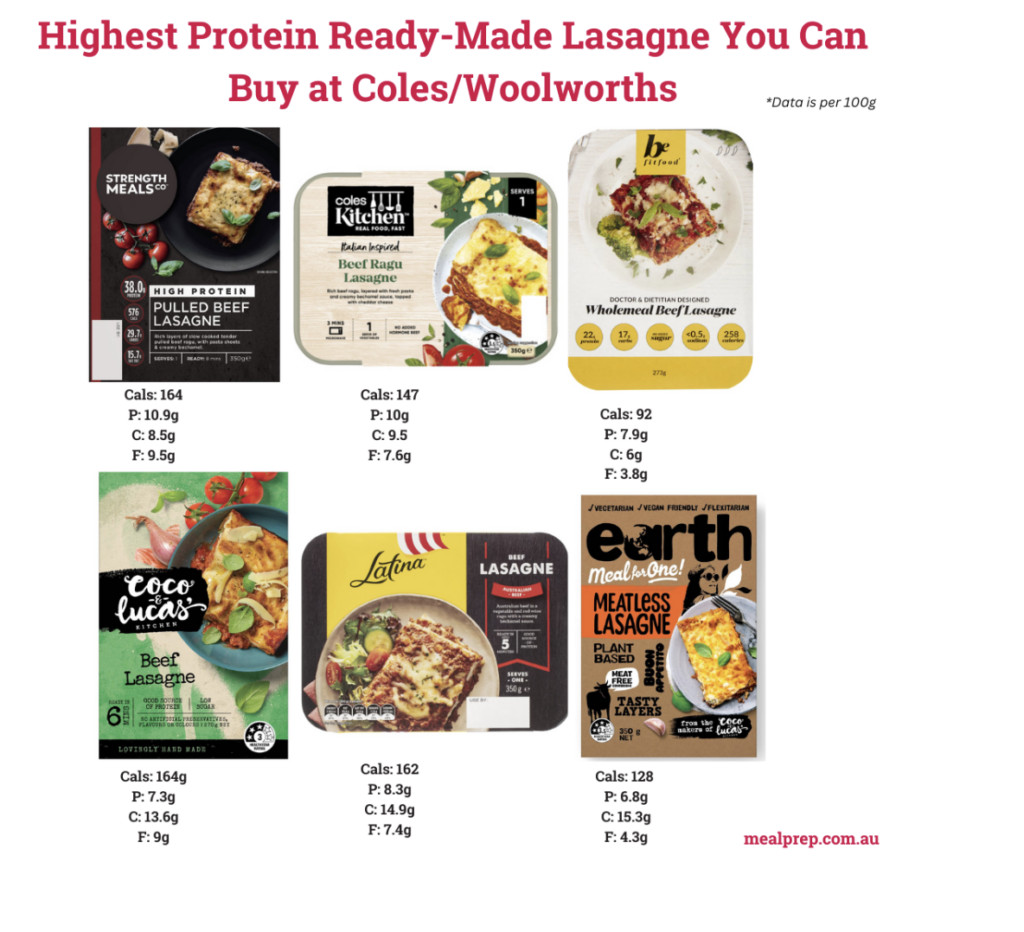 Which Ready-Made Lasagne Has the Highest Protein?
Food4Fitness gluten-free high-protein beef lasagna (350g) wins by a long shot with 61g of protein per serve ✅. It also has 686 calories, 61g of carbs and 27g of fat.
What about lasagne you can buy at the supermarket?
Strength Meals Co pulled beef lasagna (350g) is the winner with 38g of protein per serving. It has 576 calories, 30g of carbs and 33g of fat. Buy it at Woolworths 🛒.
Check out our other favourite lasagne meals below!
What's the Best Vegetarian Lasagne?
🥬️ My Muscle Chef vegetable lasagne with vegan bolognese & cashew sauce (415g) comes out on top with 20g of protein per serving. It's also the tastiest, in our opinion!
Which Ready-Made Lasagne Has the Lowest Calories?
⚖️ If you're more interested in knowing which lasagne has the lowest calories per 100g, check out our meal finder and sort through the data yourself. Simply type in "lasagn" and it will instantly return all the lasagna's (or lasagne's) from our meal providers.
Note:
Both datasets is available on Google Sheets. Meals from Coles & Woolworths and those from our meal prep partners on mealprep.com.au. Feel free to use them but please credit us with a link to our website!
FAQ
Where Can You Find & Buy Ready-Made Meals in Australia?
Meal delivery services are on the rise in Australia, and it's easy to see why. They're convenient, budget friendly and of course, very tasty. Ready-made meals can be ordered online through dedicated ready-made meal providers and shipped right around Australia (Sydney, Adelaide, Melbourne, Canberra etc.) or bought in-store at Coles, Woolworths, Aldi and more.
What's the Difference Between Meal Kit and Ready-Made Meals?
Confused by the difference between meal kit and ready-made meal? You're not alone, and there is a pretty big difference. Meal kits providers send you fresh ingredients and recipes for you to cook at home, while ready-made meals are fully prepared and require no cooking. It's that simple.
Where Can I Find Gluten-Free Ready Made Lasagne?
If you have dietary requirements like gluten-free or dairy free, lasagne can be a pretty tricky one to find that meets your requirements. The good news, however, is Tutto Pasta Gluten Free Bolognese Lasagne is stocked at Woolworths and is 100% gluten free. Food4Fitness also does a Gluten Free High Protein Beef Lasagna.
Remember, always check the food label and nutrition information to make sure the meal is free from any products you're allergic or intolerant to.
Are Pasta Dishes Healthy?
Everything is healthy in moderation! If healthy eating is important to you, that doesn't mean you should miss out on pasta, which is typically (and wrongly) seen as an "unhealthy food" due to its higher carbohydrate content.
If you're trying to lose weight, you can still enjoy pasta dishes like lasagne on occasion – just be mindful of your serving sizes/portion sizes and how the calories fit into your daily allowance. You can even pair it with a glass of red wine if you wanted to and still lose weight!