📕 Guides
9 Ketone Testing Devices To Check If You're In Ketosis (Including Strips And Breathalysers)
Ketone testing devices are often used to check for diabetic ketoacidosis, a possibly life-threatening condition that can affect people with diabetes. However, you can also use ketone testing devices to check if you're in ketosis.
POSTED ON Jan 24, 2022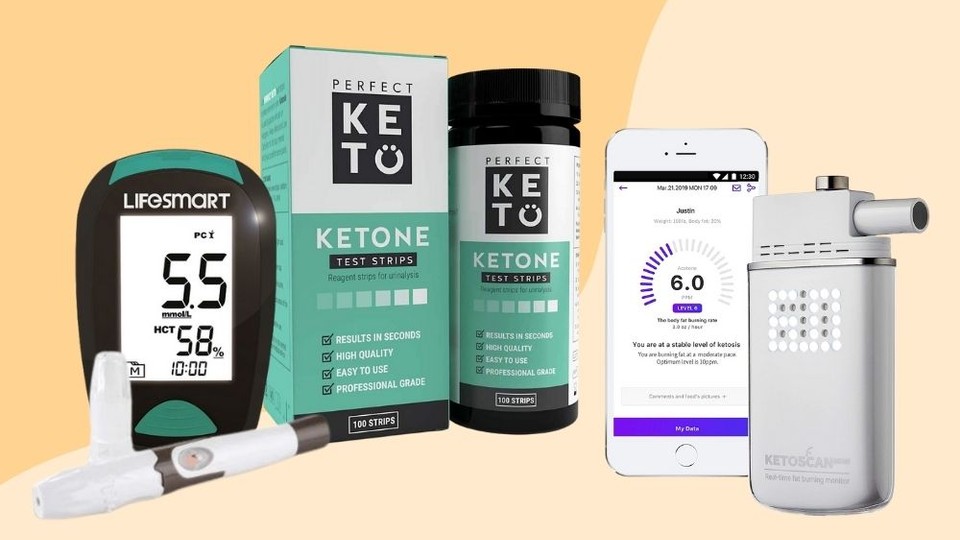 With the steadily surging popularity of the keto diet, also known as the ketogenic diet, keto testing devices have assimilated well into fitness communities. But what is the keto diet?
Essentially, it is a low-carb, moderate-protein, and high-fat diet that brings various health benefits. The keto diet may help with weight loss and controlling your blood sugar levels.
But here's where the problem strikes: It's hard to tell whether or not you're in ketosis, a state where your body burns fat as fuel. You may not know if your diet is keeping you on the right track, and you can't tell if the adjustments you make are drawing you further from or closer to your goals.
Since the common aim of the ketogenic diet is to reach and maintain ketosis, ketone testing devices may just be the solution. They help paint a clearer picture of your ketone levels and enable you to gauge if you're in the state of ketosis. With this information, you're better informed of how you can steer your diet towards reaching and maintaining ketosis.
Here's our list of 9 ketone testing devices you can find in Australia!
9 Ketone Testing Devices Available In Australia
There are three main types of ketone testing devices: The blood ketone meter, breath ketone meters (breathalyser), and urine test strips. We'll compare the pros and cons of each of these types further down the article.
Note that a single-function blood ketone meter that does not include blood glucose monitoring would be cheaper than dual-function monitors, but it's hard to locate in Australia.
For now, let's take a look at 9 ketone testing devices available in Australia!
Best Blood Ketone Monitor
LifeSmart Smart Blood Glucose plus β-Ketone Monitoring System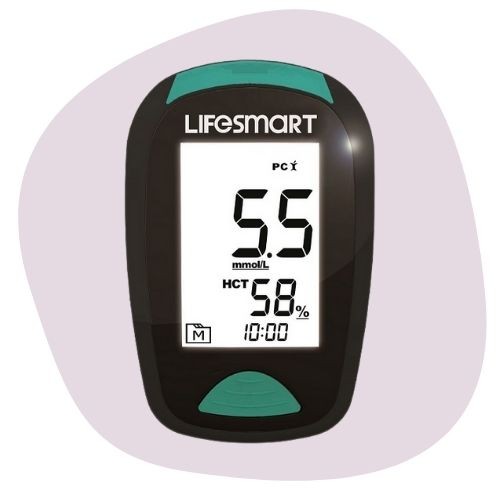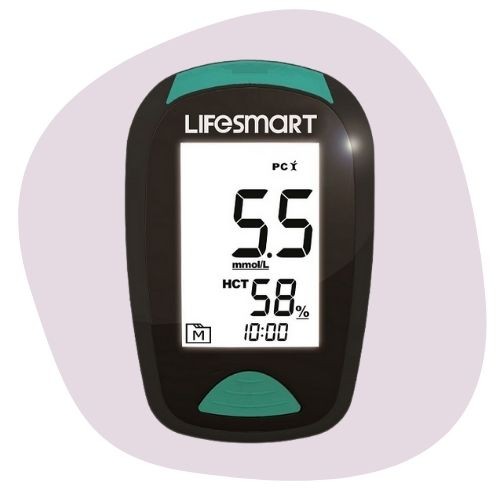 Tests
Blood glucose, hematocrit, and ketone levels
Pros & Cons
What's good?
Store and review data via the app
1000-set memory capacity
Wireless data transfer to phone
What's not so good?
Set-up process not very straightforward
This smart glucose and ketone blood meter can measure your ketone and blood glucose levels. You can connect to your mobile phone (iOS and Android compatible) to view and analyse your data using your phone. There's a Bluetooth option for wireless data transfer, too.
This is a blood ketone monitoring device, meaning you'll need to prick your finger with a lancing device and draw out a small drop of blood for testing. You'll only need to wait for 10 seconds before receiving your ketone test results. The device is fuelled by 2 AAA batteries and has a memory capacity of 1000 sets.
You'll need to purchase the LifeSmart ketone test strips to use with this device, which is priced at around $13 for a pack of 10 strips. You'll also require a lancing device and lancets when using blood ketone meters such as these. For this meter, the sample of blood required for blood ketone levels measurement (1.0 μL) is larger than that required for blood glucose testing.
Abbott Freestyle Optium Neo Blood Glucose And Ketone Monitoring System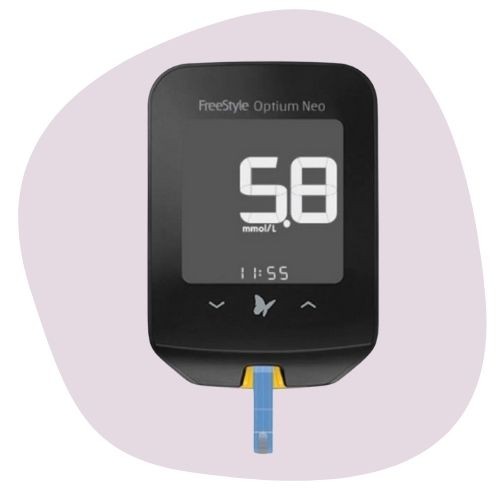 Tests
Blood glucose and ketone levels
Pros & Cons
What's good?
High-contrast screen for easy viewing
Can hold up to 1000 readings
Sleek and lightweight design
What's not so good?
Requires a slightly larger sample of blood
This Abbott Freestyle meter is another one that works for blood glucose and blood ketone testing. It comes with a distinct and high-contrast screen that can be easily read even in sunlight. Plus, you'll only have to wait 10 seconds for your results. The device can hold up to 1000 readings, and its sleek, pocket-friendly design adds points to portability and convenience.
The FreeStyle OptiumNeo Strips for blood glucose and ketone testing come in individually-wrapped foil packs to prevent contamination. Again, you'll need a lancing device and lancets to use with this meter. The sample of blood required for blood ketone testing with this device is the largest (1.5 μL) of the three ketone meters on our list.
While the device sounds great on paper, users have pointed out some flaws. Several users mention that error readings are common with this device, especially if you do not draw out enough blood sample for the test
CareSens Dual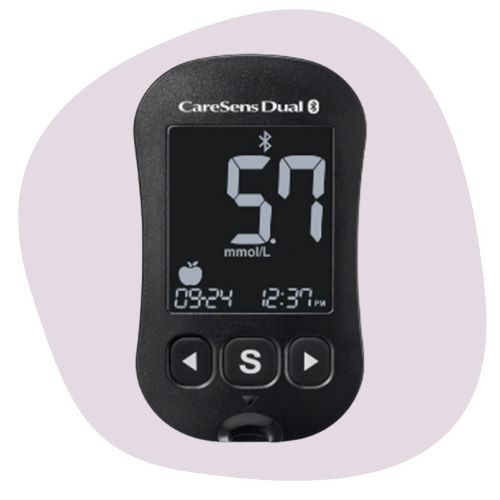 Tests
Blood glucose and ketone levels
Pros & Cons
What's good?
Slighty smaller sample of blood required
Package inclusive of lancing device and 50 lancets
1000-slot memory
What's not so good?
Ketone strips for this brand are quite pricey.
Caresense Dual is a dual function blood glucose meter and blood ketone monitor. The package comes with 50 lancets and a CareLance lancing device. Plus, your readings can be transferred to your phone via Bluetooth, where you can access and review them anytime.
You will receive your ketone level readings in just 8 seconds. This device is the fastest on our list, and it also takes the lead in the blood sample size. Compared to the other two blood ketone meters, it requires the smallest amount (0.5 µL) of blood for ketone testing. A feature shared between all three devices, including this one, is the 1000-reading memory capacity.
Users note that the device is easy to use and reasonably accurate. The ketone strips are individually-wrapped to prevent contamination and slow destabilisation.
Ketonix Breath Ketone Analyzer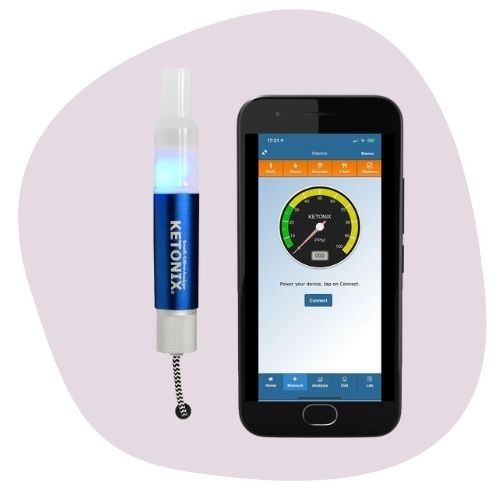 Tests
Breath acetone levels
Pros & Cons
What's good?
App allows you to store and review your data
Self-calibrated device
Sensor can be used for a long time
What's not so good?
Device takes a while to warm up before use
Outdated app interface
The Ketonix Breath Ketone Analyzer is a breath ketone meter designed to be utilised with your mobile device (Android and iOS). This reusable, non-invasive device connects to your mobile device via Bluetooth, and any software upgrades come at no additional costs. The device is rechargeable via a USB port.
You'll have to download the Ketonix app from the app store to use this device, where you can store and view your readings.
Because this is a breathalyser, your acetone levels are measured in PPM. The device performs self-calibration, so you won't have to send the device in to have that done. Plus, the sensor does not need to be replaced frequently.
The Ketonix monitor has garnered mixed reviews from users. It isn't surprising because the device's accuracy can be affected by your technique, the food you eat, and the time of the day. We'll discuss the differences between the different types of ketone monitoring devices further below.
Users note that the app's interface looks a little outdated but is simplistic and functional. Many were able to connect the device and app seamlessly, but the device can take a while to warm up before use.
Best Breath Ketone Meter
Ketoscan Mini Breath Ketone Meter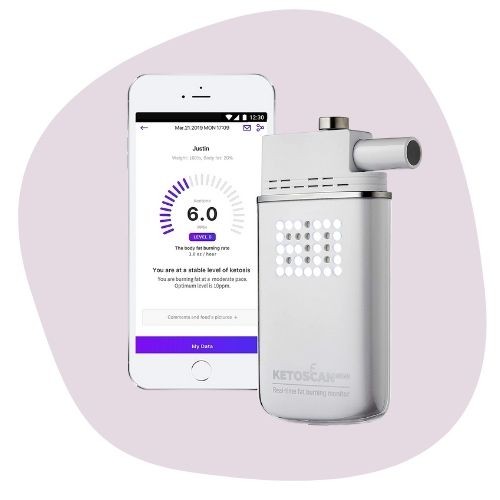 Tests
Breath acetone levels
Pros & Cons
What's good?
Results displayed on device and in-app
Impressive battery life
App allows you to record and review your ketone levels and weight
What's not so good?
Need to send in your device for re-calibration and sensor replacement every 300 cycles
Expensive
The Ketoscan meter is a non-invasive, portable breath acetone analyser that can connect to your mobile device. You can record, review, and even export your ketone levels and weight through the app. But even without the app, the device can still display your results (acetone levels in PPM).
You'll be given reminders about cautionary steps you should take before doing the test to get the most accurate results. And you'll only have to blow into the device for 3 seconds before getting your results.
Users are impressed by its extended battery life and the practicality of the app. Most note that it carries a seemingly high standard of accuracy. The device will not present you with your reading if too little airflow is detected, and you'll also be notified on when to stop.
For people living in some countries outside the US, sending the device back for calibration after just over 300 cycles could be a nuisance. However, the company will recalibrate your device and replace the sensor at a reasonable cost, ensuring it continues to operate optimally.
Coolker Ketone Breath Analyzer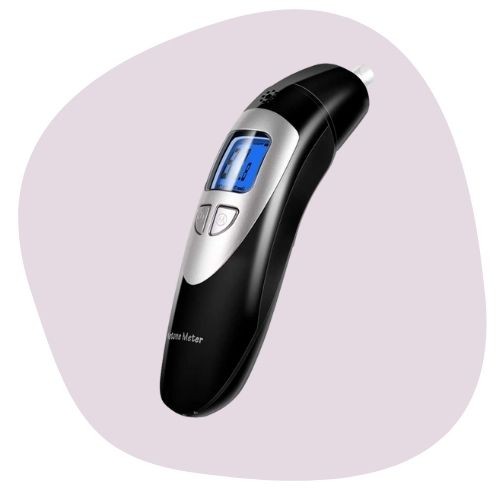 Tests
Breath acetone levels
The Coolker Ketone Breath Analyzer is the cheapest among the three breathalysers and is built with a very simplistic interface. The device will portray your results as a value between 0 to 5 mmol/L, while its LCD screen will display colours depending on your state of ketosis.
You'll have to wait for 20 seconds for the device to warm up before each use and then blow into the mouthpiece for 5-6 seconds to obtain your results. The package comes with 10 replaceable mouthpieces that can be easily cleaned with warm water and soap.
Nonetheless, there is a bag of mixed user reviews about the device's accuracy. Many have compared it to the Keto-Mojo ketone meter. While some said that the discrepancy was minimal, others noted that the readings of the breathalyser were far off. Nonetheless, some users loved the portability and simplicity of the device. And at that price, you may just be getting the best bang for your buck!
Best Urine Ketone Strip
Perfect Keto Ketone Testing Strips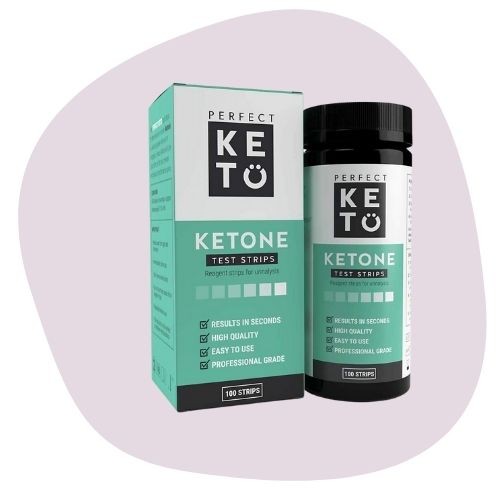 Tests
Urine ketone levels
Price
$73.02 (100 strips)
Pros & Cons
What's good?
Lab-grade test strips
Reasonable pricing
Quick results
What's not so good?
Strip discolouration if not kept properly after opening
These Ketone Testing Strips are hot-selling on Amazon, having garnered 4.2/5 stars from over 30,000 reviews. These test strips help measure whether or not you're in ketosis based on the level of ketones detected in your urine. You may pee on the stick or in a cup and dip the test strip. After less than a minute, you'll get your results.
These lab-grade urine ketone strips are easy to use and come in bulk kits for better cost savings. By comparing the final colour of the test strips to the given colour chart on the bottle, you can easily gauge your ketone levels.
Based on the multitude of Amazon user reviews, the Perfect Keto Test Strips are decently accurate. Users are delighted with how fast, convenient, and budget-friendly these test strips are. You will have to make sure they're kept completely closed in the bottle to maintain stability, as a few users have noted discolouration of the strips within just a week or two of opening.
Bayer Keto Diastix Test Strips 50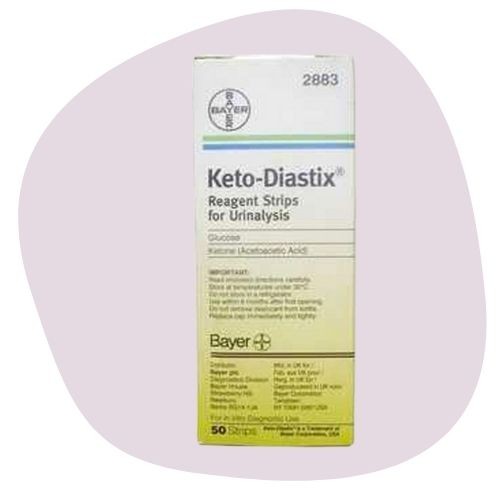 Tests
Urine ketone and glucose levels
Pros & Cons
What's good?
Very good value for money
Strips can test ketones and glucose
What's not so good?
Some strips may be faulty
These dual-function Keto Diastix Test Strips allow you to test for the presence and concentration of glucose and ketones (acetoacetic acid). Like the previous brand, these ketone and glucose strips change colour accordingly, and your results can then be compared to the colour chart provided.
Overall, users who use these strips to track their progress on a keto diet note that the ketone strips work as advertised, helping to keep them accountable and on track. However, several users have mentioned that some of the strips they used were faulty and did not change colour upon use.
Vivoo Urine Test Strips with App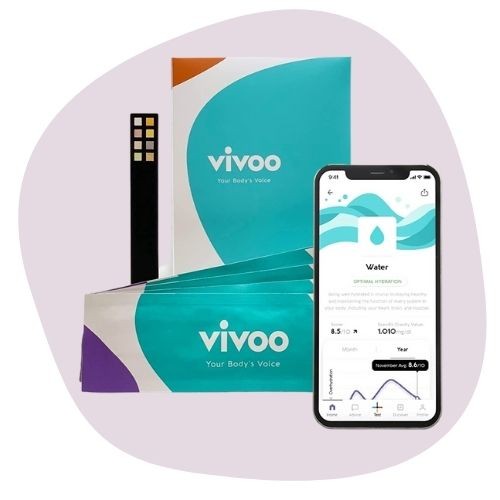 Tests
Ketone levels, hydration, kidney function, liver function, pH, UTI
Pros & Cons
What's good?
Able to test 6 different parameters
Personalised analysis via the app
App interprets your results for you
The Vivoo Urine Test Strips are the only test strips on our list that measures six different parameters and come with an app that analyses your urine in 2 minutes. All you have to do is pee on the strip and scan the strip using the Vivoo app. Essentially, the app streamlines the result interpretation process and delivers a straightforward and easy-to-understand analysis.
The brand notes that these test strips can detect and measure ketones, pH, kidney function, hydration, presence of a urinary tract infection (UTI), and liver function. Plus, the app will provide you with personalised information on getting into or maintaining ketosis based on your urine ketone levels.
On Amazon, the product scores 4.2/5 stars. These strips are expensive, but many users are impressed with how easy to use the strips are, not to mention that the app helps you understand your hydration levels, kidney function, liver function, ketosis state, and urine pH through the simple app.
However, a few users are sceptical about the analysis provided. And of course, these strips will not replace your standard lab diagnostic or screening tests.
Other Ketone Test Strips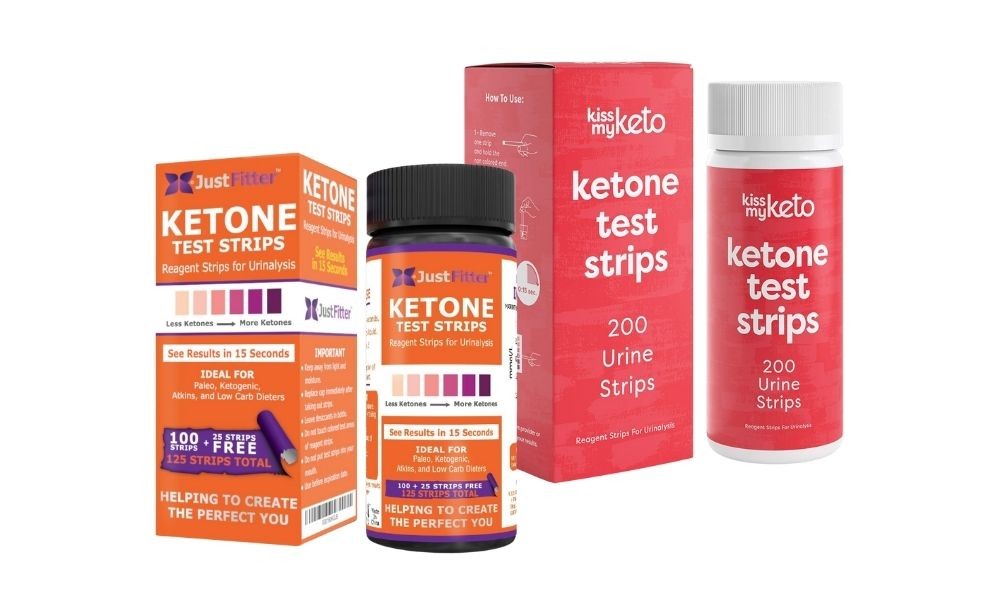 One no-frill basic ketone strip that has garnered a massive amount of sales on Amazone is the Just Fitter Ketone Test Strips. These are $19.97 per 125 strips, and they function on the same mechanism as the Perfect Keto ones. Pee, dip the strip, and get your results based on the colour change of your strip.
Another brand that claims the lead as a budget-friendly option is the Kiss My Keto Ketone Strips available on iHerb. You'll get 200 test strips at a very reasonable price of $11.37. Like the Perfect Keto and Just Fitter ketone test strips, you can compare your results to the colour chart provided.
Many users note that these strips work, but the colour change reaction isn't as uniform as, say, the Bayer Keto Diastix Test Strips. Also, several users have mentioned that the strips may be faulty. With all this in mind, it may be best to take your results with a grain of salt, though these strips indeed offer great value for money.
Keto-Mojo Ketone Tests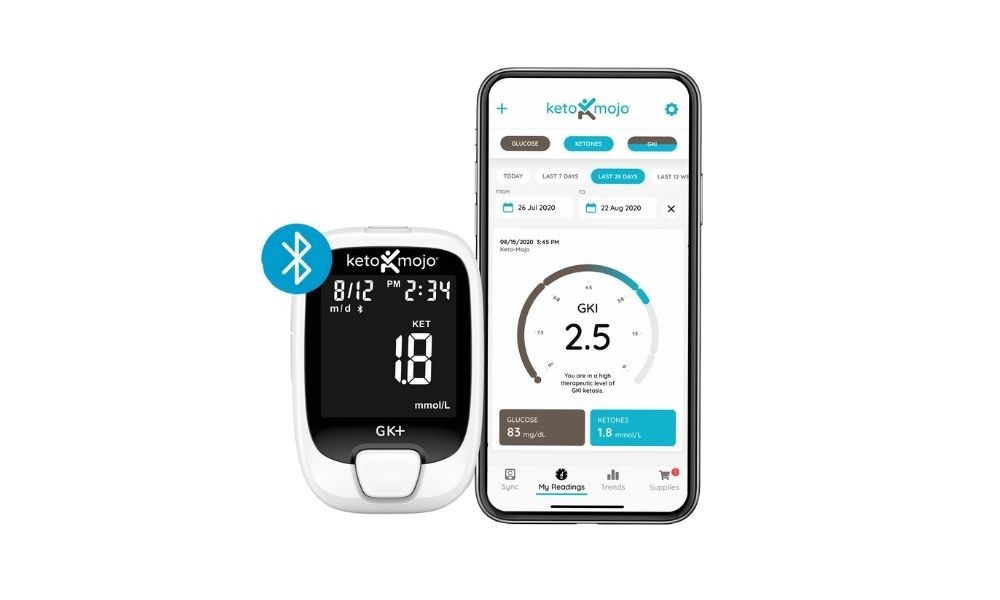 Keto-Mojo is one of the most popular brands known for its blood glucose and blood ketone testing devices and strips. Many of their US users highly regard the Keto-Mojo blood meter as one of the most accurate in the market.
However, they are difficult to find and purchase in Australia (they're not even sold on Amazon Australia). You may be lucky enough to snatch a unit up on eBay Australia, but these are often out-of-stock, and the case isn't any different with the few retailers in Australia.
Lumen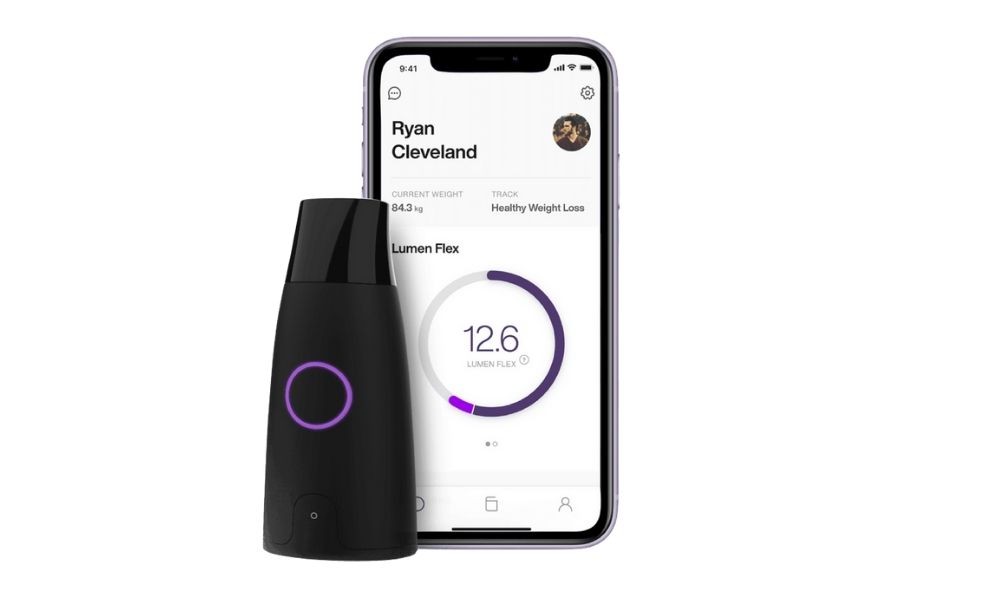 If you'd like a device that does much more than track your ketosis state, then Lumen may be another alternative to consider. Anyone on the keto diet may opt to use Lumen, as the device can help you track your progress and metabolism over time.
However, Lumen also caters to those who prefer more diversity in their diet, mainly because the keto diet may become a little restrictive.
According to the brand, Lumen measures the CO2 levels in your breath. It uses those measurements to indicate your metabolism flexibility and the primary source of your body's fuel (either carbs or fat).
You'll use the device by inhaling and exhaling into it. Then, based on your results, you'll receive a personalised dietary plan and daily advice on nutrition, sleep, and exercise through the Lumen app.
Overall, user reviews are mixed. Many users have managed to lose weight with the guidance of this device, but several others have not noticed any positive changes and are sceptical about the science behind it.
Choosing A Ketone Testing Device
There are currently three main ways to test your level of ketones. We'll compare these three methods, breath, blood, and urine, to help you gauge which method might suit your wallet, preference, and lifestyle best.
Blood Ketone Meters
Pro
Accurate and reliable
Quick results
Suitable for beginner and experienced keto dieters
Many come with apps to store data and track progress
Results are less likely skewed by environmental factors
Cons
Expensive (you'll need to purchase a lancing device, lancets, and blood ketone test strips
Finger pricks to draw blood sample
Blood ketone measurement is marked as the gold-standard method to measure the level of ketones in the body. Hence, blood ketone meters are widely considered the most accurate way to test your ketone levels at home.
An at-home blood ketone monitor usually measures beta-hydroxybutyrate (BHB). Your body produces this ketone body in the liver from fatty acids. BHB is made when the glucose levels in the body are too low to cater to its needs, such as during high-fat and low-carb diets.
Though blood ketone monitors usually give you a more accurate indication of your ketosis state than urine test strips, there are a lot more expensive.
You'll have to make a one-time purchase for the monitor, but you'll also need to purchase blood test strips to use with the monitor. These are one-time use strips to be disposed of after use, and you'll need to ensure you buy the compatible strips with the monitor you're using.
Plus, a small blood sample is needed for blood ketone testing, so you'll also have to drop extra cash for a lancing device (one-time purchase) and resupplies of lancets (single-use). Adding the cost of the entire blood ketone testing kit, you'll have to be ready to invest quite a bit.
If you don't mind the investment and want a trialled-and-tested, accurate method to test your ketone levels, then a blood ketone meter is the most suitable choice.
Breath Ketone Meters
Pro
Suitable for those who do not wish to prick their fingers
Does not require strips, a lancing device, or lancets
Painless and non-invasive
Cons
Results can be skewed by environmental factors and device technique
Device calibration and sensor replacement required
Devices can be quite expensive
Breath ketone meters measure acetone, which is a byproduct of fat metabolism. Research has suggested that the level of acetone measured in exhaled air correlates to a person's degree of ketosis. These detect your breath acetone levels in ppm, where the zone of ketogenesis is estimated to be 2-40 ppm [1].
Breath acetone is a reliable indicator of ketosis in adults, but a range of factors can affect the accuracy of your results [2]. These factors include:-
Foods such as chewing gum, breath mints, and garlic
Tobacco smoking
Drinks such as alcohol and coffee
Drugs such as disulfiram (used to treat alcohol dependence)
Exercise
Mouthwash, toothpaste, lip balm
Device technique
Because of this, there are specific instructions and techniques to follow when breath testing for ketones in order to preserve its accuracy.
You'll also need to consider device calibration and whether the sensor needs to be replaced. However, breath ketone meters may be more cost-effective in the long run since you won't need to purchase test strips or lancets.
It's best to perform your own research before purchasing this device because it can be quite an investment. Suspiciously cheap devices may not be very accurate.
Urine Ketone Strips
Pro
Cheaper option
Easy to use and non-invasive
Fast results
Cons
Not very accurate
Results can be impacted by your hydration levels
Not suitable for those on a long-term keto diet
Sensitive to humidity and air (destabilises over time after opening)
Urine ketone strips are the easiest to find and most accessible. And, they're usually the cheapest, too. Urine ketone strips were designed for people with diabetes to check if they were in danger of diabetic ketoacidosis, a potentially fatal condition. However, many people on the keto diet use this to check if they are in nutritional ketosis.
To use urine ketone strips, you'll usually pee onto the strip or into a cup and dip the strip. The strip's colour will change according to the concentration of ketones in your urine.
More specifically, they test for acetoacetate, a ketone body commonly excreted in the urine, especially during the early stages of ketosis. However, this isn't a very accurate measure of ketones in your blood.
Furthermore, after a while of practising the keto diet, your body will learn to adapt and be less likely to excrete excess ketones into the urine, which means that the results may be inaccurate. You may receive a false result that shows you're no longer in ketosis.
Hence, urine ketone strips are less accurate than blood ketone monitors. They are a cheap option for those just starting on the keto diet, but they are not exactly suitable for the long haul.
FAQ
What is a good ketone level for ketosis?
For nutritional ketosis, the optimal blood ketone level would fall between 0.5-3 mmol/L. For breath ketone testing, the sweet spot would be between 2-40 ppm.
What time of day is best to test for ketosis?
According to research, urine ketone testing is best done during the early morning or a couple of hours after dinner late in the evening [3]. You may wish to test your ketone levels at least three hours after a meal for blood ketone testing.