🏡 Lifestyle
Is Marley Spoon Macro Friendly And Worth The Cost?
I find out whether a meal kit service can replace my weekly food prep, and how you can maximise the bang for your buck!
UPDATED ON Jun 13, 2022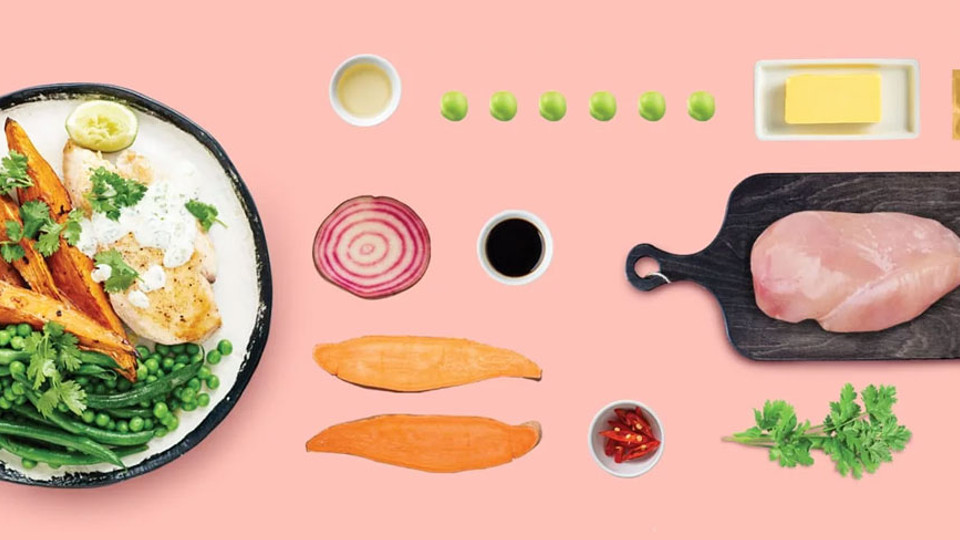 With today's modern lifestyle, you'll be forgiven for feeling like you have no time for anything. Day to day stressors, work, family and even social pressures, can make you feel time and energy poor. What can you do if you find yourself in this situation, but you've got some serious body goals you want to achieve?
Meal kit of choice: Marley Spoon
Why did I choose Marley Spoon over the competitors? Firstly, I liked the way they presented their website. I did some quick research to see what other people were thinking of this brand, and the feedback seemed to be mostly positive. I also had a look at what the other companies were offering and whether it was worth it to go for them. In the end, it just came down to personal preference – I liked the 'vibe' they had and the way their meals looked!
Is the Marley Spoon meal kit macro-friendly?
There are different options on the menu, which is excellent. When ordering my kit, I went with the meals that they suggested, rather than actively trying to purposely choose something that I thought was on either end of the 'macro-friendliness' scale. For reference, 'macro-friendly' usually refers to a higher protein content relative to carbohydrates (carbs) or fats.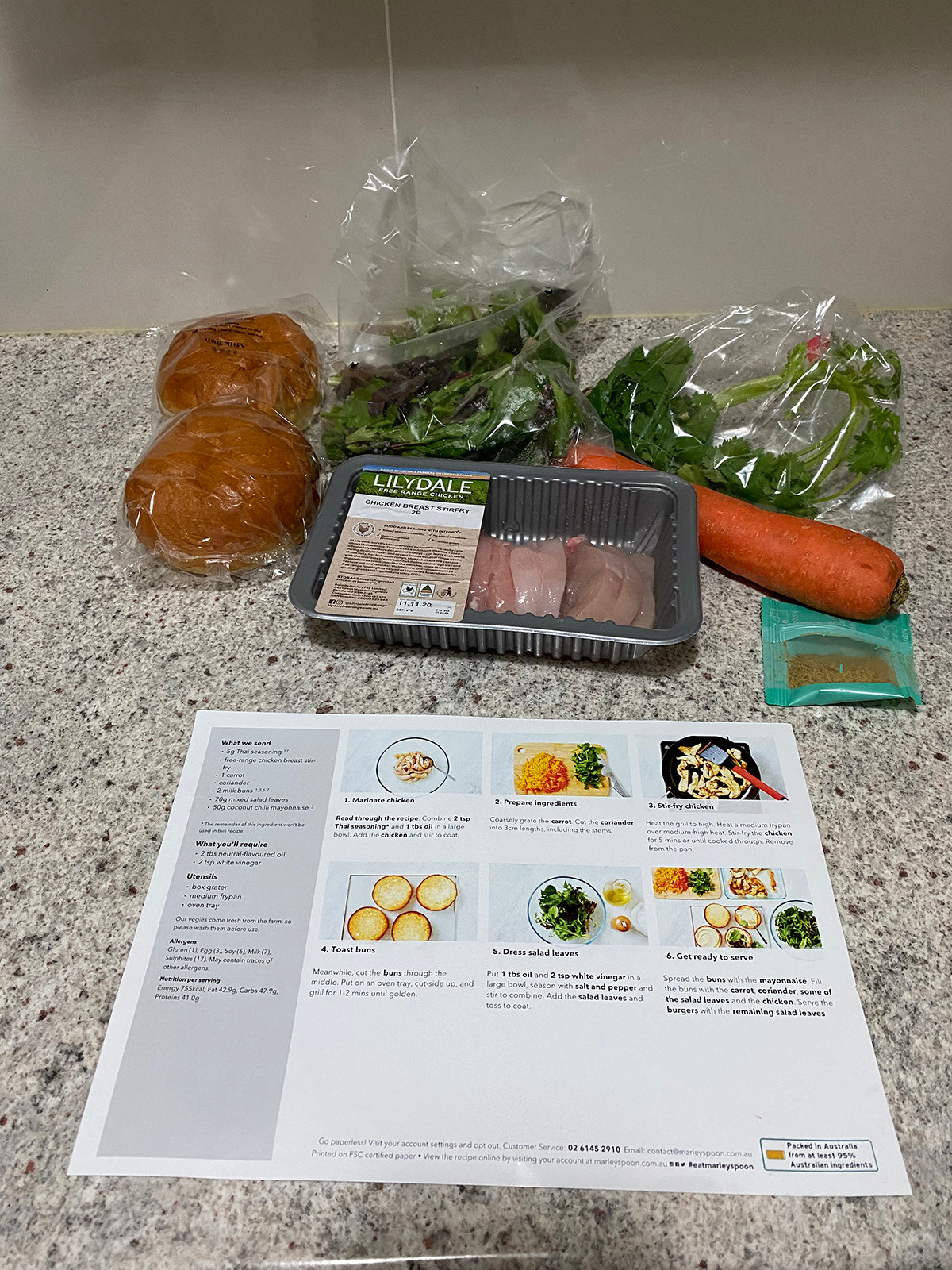 Meal 1: 15-Minute Thai Chicken Burger with Coconut Chilli Mayo and Greens
Who doesn't like a recipe that supposedly takes 15 minutes? I was exhausted after work, so it was perfect. I liked the fact that everything was already there, and there was a quick prep. I will say, in terms of taste, it surpassed my expectations. I was expecting an average burger, but the chilli mayo and spices really gave it a nice kick.
In terms of macros, it falls a little short. This is the challenge you will face when trying to diet – taste often comes at the cost of higher fat and carbohydrate intake.
41g of Protein
9g of Fat
9g of Carbohydrates
Total is 755 kCal
This is a massive number of calories for someone like me (half of my daily intake in a fat loss phase!). For my partner, no issues, he is over 20kg heavier and needs extra calories to grow.
To be honest, I couldn't figure out where the 41g of protein per serve came from. I actually weighed the raw chicken out (it was 300g), which is around 65g of protein in total for 2 serves. Unless the bread was high protein somehow, which I doubt, then I couldn't see where the rest of the protein would come from.
Nevertheless, if you want to make this meal more macro-friendly, there are two main ways:
1 tablespoon of mayonnaise has 90 calories and 10g of fat. 1 tablespoon of fat-free mayonnaise has 10 calories and 0g of fat (2g of carbs). Therefore, you'll be saving around 80 calories per serve and 10g of fat per serve by doing this simple swap.
You could choose a bunless burger style, if you don't mind losing a bit of the experience. This is what I do, and instead have more room for dessert or some delicious fats. Otherwise, I'll just have one of the sides of the bun, but that's because I don't really care for it. If you are a carb fiend, you may want to keep them in – and that's fine, just account for them!
You can also substitute with low-carb buns and bread-rolls out on the market. For example, Woolies has the Macro Lower Carb bread rolls which are also high protein and high fibre, so can help you feel fuller for longer. You might be able to stretch your meal out in this way! Herman Brot also has a burger protein bun that is high protein and low carb. They still have around the same amount of calories though.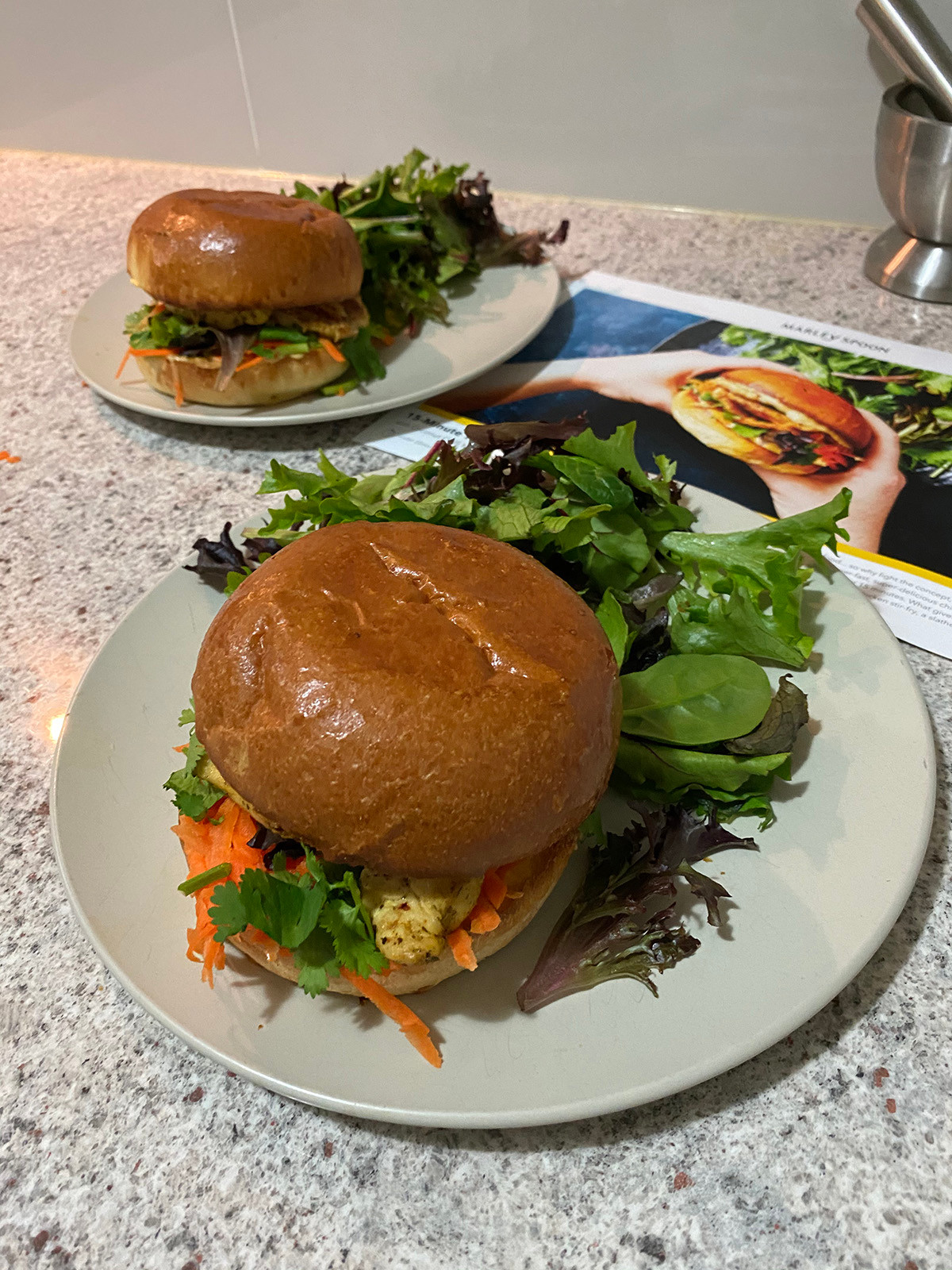 Meal 2: Low-Cal Chicken-Lentil Greek Salad with Feta, Olives and Tomato
I initially thought the great thing about this kit is that you don't have to calculate the macros. Then I realised it's not that simple, especially when you're preparing two meals, and you're looking to have accurate measurements. Firstly, as above, the macros didn't quite line up for me, and I still have to weigh out portions to make sure I'm eating the right amount. Again, it might be perfect as a meal for my partner, who has higher energy requirements than me.
What I enjoyed about this meal is first, they provide a brief description of the fact that it's based on the Mediterranean diet and the health benefits of eating this way. I find the title of 'low-cal' a little deceptive, however – as it really depends on your nutritional requirements for the day. This, for a small person like myself, is actually a third of my daily intake. This is perfect for two meals.
I would say this has a balanced macro profile, it does prioritise protein, but if you're trying to go either super low fat or low carb, it might not be the best option for you.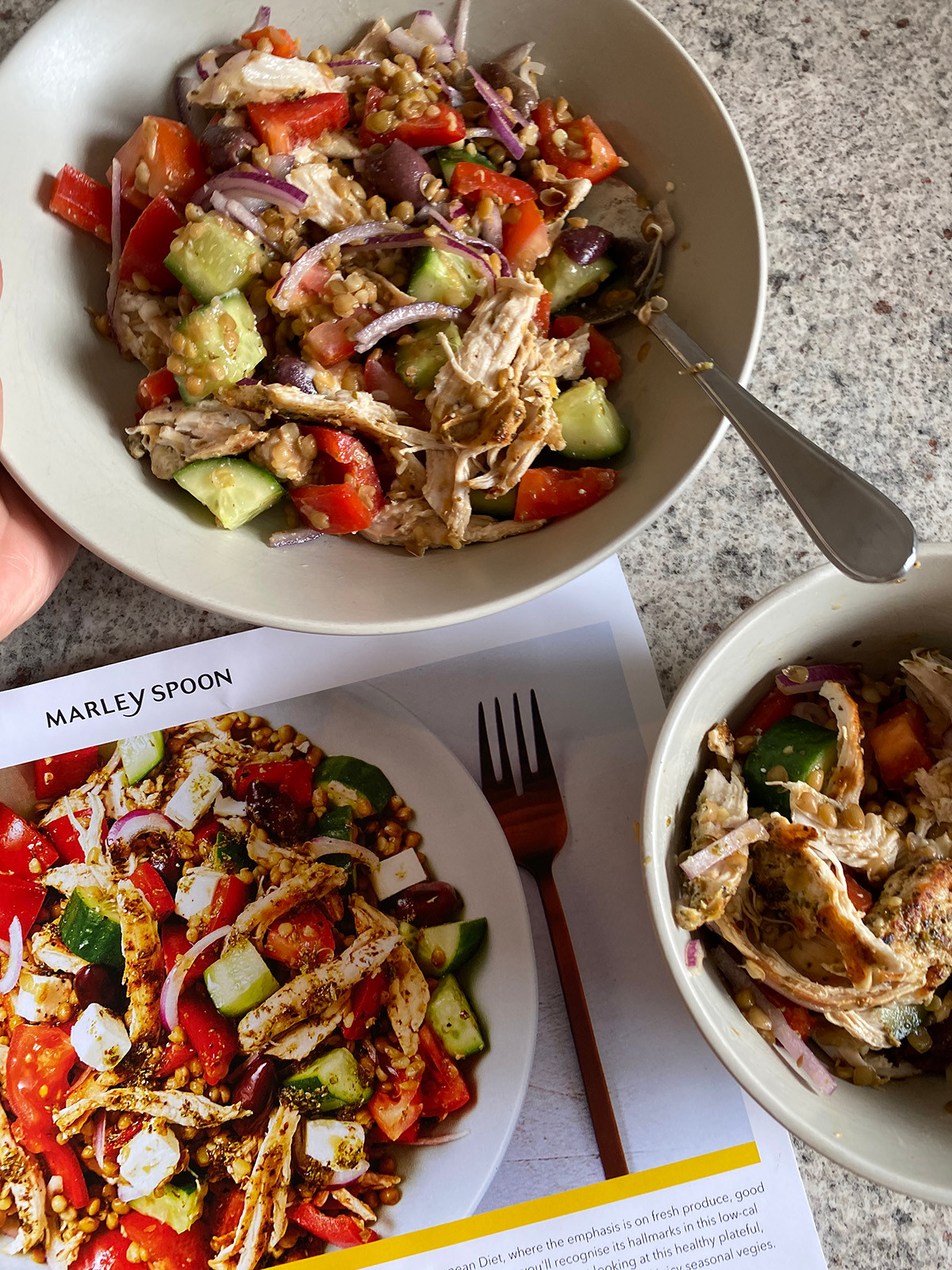 Meal 1: Protein shake with almond milk, banana and nut butter
Meal 2: Chicken and rice with broccoli and avocado
Meal 3: Protein shake and gluten-free cereal
Meal 4: Barramundi with sweet potato chips and Greek salad
Snacks: Raw cacao nibs, protein yogurt, almonds
This is an excellent macro-friendly meal. I wouldn't change too much of it if you were just looking for a balanced meal that can still help you to meet your protein requirements and help you with your body composition goals. If you're a keto or low-carb eater, I'd just remove the lentils and replace them with pumpkin which is full of water and fibre and low calories and carbs.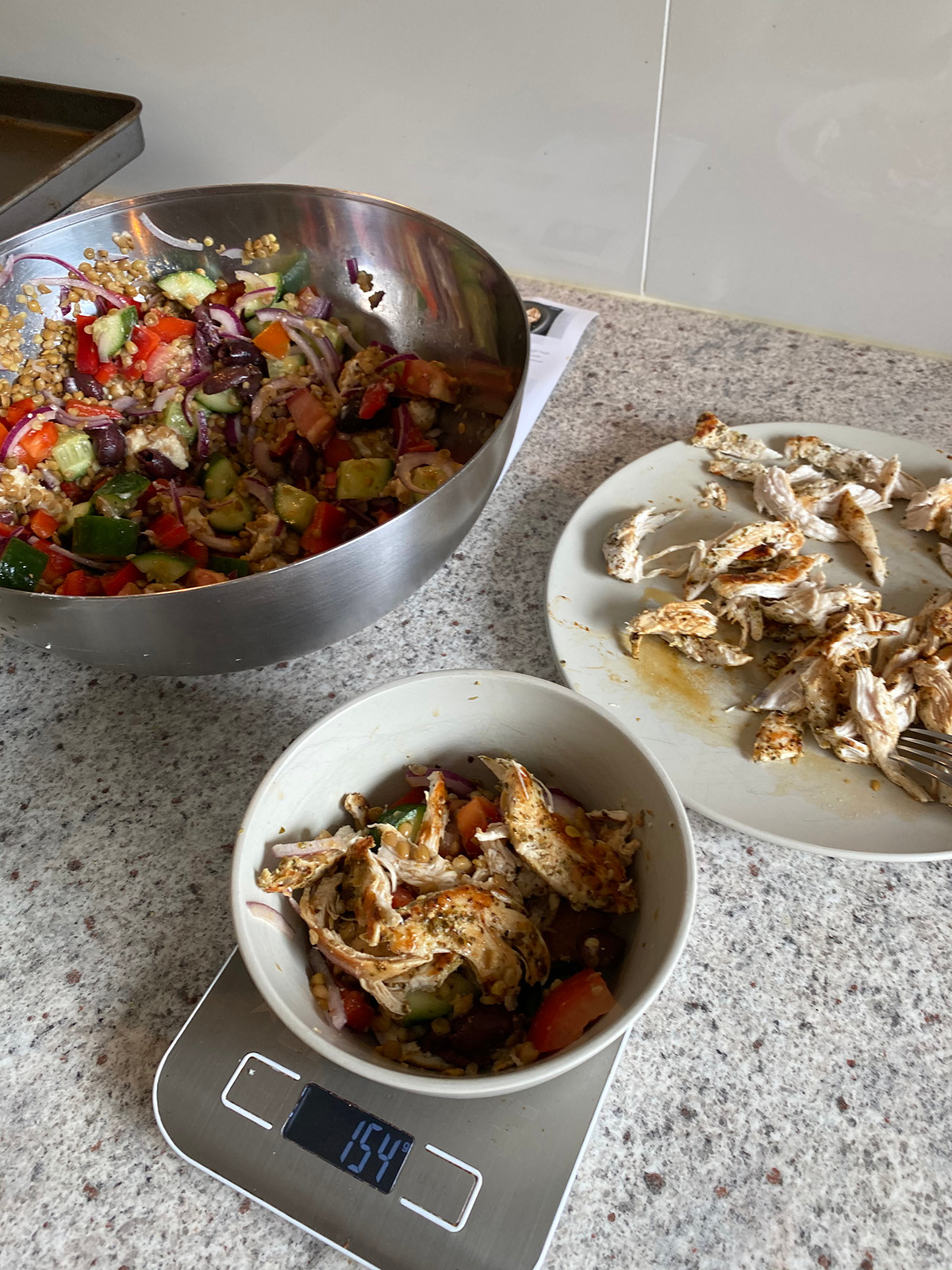 Will Marley Spoon save you time and money?
If you're looking at a meal kit service, then you're probably wondering how it stacks up to doing your own meal prep. The thing with the food prep is, you can make it as complicated or as simple as you want. If you're going to go for just a simple meal plan, you can survive off simple chicken meals: For example, chicken, sweet potato and broccoli with coconut aminos is my go-to. Yes, it gets boring, but at least I know what I have each week, and it takes the hassle out of always trying to think of something new. If you crave more flexibility, it's definitely worth going for MyFitnessPal and putting in your food items that way so you can keep track of your macros.
Essentially, it depends on your routine. I think Marley Spoon is based on a traditional set up of 3 meals a day with 2 snacks, which is fine. A of active people, however, may eat more frequently (or less if you're fasting!).
Meal 1: Protein shake with almond milk, banana and nut butter
Meal 2: Chicken and rice with broccoli and avocado
Meal 3: Protein shake and gluten-free cereal
Meal 4: Barramundi with sweet potato chips and Greek salad
Snacks: Raw cacao nibs, protein yogurt, almonds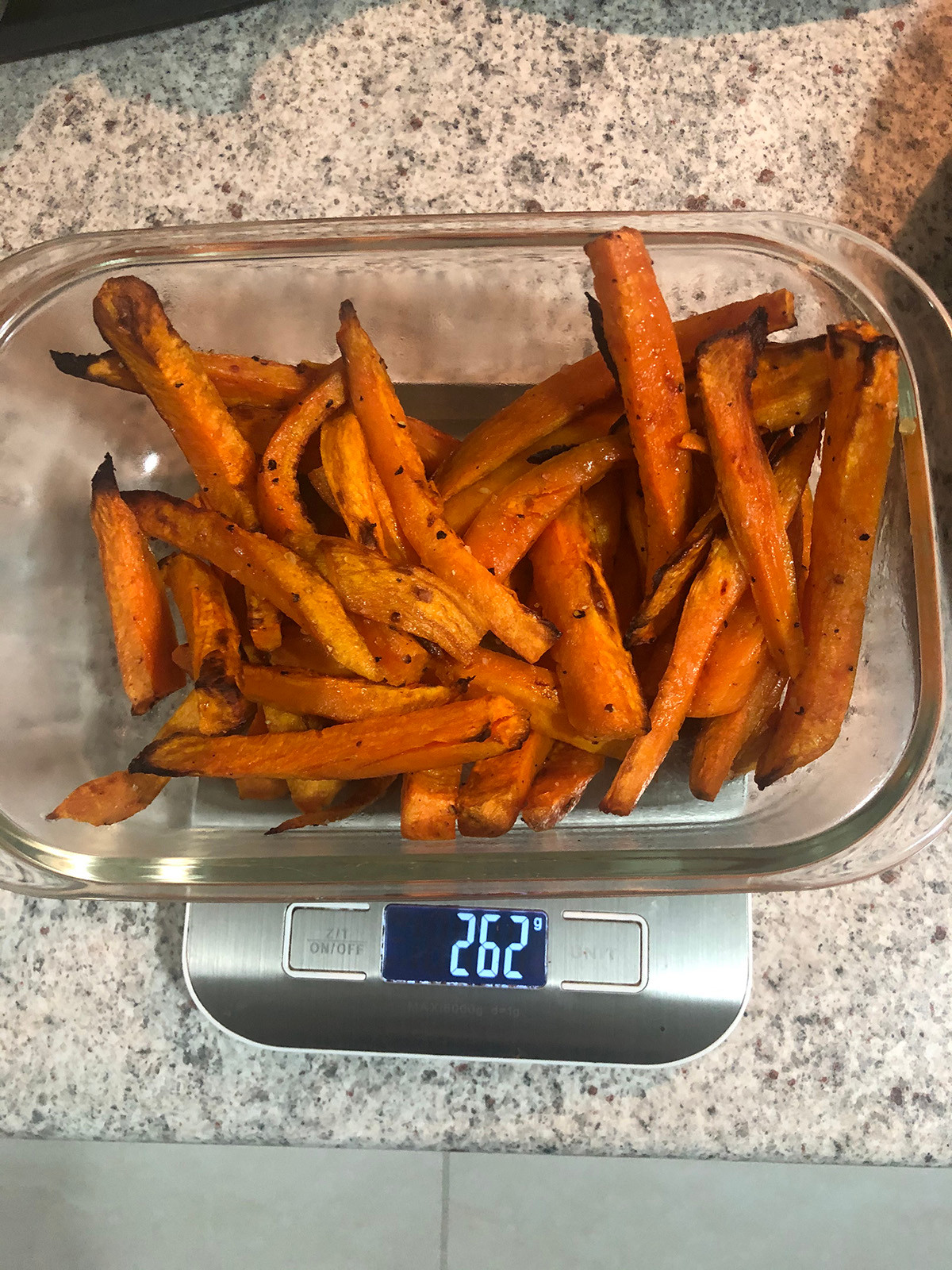 As you can see, there are 4 meals, sometimes up to 5, depending on the day. There's no real right or wrong with the number of meals, it's whatever works for you and your schedule. I personally do it like this because I enjoy eating smaller meals more frequently.
Let's compare one of my main meals (Chicken and rice with broccoli and avocado) to the cost of Marley spoon:
100g chicken breast = $3.15
100g sweet potato = $0.45
50g broccoli = $0.25
1/4 avocado = $0.75
5ml coconut aminos = $0.20
Total: $4.80 per meal
Macros
Protein: 27g
Carbs: 27g
Fat: 7g
Total: 276kCal
Marley spoon advertises their meals as being $12.50 per portion. Altering the macros would make only a minor price difference, so I'll base it off $12.50. One of my meals would be roughly two Marley Spoon meals, so it's $4.80 versus $6.25. Not a huge difference, but you have to take into account that I used organic chicken, which is very expensive.
If it was one of my fiancé's meals, it would look something like this:
200g lean mince = $2.80
200g rice = $0.40
100g frozen vegetables – $0.30
50g diced canned tomatoes – 0.50
Chilli con carne mix – $0.60
= $4.60 versus $12.50
Macros
Protein: 44g
Carbs: 27g
Fat: 7g
Total 276kCal
Also note that my fiancé also has several meals a day, so what comes in a Marley Spoon box probably isn't enough to meet his energy requirements!
What's the verdict on Marley Spoon?
If you're looking to improve your body composition, then you need to have controlled meals that are macro-friendly. Saving time, money and energy is a bonus and will help you focus on your training, recovery and the fun things in life!
In terms of Marley Spoon's 'macro-friendliness', it's too hard to know whether the meals will be macro-friendly because there's a huge variety available. You'll have to be diligent on which ones you pick. For example, I saw a recipe for a Pork Dumpling soup that had only 24g protein and over 120g of carbohydrates per serve!
Marley Spoon definitely suits if you're just looking for something healthy, but you don't need to stick to particular macros. However, if you're an athlete or even just a 'gen pop' (general population) looking to achieve the next level of fitness, then it will be more of a challenge. Firstly, when you're trying to diet down, every calorie counts, including sauces and condiments. If you want to track your macros while using a meal prep kit, weigh out the portions and put the figures into MyFitnessPal or other nutrition app.
In terms of time and cost, making your own meal prep is definitely cheaper, and you have more control over how 'macro-friendly' you make it. The obvious downside is needing to do a weekly shop (which takes time), and having to put thought into your own meals. If you're time-poor, aren't fixated on macros and don't mind paying a little extra for convenience, then Marley Spoon is a great option for you. Not only will you have everything delivered to you, you can enjoy the variety of all the different recipes!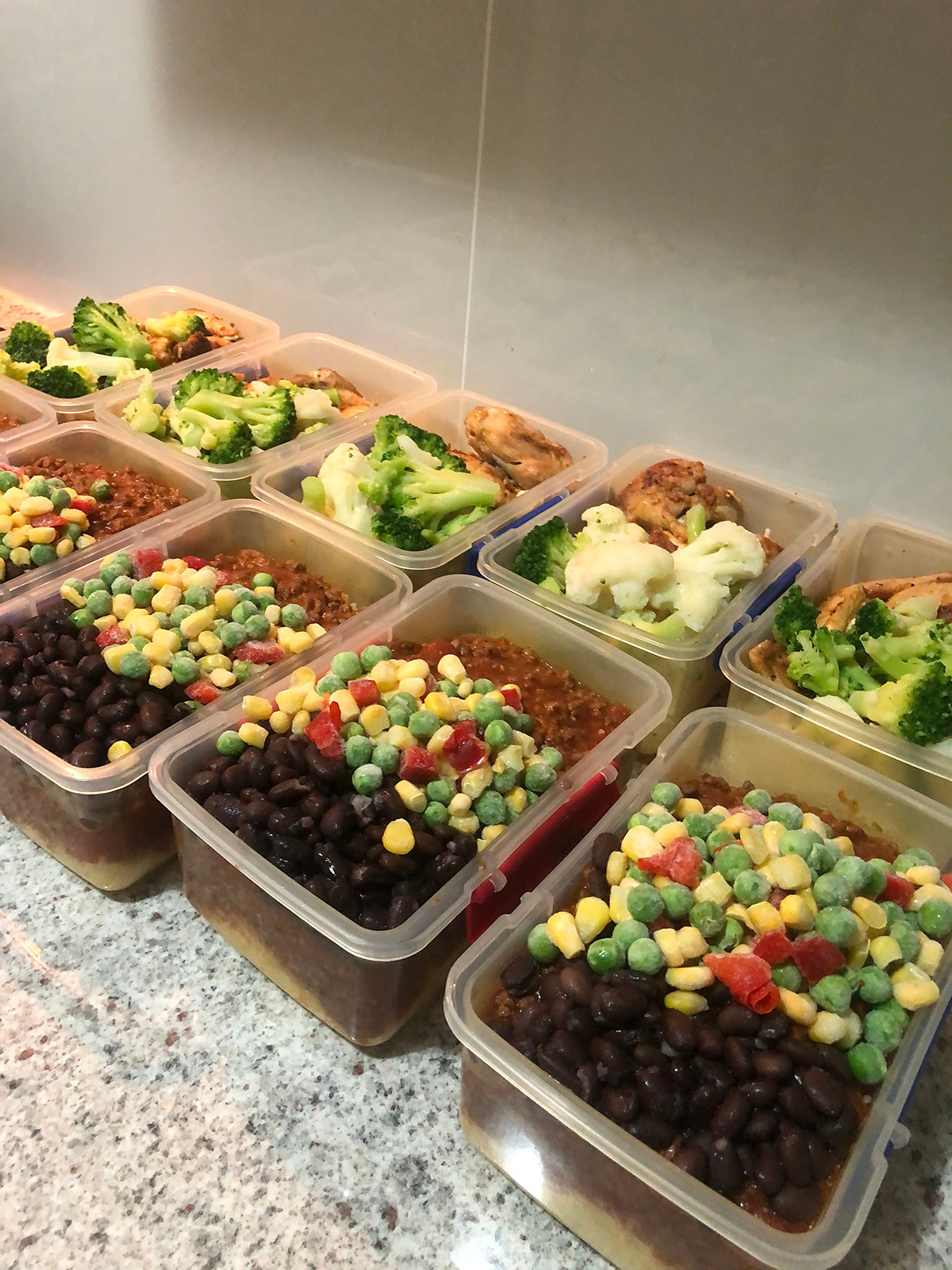 References
Myfitnesspal.com. 2020. Myfitnesspal | Myfitnesspal.Com. [online] Available at: [Accessed 09 November 2020].
Woolworths.com.au. 2020. Woolworths Supermarket - Buy Groceries Online. [online] Available at: [Accessed 11 November 2020].