📝 Updates
10 High Protein Pizza Toppings (Low Carb Friendly!)
Growing up, home made pizza night was Sunday night. Who doesn't love homemade pizza night?
UPDATED ON Aug 01, 2022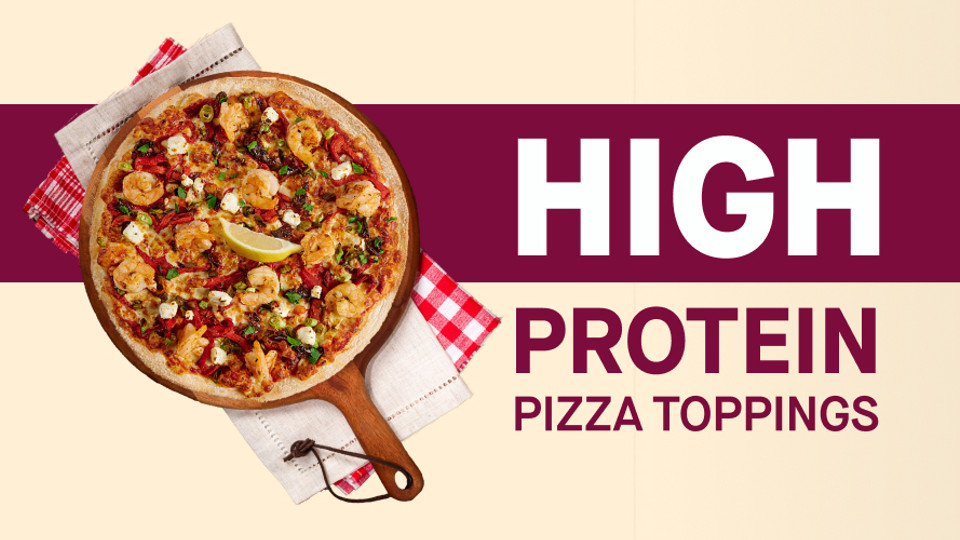 I love pizza, yet I find it very easy to go overboard with sauces and toppings when chowing down on this Italian staple (especially if I'm ordering takeaway of a regular pizza)
I don't want to get rid of pizza from my weekly menu all together, so I've had to get creative in the kitchen to keep it healthy (and low carb for my weight loss journey).
With that in mind, I introduce to you Mealprep's top 10 high protein pizza toppings that are also low-carb and keto friendly.
Delicious, good for you and will leave you satisfied, you're going to love your homemade pizza recipe more than ever!
But first… before we dive into the toppings, we need to decide on the best cheese for the job!
The Two Best Pizza Cheese
High-protein cheese is a great place to start, so good thing we have an entire article dedicated to the best high protein and low carb cheese you can buy at the supermarket!
Parmesan cheese is the best man for the job, with 32.6g of protein per 100g, and less than 1g of carbs.
What about good old pizza fave Mozzarella cheese? Well, with 25.9g of protein per 100g and also less than 1g of carbs, by combining these two pizza classic together, you're already on your way to a high protein low carb pizza.
OK, onto the toppings!
High Protein Low Carb Pizza Toppings
Chicken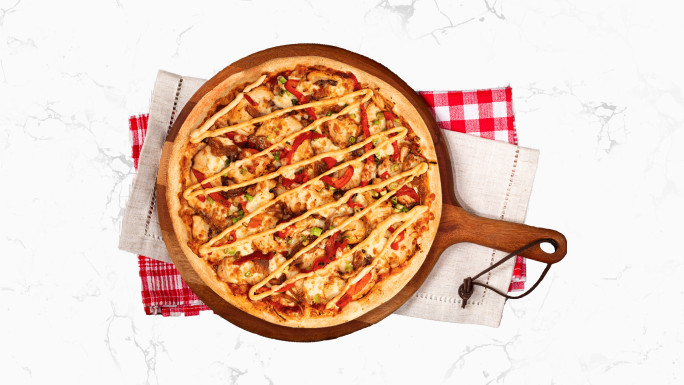 Protein per 100g: 27g
Carbs per 100g: 0g
Chicken pizza, especially BBQ chicken pizza might be my all-time favourite. High protein and low in carbohydrates, chicken is a must on your healthy low carb and high protein pizza. You can easily grab some chicken from the deli counter that's pre-cooked, or you can cook up your own chicken breast prior to adding it to your pizza. Chicken is high in vitamin B12, typtophan, choline, zinc, iron and copper. So, go forth and enjoy ample amounts of chicken on your pizza, friends!
Turkey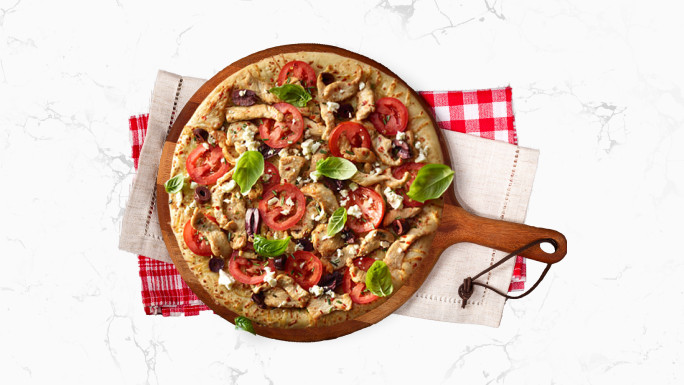 Protein per 100g: 29g
Carbs per 100g: 0.1g
Turkey is another low carb high protein pizza option with 29g of protein and 0.1g of carbs. Rich in protein (higher than chicken), and a lean protein so it's low fat, turkey is a great source of B vitamins, minerals and may even help support heart health. Not something you'd typically find on a traditional pizza, but defintiely one to give a try!
Ham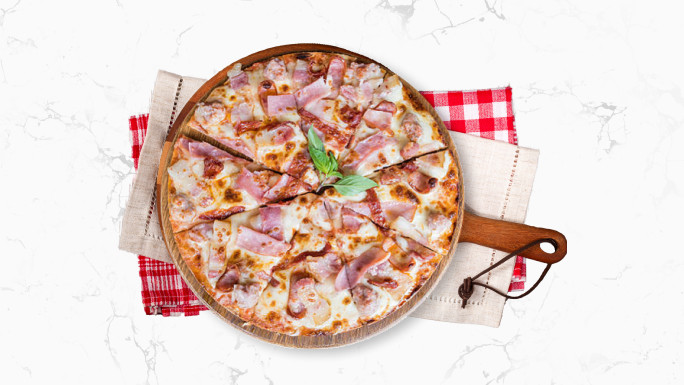 Protein per 100g: 21g
Carbs per 100g: 1.5g
Crispy ham on a pizza? There's nothing better. High in protein and low in carbs, if you love Hawaiian pizza, it's good news for you! Similiar to ham, pepperoni is also high in protein (23g) and low in carbs (0g), so if you love pepperoni pizza, it's also good news for you.
Prawns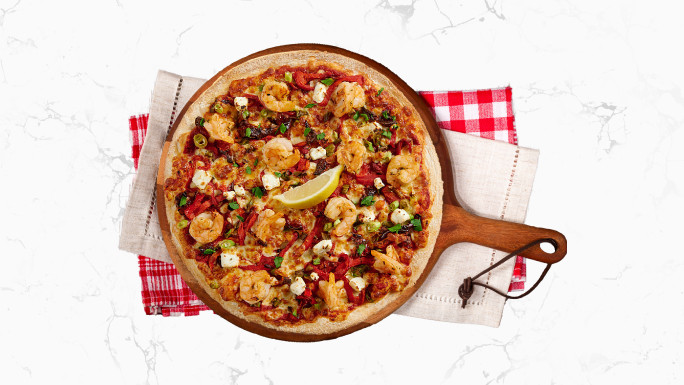 Protein per 100g: 24g
Carbs per 100g: 0.2g
Not everyone loves seafood on pizza, but if you do, prawns are a high protein and low carb topping that go well with a bunch of different veggies. You can pre-cook and marinade your prawns in some garlic and chilli for a spicy and tasty hit, if that's your thing!
Egg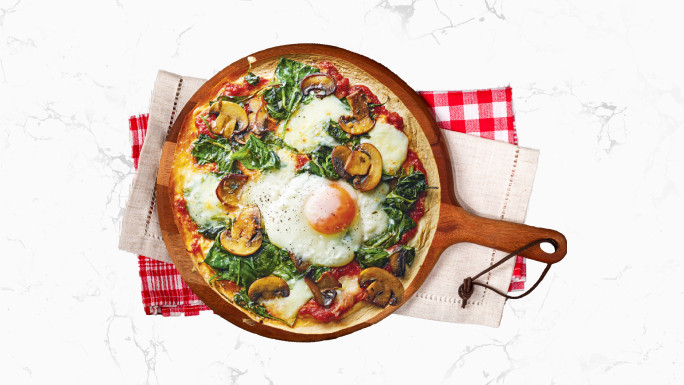 Protein per 100g: 13g
Carbs per 100g: 1.1g
Eggs florentine pizza is a simple way to ramp up the protein content of your homemade pizza, and all you have to do is crack and cook an egg in the middle of it! Not to mention of you cook the egg just right, you'll have some gooey runny yolk to dip your crusts into – how could you say no to that? Eggs are naturally rich in vitamin B2 (riboflavin), vitamin B12, vitamin D, selenium and iodine. They also have vitamin A and a number of other B vitamins including folate, biotin, pantothenic acid and choline.
Homemade Pesto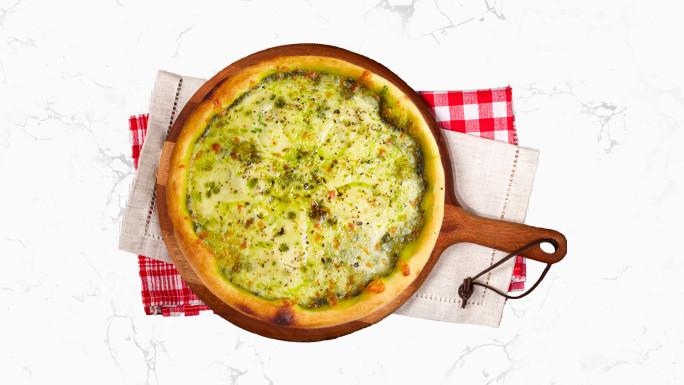 Protein per 100g: 19g
Carbs per 100g: 2.4g
Ever thought about making your own homemade pesto as an alternative to a tomato sauce based pizza? Or, smothering pesto on top of your cheese? It's high protein and low carb and quite frankly, super delicious. Try this keto basil pesto!
Portobello Mushrooms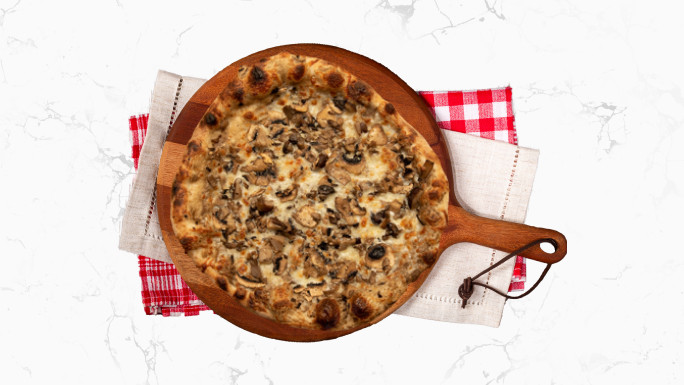 Protein per 100g: 2.1g
Carbs per 100g: 3.3g
On to the veggies! I know not everyone loves veggies on top of pizza, especially if you're a true meat lover. However, veggies can be a great low carb and high protein addition to your pizza. I love the taste and texture of portobello mushrooms, and they go great with an extra heaping of high protein parmesan cheese and sprinkled with some oregano. Yum!
Spinach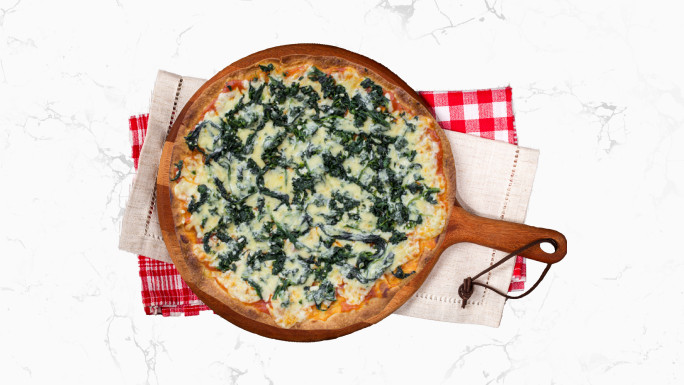 Protein per 100g: 2.9g
Carbs per 100g: 3.6g
In terms of high protein veggie pizza toppings, it doesn't get much better than spinach – it was Popeye's veggie of choice for a reason! Spinach has also been known to have cancer preventing properties, aid in good bone health, reduce blood sugar, it's good for your eye-sight… it has so many benefits. It's a great option for vegans or vegetarians too – I'd recommend a spinach, mushroom and garlic pizza for some serious high protein kick!
Cauliflower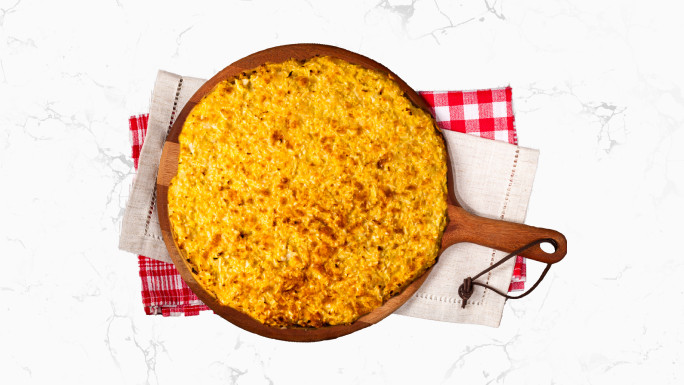 Protein per 100g: 1.9g
Carbs per 100g: 5g
Not your typical pizza topping, but I love cauliflower pizza (I love it as a pizza base too!) Cauliflower and cheese make an excellent combo – especially mozzarella and parmesan! Cauliflower is an excellent source of vitamins and minerals, containing some of almost every vitamin and mineral that you need. So, next time you're making your homemade pizza, you know what to do – add some cauliflower!
Broccoli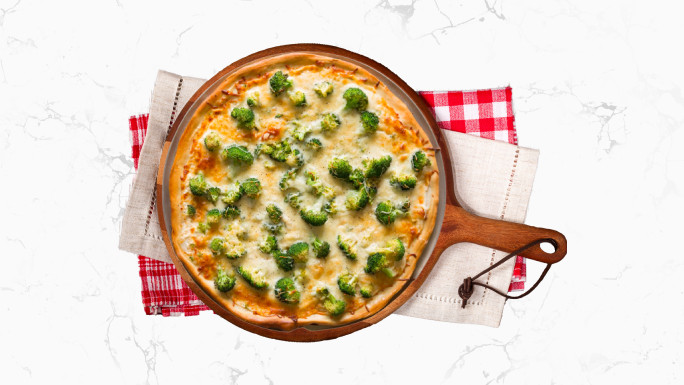 Protein per 100g: 2.8g
Carbs per 100g: 6.6g
Broccoli and bacon pizza, anyone? Anytime I eat broccoli I feel like I'm the healthiest person alive, so safe to say I love adding it to my pizza for a high protein low carb kick. Full of calcium, iron, potassium, zinc, niacin and so much more, don't forget about this humble veggie next time you do healthy pizza night at your house.
What About the Base?
Since we're talking low-carb high protein pizza, you might be wondering where the pizza base comes into this. Pizza bases tend to be where most of the kcal in pizza comes from, so safe to say you'll want to make sure you're buying or even making your own low carb pizza crust.
Some common low-carb high protein pizza dough options include coconut flour, almond flour, and cauliflower!
If you're searching online for a keto pizza recipe, you'll often find a crust recipe made from cauliflower. It's gluten free, high protein and low carb – what more could you want?
We love this cauliflower pizza crust recipe – check it out for yourself!
Low Carb Pizza Sauce
Can't forget about the pizza sauce! A tast and low carb pizza sauce I love is olive oil and garlic. Brush it on a keto pizza crust and hey presto, you're well on your way to the best healthy pizza of your life.
As we mentioned before as well, a pesto pizza sauce is a great low carb high protein option as well, or even a classic tomato sauce pizza sauce is a good bet (as long as you check the sugar content if you're looking at store bought).
General FAQs
What are some other low carb high protein toppings?
There are actually plenty of low carb high protein pizza toppings for you to choose fro! In terms of cheese, ricotta and feta are also delicious options, while ground beef is a great meat choice (and goes great with pinapple and musroom). And if you're looking for another green option, give zucchini or kale a go!
Should I avoid pizza on a low carb diet?
Everything in moderation is key, yet when you're on a specific low carb diet, you really are limited with your daily carbs and when it comes to traditional pizza, it's not exactly known for being low carb. However, making your own pizza at home with a keto pizza crust, low-carb sauce and low carb toppings mentioned in this blog, there's nor eason you can't enjoy pizza from time to time on a low carb diet.