📕 Guides
Healthy Breakfast Cereal Options For Adults According to a Nutritionist
POSTED ON Feb 26, 2022
#

NAME
Serving size
Sugar per 100g
30g
1g
33g
3.0g
45g
3.0g
45g
2.9g
50g
2.76g
50g
3.4g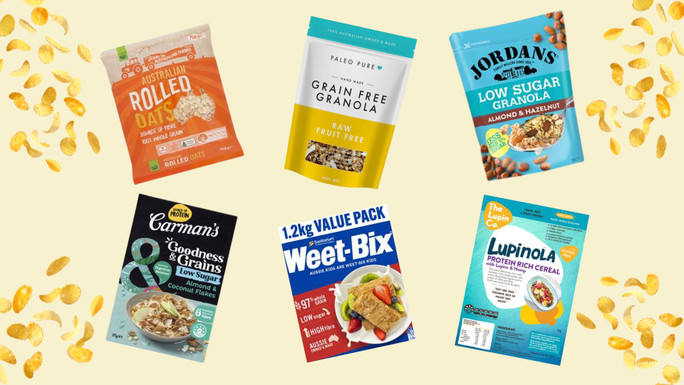 Related: 6 Healthy breakfast cereals for kids

For many Australians, breakfast cereals are a pantry staple. They're convenient, affordable and an easy way to fuel up in the morning.
Unfortunately, most commercially made cereals are not the healthiest breakfast option. This makes navigating the supermarket aisles to find cereals that aren't packed with sugar, sodium and additives overwhelming.
Bypass the marketing jargon and read the ingredients lists and nutrition panel.
Look for quality, whole food ingredients and steer clear of those that belong in a lab.
Compare the nutrients by 100g not by the serve.
Choose a cereal with 8-10g of sugar per 100g or less.
Look for cereals with 10g or more of fibre per 100g.
Consider how you can boost your cereal's protein content with quality toppings.
What determines a healthy cereal?
We all have different nutrient needs. However, as a nutritionist, there are some factors I consider when determining if a breakfast cereal is health-promoting or if it should be left on the shelf.
These include:
The number and type of ingredients
The sugar content per 100g
The amount of fibre per 100g
The protein content per 100g
The overall calories per serve
What to look for when shopping for a healthy cereal?
When shopping for a healthy cereal, the first thing to do is ignore the marketing jargon on the front of the packaging. Food companies get very creative at luring you in to believe their product is full of goodness, bursting with flavour and a nutritious way to start your day.
Flipping over to the nutrient panel is where you can discover all the facts about the cereal.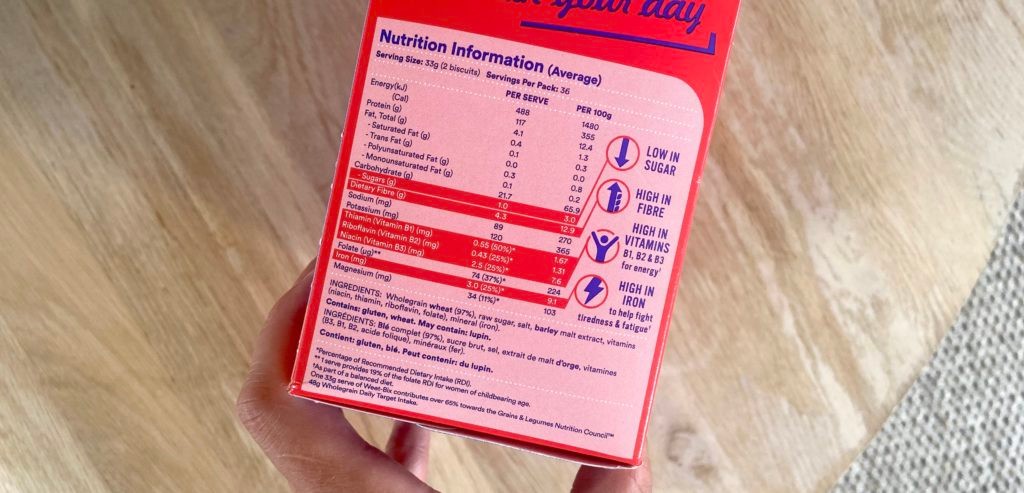 Here I break down the main factors to assess when choosing a quality breakfast cereal.
Ingredients
Examine the ingredients list. If it's a lengthy list and you notice words you can't pronounce or lots of numbers, this is not a quality cereal.
Instead, look for the inclusion of whole food ingredients. A cereal made of at least 50% whole grains such as rolled oats, spelt, or rye is a good option. If you're looking for a gluten-free option, seek out one with quinoa, buckwheat or nuts and seeds.
I love a cereal with other nutritious ingredients like quinoa, almonds, brazil nuts, pumpkin seeds, flax seeds etc. These are nutrient-dense and fibre-rich ingredients that make a cereal healthy.
Keep an eye out for additives, colours and other ultra-processed ingredients. Be wary of the term "natural". There isn't much regulation around this word, so "natural flavour" doesn't necessarily mean it's good for you.
Ingredients are listed by quantity from highest to lowest. This is a great way to determine the main ingredients and how they compare to other products.
Sugar content per 100g
Most breakfast cereals will have some form of added sugar in varying quantities. Generally, the more sugar, the fewer whole grains and fibre making it more of a dessert than a healthy breakfast option.
You want to look at the amount of sugar per 100g, not per serve! You might be surprised at just how many serves fill your cereal bowl. I recommend you choose cereals that contain no more than 8-10g of sugar per 100g.
Sugar is a sneaky ingredient that is disguised well under other names. These can include:
Agave syrup
Brown sugar
Cane sugar
Coconut nectar syrup
Date syrup
Dextrose
Fructose
Fruit juice concentrate
Glucose
Glucose syrup
Golden syrup
High-fructose corn syrup
Honey
Lactose
Maltodextrin
Maple syrup
Raw sugar
Rice malt syrup
Sucrose
Warning:
There are 56 different names for sugar which makes navigating food labels complex and time consuming!
Fibre content per 100g
A healthy breakfast cereal should be fibre-rich as this not only will help keep you feeling full, but fibre will help to regulate your blood sugar levels, maintain a healthy weight and feed your gut microbiome.
Most Australians don't consume enough fibre, so starting your day with a fibre-rich meal is highly recommended.
Men require 30g of fibre a day and women 25g. A high fibre breakfast cereal will contain more than 10g of fibre per 100g.
The protein content per 100g
Even a healthy breakfast cereal isn't going to have as much protein as a couple of eggs but there are some higher than others.
Protein is an important nutrient to start your day with and should be featured in every meal. I recommend 20-30 grams of protein per meal depending on your individual requirements.
Cereals with whole grains, nuts and seeds will have a higher protein content than ultra-processed and refined varieties.
Tip:
Increase the protein of cereal with your toppings such as yoghurt, milk or even a protein powder if you require more.
The overall calories per serve
As a nutritionist, I tend to focus on the quality of the calories versus the number of calories, unless weight loss is a goal.
You can have a low-calorie cereal or food product made of poor quality ingredients that don't offer much nutrition.
Your calorie requirements will differ from the next person depending on your age, weight, height, exercise regime and health goals.
As a guide, I recommend keeping your breakfast around 400-450 calories. We tend to put toppings on cereals such as berries, honey, yoghurt and milk, so you'll want to account for the extra calories.
With this in mind, opt for a cereal that is approximately 250-300 calories per serve.
When making breakfast, be mindful of what an actual "serve" is. It's worth measuring it out the first couple of times so that you avoid overeating. You might actually be surprised.
Is a cereal with a high health star rating the best?
The health star rating is a voluntary Government program that aims to guide people on healthier food products.
Only about 20% of packaged foods have a health star rating as it is an expensive program for smaller food manufacturers to participate in.
One of the main downfalls of the program is that it is compensatory, meaning a negative attribute of the product can be cancelled out by a positive attribute.
For example, a breakfast cereal that is high in sugar can receive a high health star rating if they add an ingredient deemed healthy, such as fibre. A perfect example of this was when Milo was given a 4.5-star rating.
There are many loopholes in the health star rating system which is why I don't recommend you rely on this as a tool in determining which is a healthy cereal for you. Learning to read and understand the nutrition panel or making your own cereals is the best way to know if you're eating a bowl of healthy breakfast cereal.
The healthiest cereals for adults
Very versatile
Woolworths Rolled Traditional Oats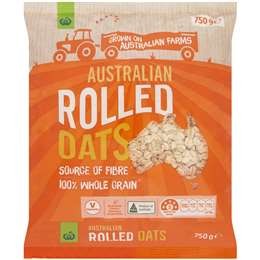 Calories per 100g: 380 kcal
What's good?
Nutritious
Low sugar
Versatile
What's not so good?
Plain (boring for some!)
Requires add-ons for flavour and nutrient variety
Ingredients: Whole Grain Oats (100%). 
Rolled oats are a nutritious and filling breakfast option that can be served hot or cold. Think porridge, muesli, overnight oats or even used to bake breakfast muffins or bars. The key is to opt for rolled or steel-cut oats over quick oats as you'll retain a higher fibre content. I also advise saving your money on the flavoured individual sachets and flavouring the oats yourself with natural spices and sweeteners.
With only one ingredient, you know what you're eating with rolled oats and you can easily build on it with whole food ingredients to add flavour and nutrient variety. Try with nuts, seeds, cinnamon, vanilla, fresh berries, stewed apples or a dollop of yoghurt. You can add protein powder, collagen or other supplements and superfoods to boost the nutrients.
Family-friendly
Sanitarium Weet-bix Breakfast Cereal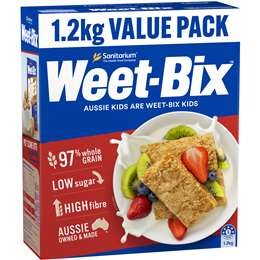 Calories per 100g: 355 kcal
What's good?
Family-friendly
Good in moderation
Good source of fibre
What's not so good?
Addition of raw sugar and barley malt extract
Ingredients: Wholegrain wheat(97%), raw sugar, salt, barley malt extract, vitamins (niacin, thiamin, riboflavin, folate), mineral (iron).
Sanitarium Weet-bix is a family favourite and while the addition of raw sugar and barley malt extract doesn't make it a 5-star cereal, it is one that could be enjoyed in moderation. Being relatively plain, you can enhance the nutrient content with your toppings.
Avoid the Weet-bix blends or bites as these tend to have much more sugar and flavours that you just don't need in a cereal. Flavour it yourself!
An occasional treat
Carman's Goodness & Grains Low Sugar Almond & Coconut Flakes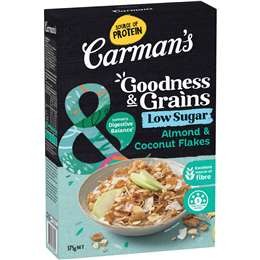 Calories per 100g: 380 kcal
What's good?
Great nutrient variety
Delicious
High fibre
What's not so good?
Addition of sugars and sunflower oil
Inclusion of "natural" flavours
Ingredients: Bran Flakes (Whole Grain Wheat, Wheat Bran, Brown Rice, Psyllium Husks, Brown Sugar, Quinoa, Barley Malt Extract, Salt, Mineral [Iron], Vitamins [B3, B2, E]), Whole Grain Oats, Bran Straws (Wheat Bran, Wheat Flour, Salt), Sunflower Seeds, Almonds 5%, Coconut 4.5%, Natural Flavours, Sunflower Oil.
The inclusion of different whole grains in Carman's Goodness & Grains means you get a variety of vitamins and minerals. It's also a very tasty product and doesn't require you to do much in the way of flavouring it.
Just be mindful, the sugars, "natural" flavours and sunflower oil make it a good occasional option not for every day.
Low sugar granola
Jordans Granola Low Sugar Almond Hazelnut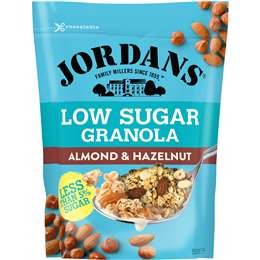 Calories per 100g: 449 kcal
What's good?
Low sugar for granola
High protein
Good nutrient variety
What's not so good?
Use of natural flavouring and sunflower oil
Ingredients: Whole Grain Oat Flakes (55%), Barley Flakes (19%), Chicory Root Fibre (11%), Nuts (7%) (Sliced & Whole Almonds (5%), Chopped Roasted Hazelnuts (2%)), Sunflower Oil, Seeds (1%) (Pumpkin Seeds, Sunflower Seeds), Desiccated Coconut, Natural Flavouring.
For a flavoursome cereal, Jordans Low Sugar Granola is low in sugar and has a decent amount of fibre which is great. The addition of nuts and seeds means there is also more protein than some other brands.
While there isn't any added sugar, the natural flavour and sunflower oil aren't ideal and should only be consumed in moderation.
High protein cereal
Lupinola Protein-Rich Cereal – Lupin & Hemp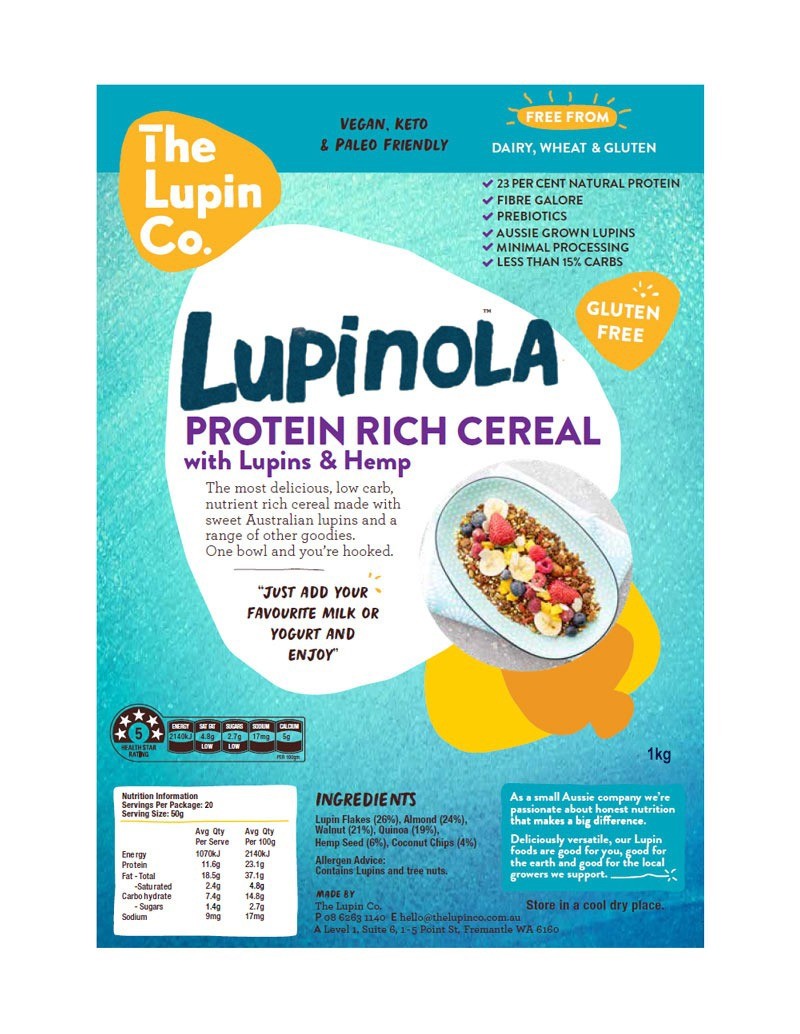 Calories per 100g: 511 kcal
What's good?
High protein
Low sugar
Great quality ingredients
Wheat and gluten-free
What's not so good?
Higher cost
Not readily available
Ingredients: Lupin Flakes, Almond, Walnut, puffed Quinoa, Hemp Seeds and Coconut chips. 
If you're looking for a high protein cereal that's low in sugar, this is it! I love the quality and minimal use of the ingredients in the Lupinola Cereal.
Lupin is a member of the legume family and is GMO-free. It has a slightly nutty flavour which is delicious as breakfast cereal and is an ideal option for those looking for wheat-free and gluten-free breakfast cereal. Lupin is also high in protein and fibre while being low GI and containing few carbs.
This cereal is found in several health food stores and smaller supermarkets. It is more expensive than some of your common brands but you're paying for quality ingredients.
A grain-free option
Paleo Pure Raw fruit free grain-free granola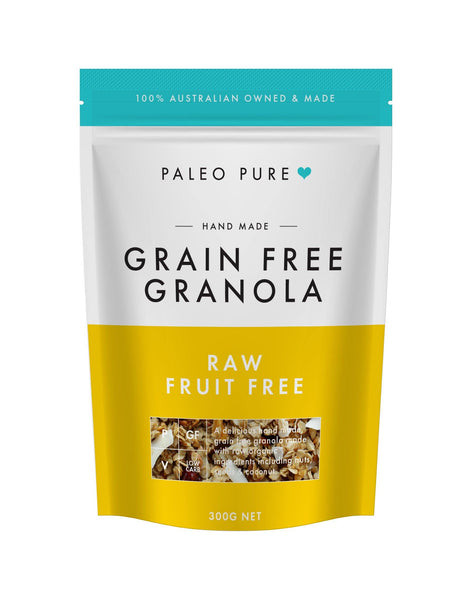 Calories per 100g: 616 kcal
What's good?
Grain-free
Quality ingredients
No nasties
What's not so good?
Higher price tag
Not readily available
Ingredients: Australian Organic Almonds, Organic Pepitas, Organic Sunflower seeds, Organic Shredded Coconut, Organic Coconut Flakes, Organic Coconut Oil and Ground Cinnamon.
The ingredients in the Paleo Pure granola tick all the boxes of being whole food, natural and delicious. If you're looking for a cereal to enjoy regularly this is a good grain-free option. It is also made fresh weekly!
You'll find breakfast very pleasurable eating this granola. You may need to order Paleo Pure granola online or you can find it in some supermarkets including Woolworth's Metro and IGA as well as health food stores.
The worst cereals for adults
Moving away from Frosties, Fruit Loops and Coco Pops (yep, seriously the worst cereals on the market), I focus on the worst breakfast cereals for adults based on their sugar content.
Kellogg's Nutri-Grain

26.7% sugar

Kellogg's Sultana Bran Buds

23.9% sugar

Uncle Toby's Fruit Bites

23.5% sugar

Freedom Foods Breakfast Heroes Choc Boulders

22.4% sugar

Freedom Foods XO Crunch

22.2% sugar
Cereal can be a good food option to fuel up for your day ahead. The healthiest cereal for you is going to be the one you make at home, but that's not often the most convenient option. So remember these key takeaways when shopping for a breakfast cereal so you don't fall into the trap of having a nutrient-poor dessert for breakfast.