If you're looking for ready-made meals that will help keep your portion control in check and allow you to hit those all-important macro targets, you'll be interested in the Fitness Outcomes products.
Fitness Outcomes have an extensive range of convenient meals all made of nutritious, wholefood ingredients. They promise that their meals tick all the boxes including high protein, premium ingredients and delicious taste.
Let's see if they stack up!
Was the Beef Chilli Con Carne with Brown Rice & Green Beans nutritious?
There is a lot to like about the ingredients of Fitness Outcomes' Beef Chilli Con Carne with Brown Rice & Green Beans.
Firstly, there are only 17 ingredients and as promised, these are all whole foods you can expect to find in your home fridge and pantry and 87% Australian. There are no artificial colours, flavours, preservatives, emulsifiers or refined vegetable oils – only real food ingredients which is pretty uncommon when it comes to frozen meal options. As a nutritionist, this is a big win.
Fitness Outcomes have chosen to use grass-fed beef in the Chilli Con Carne and this extends across the rest of their meal range. I recommend grass-fed meat over grain-fed because it's an animal's natural diet and research suggests the nutrient profile is greater.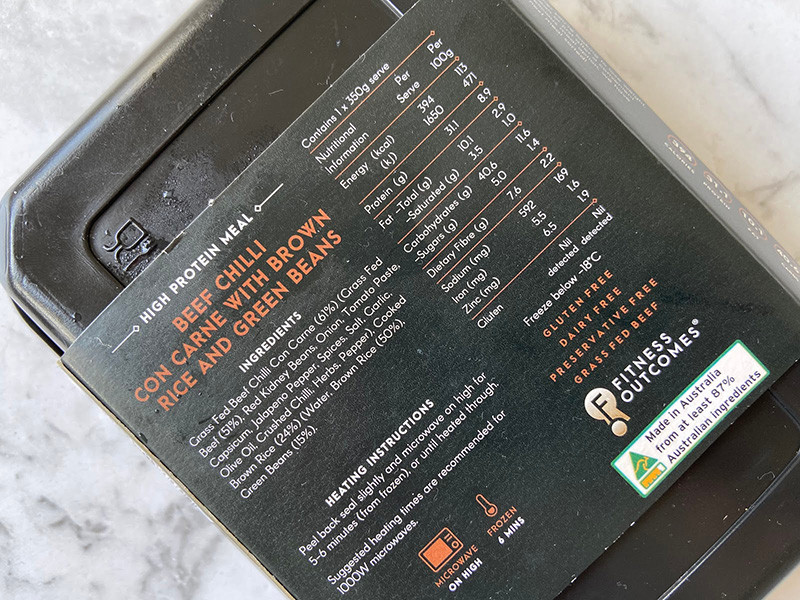 Another appeal of this Fitness Outcome meal is that the macronutrient balance is superior to many other ready-made meals available. The total protein per serve is 31.2g thanks mainly to a generous portion of the grass-fed beef making up 51%.
The carbohydrate content is relative at 40% and lower than your typical frozen meal. And unlike many options, the carbs aren't refined so you are consuming complex carbs from the brown rice (24%) and the vegetables. This is going to make the meal more sustaining and have less of an impact on your blood sugar balance. Another bonus is that the saturated fat, sugar and sodium is all within the recommended range and lower than make pre-made meals.
Like a lot of other convenience meal options, the vegetable portion is minimal. There are only 15% green beans and some red kidney beans and capsicum in the chilli itself. This is reflective in the low fibre content at 2.2g per 100g. I would recommend adding some leafy greens and other non-starchy vegetables to boost the nutrient composition.
Related: High Protein Diets: Who and What Are They For?
How convenient is the Fitness Outcomes range?
The Fitness Outcomes range is available in many of the major supermarkets including Coles, Woolworths and IGA. Depending on your location, they can also be found in many fresh food stores.
To enhance the convenience, the Fitness Outcomes meals are also available to purchase online as a one-off delivery with a minimum order of 10 meals or as a subscription service. Not only will you not have to cook, you won't have to leave your home.
The meals retail for $9.95 which is slightly higher than some other ready made meals. However, this is reflective of the premium ingredients used and the avoidance of cheap, refined additives. In my opinion, it's well worth the extra couple of dollars. You would, however, be able to easily make this meal at home for less.
The Fitness Outcome meals can be heated in the microwave for 2 minutes if defrosted, otherwise 5 minutes if frozen. Keep in mind, the packaging is entirely plastic. While recyclable, it is well-recognised heating and storing food in plastic will increase your toxin exposure. This is a downside of many premade food options.
With the ability to be stored for up to 6 months in the freezer, The Fitness Outcome meals are a good option for those wanting grab-n-go convenience meals on hand to keep your fitness goals on track or in the event you haven't done your meal prep.
Related: Meal Prepping on a Budget
How was the taste of Fitness Outcomes' Beef Chilli Con Carne?
When heated, the appearance of the Chilli Con Carne was very similar to the picture and immediately you can smell the aromas of a homemade Chilli Con Carne.
The variation in the texture of the chilli is appetising with whole red kidney beans, minced meat and small pieces of capsicum, onion and jalapenos. The brown rice is also a great texture, not at all gluggy which can occur when heating a frozen meal.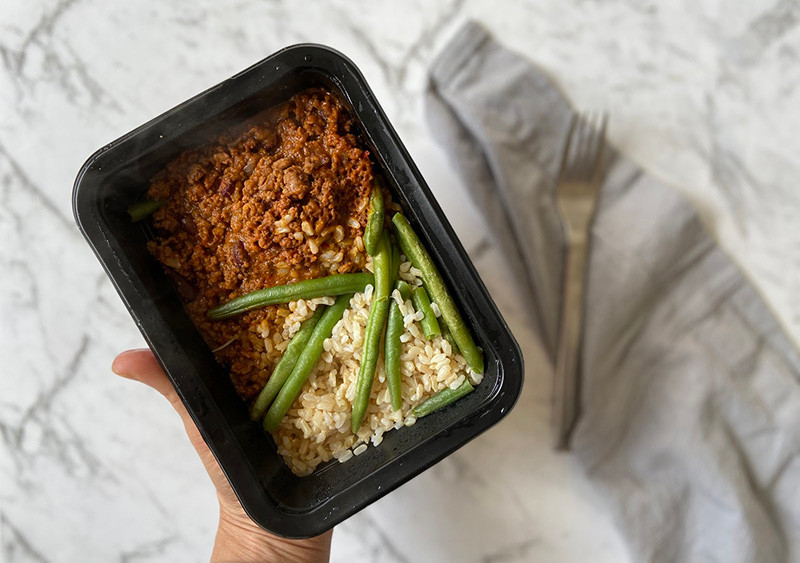 The one displeasing looking element of the dish are the green beans which look limp and lifeless. Unfortunately, this is often the downside of freezing and reheating. I would also prefer to have more non-starchy vegetables.
The Beef Chilli Con Carne tasted delicious and very similar to a homemade meal. The subtle heat provided by the chillies and jalapenos added depth and it was nicely paired with the brown rice. Although not visually appealing, the green beans are sweet and add to the dish.
With a generous serving of protein, this meal was very filling and provided a sustained source of energy. All in all, this is the ideal option if you're watching your portion sizes, wanting to manage your macronutrient intake or simply need a grab-no-go ready-made meal.
Where can you buy Fitness Outcomes?
Their meals are available online or in-store at Coles & Woolworths – see their stockists page for more details.
Have a product review suggestion?
All of our reviews are independent based on our own experiences. If you have a product you want to see reviewed, let me know in the comments below!