📝 Updates
Coles PerForm vs Core Powerfoods
Coles PerForm is a newly released frozen meal range targeted at health seekers and fitness enthusiasts that put their health first. It's a convenient and budget-friendly option but does it stack up to it's main competitor - Core Powerfoods?
UPDATED ON Jun 20, 2022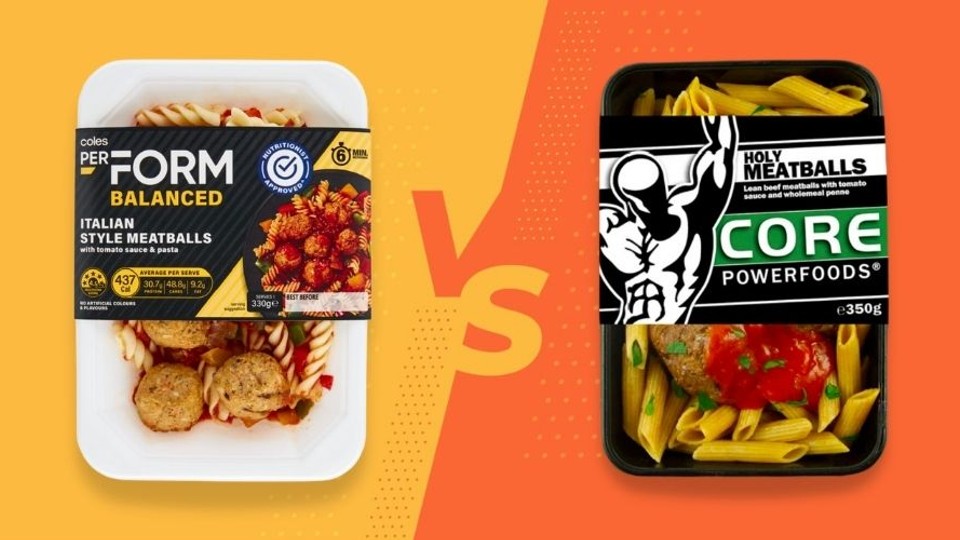 As a performance dietitian, I can confirm that frozen meals are a great back-up plan for myself and many of my athletes. They can be a healthy, convenient way to meet your protein and energy needs.
I was very excited when Coles announced the release of its very own healthy, frozen meals called "Coles PerForm". It is targeted at health seekers and fitness enthusiasts that put their health first. All their meals are four health stars and above – which indicates that it is low in saturated fat, sodium and sugar compared to other frozen meals available.
When major supermarkets launch their own brands, they are often seen as a more affordable but lower quality option. That's why, I put it to the test against its biggest competitor: Core PowerFoods.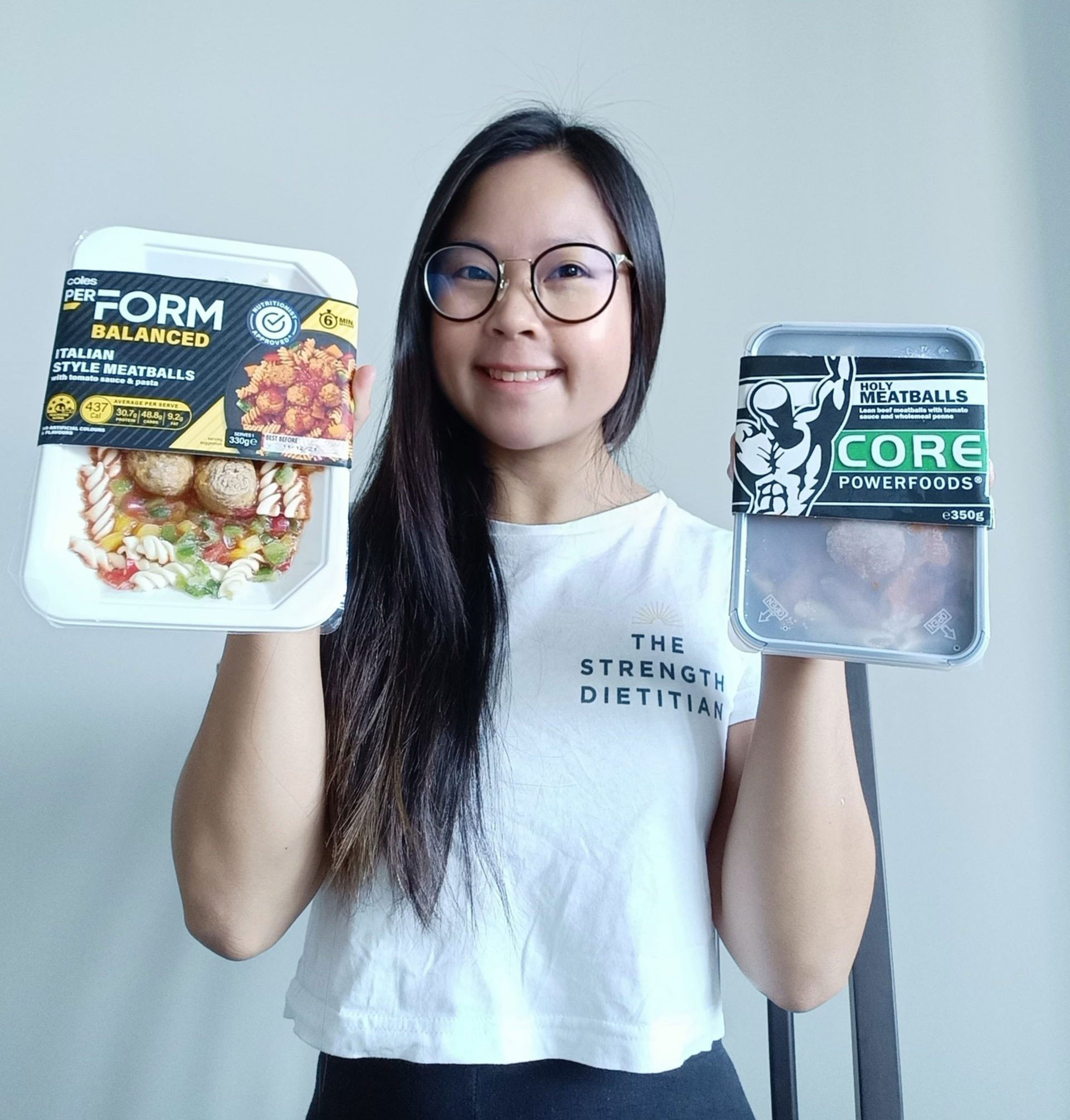 Who is it for?
The Coles PerForm range has frozen meals in 3 categories: lean, balanced and build.
For individuals with a calorie target, this can help make finding meals easier.
Lean range: aims to control calorie intake and is under 355 calories
Balanced Meals: aimed for active individuals, sitting between 350-500 calories
Build Meals: aims to help you build muscle and fuel your strength workouts. They are 455 calories or more.
Variety:
In total, there are 12 different types of Coles PerForm meals available online at Coles, with each category having 4 meals.
Lean:

Tandoori Chicken
Open Chicken Fajita
Lemon Pepper Chicken
Mixed Bean Chilli

Balance

Yellow Chicken Curry
Italian Style Meatballs
Portuguese Style Chicken
Cauliflower Potato & Chickpea Curry

Build:

Going Nuts- Satay Chicken
Mexican-style Chili Beef
Cottage Pie
Pad Thai
If you are a regular consumer of Core Powerfoods, you might notice a lot of familiar-sounding meals.
It's clear to see by looking at the Coles PerForm meal options that they are renamed versions of CorePowerfoods (the leading competitor in frozen meals). In fact, the table below shows that all the meals available in the Coles PerForm Build Range were pioneered by Core Powerfoods.
The Satay Chicken and Beef Chilli are even apart of the Core Powerfoods current Best Sellers Package.
| | | | | | |
| --- | --- | --- | --- | --- | --- |
| | ColesPerform Build | | | | |
| | Going Nuts- Satay Chicken | Mexican-style Chili Beef | Cottage Pie | Pad Thai | Average |
| Calories | 533 | 495 | 457 | 515 | 500 |
| Protein | 39.8 | 33 | 33.7 | 31.8 | 34.575 |
| Fat | 16.7 | 11.2 | 8.5 | 12.9 | 12.325 |
| Sat Fat | 9.5 | 4.3 | 3.7 | 6.1 | 5.9 |
| Carb | 50.3 | 59.7 | 56.1 | 55.1 | 55.3 |
| Sodium | 646 | 594 | 612 | 680 | 633 |
| | | | | | |
| --- | --- | --- | --- | --- | --- |
| | CorePowerfoods | | | | |
| | Crunchy Satay Chicken | Deep South Beef Chilli | Clean Cottage Pie | Thai Hard | Average |
| Calories | 494 | 415 | 418 | 475 | 450.5 |
| Protein | 47.8 | 40 | 40.8 | 20 | 37.15 |
| Fat | 11.9 | 7.7 | 14.6 | 30.8 | 16.25 |
| Sat Fat | 2.7 | 1.9 | 7.7 | 6.3 | 4.65 |
| Carb | 46 | 43.1 | 27 | 31.6 | 36.925 |
| Sodium | 385 | 216 | 498 | 375 | 368.5 |
Health and Macronutrients:
Winner: Core PowerFoods
Are Coles inspired and borrowed meals better than the originals health-wise?
On average, the Coles PerForm Build range has 500 calories, 34.5g of protein, 12.3g fat, 6g of saturated fat and 55g of carbohydrates. It also averages 633mg of sodium.
The same type of meals from Core Powerfoods averages 450 calories, 37.1g protein, 16g fat, 4.6g saturated fat, 37g carbohydrates and 368mg sodium
Coles Perform has dropped the saturated fat and total fat in meals.
Coles has lower total protein and less protein per calorie of food
Coles is higher in sodium – almost double the amount of Core PowerFoods
Coles Perform relies on pea protein to add protein to its meals, instead of food.
In order to make their meals higher protein and more affordable, Coles PerForm has added pea protein to the majority of their meals. Pea protein does not contain all the essential amino acids. In particular, pea protein is lower in leucine (81mg leucine/ gram protein) than whey protein (105mg leucine/ gram protein). Leucine is known as the essential amino acid that stimulates muscle protein synthesis. Therefore, this shortcut definitely isn't helping your muscle building efforts and it reduces the food volume of the meal.
In addition, a quick comparison of the nutrition labels shows Core Performance's use of simple ingredients. In contrast, Coles Performance includes a wide range of flavourings, preservatives and additives to add flavour.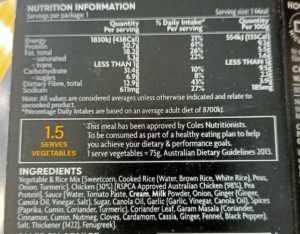 Taste and Texture:
Winner: Core Powerfoods
When it comes to taste, years of experience in producing frozen meals gives Core Powerfoods the upper hand. When it comes to freezing and reheating grains, there are some secrets of the trade to ensure that taste and texture is retained. Unfortunately, there's a huge difference in the taste and texture of the grains in these dishes between brands, in particular the mash and rice.
In Coles' Cottage Pie, they made the mistake of skimping on using fats and oils within their mash. The fat from butter, cream, cheese or even olive oil can help the mashed vegetables freeze better and retain their texture after heated (not to mention adds a creamy taste). Their vegetable mash consisting of Sweet Potato, Carrot, Pumpkin has a mushy, grainy texture as a result of this omission.
While it is not exactly the healthiest addition, Core Powerfoods adds butter and milk to their sweet potato mash in their Clean Cottage Pie in order to ensure that their mash actually tastes creamy with a rich buttery flavour.
Similarly in the rice dishes, Core Performance has rice that is firm and holds it shape when reheated. Coles Performance's rice is well-seasoned but mushy and overcooked.
As someone who is serious about how her total protein intake, I was pretty disappointed by Coles PerForm's portion sizes. They did make up for it with the taste of their chicken.
The majority of Core Powerfoods meals have their protein portion (beef, chicken) as the main ingredient (first ingredient on the ingredient list). Whereas coles performance has rice and vegetable mix as the first ingredient. This is reflected in the lower protein content of coles meals. This was definitely noticeable with Core Performance having significantly more chicken in their Thai Green Curry dish than Coles PerForm's curry dish. However, the chicken used in Coles Performance was fattier and more tender when reheated. Core Performance's more lean cuts of meats may be healthier but resulted in less succulent chicken.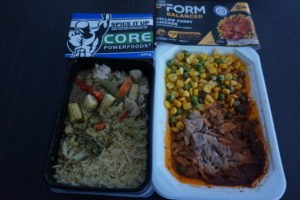 Of course, we have to talk about veggies!
While Coles Perform has chosen vegetables that freeze well, there variety is limited to capsicum, onion, sweet corn, peas and spinach.
Core Performance uses a variety of vegetables that freeze well, without changes in texture. The inclusion of a wider range of vegetables in Core Performance's meal is important for gut health. Their variety of vegetables included onion, capsicum, corn, green beans, kidney beans, broccoli, carrot and kale.
Serving size & satiety
Winner: Core Performance
Coles PerForm meals range from 330 -340g. While their containers appear larger than most brands, their portions are deceptively small within the shallow container.
Their meals from the Build range designed for muscle growth only kept me full for around 1.5 – 2 hours. While this makes it unsuitable for a dinner meal, their lower fat meals (Pad Thai and Cottage Pie) would be useful as a pre-workout meal.
Core PowerFoods meals are 350g each in standard takeaway boxes. They are more generous with vegetable portions and protein portions. This results in meals that are higher in protein, fibre and more filling. Their meals kept me full for 3-4 hours.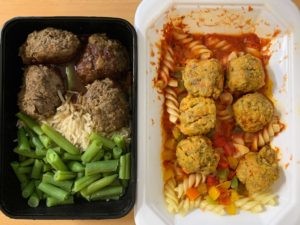 Appearance
Winner: Coles PerForm
Coles has mastered the skill of using different vibrant colours in order to make their frozen meals look more visually appealing to consumers. In addition to the food, their packaging is also more attractive to consumers and the clear health star labels likely draw in health-conscious consumers.
While Core Performance separates components of their meal to create contrast between colours and textures, their meals lacks vibrancy and colour.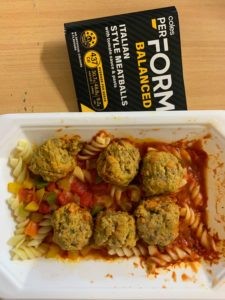 Cost
Winner: Coles PerForm
Coles Performance is $8 per meal, whereas Core Powerfoods is $9 per meal.
Even though Core Powerfoods have slightly larger meals (350g), the more affordable option is still Coles perform that is $2.42 per 100g vs Core Powerfood's $2.57 per 100g. This makes Coles Performance a more budget-friendly options to keep stocked in the freezer.
Dietary Considerations
Winner: Neither!
All Core Powerfoods are halal-friendly and uses exclusively Australian chicken.
Coles performance has one vegan option available and has some "responsible soured meats available" including RSPCA Approved Australian Chicken
Neither brand has branched out to include dairy free, gluten free or plant-based meals.
Overall Verdict
While Coles PerForm has competitive prices, it has a long way to go before it meets the high standards of the Core Performance meals. As a seasoned veteran, Core Powerfoods has had enough trial, error and feedback to create frozen meals that retain its flavour and texture when heated.
As the new kid on the block, Coles Perform needs a few more updates before it can stack up to Core Powerfoods. I'm also concerned about there use of pea protein in the majority of their meals. The addition of pea protein presents a risk to athletes, including myself, who are subjected to strict anti-doping protcols. Thereis no information on the website or labels about where the pea protein is produced and if it is subjected to third party testing. While contamination is rare, would you risk a 1-3 year ban worth it? Most athletes wouldn't and I'd err on the side of caution.