📕 Guides
Best Plastic Meal Prep Containers In Australia
There's a reason why plastic containers are synonymous with meal prep, but how do the plastic ones you buy online compare with the supermarket favourites?
UPDATED ON Aug 09, 2023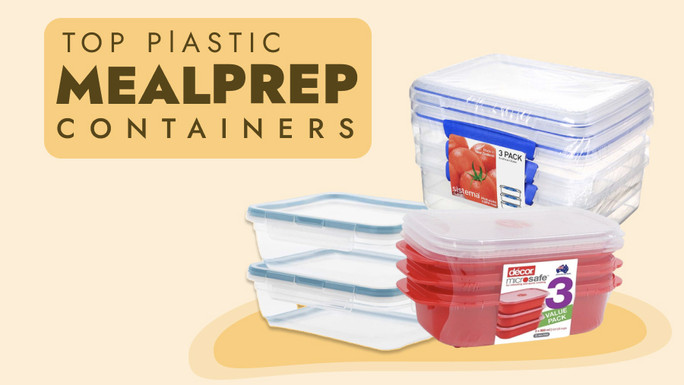 It's hard to trump the versatility of plastic containers. They're highly affordable, lightweight and versatile so it's no wonder they are one of the most popular types of meal prep containers.
Selecting the perfect plastic container isn't an easy feat, especially with the vast number of choices available in the market. But we've put together a list based on our research to walk you through your decision-making process. Without further ado, let's take a look at some of the top meal prep containers you can find in Australia!
Note: The prices (AUD) included in the table below and throughout the article are for one single container for easier comparison, though most of our recommendations come in packs.
Top Plastic Meal Prep Containers In Australia
We've rounded up this list with several considerations in mind.
Easy storage and stacking: We've exclusively included square or rectangular containers, so they stack better.
Delivery timeline: Just because we won't wait two months to receive a pack of containers.
Availability in local supermarkets: We've included some options available in local Australian marts for those eager to kickstart their meal prepping lifestyle.
Reusability: We've rounded up eco-friendly candidates with decent reusability. One-time-use options aren't included.
Convenience: All candidates on our list are freezer and dishwasher (usually top rack) safe, as they should be!
Let's take a look at some of the best plastic meal prep containers you can find in Australia!
Top Choice
Sistema Klip It Plastic Meal Prep Container [3 pack]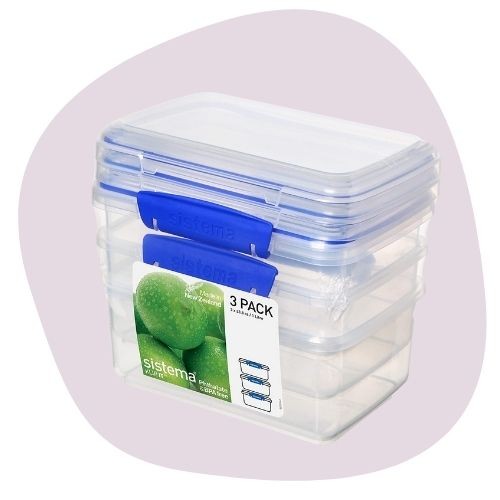 Price for one (AUD): 7.60
Available from: Amazon, Big W, Woolworths
The Sistema Klip It Plastic Container gets its name from distinctive easy locking clips that ensure an airtight and leakproof seal for maximum freshness and travel convenience. They're BPA-free, freezer-safe, dishwasher-safe, and microwave-safe (with the top lid off).
Hey, you won't expect any less from one of Australia's most popular brands, and the Klip It variation seems to check all the right boxes. Space-saving—that's a check too! Their modular stacking design will save you some room in the pantry, fridge, and freezer. The similar Klip It Plus versions are available in Big W and Woolworths. Overall, we'd say this is an all-rounded buy!
Rubbermaid Brilliance Food Storage Containers with Lids [3 pack]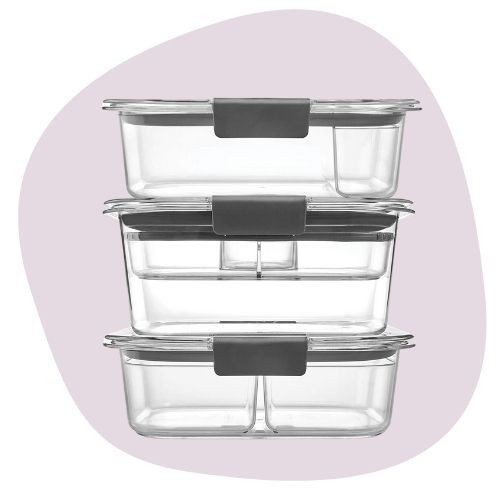 Compartments : Customisable
Price for one (AUD): 7.60
These claim the spot as one of the best sellers on Amazon, and it's no wonder why. Made from high-quality, BPA-free Tritan plastic, the Rubbermaid Brilliance Food Container delivers the durability and crystal clear look of glass meal prep containers without the added weight and risk of shatters.
This set also comes with drop-in trays that allow you to compartmentalise your food into customisable bento-style containers. In addition to that, they're leakproof and airtight for worry-free transit and travel. All containers are microwave, freezer, and dishwasher (top rack) safe, plus conveniently stackable to save you that extra space. We'd say these are well worth every penny!
Igluu 1 Compartment Reusable Meal Prep Containers [10 pack]
Price for one (AUD): 3.50
Suppose you're searching for very lightweight plastic meal prep containers with decent reusability. In that case, Igluu's got your back with this set of affordable meal prep containers that are also great for portion control.
They're not equipped with fancy bells and whistles, but they get the job done. Not only are they freezer, microwave, and dishwasher-safe, but they're also BPA-free certified. The Igluu Compartment Meal Prep Container is also airtight, but some users have mentioned that it isn't very leakproof. So these might not be the best for saucy foods.
Top Choice
Decor Microwave-safe Oblong Meal Prep Container [3 pack]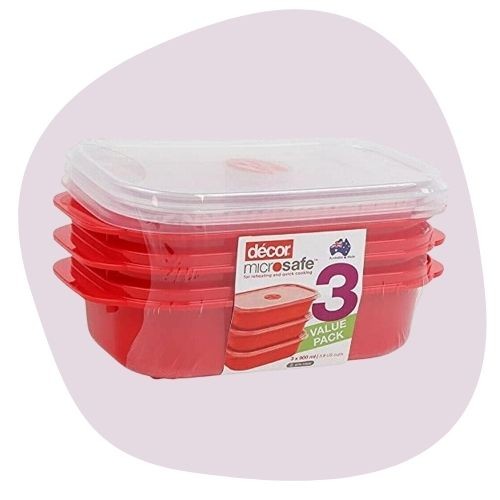 Price for one (AUD): 3.10
Available from: Amazon, Big W, Coles, Woolworths, Costco
According to the brand, these bright-coloured containers have been designed specifically for quick and efficient microwave heating. Paired with microwave-safe lids and steam vents, you can stack multiple containers on top of one another for batch reheating or cooking in the microwave. Just leave the steam vent in an open position while doing so.
As an added convenience boost, these BPA-free meal prep containers are freezer, fridge, and dishwasher (top rack) safe as well. Plus, you won't have to worry about nasty stains and scratches with these containers. Nonetheless, there are mixed reviews on how leakproof they are, so it's best to keep them upright whenever you're in transit with them.
Joseph Joseph Nest Lock Plastic Container [3 pack]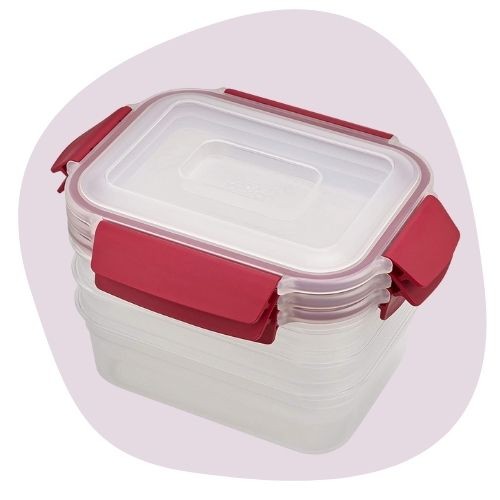 Price for one (AUD): 8.15
Yet another meal prep container with snap-locking lids, this Joseph Joseph container forms an airtight and leakproof seal that maximises freshness while minimising the risk of mess and spillage.
Made from food-grade, BPA-free plastic, these containers can also be used in the freezer, microwave, and dishwasher (top rack). Plus, these were also built with a space-saving design for easy storage when not in use.
Snapware Total Solution Plastic Container [3 Pack]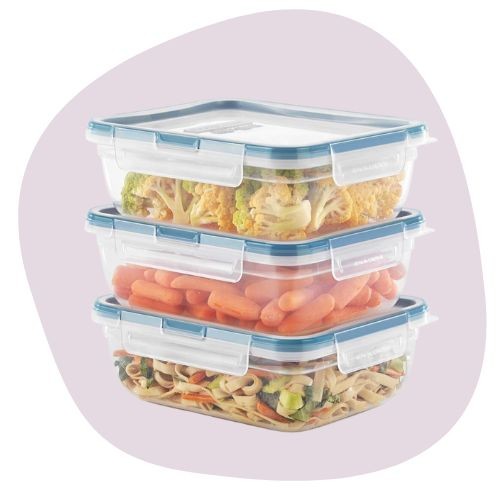 Price for one (AUD): 10.82
This Snapware container set is designed with a stackable, space-saver build and comes with leakproof airtight lids secured by four locking tabs.
BPA-free, lightweight, durable, and safe for use in the dishwasher, freezer, and microwave, the Snapware Total Solution Plastic container definitely checks all the right boxes and makes for a great addition to your meal-prepping arsenal!
Decor Tellfresh Storer Oblong 500ml [3 pack]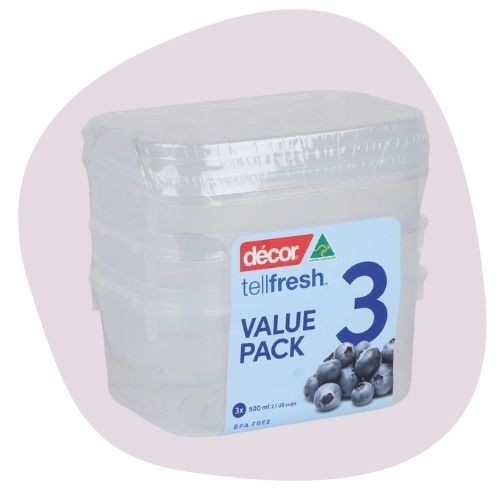 Price for one (AUD): 1.75
Available from: Woolworths, Big W
The Decor Tellfresh Storer is one of the most affordable options on our list. Space optimisation would be this product's forte, owing to its handy design that allows each container to stack on top of the other. If you're not using them, you can store them away nested in each other to save space.
According to the brand, these BPA-free containers are also microwave-safe, dishwasher-safe, and freezer-safe. You may wish to consider this product if you're looking for a compact and lightweight container for smaller-portion meals.
Sistema Brilliance Medium Rectangle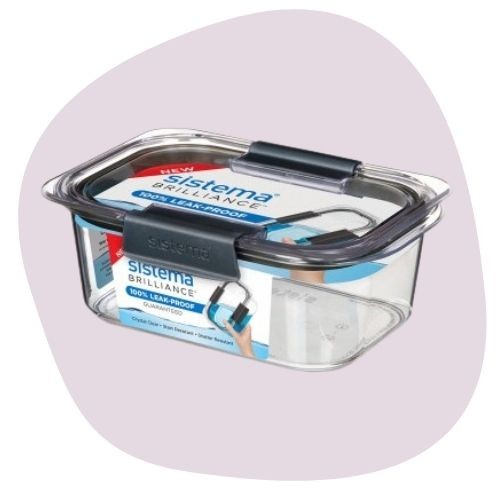 Price for one (AUD): 11.00
Available from: Woolworths, Coles
If you're looking for something that's 100% leakproof, the Sistema Brilliance range is a great bet. These completely leakproof meal prep containers allow you to carry around sauces, soups, and dips without worrying about staining your favourite bag.
Owing to their modular design, these containers are stackable in the fridge or pantry to minimise space used. On top of that, they come with built-in steam release vents for splatter-free microwave reheating (with the lid on). These are BPA-free, dishwasher-safe, and freezer-safe as well!
Homebrand Plasticware Food Storage [4 pack]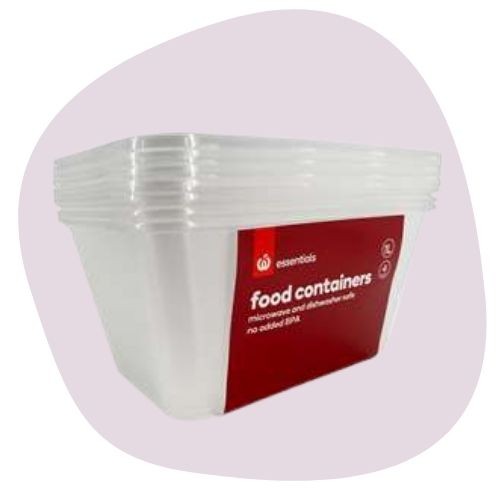 Price for one (AUD): 0.75
Available from: Woolworths
The Woolworths Homebrand Plasticware Food Storage claims the spot as the most affordable on our list. These meal prep containers are a reasonable size, and according to the brand, are microwave-safe and dishwasher-safe.
However, they're not suitable for food storage in the freezer. Plus, the plastic material of these containers isn't as resistant or durable as their more expensive counterparts, making them more prone to discolouration, stains, and scratches. Nonetheless, if you're looking for a simple container to take your meals to go, this is a very budget-friendly option.
Are Plastic Containers Safe?
There's a huge controversy regarding the use of plastic containers for storing food, especially if you're planning to reheat meals using them. The truth is, there are still a lot of uncertainties intertwined with the safety of plastic containers.
Even BPA-free plastic containers are still the subject of hot debates and controversies. Why? Because the BPA-free label does not automatically deem these as your safest bets. Nonetheless, BPA-free alternatives will still reduce your exposure to BPA, a chemical that may exert possible health effects on the brain and prostate gland.
In terms of health and safety, glass and stainless steel meal prep containers claim the lead. But this doesn't make plastic meal prep containers completely obsolete. If you wish to use plastic meal prep containers, it's best to handwash them and avoid using them for reheating purposes whenever possible. You should also dispose of plastic containers that look aged or worn out.
Note:
Some attractive alternatives to plastic containers are glass and stainless steel ones. We've gone ahead and rounded up lists of meal prep containers made from silicone, stainless steel, and glass, and you may wish to check them out here!
When it comes to finding a plastic meal prep container that's lightweight, convenient, travel-friendly, and affordable, plastic ones steal the show.
However, there are some safety concerns with the use of plastic containers for meal prepping, so it's a tricky balance between safety and convenience we'll have to navigate. The good news is that they're numerous alternatives readily available on the market, including glass and stainless steel options.