📕 Guides
Best Glass Meal Prep Containers in Australia (2023) 🫙
We've selected these glass food storage containers as our TOP FIVE after looking through hundreds of products, and here's why!
UPDATED ON Nov 28, 2023
#

NAME
Compartments
Capacity
Price for one (AUD)
1
840ml
$12.00
2
800ml
$12.80
1
1000ml
$12.50
1
800ml
$21.85
1
1700ml
$19.50
Glass meal prep containers are a great, eco-friendly choice for your kitchen. They're non-toxic, BPA-free, and don't leach chemicals into your food, making them great for reheating meals.
If you're looking for the best glass containers for meal prep in Australia, we've got some top recommendations for you.
Important:
Note: The prices in the table below and throughout the article are for a single container to make it easier to compare. However, most of our recommendations do come in packs.
Best Glass Meal Prep Containers in Australia 🇦🇺
Igluu Meal Prep Glass Containers with Transparent Lids [5 pack]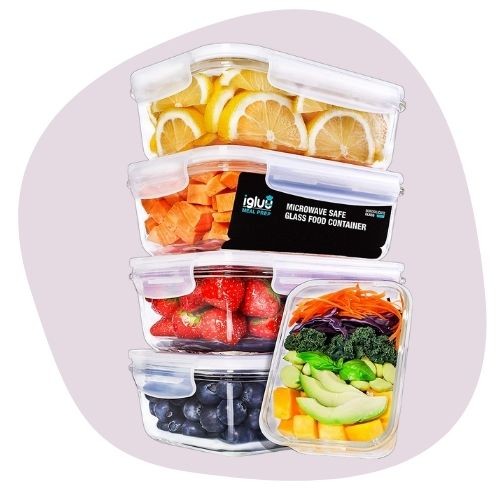 Price for one (AUD): $12.00
This Igluu meal prep container set is airtight and leakproof. The base is made from durable glass with odour and stain-resistant properties. Meanwhile, the plastic lid is transparent for quick and easy inspection of the contents.
These containers are microwave-safe, freezer-safe, dishwasher-safe, and oven-safe. But do take note that the lids are not dishwasher-safe and should also be removed during heating in the microwave or oven.
If you're looking for a 3-compartment variation of the same brand, then the Igluu Meal Prep Glass 3 Compartment Container [3 pack] is a fantastic option. The lids for this version are dishwasher (top rack) safe and microwave-safe but still aren't fit for the oven.
Igluu 1-compartment glass set
~$12  per unit
Lid is freezer-safe
Steam vent on lids (for cooling food)
Igluu 3-compartment glass set
~$16 per unit
Lid is freezer, microwave, and dishwasher (top rack) safe
No steam vent on lids
Fit & Fresh Divided Glass Containers [5 Pack]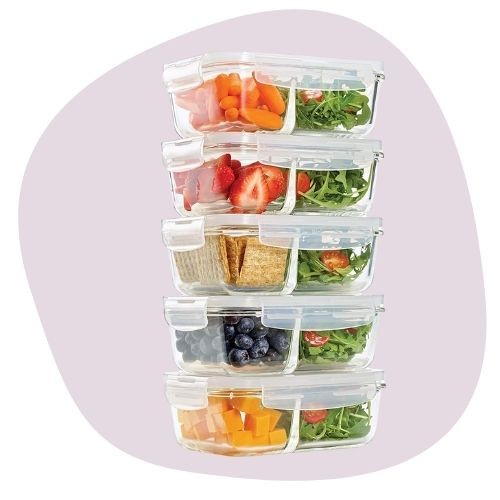 Price for one (AUD): $12.80
The Fit & Fresh range is hot-selling on Amazon. This set consists of five 2-compartment containers with leakproof and airtight lids. These containers are safe for use in the microwave, freezer, and dishwasher.
The contents are unlikely to leak out of the container, but users have mentioned that the compartments aren't wholly leakproof. In short, your sauces and soups may spill over from one section into the next. Essentially, this compartmentalised build is more suitable for keeping your veggies, proteins, and carbs apart.
The Fit and Fresh Glass Containers bear many similarities to the Igluu 2-Compartment Glass Container Set [3 pack]. Fit and Fresh could be considered the most budget-friendly option, since this Igluu 2-compartmental set is more expensive, costing around $16 per unit. However, these seemingly have a higher-quality build, seeing that their snap-locking lids have hinges, whereas the Fit and Fresh ones don't. The Igluu ones are also about 200ml larger in capacity.
Fit and Fresh set
~$10 per unit
 Snap-locking lids without hinges
~0.8L
Lids are not microwave-safe
Contents may leak from one compartment to the other (based on user review)
Igluu set
~$16 per unit
Snap-locking lids with hinges
~1.0L
Lids are microwave-safe
Contents are unlikely to leak from one compartment to the other
Decor Vent & Seal Glass Oblong Food Container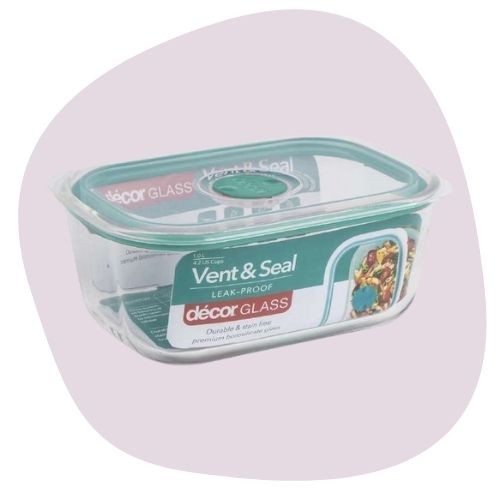 Price for one (AUD): $12.50
Purchase from: Amazon, Woolworths, Big W
It's all in the name! Made from borosilicate glass, the Decor Vent & Seal has a microwave-safe lid with a vent built-in for splatter-free reheating in the microwave. These Vent & Seal containers are also designed for easy stacking in the fridge, freezer, and pantry.
The base (without the lid) is safe for use in the oven, and an airtight seal helps maximise the freshness of your food as it sits in your fridge. This container is also safe for travel, owing to its leakproof sealing.
Ello DuraGlass Glass Meal Prep Containers [5 pack]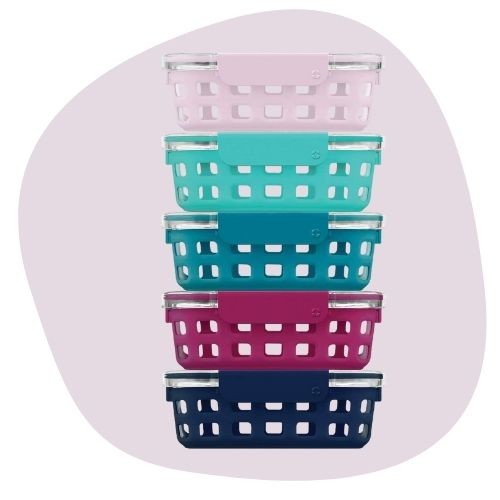 Price for one (AUD): $21.85
What sets these containers apart from the rest are their multicoloured silicone sleeves. The Ello Duraglass Meal Prep Container Set comes donned in colourful silicone sleeves that help protect the glass base from chips and breaks and allow you to remove your hot meals from the microwave with ease!
They are removable, and users have mentioned taking them out for a wash from time to time. However, both lid and base are top-rack dishwasher-safe, and you typically would not have to remove the sleeve while washing.
These containers are also freezer-safe, airtight, leakproof, plus made from odour-free and stain-free glass. Additionally, the base is safe for use in the oven and microwave (no need to detach the sleeve).
Pyrex Cook & Go Meal Prep Containers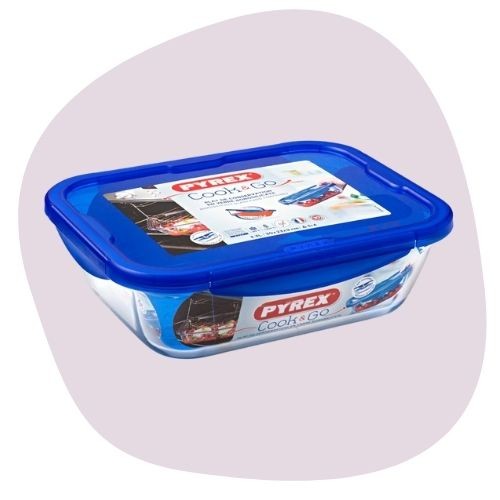 Price for one (AUD): $19.50
These nestable and stackable glass meal prep containers come with plastic snap-locking lids with built-in writing zones for easy labelling of contents. They're also scratch-resistant and unlikely to retain stains or odours from your meals.
The Pyrex Cook & Go containers are safe for use in the freezer, microwave, oven, and dishwasher, though the lid isn't compatible with the oven. This product is the most expensive on our list, but they're also the largest-sized with a capacity of 1.7L.
The Pyrex Simply Store Glass Meal Prep Container is a similar product under the same brand that comes with BPA-free plastic lids. The Simply Store range glass base is safe for use in the dishwasher, oven, microwave, and freezer, while lids are top-rack dishwasher, freezer, and microwave safe, which is very similar to their Cook & Go counterparts.
The biggest difference is this: Instead of snap-locking lids, the Simply Store has secure-fit lids, which, unfortunately, does not seem to be airtight or leakproof (based on user reviews).
How We Created This List 📋
Capacity: An 820ml (3-cup) container would suit an average-portioned meal. Most of our options are around that size.

Delivery date: No one enjoys waiting two months before the order package finally lands on their doorstep.

User reviews: Sometimes, user reviews reveal more about the product than the brand and site. We've shortlisted options with decent customer feedback and satisfaction.

Leakproof: You won't want to soil your favourite bag on a frantic commute to work.

Stackable design: To streamline things, we've shortlisted rectangular options instead of round ones, simply because cross-stacking rectangular and round containers isn't the most efficient.

Availability: These products are readily available on Amazon or online sites. You can also pick some of them up at your local mart.
Glass Meal Prep Containers Buying Considerations 🛒
Purpose: Glass containers aren't just for home use or leftovers. There are light ones for carrying lunch and heavy ones that can handle baking and freezing. If you need containers for dry goods at room temperature, lighter glass works fine. The type of storage you need also determines the kind of lid – plastic or silicone lids are common and provide a tight seal.

Lid Type: Most glass containers come with silicone or plastic lids. Snap-on lids are great for preventing spills and for travel. If you prefer no plastic, look for silicone or glass lids. Remember, not all lids are microwave safe, so check if you plan to microwave food with the lid on.

Capacity: Glass containers come in various sizes, from large for dishes like lasagna to small for things like baby food. If you're getting a set for leftovers, choose one with different sizes. For dry goods, think about how long you store them. Spices and some flours don't last long, so adjust the container size based on what you're storing.

Safety: Some glass types, like tempered and borosilicate, are made for heating or freezing without breaking. Regular glass can be frozen but needs to thaw slowly before heating. Treated glass is usually oven-safe up to around 220 degrees Celsius.
Types of Glass Containers 👀
Untreated Glass: This is common and used for jars, bottles, and cups. It's fine for fridge or room temperature storage but not ideal for freezing or heating.

Tempered Glass: This is heat-treated to handle more temperatures and breaks into small pieces. It's used in various products, including some food containers.

Borosilicate Glass: This type is even more heat-resistant but more expensive. It's not essential unless you often put frozen dishes directly into the oven.
Best Glass Meal Prep Containers FAQs
Is it better to meal prep using glass containers?
Many people prefer meal prepping using glass containers as they're typically durable, environmentally-friendly, dishwasher-safe, safe for reheating in the oven or microwave, and safe for freezing. Plus, glass meal prep containers usually don't contain any chemicals that may leech into your food.
Are plastic or glass meal prep containers better?
While plastic meal prep containers are usually cheaper, lighter, and shatterproof, many people still prefer meal prepping using glass containers due to their safety, durability, and eco-friendliness. Most glass containers can also be heated in the microwave or oven or stored in the freezer without concerns.
Is Pyrex the best glass container?
Pyrex is a good choice for glass containers because it's durable and can handle temperature changes well. But the best container depends on your specific needs, so it's a good idea to also look at other brands to find the perfect one for you.
Can all glass meal prep containers go in the oven/freezer?
Whether glass containers can go in the oven or freezer depends on the glass type. Borosilicate glass is best for extreme temperature changes but is less common. It can handle quick shifts between hot and cold.
Tempered glass, more widely available, can also be used in freezers and ovens. To prevent it from shattering, avoid sudden temperature changes. Let the container reach room temperature before moving it from the freezer to the oven. This reduces stress on the glass.
Most glass containers are safe in ovens up to about 220 degrees Celsius. However, always check the manufacturer's instructions first.
Best Glass Meal Prep Containers
Glass meal prep containers are more eco-friendly and durable than plastic ones, though they're usually more expensive. But, choosing between glass and plastic depends on what suits your lifestyle best.
We've also gathered lists of the best meal prep containers for both materials for you to check out!