📕 Guides
Best Glass Meal Prep Containers in Australia
We've selected these glass food storage containers as our top 5 after looking through hundreds of products, and here's why!
POSTED ON Feb 11, 2022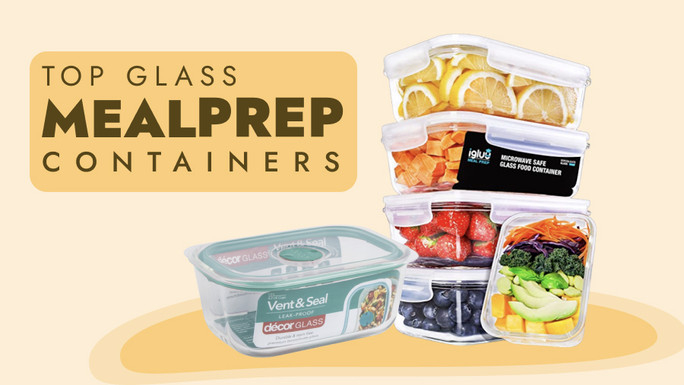 Glass meal prep containers are a safe, eco-friendly option for those who don't mind the extra weight and risk of breakage, though they may not make the most suitable lunchboxes for younger children.
Nonetheless, there are still many reasons why glass meal prep containers will complement your meal-prepping journey well!
The fact is, most (if not all) glass meal prep containers are non-toxic, BPA-free, and do not contain any dangerous chemicals or substances that may leach into your foods. Hence, they're perfect for reheating meals. Glass meal prep containers are also likely to outperform their plastic counterparts in terms of reusability and durability.
If you're having trouble choosing a suitable glass meal prep container, we've got you covered. Let's take a look at some of the best reusable glass meal prep containers you can find in Australia.
Important:
Note: The prices in the table below and throughout the article are for a single container to facilitate easier comparison. However, most of our recommendations do come in packs.
Top Glass Meal Prep Containers in Australia
We've shortlisted some of the best choices in Australia based on various aspects. They are as follows:-
Capacity: A 820ml (3-cup) container would suit an average-portioned meal. Most of our options are around that size.
Delivery date: Well, no one enjoys waiting two months before the order package finally lands on their doorstep.
User reviews: Sometimes, user reviews reveal more about the product than the brand and site. We've shortlisted options with decent customer feedback and satisfaction.
Leakproof: You won't want to soil your favourite bag on a frantic commute to work.
Stackable design: To streamline things, we've shortlisted rectangular options instead of round ones, simply because cross-stacking rectangular and round containers isn't the most efficient.
Availability: These products are readily available on Amazon or online sites. You can also pick some of them up at your local mart.
Igluu Meal Prep Glass Containers with Transparent Lids [5 pack]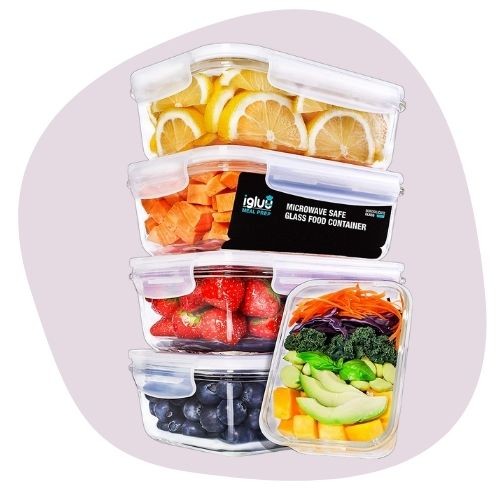 Price for one (AUD): 10.00
This Igluu meal prep container set is airtight and leakproof. The base is made from durable glass with odour and stain-resistant properties. Meanwhile, the plastic lid is transparent for quick and easy inspection of the contents.
These containers are microwave-safe, freezer-safe, dishwasher-safe, and oven-safe. But do take note that the lids are not dishwasher-safe and should also be removed during heating in the microwave or oven.
If you're looking for a 3-compartment variation of the same brand, then the Igluu Meal Prep Glass 3 Compartment Container [3 pack] is a fantastic option. The lids for this version are dishwasher (top rack) safe and microwave-safe but still aren't fit for the oven.
Igluu 1-compartment glass set
~$10 per unit
Lid is freezer-safe
Steam vent on lids (for cooling food)
Igluu 3-compartment glass set
~$16 per unit
Lid is freezer, microwave, and dishwasher (top rack) safe
No steam vent on lids
Fit & Fresh Divided Glass Containers [5 Pack]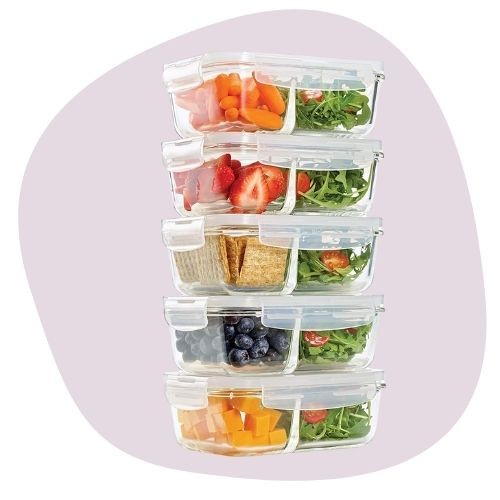 Price for one (AUD): 10.30
The Fit & Fresh range is hot-selling on Amazon. This set consists of five 2-compartment containers with leakproof and airtight lids. These containers are safe for use in the microwave, freezer, and dishwasher.
The contents are unlikely to leak out of the container, but users have mentioned that the compartments aren't wholly leakproof. In short, your sauces and soups may spill over from one section into the next. Essentially, this compartmentalised build is more suitable for keeping your veggies, proteins, and carbs apart.
The Fit and Fresh Glass Containers bear many similarities to the Igluu 2-Compartment Glass Container Set [3 pack]. Fit and Fresh could be considered the most budget-friendly option, since this Igluu 2-compartmental set is more expensive, costing around $16 per unit. However, these seemingly have a higher-quality build, seeing that their snap-locking lids have hinges, whereas the Fit and Fresh ones don't. The Igluu ones are also about 200ml larger in capacity.
Fit and Fresh set
~$10 per unit
 Snap-locking lids without hinges
~0.8L
Lids are not microwave-safe
Contents may leak from one compartment to the other (based on user review)
Igluu set
~$16 per unit
Snap-locking lids with hinges
~1.0L
Lids are microwave-safe
Contents are unlikely to leak from one compartment to the other
Decor Vent & Seal Glass Oblong Food Container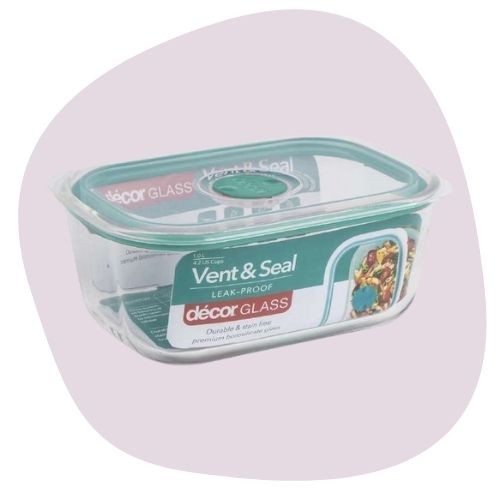 Price for one (AUD): 7.70
Purchase from: Amazon, Woolworths, Big W
It's all in the name! Made from borosilicate glass, the Decor Vent & Seal has a microwave-safe lid with a vent built-in for splatter-free reheating in the microwave. These Vent & Seal containers are also designed for easy stacking in the fridge, freezer, and pantry.
The base (without the lid) is safe for use in the oven, and an airtight seal helps maximise the freshness of your food as it sits in your fridge. This container is also safe for travel, owing to its leakproof sealing.
Ello DuraGlass Glass Meal Prep Containers [5 pack]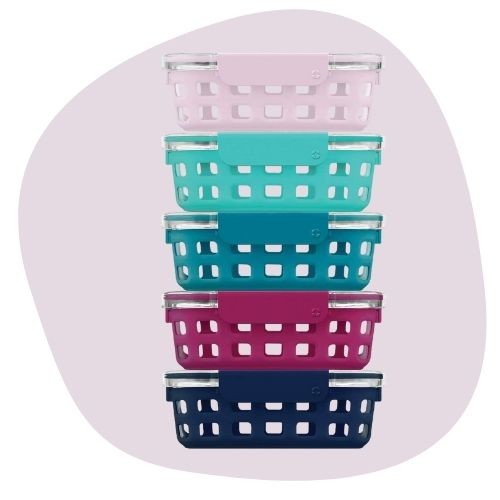 Price for one (AUD): 16.14
What sets these containers apart from the rest are their multicoloured silicone sleeves. The Ello Duraglass Meal Prep Container Set comes donned in colourful silicone sleeves that help protect the glass base from chips and breaks and allow you to remove your hot meals from the microwave with ease!
They are removable, and users have mentioned taking them out for a wash from time to time. However, both lid and base are top-rack dishwasher-safe, and you typically would not have to remove the sleeve while washing.
These containers are also freezer-safe, airtight, leakproof, plus made from odour-free and stain-free glass. Additionally, the base is safe for use in the oven and microwave (no need to detach the sleeve).
Pyrex Cook & Go Meal Prep Containers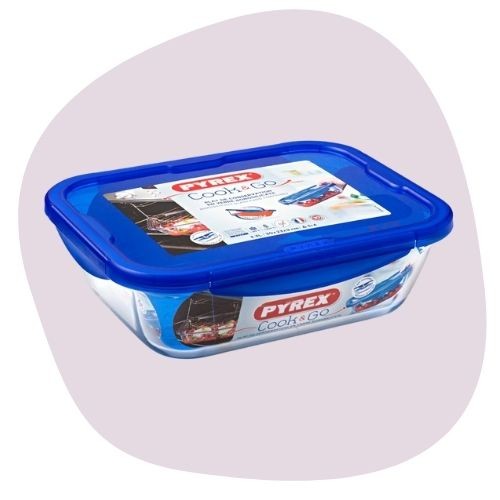 Price for one (AUD): 19.00
These nestable and stackable glass meal prep containers come with plastic snap-locking lids with built-in writing zones for easy labelling of contents. They're also scratch-resistant and unlikely to retain stains or odours from your meals.
The Pyrex Cook & Go containers are safe for use in the freezer, microwave, oven, and dishwasher, though the lid isn't compatible with the oven. This product is the most expensive on our list, but they're also the largest-sized with a capacity of 1.7L.
The Pyrex Simply Store Glass Meal Prep Container is a similar product under the same brand that comes with BPA-free plastic lids. The Simply Store range glass base is safe for use in the dishwasher, oven, microwave, and freezer, while lids are top-rack dishwasher, freezer, and microwave safe, which is very similar to their Cook & Go counterparts.
The biggest difference is this: Instead of snap-locking lids, the Simply Store has secure-fit lids, which, unfortunately, does not seem to be airtight or leakproof (based on user reviews).
Best Glass Meal Prep Containers
Glass meal prep containers are a greener option compared to plastic containers. They may claim a higher price tag, but this comes paired with better durability and safety. Nonetheless, each material type bears different pros and cons. So ultimately, the decision hangs on your personal preferences and lifestyle. We've compiled lists of some of the top meal prep containers based on their material type, and you can check them out below!