📝 Updates
The Best Food Box & Meal Kit Delivery in Australia (2023) 📦
Looking for the best food subscription box/meal kit delivery service in Australia? We've found the top 5.
UPDATED ON Nov 28, 2023
#

NAME
DELIVERY LOCATIONS
AVG COST PER BOX (10 MEALS)
NSW, VIC, QLD, ACT, SA, NT, WA
$105.00
NSW, VIC, QLD, ACT, WA
$70.00
NSW, VIC, QLD, TAS, SA, TAS, WA
$125.40
NSW, VIC, QLD, SA, NT, TAS, ACT
$85.40
NSW, VIC, QLD, SA, ACT
$122.90
Sometimes finding healthy and nutritious recipes, shopping for groceries and cooking meals from scratch is too difficult.
The solution that'll save you time, money and sanity? A meal kit delivery/food box subscription service. But with so many different providers in Australia, how do you know which is best? Here's a breakdown.
The 5 Best Food Box Meal Delivery Providers 🏆
We've put together a list of the top 5 food box delivery providers in Sydney, Melbourne and the rest of Australia to help you choose the right one for you and your needs.
1. Hello Fresh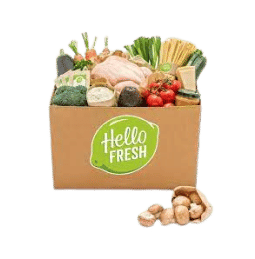 DELIVERY LOCATIONS: NSW, VIC, QLD, ACT, SA, NT, WA
DIETARY OPTIONS: Meat & Veggies, Vegetarian, Flexitarian, Protein-rich, Naturally GF
AVG COST PER BOX (10 MEALS): $105.00
Hello Fresh is one of the most popular food box delivery services in Australia, and it's great for families, couples or singles. They provide you with fresh, seasonal ingredients pre-measured in colour-coded meal kits to help you prepare a wholesome dinner in just 15 minutes.
You can choose if you want 2, 3, 4, or 5 recipes per week, and whether you want it for 2, 4 or 6 people. While you can't custom pick ingredients, you can choose whether you want your food box to be veggie, meat & veggie, calorie smart, low-carb and more meal plans for families.
The one thing to note about Hello Fresh is that it doesn't cater for special allergies or intolerances. However, since HelloFresh boxes only contain unprocessed ingredients, it is possible to omit, or replace, any ingredient that could cause an allergic reaction.
2. Everyplate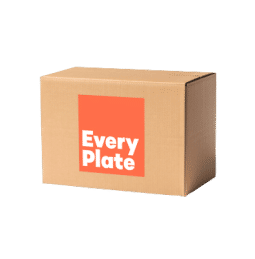 DELIVERY LOCATIONS: NSW, VIC, QLD, ACT, WA
DIETARY OPTIONS: Vegetarian
AVG COST PER BOX (10 MEALS): $70.00
If you're looking for a cheap and cheerful food box delivery service, check out EveryPlate: it's the cheapest of all food boxes.
Their meals begin at a very low $3.99 per plate, with recipes that are super easy to follow. EveryPlate delivers a lower price per plate by cutting out the frills. Everything you need and nothing you don't. Just quality ingredients and a selection of fuss-free recipes with 4 simple steps, for a guaranteed tasty feed.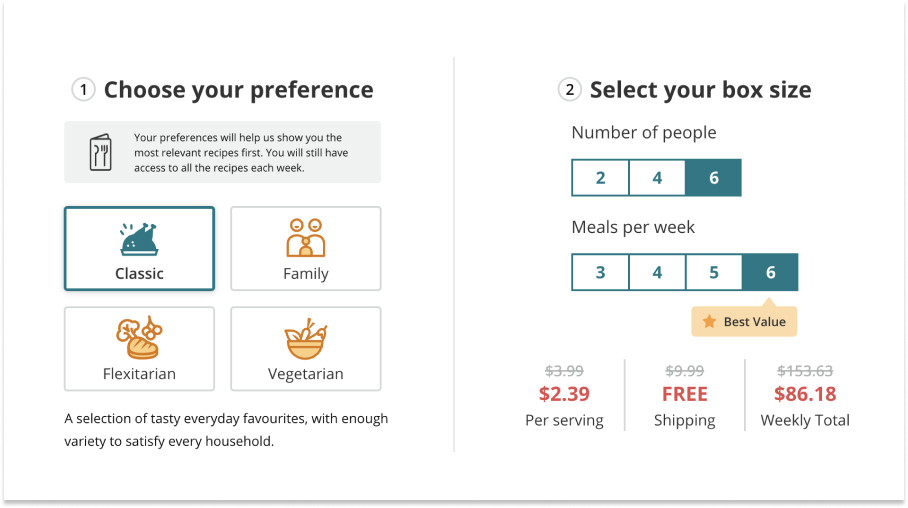 It's also great for big families as you can cater for 2, 4 or up to 6 people, choosing between 3-6 meals per week. You can also choose meals that are rated as vegetarian, premium, quick & easy, kid-approved and top rated by customers.
Again, it's not great news for allergy sufferers, with the only dietary option you can choose being vegetarian.
3. Marley Spoon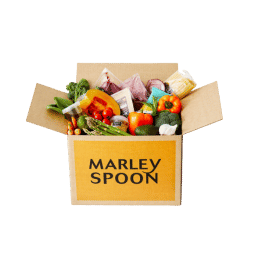 DELIVERY LOCATIONS: NSW, VIC, QLD, TAS, SA, TAS, WA
DIETARY OPTIONS: vegetarian, vegan, family-friendly, gluten-free, dairy-free, and low carb
AVG COST PER BOX (10 MEALS): $125.40
If you actually enjoy cooking but just can't be bothered with the shopping and finding recipes, have a look at the food box Marley Spoon. Marley Spoon's recipes are a bit fancier and you can make more complex dishes.
Marley Spoon is also the go-to for allergy sufferers as you can choose recipes that are vegetarian, vegan, family-friendly, gluten-free, dairy-free, and low carb options. Their 6-step recipe cards are chef-inspired and easy to follow.
They're also the only provider to offer a family fruit box for $24.90 a week, with a fruit box containing up to 8 varieties of fresh fruit.
4. Dinnerly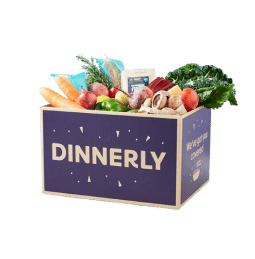 DELIVERY LOCATIONS: NSW, VIC, QLD, SA, NT, TAS, ACT
DIETARY OPTIONS: Vegetarian, no added gluten, dairy free, reduced carb + more
AVG COST PER BOX (10 MEALS): $85.40
For those after a food box delivery provider that offers lots of recipes, is good for a budget, and with meals that are quick and easy to create, Dinnerly is for you.
Dinnerly is excellent for simple, tasty and traditional meals. Their costs are cheaper compared to other meal kits because there are few ingredients per dish, the packaging is simple yet eco-friendly, and digital recipe cards are given rather than printed cardboard cards.
It's good for families of up to 4 people, as well as singles and couples. They also cater to dairy-free, gluten-free, low-carb diets and more. Dinnerly offers 6-ingredient recipes, ready in 30 minutes or less, so it's a great food box for the time-poor.
5. Pepper Leaf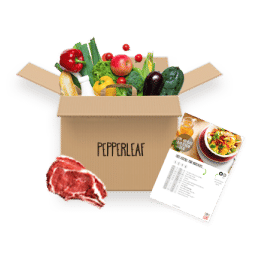 DELIVERY LOCATIONS: NSW, VIC, QLD, SA, ACT
DIETARY OPTIONS: Vegetarian
AVG COST PER BOX (10 MEALS): $122.90
Pepper Leaf might not be as well-known as the other food box providers listed, but it's certainly one to keep in mind when you're after budget-friendly and quick recipes you can make in 20 minutes or less.
You can choose between a classic box, family box or vegetarian box. Unfortunately, the only dietary requirement you can choose is vegetarian, but meals are labelled with common allergens when you get to the selection stage, so you can just opt for meals that suit your needs.
Their menu is rotated often so you won't get bored. They also work to match the produce which is in season, keeping produce as local as possible. You'll get food like fish with dill and turmeric rice, greek veggie couscous salad, peanut beef rice noodles and more.
What we also love about Pepper Leaf is it's the only provider that lets you choose your meals for the week without having to put in your delivery and payment details first. It makes for a much better user-experience in our opinion.
How'd We Make This List? 📋
We based our list on the following criteria:
Delivery locations: where in Australia do they deliver?
Customisation: can you custom order or pick your ingredients?
Dietary options: do they cater for allergies/intolerances?
Average cost: what's the average cost for 5 meals for 2 people?
Looking for more food box providers? Browse our Meal Kit Providers Database
What's the Difference Between a Food Box and Meal Kit? 🤔
Food box, meal kit… potato/potato (you have to imagine in your head the Australian vs American pronunciation of potato) – it's pretty much a one-in-the-same thing.
A food box and meal kit are both boxes delivered with all the fresh ingredients you need – and easy-to-follow recipe cards required – to make the meals.
This is different from a ready-made meal provider where the meals often come cooked, packed and frozen, ready to eat after they've been heated in the microwave.
Which Food Box Delivery Service is the Best in Australia? 🇦🇺
After trialling and testing, countless hours of research and consumer reviews, we can confidently say the best food box delivery service in Australia is:
HelloFresh.
Why? Many reasons!
HelloFresh has the largest variety of recipes
Choose from a veggie box, meat box, low cal box, family box and more!
You get sent physical recipe cards for easy-to-follow instructions
It's a great option for learning how to cook!
Meals are fresh and tasty
It's highly rated amongst customers
What if You Just Want an Actual Box of Food With No Recipes? 🍓🥑🥩
Food box can mean a meal kit, but it can also mean just a box of food, whether it's a fruit and veg box, a meat box or seafood box. Here are some providers to check out if you simply want a box of food, with no recipe cards and the freedom to cook what you like.
Meat Boxes
Thomas Farms: This provider delivers meat and seafood boxes across South Australia and Victoria – farm fresh quality, packed and sealed and delivered within 48 hours. You can build your own meat box, or choose pre-made meat boxes.
Butcher Crowd: Butcher Crowd sources from Australian farming & fishing families, only the highest quality, ethically raised, meat & seafood. You can choose a custom box, beef box, salmon box and more. They also deliver Australia wide, across NSW, VIC, QLD, ACT, SA, NT, WA and TAS.
Fruit & Veg Box
Good & Fugly: This provider delivers fruit and veggie boxes to NSW and Victoria with seasonal produce direct from farmers They have a range of fruit and veggie boxes, veggie-only and fruit-only boxes. With each box, you'll be helping reduce the food waste created by the unrealistic beauty standards of supermarkets and grocery stores that make rejects out of the perfectly imperfect.
Farmer's Pick: If you want fresh produce that is up to 30% cheaper than supermarket prices, try Farmer's Pick. Servicing across greater Melbourne, Sydney & Canberra, this provider delivers food boxes packed with a wide variety of fresh, seasonal produce straight from the farm to your door.
Snack Box
Snack Proud: Looking for a keto snack box? The Snack Proud keto snack box will make your Keto diet a whole lot more delicious, convenient and fun. Enjoy a range of healthy snacks and a low carb drink. There are popular items from keto snack brands like Googy's, Slim Secrets and Beauty Foods. Delivery is Australia-wide, and includes New Zealand too.
Are Meal Kits Cheaper than Supermarket Prices? 🛒
Food Boxes
We checked if the HelloFresh Classic Plan ($69.95 for three meals a week for two) is cheaper than buying the same ingredients at Coles and Woolworths. Turns out, supermarkets aren't always less expensive, especially after delivery costs.
When you shop yourself, you might save by getting special deals or bigger packs. For instance, a 1kg tub of Greek yoghurt costs less per 100g than a 200g tub. If you use all the ingredients before they expire, shopping yourself is usually cheaper.
Ready-Made Meals
We compared the prices and macros of ready-made butter chicken Coles home brand and My Muscle Chef.
| Aspect | My Muscle Chef Butter Chicken | Coles Kitchen Butter Chicken |
| --- | --- | --- |
| Price | $11.95 | $8.00 |
| Serving Size | 400g | 350g |
| Calories | 330 kcal | 496 kcal |
| Protein | 47g | 52g |
| Carbohydrates | 8g | 25.2g |
| Fat | 12g | 20.6g |
As you can see, MMC's butter chicken does cost more, but it's a larger serving size. The macros overall are better too – it's only slightly lower in protein, but much lower in calories, carbs and fat compared to Coles' butter chicken.
So, it comes down to your preferences:
Do you want a slightly cheaper meal?
Or a meal that has overall better macros?
Food Box Delivery Australia FAQs
Which company is best for food delivery?
HelloFresh comes in at number one for us thanks to its large variety of recipes, easy-to-follow instructions and that it's a great option for learning how to cook!
What's great about Hello Fresh is you can choose the type of food box you want, whether that's veggie or meat, low-cal, for families and several other choices! Not to mention you can get your meals from just $10.50 per person per meal. No fuss, no food waste, just good, tasty fresh food and delicious recipes.
Are food boxes/meal kits suitable for kids?
Yes! All of the above mentioned meal box services can be a great option for kids, providing you and the family with tasty, fresh produce and healthy meals for all. Of course, we can't guarantee fussy eaters will love every cuisine you put in front of them, so it might be a case of trial and error too.
Is a food box service good for weight loss?
Food box meal delivery services can be great for weight loss with many offering low-carb or low-cal options, including HelloFresh, Dinnerly and Marley Spoon.
What will you receive in your box?
You'll receive all the ingredients to make your chosen meals. Most food box providers work on the assumption you have a few basic pantry items like oil, salt, pepper, eggs and milk, but most providers will send you a detailed list before your box is shipped with all the items you'll get/need.
What is cheaper than HelloFresh?
EveryPlates wins the cheapest food box provider coming in at $74.99 for 10 meals (5 meals for 2 people). However, many of the providers have different deals at different times offering a certain discount on your first box.