📰 News
Australian Seafood Sustainability – Why Give A Fish & What You Can Do
UPDATED ON Jul 12, 2022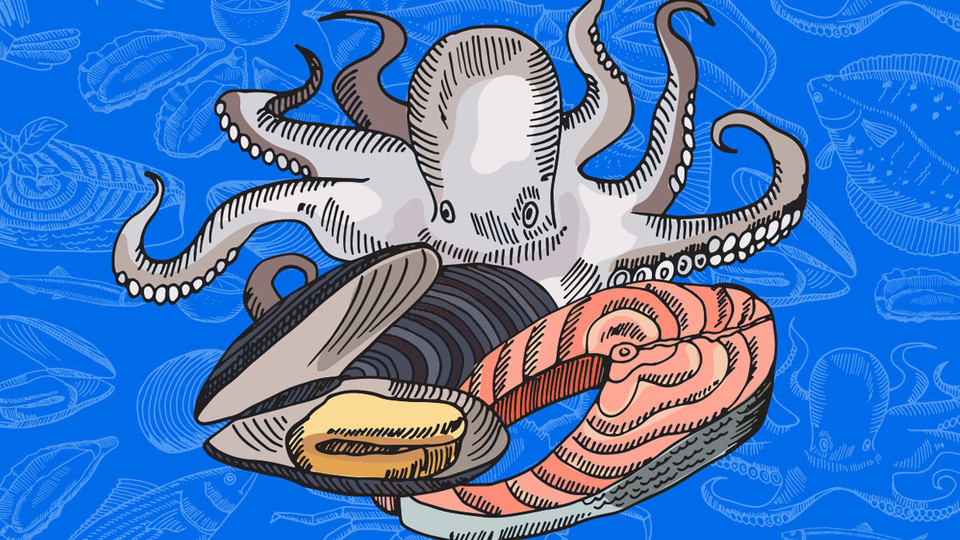 Overfishing reduces the biodiversity of the ocean, wreaks havoc on entire marine ecosystems and disrupts the livelihood of millions that rely on the oceans for employment and sustenance.
Making sustainable seafood choices enables endangered species to repopulate, damaged parts of the ocean to recover and sends a clear message to those responsible that unethical fishing practices are unacceptable. Trawling and dredging damage ocean floors by collecting shellfish, coral and bycatch, trapping dolphins, turtles, seals, birds and sharks.
What can you do to protect the oceans?
Try something new and give overfished populations time to repopulate.
Avoid almost extinct, overfished species including Swordfish (Martin), Bluefin and Big Eye Tuna, Shark and Deep Sea Perch. Deep Sea Perch and Shark are particularly vulnerable to overfishing because they take longer to reach reproductive maturity and regenerate their numbers.
Tune into where your tuna comes from.
Your second favourite kind of sashimi, Pacific Bluefin Tuna populations have dwindled due to overfishing and illegal activity. It was heavily overfished in the past and strict recovery protocols are currently being undertaken, leading this species to be deemed "conservation dependent" in Australia.
You can make informed choices by asking what type of tuna is being used. Skipjack, Yellowfin, Big Eye and Bluefin Tuna are often used in Japanese cuisine. Choose skipjack, or Albacore for a more sustainable option. Alternatively, expand your horizons and order scallops, salmon (smoked or raw), wild-caught eel or ask what's local.
Canned tuna options: Canned tuna is a staple for a quick, throw together salad or sandwich. The great side of canned fish is that it's much easier to know if you're making a sustainable choice. Look for "pole-and line caught" or "100% FAD free." Fish Aggregating Devices (FAD) are objects that float on the ocean floor that cast a shadow and allow more fish to be caught in nets with less effort. Unfortunately, it results in more animals like turtles and sharks getting entangled and hurt. Some great sustainable canned tuna brands include John West, Safcol, Coles Tuna and Fish4 Eva.
Remember that tuna isn't your only convenient and tasty option. Look for rectangular tins with sardines, anchovies, smoked oysters and cooked octopus.
Look for the official blue tick (MSC-certified logo) on packaged products for sustainable fishing
When buying packaged seafood, reading the label can help you make informed choices. Labelling of country of origin is compulsory on packaged seafood. Look for the "Made in Australia" and the column graph with % of Australian-made content in the food coloured in yellow.
Watch out for fresh seafood! Look for "Product of Australia" as country of origin on unpackaged seafood. Unfortunately, this may include fish that were farmed overseas and processed in Australia. The best thing to do when buying fresh seafood is to ask where your fish was caught.

Skip the imported seafood, Catch the local stuff!
Did you know that 70% of the fish and prawns sold in Australia is imported?
Not all imported seafood is unsustainable, however, a lack of traceability and labelling laws means that consumers cannot be assured of the sustainability of imported seafood. In addition, the Food and Agriculture Organization of the United Nations has recognised that there are unregulated and unlawful fishing practices in the Asia-Pacific region.[1] These illegal practices, including overfishing, have resulted in over a third of mangrove forest loss worldwide. This has devastating environmental impacts because mangroves protect our coastlines from erosion, improve water quality and are homes to mammals, birds, fish, reptiles, crustacean and algae. Unlike imported seafood, Aussie fisheries are rigorously regulated for sustainability, safety and ethical practices.
It is still possible to choose sustainable sourced imported seafood. For example, Vietnamese farmers in the Cau Mau province have incorporated silvo-fishery techniques. this method has allowing the rearing of aquatic life while still caring for mangrove trees and the existing wildlife habitat.[2] Imported seafood that is certified as sustainable caught is often difficult to find at major supermarkets but is often available online or at independent health food stores in Australia. In particular, a great brand is This Fish that has strict traceability and quality measures on its organic seafood.
Main imported species to keep an eye out for are prawns, salmon, tuna, and frozen fillets. 64% of prawns eaten by Australians are imported with the main sources being Vietnam, then China, Thailand and Malaysia. The two main species that are often imported are giant tiger prawns and vannamei (white leg) prawns. Wild-caught Australian prawns are a more sustainable choice because Australian fisheries use by-catch reduction devices that allow sharks, turtle and sting-rays to escape nets. In particular, Western King Prawns from South Australia and Bay Prawns from Queensland are sustainable options.
Bye bycatch!
40% of global fish catch is bycatch (38 million tonnes).
Sadly, for every 1kg of shrimp caught by trawling, there is 6kg of by-catch.
Hoki (commonly in frozen fish fingers + fillets), Tuna and wild prawns catch the most bycatch, trapping unwanted fish, small whales, dolphins, turtles, seals, birds and sharks. Avoid these species or choose Marine Stewardship Council (MSC) or Friend of the Sea certified products that meet sustainable fishing standards. Scout and Try out some new species! Venturing out from the classic prawns, Atlantic salmon and tuna helps reduce the by-catch problem. Increasing consumer demand for different species means less by-catch is discarded or released back, injured and dying or already dead.
Search for small and seasonal seafood
A good rule of thumb for finding sustainable seafood is to go for the smaller fish that are lower on the food chain. This is because these fish often repopulate quickly and more resilient towards overfishing. This includes sardines, mackerels, anchovies and herrings.
Not sure how to cook sardines? Sardines pairs perfectly with tomatoes. Try sardines cooked in a tomato-based sauce or add sundried tomatoes. A budget-friendly recipe is to lightly fry that sardines in olive oil until they are crunchy. Serve with wholemeal pasta in a tomato-based pasta sauce and stir in fresh spinach.
Shellfish are not selfish
Want to choose a no-brainer sustainable seafood source? All shellfish in Australia are generally caught by sustainable methods and generally abundant. That means pipis, clams, mussels, oysters, scallops and snails are all great options! Octopus, calamari and squid are a rapidly growing species that are more resistant to high demand.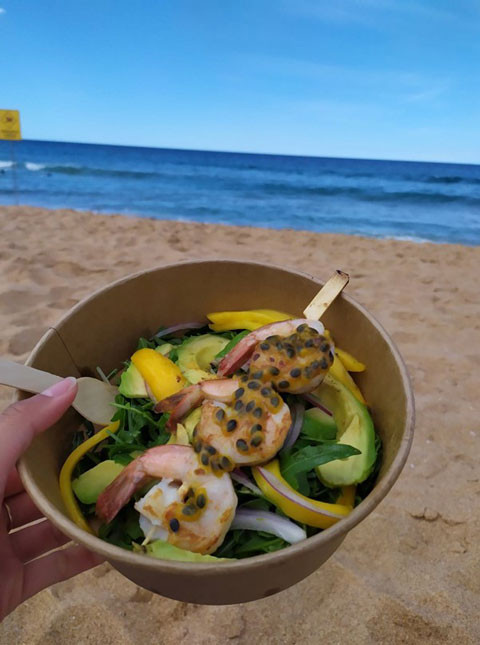 Sustainable seafood & sustainable consumption go hand in hand.
Taking the initiative to reduce the use of plastic can also help protect our oceans.
Being an informed and selective seafood customer can help ensure that resources are well-managed and fish species are still available for future generations, Keeping our oceans healthy also ensures the livelihoods of millions of people, in particular coastal and inland communities, with 39 million people directly employed by wild-capture fisheries. [3]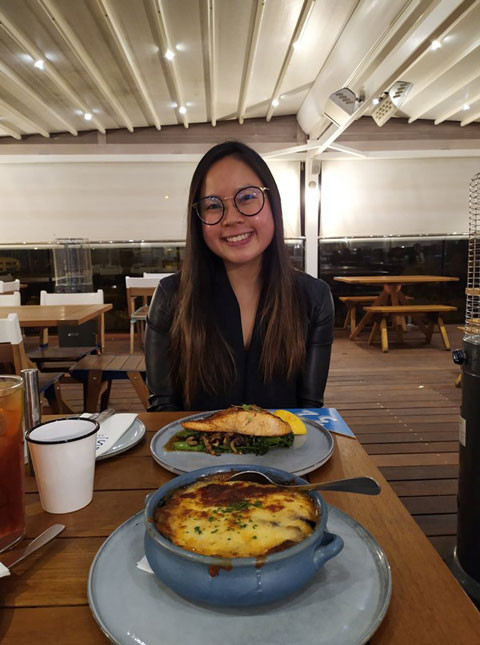 Want to try a meal prep company that cares about the sustainability of their seafood?
Unfortunately, some meal prep companies use frozen and imported fish fillets (especially Basa and Hoki) because they are often cheaper and more convenient. Most websites have ingredient lists that allow you to see the type of seafood used in your meal. If it isn't stated that the produce used is Australian or wild-caught, you can always shoot an email and ask. All of Bondi Meal Prep's seafood-based meals use sustainable seafood including New Zealand King Salmon, widl=caught Hoki and Australian Barramundi.
Know of other meal providers that use wild-caught Australian seafood? Let us know below!
References
http://www.fao.org/3/AG110E08.htm
Clough, B., Johnston, D., Xuan, T. T., Phillips, M. J., Pednekar, S. S., Huu, N., ... & Le Thong, P. SILVOFISHERY FARMING SYSTEMS IN CA MAU PROVINCE, VIETNAM.
https://www.msc.org/what-we-are-doing/oceans-at-risk/the-impact-on-communities