Recipes
Vegetable Tagine by Chelsea Goodwin
Calculated automatically based on ingredients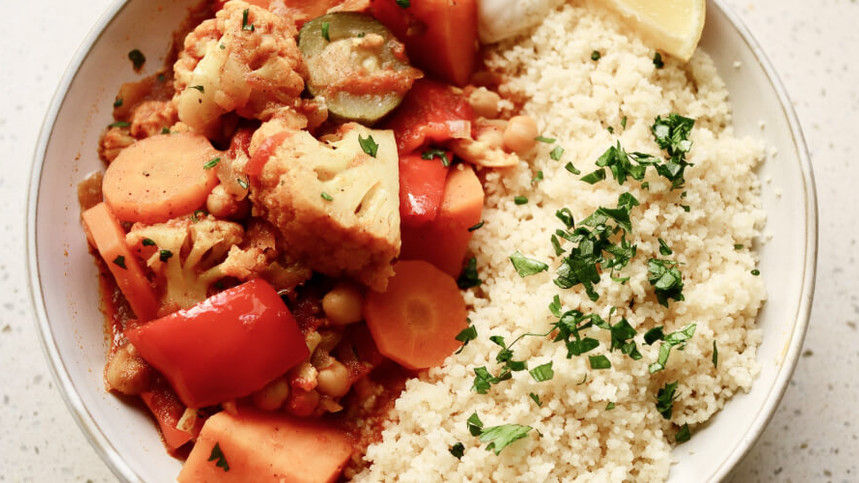 Ingredients
4 Tbs olive oil
1 Large brown or red onion, roughly diced
4 Large cloves garlic, crushed
1 Tsp fresh ginger, grated
2 Large carrots, peeled and sliced into rounds
1/2-1 Large sweet potato chopped into cubes
1-2 Zucchinis sliced into rounds
1 Capsicum sliced
1/2 Cauliflower broken up into small florets
1 Tsp Ground cumin
1 Tsp Ground cinnamon
1 Tsp Turmeric
1 Tsp Ground coriander
1 Tsp Harissa paste
1 x 400g can diced or crushed tomatoes
750 mls (3 cups) vegetable stock
1 Tbs Honey
1 x 400g tin chickpeas
Salt & Pepper
Fresh Coriander
Couscous to serve
Directions
Heat oil in a large heavy bottomed pan (I used a cast iron French pan with lid) on medium heat.
Add onions and cook for a few minutes, stirring.
Add garlic, ginger and spices (incl harissa paste) and cook for 1-2 minutes, stirring well.
Add in hard vegetables (carrot, pumpkin, sweet potato) and stir until they're well covered in spice/onion mix. I needed to add about a Tbs of extra oil at this point to prevent the ingredients from sticking to the pan.
Add in soft veggies (capsicum,zucchini & cauliflower) and cook, stirring carefully for a few minutes.
Add tinned tomatoes, stock and honey and mix through. Bring mix to the boil, turn down to low so it's simmering gently then put on lid and cook for 30-40 minutes or until hard vegetables are tender.
Remove lid, add drained chickpeas and simmer uncovered for 10 minutes. Taste and season well with salt and pepper.
Stir through chopped coriander leaves and lemon juice and serve over couscous.