Recipes
Potato Dauphinoise by Chelsea Goodwin
Calculated automatically based on ingredients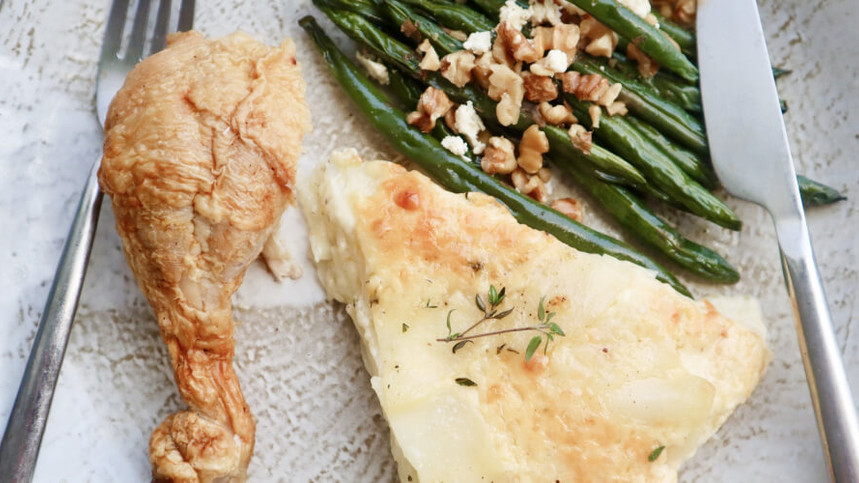 Ingredients
1.5 kg Brushed Potatoes
1 3/4 cups of thickened cream
2 Tbs butter melted
250-300g grated cheddar, mozzarella or mix
1 Tsp salt
Pepper
2 Garlic cloves, crushed
1 Tsp fresh thyme leaves+ more for garnish
Directions
Preheat the oven to 180 degrees celsius.
In a medium sized bowl or jug, mix the garlic with the melted butter and use 1-2 tsp of the mixture to grease a large baking dish.
Add the cream (and milk if using) to the garlic butter mixture and set aside.
Peel the potatoes and slice them 3mm-4mm thick slices with a mandoline or knife.
Layer 1/3 of the potatoes in the baking dish, slightly overlapping. Ladle 1/3 of the cream mixture over the potatoes evenly then sprinkle one third of the salt, pepper and thyme over the top. Distribute 1/3 of the cheese over the top then repeat this with the 2nd and 3rd layers (Potato, cream mixture, seasonings, cheese.
Cover the baking dish with a lid (if it has one) or cover tightly with aluminium foil and bake in the oven for 1 hour 10 mins.
Take off the lid or foil and brown the cheese under the grill for a few minutes (do not walk away from the oven or it may burn!). Alternatively, you can let it brown in the oven (no grill) for about 10 minutes.
Let it rest with the lid/foil on for about 10 mins prior to serving.