Recipes
Tandoori Chicken Bowl and Pita by Chelsea Goodwin
Calculated automatically based on ingredients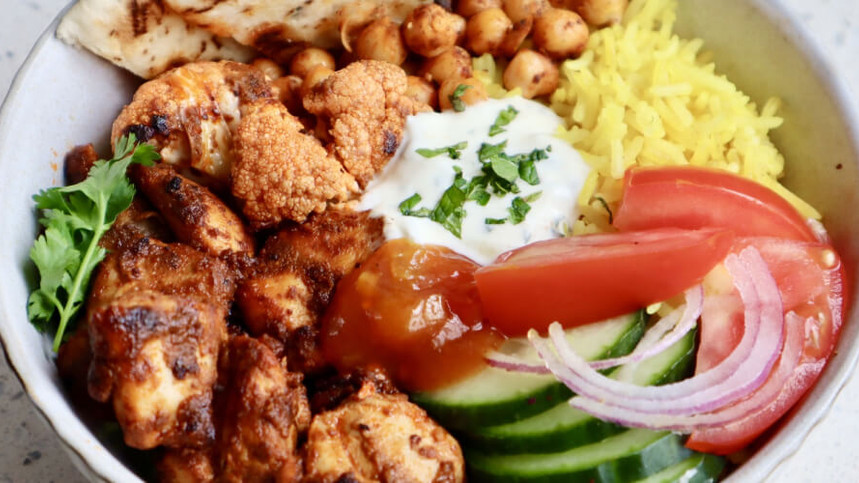 Ingredients
2 chicken thighs, cut into cubes
Small cauliflower florets
400g Can chickpeas, drained
Tandoori paste
Greek natural yoghurt
Cooked rice or rice pilaf
1 Tomato cut into wedges
1/2 Small cucumber (sliced
Raita
Red onion, coriander & mango chutney
2 Tbs Vegetable or other flavourless oil for cooking
Directions
Cut up the chicken and marinate it in the tandoori paste and yoghurt at least 3 hours in advance- pop it in the fridge.
Put the rice on to cook about 25 mins before you want to eat.
While the rice is cooking, cut up the cauliflower tomato, cucumber, red onion and any herbs you're using for garnish.
If you're making a quick raita, mix some grated cucumber, a squeeze of lemon chopped mint and a pinch of cumin into some natural yoghurt, otherwise use tzatziki!
Heat oil on medium high heat in a pan and cook chicken well, stirring to brown on each side then remove to a plate. Coat Cauliflower and chickpeas in any remaining marinade then cook in the same pan as the chicken for a few minutes.
Reserve 1/2 of the cauliflower, chickpeas and chicken for another meal, assemble bowls and enjoy!