Recipes
Vegan Jamaican Curry by Chelsea Goodwin
Calculated automatically based on ingredients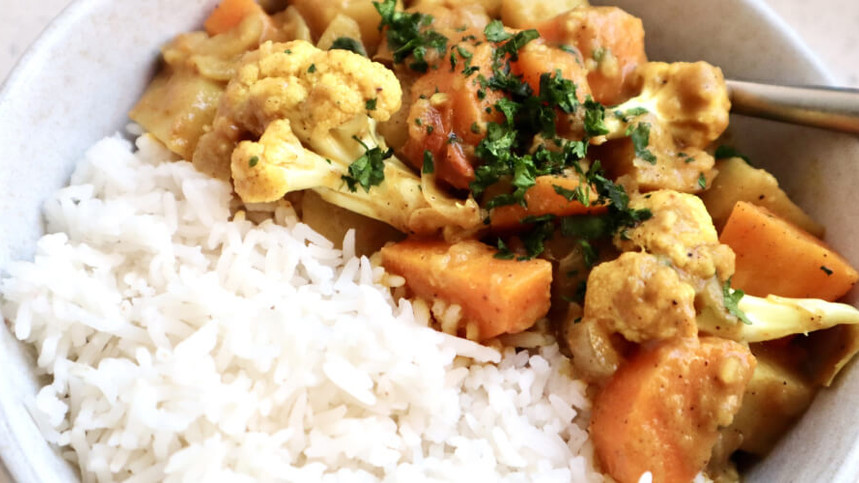 Ingredients
1 Large onion or 2 small, diced
4 Cloves garlic, crushed
2 Tsp grated fresh ginger
1-2 Tbs curry powder
1 Tsp ground turmeric
1 Tsp allspice
2 Carrots, peeled and sliced
4 Medium potatoes, peeled and cubed
2 Cups cauliflower florets
400g Tin coconut cream or milk
1 Cup vegetable stock (more if needed)
Salt & pepper
Brown sugar
2 Tsp fresh lemon juice
Vegetable oil or similar for cooking
Directions
Heat oil in a large pan, pot or wok over medium high heat, add diced onion and cook for a few minutes. Add garlic and ginger and cook for a couple of minutes, stirring.
Add curry powder, turmeric & allspice to the pan and stir to combine, cooking for another 1-2 minutes. Add tomatoes if using then add chopped carrots and potatoes and stir to coat vegetables in spice mix.
Add vegetable stock and 1 cup of coconut cream/milk and 1/2 a tsp of salt, bring to the boil then turn down to medium low heat and simmer for 10 minutes, partially covered.
Taste the sauce and add 1/2 tsp brown sugar and a tsp of lemon juice then taste. If you still want to adjust the flavour, add a little more sugar and another tsp of lemon juice. Add more salt also if necessary.
Add cauliflower and cook for another 10-15 mins or until cauliflower is tender. You can also add the rest of the coconut cream/milk or more stock if you need more liquid.
Just before serving, taste and season with salt and pepper if necessary.